Dublin Tour Activities
Showing all 2 results
Ireland's capital, Dublin, is generally regarded as a friendly, welcoming and pleasant tourist destination. However, the city does have a hidden dark side, with an intriguing history tracing back more than a thousand years. Many visitors claim to have experienced spine-chilling sensations when they went on a
Dublin Castle tour
, which is built on the site of an ancient viking settlement. The city is widely regarded by fans of the supernatural as one of the world's most haunted destinations. Many well-known ghostly figures, fictional characters, and spooky tales can be found in the local folklore. For any traveler interested in the macabre and supernatural, a Dublin haunted city tour is an unmissable experience.
More details +
Editor Review
For anyone that is fascinated by mysticism, true crime, ghost stories, and supernatural experiences, a Dublin haunted city tour is an experience that cannot be missed.
PROS:
Learn fascinating Irish history
Explore some of Dublin's most iconic buildings and landmarks
Hear many spine-chilling ghost stories
CONS:
Most tours do not include food and drinks
Some tours are not suitable for children
Tours may not allow enough time for in-depth exploration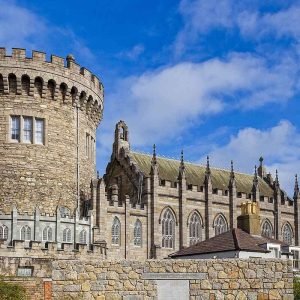 Ireland's delightful capital, Dublin, is home to wonderful people, tons of entertainment, and fascinating places to see. It's a city rich in antiquity, culture, and traditions. With all that the city has to offer, an
open-top bus tour
is one of many great ways to explore the city and enjoy the sights. For any traveler interested in architecture, art, history, academics, or literature, a tour of Dublin Castle is an unmissable experience. It also hosts supplementary art exhibitions, fashion displays, and relics from various Irish historical periods. It was also used as one of the Irish film locations for the
castles in Game of Thrones
and attracts many visitors who are fans of the hit show. A Dublin Castle tour is a fantastic opportunity to learn about Irish history and experience life as a royal.
More details +
Editor Review
Dublin Castle is in the city-center, so there are many attractions and activities within a short distance, including City Hall and Trinity College. The castle is a definite must-see if you want to explore Irish history and immerse yourself in the culture.
PROS:
Experience Dublin Castle in all its splendour
Access to special locations
Bypass queues
CONS:
Often not enough time to take it all in
Not all areas are wheelchair accessible
Could be canceled on short notice due to political events