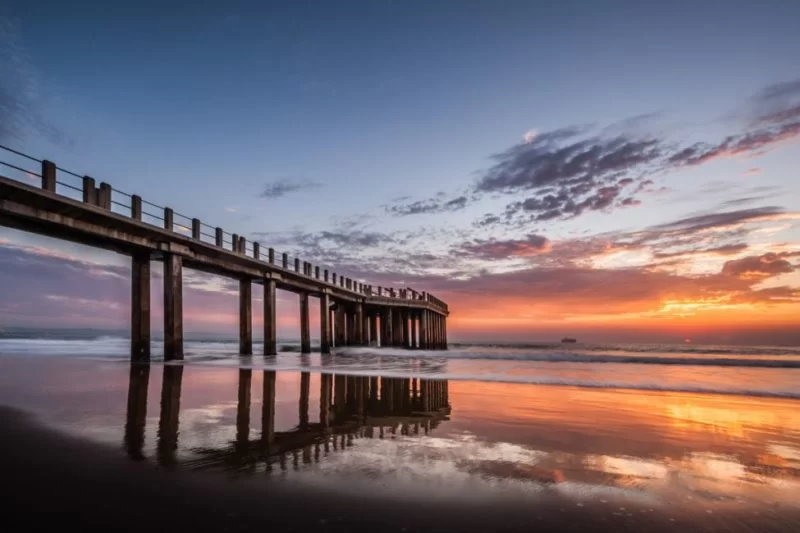 Often one of the most underestimated cities in South Africa, Durban has a wide and colourful array of activities to try out. Durban is cultural and colourful and has a rich history that many South Africans haven't yet had the chance to explore. Here's our pick of the top things to do in Durban!
If you're wondering about when to visit, what the weather is like and fun things to do, look no further! We have made a list with every traveler's taste in mind. Durban entertainment has never been this exciting.
10 Fun Things To Do In Durban: Durban Attractions
That leaves us with the big question: What are some of the best places to visit in Durban? With so many things to do and places to see, it is no surprise that many tourists fly to Durban with the expectation to enjoy a wide range of indoor and outdoor activities in Durban.
Take A Trip To Mini Town
If you want to see a mini-version of Durban's favourite landmarks, you should take a trip down to Mini Town. Both kids and grownups will love this, so get ready to say cheese and strike a pose.
Mini models of the harbour, the airport (complete with mini airplanes), and the rail network with running train is a fun family activity.  So get yourself acquainted by visiting the mini Durban version first. One of the most unique things to do in Durban!
View this post on Instagram
Warwick Junction And Faith 47 Street Art
Faith 47, famous African street artist, chose Warwick Junction to feature six new striking murals. The murals feature local traders at the market. She wanted to celebrate the cultural vibrancy of the area and the Warwick Market.
These murals celebrate informal trading and the people dedicating their lives to selling arts and crafts, beadwork, and food at the market.
Head down there to see the striking street art created by Faith 47 and stroll around the market to engage with traders and buy local arts and crafts.
View this post on Instagram
Alayam Hindu Temple
Make your way down to the majestic and magnificent Alayam Hindu Temple. Nowadays more commonly known as the Second River Temple, this temple was declared a National Monument in 1980.
After the First River Temple got washed away by the floods in 1905 and 1906, the original symbolic icons of the Hindu Temple (known as deities and murtis) were moved to the new location that was built in 1946.
Top Tip: Please adhere to the dress code upon visiting this temple. Women need to wear long skirts/dresses and remove their shoes upon entering the temple.
Umgeni River Bird Park
If you're in love with colourful free-flying creatures, take a trip down to Umgeni River Bird Park. Kids will love this park with more than 900 birds to spot. There is a free-flight bird show – which will be the highlight of your visit!
A variety of birds, from owls to cuckoos, and kookaburras are featured in an uncontrolled free flight – showing how these amazing creatures would behave in their natural wild habitat.
Enjoy A Scenic Sunset Boat Cruise In Durban
One of the best activities in Durban for couples is a relaxing boat cruise out on the warm waters of the Indian ocean.
A sunset cruise can be quite a relaxing affair – sitting with a glass of champagne, tuning into holiday mode, while you're overlooking the harbour on a beautiful summer's night.
If it's not your style, would you rather enjoy a boat safari at St. Lucia Wetlands or a romantic evening gondola ride? There are a wide variety of options to choose from.
View this post on Instagram
Ricksha Bus
Choose the top seat, sit back and relax while you're cruising through town past all the major attractions Durban has to offer. There are morning and afternoon tours available, so pick your time slot and book a Ricksha Bus Tour now.
Some of the highlights include the Juma Musjid Mosque, Kwa Muhle Museum, Mitchell Park, Florida Road, Moses Mabhida Stadium and the Beachfront.
uShaka Marine World
Visit uShaka Marine World, the fifth largest aquarium in the world! There is so much to get lost in for young and old alike! At uShaka Marine World you can get up close to the sharks, watch dolphin, seal, and penguin shows, or enjoy a fun and fast water ride.
If you decide to grab a bite, it will definitely be a spectacular sight. Sharks will circle around the restaurant space, making sure that you get to enjoy the magnificent creatures up close while enjoying your lunch.
Free Public Walking Tour With Beset
Join one of the best free public walking tours in the city. BESET Durban is a great way to explore the town and with four very passionate guides, you will definitely get the inside scoop of what's happening in Durban.
This passion project between four friends started out as a way to break the misconception around an "unappealing Durban". They made it their goal to show that Durban is worth exploring.
BESET Durban has partnered with The New York Times, Airbnb and National Geographic Travel. It's free, so we advise you to take a stroll down there and find out more about the Duran hype.
Umhlanga Pier
One of the most awe-inspiring piers in the world is awaiting you for a picture perfect moment.
This 21st century Umhlanga Pier project was started to improve the quality of the beach and disperse most of the stormwater back into the sea by making use of an extended deep-water channel.
The design boasts a very distinct whalebone structure, and won the South African National Award for Outstanding Civil Engineering Achievement. It was also named by CNN as the most beautiful pier in the world – making this one well worth a visit.
Inanda Mountain And Giba Gorge Biking
So… are there any adventurous and fun activities for adults in Durban? Yes, definitely! Less than an hour from Durban you'll find this spot with the most staggering views over Durban.
There are cliffs plunging down to the shores of the Inanda Dam. If you're keen on seeing Durban from a different angle, this spot is worth a 30-minute drive.
If you're up for an adrenaline-filled activity, go Giba Gorge biking. The park boasts a Supercross, BMX, and cycle track. You can rent bikes and helmets from the park if you don't have your own. Get your active on and go have some fun!
View this post on Instagram
What To Do In Durban: Try Out Local Cuisine
There is a lot of local South African cuisine, best made in Durban. Home to South Africa's best curry, amazing fried chicken and delicious bunny chows, dining in Durban is not to be taken lightly.
Visit these spots to try out some of the best local tastes and treats.
The Best Curry Spots:
Little Gujurat | Punjabi Vegetarian dishes | 42 Dr Goonam Street, Durban CBD
House of Curries | Curries, bunny chows & roti's | 275 Florida Road, Durban
Ocean Terrace Restaurant | Daily curry buffet | 2 Lighthouse Road, Umhlanga Rocks, Durban
Head down to the Spice Emporium to stock up on some spices. While you're there, try out a local treat, the spicy pineapple.
View this post on Instagram
Another local love affair is the Freedom Cafe. This hip cafe is a converted shipping container, with big glass windows. It has a deck outside where you can sit and enjoy one of the 6 different egg benedict-options on the menu. Or try out the Sri Lankan bowl with coconut rice. Local and delicious!

Final Thoughts on What To Do in Durban
Durban definitely does not need to take a step back for Cape Town or Johannesburg. With so many rich cultural experiences and sights to see, this beautiful part of South Africa should be included in your South African travel itinerary without a second thought.
Get ready to explore the vibrant city and laid-back beach lifestyle. Indulge in local food and delicacies and try out exciting Durban activities to make your Durban holiday one to remember.