Summer is looming and you're probably dreading the "I'm bored" sing-song coming from your little ones as they bounce from couch to couch.
We know you love them but we also know that they can test your patience. Especially when you're trying to relax but have to listen to complaints or fighting. So, why not round up the whole family and take the time to give them a memorable holiday in Florida?
The City of Miami, to be exact. Located in the southeastern part of Florida, movie culture has us equating this city to just a sunny beach riddled with spring breakers and raucous parties. Which does not necessarily sound family-friendly, does it? But, we're here to tell you that there are some cool things to do in Miami with your kids.
While the United States of America has tours and trips of all sorts throughout the country, Miami does have a significant appeal that makes their sunshine and beaches a must for any family vacation bucket list.
With this trusty guide, we'll help you plan a special vacation with a ton of fun places for kids in Miami. We've listed places that have toddler-friendly activities as well as some budget-friendly things to do in Miami with kids.
Fun Places to Go with Kids | From North to South
Organizing a trip for grown-ups is a task in and of itself. And sometimes it's not easy when we have to think about the needs of our little ones.
Luckily, everything doesn't have to be so complicated and we've looked at all sorts of activities, from the North of Miami to the South, and found a few great places for kids to answer your question of 'what to do in Miami with kids?'
The Everglades National Park
The Everglades National Park is an excellent location for some fresh air and to spot fascinating wild animals. At the park, you and your family can hop on an airboat ride that allows you to peek into the world of alligators, turtles, and a few other fun creatures – all in their natural habitat.
Experience the Half-day Everglades tour and wildlife show at the start of your day and learn from your expert everglades guides. After a day of learning, ending your day with lunch at a Miami beach overlooking the horizon.
Prices:
Entry into the Everglades National Park with a tour starts from $44 per person.
Miami Children's Museum
If your kids love art and you're hoping to incorporate learning into their playtime, the Miami Children's Museum offers a range of camps as well as performing arts and visual arts programs.
Between the exciting exhibits and educational opportunities, this is definitely a must-see for the artistic bunch. Located in the beautiful Watson Island Park, it's a fun way to show your kids a little bit of culture while also spending some time at the park.
Prices:
General admission is $22 per person. However, Floridian residents get a $7 discount.
Miami Zoo
A well-kept zoo is a wonderful tool to incorporate nature and wildlife into any excursion. The Miami Zoological Park is the largest zoo in Florida, showcasing wildlife presentations as well as offering your little ones the opportunity to feed parrots, camels, and giraffes.
Prices:
Entrance for adults is $22.95 and $18.95 for kids between ages 3 and 12. Children under 2 enter free. Or, try this general admission ticket for $24.56.
Venetian Pool
The Venetian Pool was completed in 1924; it's an oldie but a goodie. It is filled with pure spring water from an aquifer right below. It is currently the largest freshwater pool in the United States and is drained daily during the busy seasons. It's great for families with kids learning to swim, as the waters are shallow and clean.
FYI: For the environmentally conscious parents, the pool's water is drained back down into the aquifer, allowing for natural filtration through the ground. This is done to save water by putting it back into the source.
Prices:
For visitors, rates are $15 for kids and $20 for adults. If you're a Coral Gables resident, prices are discounted at $6.25 for adults and $5.25 for children.
Seaquarium
While many aquariums have gotten some heat over the years, this specific one is good at heart. With a focus on rescue and rehabilitation, this sustainable aquarium is a wonderful way to introduce your kids to the difficulties of ocean life.
Your kids will have a great time learning about manatees, whales, turtles, and other marine creatures while you can rest easy knowing that there's a good cause drifting in the undercurrent.
Prices:
Summer savings passes are available at $59.99 for adults and $49.99 for kids aged 3 to 12. Their ticket prices range from $59.99 to $64.99 dependent on which type of pass you prefer. Summer savings passes allow you access to three parks whereas the year-round pass is solely for the Seaquarium. Check out the Seaquarium pass packages to find the right fit for you.
Grapeland Water Park
Some kids find that being in a body of water is enough excitement for one day, other kids prefer a little bit more of a rush. In that case, there's the Grapeland Water Park, situated just outside the Miami International Airport.
At this park, you've got a variety of slides and pools for the little ones to plop about in and lifeguards are strategically stationed to give you some peace of mind. Now is your chance to finally finish that book you've been reading.
Prices:
You can expect to pay $7 for kids under 14 years and $15 for non-residential adults.
FunDimension
A holiday with your kids is supposed to be all about fun, however, this doesn't mean that there's no fun in it for you as well.  At the FunDimension Amusement center, you can show your kids how hip you are while schooling them on arcade games. You and your family can tackle as many games and activities that you could possibly fit into one day.
Arcade games, laser tag, bumper cars, virtual reality, a climbing wall, XD theater, indoor playground, and more can be found here. There are so many fun things to do here that your kids might not want to leave this ultimate Miami kids attraction.
Prices:
Walk-ins are allowed and prices vary from one activity to the next. You can pay for them separately or you could look into some of the prices for their packages. Prices start at $5 for rock climbing, $6 for virtual reality, and $8 for XD Theater and bumper cars.
Packages that include unlimited gameplay start at $74.99 per person.
Coral Castle
The Coral Castle is exactly what it sounds like, a castle built out of coral. You may be wondering how an entirely man-made structure of coral could end up on land? Well, that's exactly what you'll find out when you and your family go to check it out. With the expert guides offering you all they know about this mysterious architectural jewel, you'll leave there with questions answered, lessons learned, and happy kids.
Prices:
Adults enter for $18 where kids under 12 enter for $8.
Burger Museum by Burger Beast
Besides the tasty menu of food and snacks, The Burger Museum has fantastic food history as well as being an exceptional and unique dining experience.
There are burgers (of course), comfort food like chicken tenders, or yummy donuts. You can also find a shop where burger sauces are sold. They even have guides that take you through the best burgers, sandwiches, and hot dogs.
Wynwood Walls
The Wynwood Walls offer a unique, outdoor urban art experience. The walls make for an interesting tourist attraction and will definitely liven up your Instagram account.
General admission for kids is free but adults will have to pay $10 to walk alongside some 35 hand-sprayed murals, retail stores, and art galleries.
Prices:
There are official tours and events that you could pay from $15 to $25. Some events include glow-in-the-dark yoga ($18), music concerts ($10), or spray paint classes ($50).
Basic Tours are at $15 or $25 for early access tours.
Phillip and Patricia Frost Museum of Science
Regardless of what your kids may tell you, science is cool. It's proven at this forward-thinking museum. At Frost Science, you can experience an aquarium, planetarium, and museum all in one location. Needless to say, there's a wide variety of children's activities in Miami's Museum of Science.
Exhibits within the planetarium start at specific times, so it would benefit you to check those out before starting your day. Exhibits in the aquarium and museum are open throughout the day, meaning you can walk about there while waiting for your show to begin.
With six levels of scientific brilliance, the Frost Museum of Science attempts to involve everyone in some form of science. They've also got a few programs that are tailored specifically for kids of all ages.
Prices:
With so much to learn and explore, it'll definitely be a full day of activity. Entry into the museum is $21.95 for kids and $29.95 for adults.
Little Havana Tours
In a small corner of Miami is Little Havana, an ode to Cuba if you will. There's a lot that can be done here but it might not fit into the Miami for kids category. However, with a few tweaks and some delicious food bribes, they'll love it just as much.
In this food and walking tour, you and your family have the opportunity to explore the history, food, and culture of this Cuban district. There are ice creams, yummy desserts, and lots of flan. If you'd like to make things more appealing to them, bring along the bikes which makes exploring much more fun.
Prices:
Tickets start from $59.99 per person and since there are limited spaces available in the group, it would be a great idea to book early and guarantee your spot.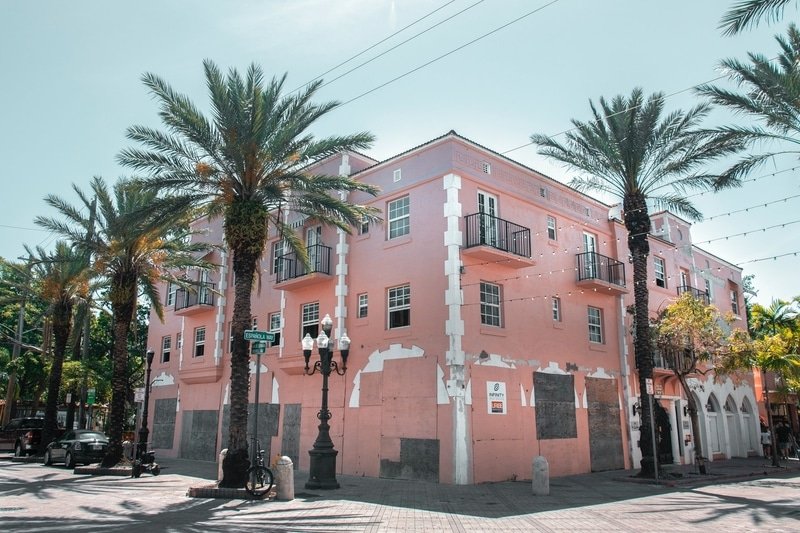 Vizcaya Museum and Gardens
With a tea garden, a secret garden, and a maze garden, exploring these grounds will have you wondering whether this was where the movie Beauty and the Beast was shot. The outside garden area is just that beautiful.
But, there's just as much fun to be had within the museum walls as well. This lovely 1916 winter estate will show you and your family all about culture, sustainability, and conservation through their many collections. There's an Egyptian collection, preserved historical drawings, and artwork on display.
Prices:
Tickets are free for kids under 5 along with a free entry for any military personnel. For children under 12, tickets are $10 and for adults, it'll cost you $22.
Quick tip: It's better to get your ticket online as there's a free audio tour available for download specifically to online buyers. It's also preferable as it reserves your spot within the museum.   Just be sure to get there before 10 am to avoid any kind of waiting.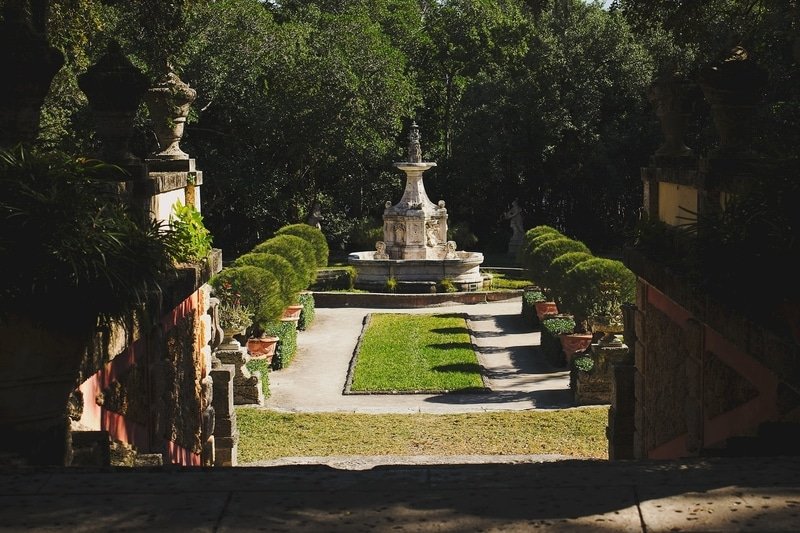 Some Free Things to Do with Kids
Traveling within Miami with kids can become quite costly. We love those mini-me's but sometimes we wish they could get a part-time job. So, we've included a list of free children's activities in Miami (give or take a few dollars for parking). These locations are great for bigger families or anyone with a budget.
Crandon Park
In Key Biscayne, the Crandon public park has lots to offer. You and your family could embark on a nature trail or a guided hammock hike. Pack a picnic basket and enjoy lunch at one of the picnic sites or pavilions.
There are also tennis courts available which could be rented out for about $4 per person per hour.
Prices:
Free but you'll have to pay for parking – $5 in the week and $7 over weekends. Tennis courts and golf courses come at an extra cost per person.
Ocean Drive
One of the most celebrated strips in Miami, this particular activity is a no-brainer. Take your kids on a stroll down this road and have a look at some of the locations where movies have been filmed. Or simply to get that tourist-like photograph for your Christmas card.
Prices:
Entry into the drive itself is free although you would have to keep some cash around for any souvenirs you see along the way.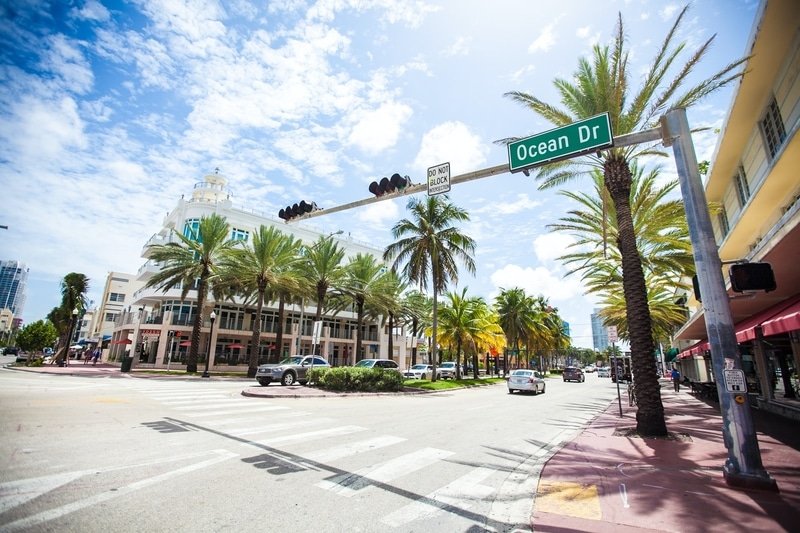 Garden of the Arts
Located in the city of Hialeah, this passive and cultural park experience is great fun for the whole family. The park offers walking trails, jungle-like landscaping, and some historical murals.
The garden itself is quite peaceful with lots of areas for you and your family to enjoy a picnic. The kids can run around the green, lush grass while you catch up on your emails or spend some one-on-one parent time.
Price:
Completely free
Lot 11 Skatepark
Under the highway, you'll find this refurbished urban skatepark which provides your kids with ample ramp space where they can learn or practice their skateboarding skills. It's a great way for the kids to blow off some excess energy and has space for a family lunch, so be sure to pack in some of their favorite snacks.
Prices:
As the lot runs mainly on donations, the kids (and yourself) can go and skate for free.
Amelia Earhart Park
The Amelia Earhart Park offers activities such as soccer, mountain biking, and a range of watersports. You could try wakeboarding, waterskiing, paddleboarding, and kneeboarding at the Miami Watersports Complex.
If your kids are too young for those activities, you could go for a walk around the Bill Graham Farm Village where your kids can learn about basic farming. There's also Tom Sawyer's Play Island fitted with a treehouse which allows kids all-inclusive access to the playground.
Prices:
The park is free but you'll have to pay $7 for parking at the weekend. Most activities available have a separate payment plan – like the Farm Village and Play Island are free, although if you'd like to go wakeboarding, you can pay $25 for an hour and a half.
The Beach
Sandcastles, slight sunburn, and hot dogs – doesn't the beach sound like a great way to spend a day without having to spend too much cash? Miami has so many different beaches to visit, you might wonder which one would be the best for you and your family.
You could try the North Shore Open Space Park, Hollywood Beach, or the Bill Boggs Cape Florida State Park. Each is suitable for young kids, it just depends on where you are in the city (or how far you'd like to drive).
Price:
While the beach itself is free, you'll want to bring an extra $10 for parking.
Toddler Activities in Miami
There's nothing worse than spending $100 on a seemingly intriguing experience with your toddlers, only for them to hate it 5 minutes in. We understand that toddlers can be a little tough to please sometimes. That doesn't mean we have to force them to enjoy a certain activity.
With the activities listed below, your toddler has the opportunity to call it quits at any point without making you feel as if the day was a bust. Some of them are just so great that your toddler will enjoy them!
The simplest solution to dealing with a toddler that doesn't want to be there? Give them 29 other options just in case (at no extra cost to you). Or, show them a cool car that will make them squeal with excitement. The rest of this list is especially for our biggest critics.
Go Miami Pass
With a Go Miami Card, you and your family have access to over 30 different attractions. The pass gives you pre-paid access to museums, parks, zoos, aquariums, and so much more. The beautiful part is that you can hop from one attraction to the next depending on what your kids enjoy.
Prices:
Rates vary according to how many days you'd like to book for. You can choose between a 1-day, 2-day, 3-day, and 5-day pass which ranges between $68 per adult and $48 per child (1 day) up to $169 per adult to $142 per child (5 days).
Gorillas in the Mist
Gorillas in the Mist doubles as a playground and sculpture. It was built with the intention of being something fun for kids in Miami. The three gorillas and fountain form an integral part of the Aventura Mall.
Prices:
The mall is free and this interactive installation is just one fun way for kids to cool down and relax after mom and dad have done their shopping.
Duck Tour of Miami and South Beach
If you're looking for a unique way to tour around the city, this Duck Tour is a joy to behold. Cruising around the Biscayne region and the best of South Beach, the duck tour allows you and your family 90 minutes of fun sights and rich history. All while cruising along the shore in a duck-like bus.
Prices:
Rates start from $40 per person.
Enchanted Forest Elaine Gordon Park
Butterfly garden and horseback riding are every kids' dream. This enchanted forest is particularly great for our little princes and princesses who adore running around and possibly dressing up. How great would a Frozen-themed photoshoot be in this spectacular little park?
Price:
Completely free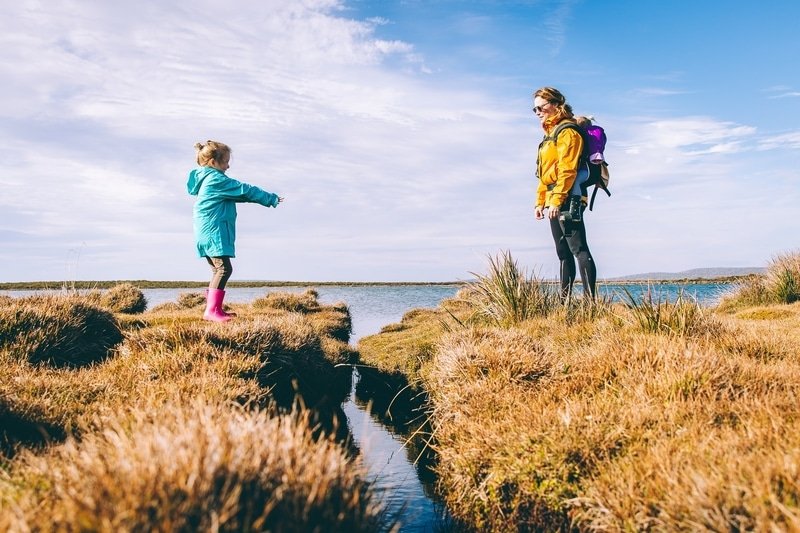 Final Say on Things to Do in Miami
A trip to Miami doesn't necessarily have to be all about tequila shots and bikini tops. As you can see above, there's a whole range of wonderful and fun things to do in Miami for kids.
From the Everglades, the beaches to museums and art installations, kids' activities in Miami cover all the bases. If you're still a bit uncertain, book a boat tour of celebrity homes instead. Between the boat and their favorite superheroes' house, your kids will thank you for such a terrific family vacation.
Last updated on October 13th, 2023 at 03:03 pm