About Us
Tickets n Tours was born out of a love for adventure and built by our founder Matt Davison who was inspired by his love of travel. Tickets n Tour was formerly known as specialtours.co.za which spoke about the different travel experiences and tours you could find in South Africa. During the transition phase, Tyla was brought in to manage the site, and create content that was relevant to readers.
Once we had covered most of South Africa, we wanted to branch out and explore and express our creative freedom in more countries around the world, aspiring to create a brand that enables us to experience tours all around the world and test different business models.
Tickets n Tour has become a place where both Matt and Tyla and sometimes guests write and blog about countries, experiences, tours, and events happening all around the world. Using our extensive knowledge of the best travel providers online combined with our collective personal experience, we've created a site where comparing and booking tickets and tours is easy.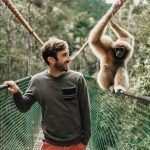 Matt Davison – Founder
I had always wanted to make a comparison site that made finding the most cost-effective tour easy, It's something that would solve a big pain point for me and I hope it makes the online research process smoother for travelers all around the world. It's my way of sharing my love of travel with all of you!
Tyla Oliver – Manager
I'm an adventure enthusiast willing to tackle just about anything. I'm always looking for the most affordable, convenient, and relevant travel experience that best fits my itinerary, and managing the Tickets 'n Tour website has made travel planning a whole lot easier.  My passion for traveling 'smart' translates into my dedication to making Tickets 'n Tour the ultimate tour comparison site.
Our Mission
Our mission is clear – to help you find the perfect activity, tour, and adventure listing for your next trip. Whether you thrive off of extreme adventures, a desire to explore secret spots, or want to tick off the main bucket list items in each city, we have you covered!
We love to travel and find good travel deals along the way. That's why we made this site.