About Us
Tickets n Tours was born out of a love for adventure and was built by our founder Matt Davison who was inspired by his love of travel. Tickets n Tour was formerly known as specialtours.co.za which spoke about the different travel experiences and tours you could find in South Africa. It has also acquired other small publications along the way like Travel City Direct, Visit To Ukraine and Journalist On The Run to increase its global footprint and experiences.
Once we had covered most of South Africa, we wanted to branch out and explore and express our creative freedom in more countries around the world, aspiring to create a brand that enables us to experience tours all around the world.
Tickets n Tour has become a place where both Matt and other travel experts blog about countries, experiences, tours, and events happening all around the world. Using our extensive knowledge of the best travel providers online combined with our collective personal experience, we've created a site where comparing and booking tickets and tours is easy.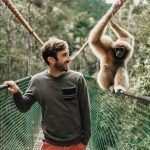 Matt Davison – Founder
I was an IATA travel agent while in University but gravitated from sales more into marketing and helping companies all around the globe. Since then I've traveled to over 30+ countries and I am always keen to try out new activities and find the best deal or experience. I had always wanted to make a comparison site that made finding the most cost-effective tour easy, It's something that would solve a big pain point for me and I hope it makes the online research process smoother for travelers all around the world. It's my way of sharing my love of travel with all of you!
Janet Newenham – Contributor
Hi! I'm Janet Newenham, an Irish-born digital nomad and blogger. My blog, Journalist On The Run, is a journal of my travels and career hurdles, as well as a "bucket list for life." In my youth, reading inspired me to create and achieve goals for my future.
My long list of goals took me to places I could never have dreamed of, each one inspiring me toward the next. Along the way, I picked up a few awards like "Digital Media Travel Journalist Of The Year" in both 2017 and 2019 while simply doing what I love. Now, well into my 30s, I've seen so many of the world's alcoves that it would be wrong not to share my experiences with you.
My goal was to visit 50 countries before I hit 30. I never imagined that I could proudly say I've seen 101 of the world's beautiful countries. Of course, no matter how much you think you've traveled, there is still so much left to see, and I look forward to going on the run with you.
Brishan Jordan – Contributor
While my journey began studying the field of Fine Arts, I quickly became enthralled by the prospect of traveling the world. Throughout my travels to the UK, New Zealand, and much of Southern Africa, I've come to appreciate the beauty of each and every destination I've visited. This desire for travel is one of the many things that help inspire my vision of the "perfect experience", no matter the destination. I hope that my dedication and love for research and world in general will help make your next adventure a stress-free affair.
Our Mission
Our mission is clear – to help you find the perfect activity, tour, and adventure listing for your next trip. Whether you thrive off of extreme adventures, a desire to explore secret spots, or want to tick off the main bucket list items in each city, we have you covered!
We love to travel and find good travel deals along the way. That's why we made this site.