The ever-popular  country of Thailand is incredibly rich in culture! It also has an interesting history of being one of the only countries in Southeast Asia that has never been colonized. This means you can enjoy one of the most authentic Asian tours here.
This country is also one of your best bets if you're looking for a budget-friendly tropical vacation with lots to do.
Destinations in Thailand
Make your way through this bustling country, one city or island at a time, with a range of Thailand tours on offer. Enjoy the multifaceted mixtures of culture and day to day life as you immerse yourself on your Thailand vacation.
In the capital of Bangkok, you can expect a highly charged metropolis with a contagious liveliness in the air. While on the famous island of Phuket, you'll find some of the best beaches and temples surrounded by the lushest greenery. In both these popular cities, you're bound to meet a melting pot of people from all over the world.
The majestic Phi Phi islands make for a great stopover for a number of days or as an exciting day trip. These islands are undoubtedly picturesque and worth seeing on your tour of Thailand. When choosing family tours in a coastal setting, this is one of the best places to go.
However, if you'd rather avoid the major crowds on your trip to Thailand, there are some options to choose from. For a more relaxed time away, you can make your way to the lesser-known Koh Yao Noi or Koh Chang.
Make the most out of your Thailand trip by exploring a number of its most famous landmarks while you're here. The experience is totally worth it! You may not be able to tick off anything on your safari bucket list, but the island does offer vast, tropical habitats thriving with colorful creatures of all shapes and sizes. You can also enjoy world-class snorkeling on the coastlines of the many breathtaking Thai islands.
If you're still wanting more and are looking to add another exciting Southeast Asian country to your itinerary, make your way to innovative Singapore!
Popular Tours In Thailand
One of the best ways to get to know this majestic destination is through the best Thailand tours around. Take the time to explore some of the best things it has to offer with some of the most knowledgeable locals.
The escorted tours to Thailand will give you a local perspective that you wouldn't ordinarily experience by yourself. The best thing is, most of the best tours in Thailand are often relatively reasonably priced. So, you don't have to break the bank while you're at it!
One of the most popular landmarks to visit while you're here is the James Bond Island. This island made an appearance on the classic James Bond movie franchise back in the 1970s.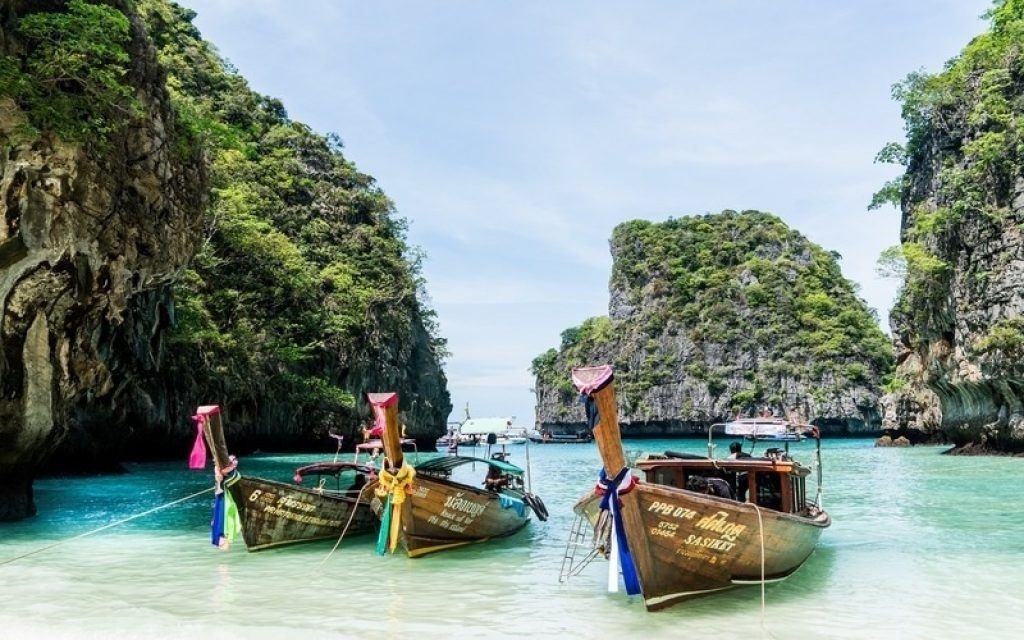 This unique location boasts the magnificence of mother nature's creative talents in all her glory.
Although James Bond Island is one of the most popular destinations to visit while you're in Thailand, there's a range of other things to do as well.
These include hiking in the natural haven at Khao Yai National Park or taking in the wonders at the Erawan National Park. Make your way to the humongous Big Buddha and appreciate the intricately detailed temples and shrines at Wat Phratat Doi Suthep.
Breakaway from the island of Phuket on an island-hopping excursion to some nearby popular landmarks on your Thailand tour. Indulging in some deliciously flavored street food also makes the top of the list.
With a wide variety of things to do, your Thai tours will open you up to new and exciting experiences unlike any other!
FAQs
Here are some of our top frequently asked questions about trips to Thailand answered.
When Should I Visit Thailand?
The best time to visit Thailand can vary per location. In general, some of the best times to visit Thailand is between November and February.
Is Water Safe in Thailand?
The safest water to drink while in Thailand is bottled water. While you're here, make sure to get a good supply.
Is Thailand a Malaria Zone?
There is no risk of Malaria in the urban areas of Thailand e.g Bangkok and Phuket. However, there is some risk of contracting Malaria while at the border and forested areas.
Showing the single result
Explore the famous James Bond Island, where 'The Man with the Golden Gun' was filmed. The island is one of the most beautiful in Thailand, with its iconic limestone formations, crystal waters, and lush, exotic vegetation. There are a variety of tours and ways to see this beautiful place. We detail the best of them, so you can find the right tour for you.
More details +
This is an amazing tour for anyone with a little time to spare in Phuket. A great escape from Thailand's most popular island, there is so much time for both relaxation and adventure activities which has made it one of our favourite Thai trips.
PROS:
All-inclusive
Meals included
Many options
Family-friendly
CONS:
No wheelchair access
Not suitable for pregnant women