Switzerland has earned an incredible reputation for various reasons. The mountainous European country is synonymous with taking a 'neutral' stance in political situations, producing some of the best cheese (and chocolate), and it is the nation that invented the Swiss Army Knife. Tours of Switzerland introduce travelers to the wondrous country in the best way possible.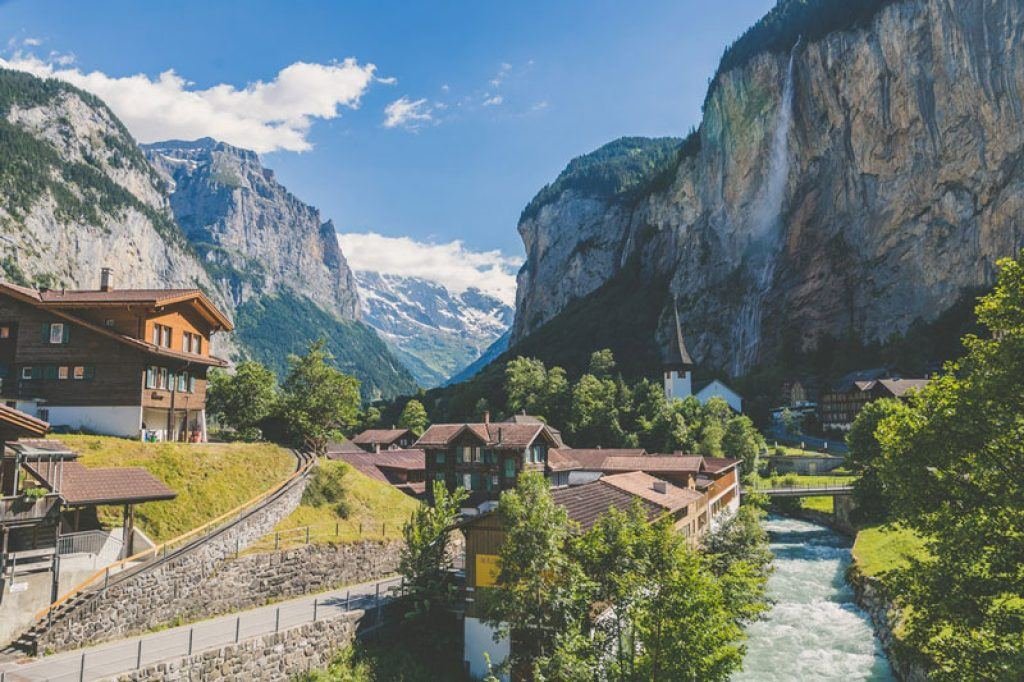 Switzerland Tour Destinations
Choosing which destination to visit on your Switzerland trip may prove to be tricky if you have limited time to explore. Every city is breathtakingly beautiful, with a wealth of activities to enjoy. However, if you only have time to visit a few places, then these are our top suggestions.
Geneva is one of the most popular tourist destinations in Switzerland, largely due to it being one of the main arrival airports. If you've just finished touring neighboring country France, and Switzerland is next on your itinerary, then you'll most likely find yourself in Geneva. This is a great city if you love chocolate, museums, and incredible views.
Another top Switzerland destination is Lucerne which is loved for its mountain views and picturesque lake. If you're looking for a true Switzerland adventure experience, then Lucerne has you covered.
Also an iconic Swiss city, Zürich promises to provide unforgettable memories. Between the stunning architecture, tranquil Limmat River which flows through the city, and a wide choice of delectable cuisine, Zürich will be difficult to move on from.
Chances are, the thought of Switzerland conjures up images of snow and, subsequently, freezing climates. Although, the weather in Switzerland is moderate and temperate. During the summer (July and August) temperatures can even reach up to 28 °C.
This means that you can comfortably visit the beautiful country without breaking the bank on warm clothing before you arrive.
Popular Switzerland Tours
One of the best ways to experience Switzerland is with an itinerary and local guide. There are so many incredible things to see and do, which means that you can easily get left behind or miss a key attraction.
A tour of Switzerland will make sure that you go home feeling rejuvenated and enriched. Switzerland guided tours operate from most cities and even the smaller areas will have day trips organized from more central cities.
For example, if you're staying in Lucerne but want to experience the famous Mt. Pilatus, then you can book a Mount Pilatus tour from Lucerne. Easy as pie!
Switzerland is an expensive city to visit. Booking a tour is a great way to have all of the logistics sorted out in a cost-effective way. Trips to Switzerland become a lot less stressful, more beautiful and affordable when booking a tour.
FAQs
As always, it's a good idea to ask important questions before visiting a new country. Here are a few of the more commonly asked questions about Switzerland.
Is Switzerland Expensive To Visit?
Switzerland is rated as one of the most expensive countries to visit. So, if you're planning to visit then make sure that you keep your eyes open for deals on hotels and tours.
What Is The Cheapest Month To Fly To Switzerland?
Flying to Switzerland between January and February is the most affordable option, as this is the winter season. Choosing to fly around June will prove more costly.
How Many Days Do You Need In Switzerland?
Ideally, a week-long Switzerland vacation is enough to experience the best that the country has to offer. Depending on what activities you enjoy, you may want to extend your time (if your budget allows it).
Showing the single result
Mount Pilatus offers stunning scenery and incredible views. Marvel at the splendor of the Swiss Alps and uncover the beauty of Mount Pilatus with a variety of experiences to choose from! You can choose to explore the mountain at your own pace with a self guided tour, or enjoy the comfort of a personal guide and driver on a personal Mt Pilatus tour. If you'd prefer to see the mountain from a breathtaking different perspective, a 30-minute helicopter tour over the city of Lucerne and the exquisite Rigi and Pilatus mountains is also an option. There is such a variety of options to explore the beautiful Swiss Alps, so you are bound to find the perfect experience to suit your budget and your schedule.
More details +
PROS:
A variety of ways to see captivating Mount Pilatus in Switzerland
Cable car and Cogwheel train ticket included in cost
Experience the beauty of the landmark mountain from different angles
CONS:
Admission to Mount Pilatus not included