Outdoor Adventure Cape Town Activities
When summer is in full swing, Cape Town is the best place to visit for fun outdoor activities. If you find yourself in Cape Town city centre, you will be surrounded by hiking trails, the magnificent Table Mountain , and the icy Atlantic Ocean. Thrill-seekers have named Cape Town one of their favourite destinations, so grab your backpack, throw in some active wear and hiking shoes and don't forget your GoPro !
Fun Outdoor Activities, Cape Town
If you find the thought of shark cage diving a bit daunting, try snorkeling with the seals in Hout Bay . Cape Fur Seals are known to have a very playful nature. We're sure that these cute and furry creatures will add to one of your best memories in Cape Town.
Are your kids joining in the outdoor fun? Head down to Cool Runnings for some Tobogganing – a fun activity where you can sit in a sled speeding down a stainless steel track (in Africa we don't do it in the snow) at around 40 km/h .
Lucky for you, you can control your speed with the built-in brake!
Things To Do, Cape Town: Outdoor Adventure Activities
You can now experience some of Cape Town's best attractions all at once on an exhilarating skydiving tour . Explore the unique views over Table Mountain, Table Bay and Robben Island while you are soaring like a bird in the sky.
And for all the avid adrenaline-junkies, we have a lot more to offer. Abseil down Table Mountain, head out for some gun fun, or go shark cage diving – the options are endless!
Need some inspiration for more outrageous outdoor adventure activities? Check out our list below for some fresh ideas.
Showing all 2 results
If you are looking for a private sunset cruise, why not reserve the yacht for your own private experience. You have the yacht all to yourselves. You choose the duration of the sunset cruise, from 2 hours to 4 hours.
Best value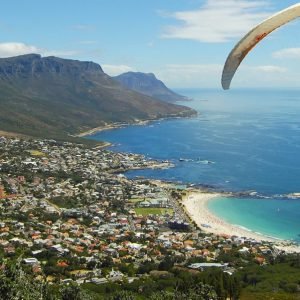 Soar above The Mother City like a Cape Black Eagle. For the best view of Cape Town, look no further than an exhilarating, but peaceful paragliding Signal Hill tour. Experience stunning views of Table Mountain, Camps Bay, Robben Island, Lions Head, and a host of other gorgeous coastal sites. Tandem paragliding in Cape Town is certainly a bucket list item for any adventurous soul. It makes for an extremely memorable date or a fantastic present. Just be sure to include yourself in the gift, as you don't want to miss out on this one!
Know before you book
No persons under 8 years old
Adults must accompany all children
Tour subject weather conditions
You are required to provide your weight at the time of booking
Transport not included
https://www.youtube.com/watch?v=c9dvnclVZfI&feature=emb_logo&ab_channel=manuwegmershaus
More details +
Tandem Paragliding from Signal Hill is a thrilling, beautiful way to see the sights in Cape Town. It's an adrenaline rush without being too scary, for those who want to fly, but not fall.
PROS:
Fly like a bird
Best views of Cape Town
100% safe
Exhilarating
CONS:
Weather dependant
Cannot pilot yourself without training
Can be vertigo-inducing