Bristol, England, is a city where a fascinating history meets a rich, diverse modern culture and a vibrant, top-notch nightlife. It's colourful, lively, alternative, and laid back, and the atmosphere is one of a kind!
Bristol's has been an important city for almost 1,000 years, and one of the most significant ports for marine trade. This long and rambling history is still visible throughout the city.
Bristol is a fusion point for a myriad of cultures, with a rich artistic spirit and independent attitude permeating throughout. It's home to countless independent stores and restaurants, and the streets are lined with colourful street art! With music at the heart of Bristol's cultural landscape, you can hear live music pouring into the streets almost constantly!
Bristol Itinerary
If you're planning a trip to Bristol, this Bristol itinerary will help you squeeze the most out of your time in the city! Be sure to check out our article on where to stay in Bristol for a rundown of the best neighbourhoods and accommodation.
Day 1 in Bristol
If you only have one day in Bristol, you'll want to pack in the best of the city's attractions and activities! Here's our recommended Bristol Itinerary for what to see in Bristol in one day.
Clifton Suspension Bridge
The first stop of this Bristol trip Itinerary is the Clifton Suspension Bridge. Set between two rugged, rocky cliffs, the bridge is undoubtedly the symbol of the Bristol.
Spanning across the Avon Gorge and Avon River, this 1352 foot long bridge is a historic landmark, having been built in 1864. It's one of the most popular Bristol points of interest and is surrounded by beautiful natural scenery!
The bridge is located a little out of the city, but the short journey is well worth the destination. Crossing the bridge on foot is free, and offers stunning views of the bridge's surroundings and the valley floor 245 feet below! You'll also get a close up look at the bridge's architecture.
Free guided tours of the Clifton Suspension Bridge are offered every weekend and public holiday between Easter and October! If you're visiting Bristol during this time period, head to the bridge for a 3 pm tour.
For wonderful views of the bridge itself, and the striking landscape against which it's set, perch yourself on the cliffs further down the gorge. If you're after a bite to eat, Noa cooks up some delicious Japanese food, and it's just a few streets away from the Clifton Suspension Bridge!
St. Nicholas Market
St. Nicholas Market, or as the locals call it, St. Nicks, is the oldest and best-loved market in Bristol. The market has a long history stretching all the way back to 1743 and is now a vibrant, colourful market with a really great atmosphere. In fact, it's been named as one of the 10 best markets in the United Kingdom! It's definitely one of the top places to visit in Bristol (in 3 days).
You can find a vast range of goods at St. Nicks. It's a craft lover's paradise and nirvana for hippies, with the smooth smell of incense floating through the lanes! Between the 60 stalls that make up St. Nicks, you can find everything from artisanal crafts and hookah pipes to vintage clothes and bizarre antiques!
The smell of incense isn't the only aroma in the air; St. Nicks is also a popular food market. You'll find flavours from around the world, from local British cuisine to Italian favourites and top-notch middle eastern dishes. Eat A Pitta hand-make delicious fresh pita, falafel, and hummus that will keep you smiling while you explore!
Stop by St. Nicks to absorb the quirky atmosphere and do some shopping in Bristol. Whether you're looking for a memento of your trip, a gift for a loved one or even some fresh farm produce to cook up into something delicious! If you only have 24 hours in Bristol, be sure to stop by St. Nicks.
Bristol Cathedral
Bristol Cathedral is a stunning piece of Bristolian history and one of England's great medieval churches. With roots dating back to 1140, Bristol Cathedral was built primarily in the Gothic style and acts as a fine example of ancient English architecture.
The cathedral is a Grade I listed building and is open to the public free of charge!
The Cathedral has been expanded and built open since its original opening, but there are sections which have been left relatively untouched. The Chapter House is where you'll find the most vivid remnants of the original building. It's a striking Romanesque building with stone walls and intricate patterned carvings.
The eastern end of the cathedral itself is said to be one of the finest examples of a medieval hall church in the world and has been described as superior to any building built in Europe during the same time period.
The ceilings in the cathedral soar high overhead, with exquisite patterns, colours, and detailing creating an undeniably breathtaking space. A visit to the Bristol Cathedral is a trip back in time, and an experience filled with moments of beauty.
When you're done at the cathedral, pick up some authentic Italian gelato at Swoon. They make some of the best gelatos in the country and are located just across the park from Bristol Cathedral!
Cabot Tower
Set up on Brandon Hill, Cabot Tower is one of the best viewpoints in all of Bristol. It's a historic monument that dates back to the 1890s, and is situated amongst the stunning scenery of Bristol's oldest park! While the tower stands at 105ft tall, it's hilltop location makes it a perfect place to absorb panoramic views of Bristol!
When the sun is hanging low above Bristol's skyline, take a walk up Brandon hill to meet the sunset at the top. Wind your way up the tower's steep old steps, and enjoy the exceptional sunset views! You'll be able to look out over the city and back toward the Clifton Suspension Bridge in the other direction.
 The tower closes at 9:15 pm, so you should be able to catch the sunset at most times of the year. If the sunset is a little later when you visit, the golden hour just before is also a beautiful time to visit!
Grab some exceptional Sri Lankan food at The Coconut Tree, Bristol! It's just a few hundred feet from the tower and a great place to fuel up for the evening ahead!
Watch Some Bristol Theatre
Generally, when thinking of theatre in England, the mind naturally wanders to London's West End. However, London isn't the only place in the country where you can catch top-notch theatre shows; Bristol has its very own vibrant and diverse theatre scene!
Bristol is home to a number of impressive theatres that frequently host captivating and entertaining shows. Between Bristol's multiple theatres, you'll find everything from quirky independent shows to big-budget international blockbusters, and everything in between!
The Bristol Hippodrome is a grand and opulent theatre that is considered one of the finest theatres in the United Kingdom. It's a classy venue and frequently hosts major Broadway and West End shows.
With a focus on innovation, The Bristol Old Vic is equally as grand and impressive, and is the oldest continuously working theatre in the English speaking world! It's set in a stunning Grade I listed building and was named by Daniel Day-Lewis as the most beautiful theatre in England.
Be sure to check each theatre's respective website ahead of time to see what's showing while you're in town. It's also a good idea to book ahead of time in order to avoid disappointment when you arrive!
Ciao is located right next to the Bristol Hippodrome, and is one of the best places in the city to enjoy Italian food!
Catch a Gig at Mr. Wolf's or The Fleece
Bristol is renowned for its incredible music scene. Live music performances form a large part of the city's culture, and there is pretty much always a gig on somewhere in Bristol! Any Bristol Itinerary really wouldn't be complete without enjoying an evening of live music. If you're wondering what to do in Bristol, live music is a pretty good bet!
Weekends in Bristol, are particularly fruitful when it comes to live music, so there will be plenty of amazing gigs to choose from during your weekend in Bristol. We'll briefly discuss a couple of our favourite live music venues so you know where to start your evening full of music magic!
Set in a former Victorian Wool Hall, The Fleece is an iconic live music venue that has welcomed some of the world's biggest rock bands. The venue has hosted The White Stripes, Oasis, Radiohead, and Queens of the Stoneage amongst many others since it's opening in the 1980s.
There's something going down at the fleece every night of the week, so it's a great place to get started!
Mr. Wolf's is a compact pub and live music venue that frequently hosts exceptional homegrown talent and the occasional big-name artist. All genres are welcomed by Mr. Wolfs, and the size of the venue allows for a particularly intimate and immersive live music experience!
Both venues are located within walking distance in and around the old city, so you could check them both off in one night if there are good gigs at both! There are plenty of great live music venues in Bristol, so be sure to check what's on during your Bristol weekend!
Day 2 in Bristol
If you're spending two days in Bristol, there's plenty more to explore! Day 2 of your two days in Bristol will delve further into the city's vibrant culture and rich history.
Bristol Zoo Gardens
Set within 12 acres of gorgeous award-winning gardens, Bristol houses a collection of animals from around the world. The Zoo has a strong mission to defend and maintain biodiversity through various breeding, conservation, and education programs, so you know your money is going to a good cause! An entry ticket costs around $19 USD.
Bristol Zoo is divided into several sections, each focused around a different theme, topic, or type of animal. Step into Twilight World to discover the nighttime activities of nocturnal animals, get to know a gorilla family in Gorilla House, and venture into a Southeast-Asian forest full of exotic plants and free-flying birds in Forest of Birds.
Other popular attractions include Monkey Jungle, Bug World, The Reptile House, and The Butterfly House. You can also head up to The Top Terrace, one of the oldest parts of the zoo, where you'll find red pandas, fruit bats, and Asiatic lions!
Several of the sections are undercover, making Bristol Zoo a great destination for any kind of weather. Families will love it, but it's a great attraction for any kind of traveller, and it's bound to keep you entertained! If you're after a tasty meal, Hide Cafe restaurant has a well-rounded menu, is located on site, and is open all day.
Bristol Food Tour
Bristol has a diverse and thriving culinary scene, with a myriad of independent eateries and food from around the world. The Bristol Food Tour offers an easy and effective way to get the full Bristol flavour experience, with a selection of well-rounded, expertly planned tours that dig deep into the culinary scene.
Stokes Croft Tour, the Bristol Food Tour's original route, and an all-around favourite, takes patrons through the heart of Stokes Croft, Bristol's independent cultural hub. On this tour, you'll indulge in delicious seasonally-topped pizza, creole burgers, and Persian mezze, amongst man other culinary delights!
The East to West Tour explores the vast variety of food Bristol's markets have to offer, while South of the River Tour takes guests on a culinary journey through Wapping Wharf and Southville.
Your expert tour guides will also pepper the experience with facts and stories about Bristol and its extensive history. You'll learn about the city and its cultures while experiencing its vibrant flavours!
These tours also have a focus on Bristol's small local eateries, and in doing so they support Bristol's independent way of life.
Bristol Street Art
Bristol is synonymous with street art; the city's walls and buildings are an ever-changing canvas with colourful, creative, poignant street art flooding the visual landscape. It's one of the UK's best cities for street art, and graffiti is deeply ingrained in the culture.
Bristol is also the hometown of Banksy, the notorious street artist who has gained a worldwide following and whose paintings now sell for hundreds of thousands of pounds! Several of Banksy's art pieces remain in Bristol, and it's well worth seeing them while they're still around!
Exploring the city's street art is basically customary for any Itinerary for Bristol, and there are several ways to do so.
If you choose to explore by yourself, you'll want to start with some of the street art hotspots. Nelson Street, Stokes Croft, and Easton are all particularly popular areas for street art and are home to a plethora of fascinating pieces to admire. If you're interested in Banksy, you can also download the Banksy Bristol Trail App, which will help you find his artworks!
Alternatively, you can book a street art Bristol walking tour with WhereTheWall for a totally immersive and fascinating adventure through Bristol's street art. By doing so you'll be able to see some of the city's best and most famous pieces while learning about the practice and hearing interesting stories!
SS Great Britain
Step back in time to the middle of the 19th century on board one of the most significant ships of the period.
The SS Great Britain was the largest ship in the world at the time of its construction in 1843 and remained the longest ship in the world for over a decade. She was the first propeller-driven iron ship to cross the Atlantic and was designed by Isambard Kingdom Brunel, one of the most prolific and ingenious engineers in history!
Today, it can be found in Bristol Harbour and acts as a fully immersive living museum that takes patrons back in time to the Victorian era when the ship operated as a passenger steamship. It has been ranked by TripAdvisor as one of the top 10 museums in the UK, and is one of the best Bristol attractions!
The fully restored ship has been meticulously made to look as it would have in its glory days. When visiting, you'll get to explore everything from the cramped steerage to the opulent first-class cabins, and hear fascinating stories about the lives of the crew and passengers.
Authentic sounds, scenes, and smells emanate from every room on board the ship, so you'll be fully immersed! You'll also get to explore the underneath of the ship and experience several interactive activities and try out some crew challenges! An entry ticket costs $21 USD.
Hungry? Spoke & Stringer is a Mediterranean cafe restaurant that offers dockside seating and is located just across the river from SS Great Britain.
Bristol Museum and Art Gallery
The Bristol Museum and Art Gallery is a unique space that tells the story of our Earth, from the very beginnings to the modern world. It offers an interesting blend of human history, natural history, and art, and is completely free to visit!
Founded in 1823, the museum is set in a stunning Edwardian Baroque style building, which is Grade II heritage listed and worth seeing in its own right. It's divided into 19 galleries and exhibitions spread across three floors, which together document and explore the last billion years of Earth's history.
On the ground floor, you can step back in time and discover the ancient civilizations of Egypt and Assyria. There is also a section that explores the natural wildlife of the Bristol area and a section with archaeological specimens from around the world.
The 1st floor delves into wildlife, geology, and minerals, with a myriad of exotic animal exhibitions. Here is where you'll find the famed Bristol Dinosaur and the best-preserved dinosaur ever found in Britain.
The 2nd floor explores human culture through historic and modern pieces of art from around the world. From 15th-century European master artists to ancient Eastern art from China and Japan, the galleries are extensive and impressive!
After the museum, settle down for some delicious Indian cuisine at Krishna's Inn. It's ranked by TripAdvisor as one of the best restaurants in the city and a multi-year winner of the certificate of excellence!
The Old Duke
After a busy day exploring Bristol's historic and cultural highlights, kick back for a while and lend your ears to the smooth vibrations of some top-notch jazz and blues, free of charge.
Set in Bristol's old city, and woven deeply into King Street's humming atmosphere, The Old Duke is Bristol's legendary jazz and blues bar.
The Old Duke is where you'll hear the finest jazz and blues in the city and it's been touted as one of the most important jazz venues in the United Kingdom! The style is generally inspired by traditional New Orleans jazz, and the performances are all superb.
The Old Duke hosts some incredibly talented musicians, and stages performances every day of the week, so no matter which night you visit, the air will be flooded with the sweet sounds of music.
It opens at midday every day and stays open until around midnight, but the performances are generally scheduled for the early evenings (at around 8:30 / 9 pm). On Sundays, the pub hosts lunchtime performances from 12:30 pm!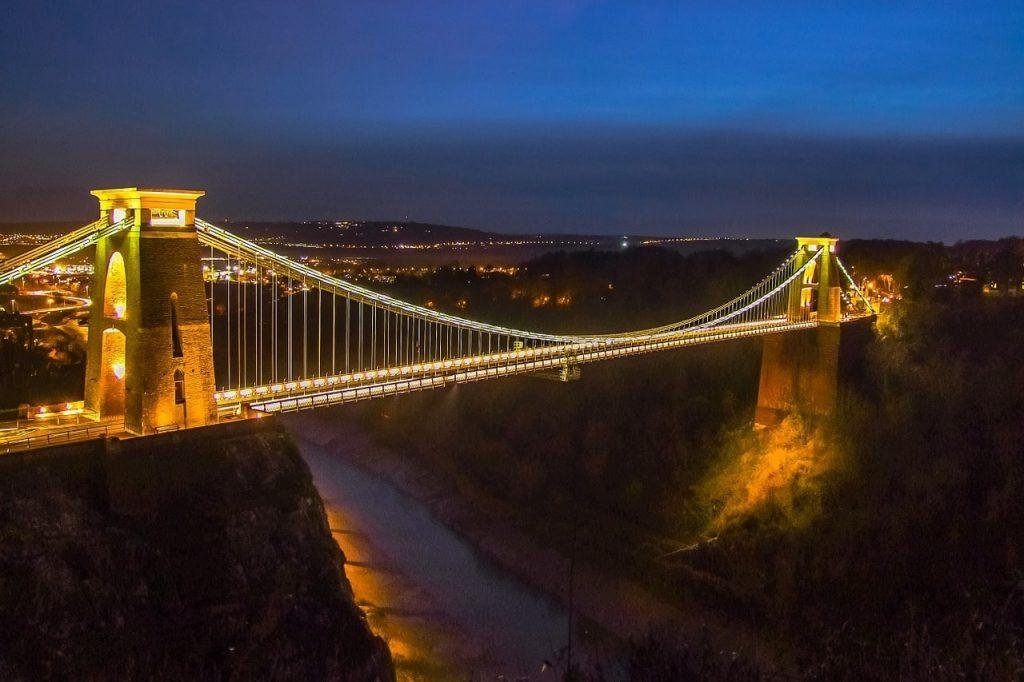 Night Out in Harbourside
If you're feeling sleepy, you can head back to your accommodation for some shut-eye. But if you have the energy, we strongly recommend heading to Harbourside!
This waterside wonder is home to some of the city's most delectable nightlife venues and is arguably the most popular spot for a night on the town. The atmosphere is infectious as you wander from bar to bar along the water's edge!
Check out V-Shed for dockside seating and stunning water views. Vibrant lights from the banks bounce off the water and create some stunning reflections – a beautiful backdrop for a cold beer or colourful cocktail!
If you're after a club night, Pryzm is a great option. This mega-club has a capacity of 2,500 people and hosts top-notch club nights on the regular. Expect bass-heavy sounds and a humming atmosphere!
Stop by at Tare restaurant before you head out. It's one of the best restaurants in Bristol, and serves creatively plated dishes that will blow your mind!
Day 3 in Bristol
If you're looking for a three-day Itinerary in Bristol, or are lucky enough to be spending more than three days in Bristol, you'll still be spoilt for choice! We recommend checking out our guide to day trips from Bristol, to get the most out of the surrounding area.
Here's a roundup of some of the best things to see and do in the city during the rest of your trip!
Explore the Old City
The Old City is Bristol's historic centre and is well worth adding to your Itinerary for Bristol.
Lined with opulent old buildings, Corn Street was the heart of historic Bristol and was once the bustling business centre, dripping with wealth that is still apparent today. It is now open only to pedestrians, and the buildings that once housed financial institutions now house lively bars and restaurants!
Walking down Corn Street is certainly one of the best ways to get a feel for the old city, and offers plenty to keep you busy too!
Aside from the vibrant bars and restaurants, the street frequently hosts a variety of markets! From vintage clothes and flea markets to the Wednesday Farmers Market and the Street-Food Market on Friday and Tuesday, there's pretty much always something happening on Corn Street.
Next, take a left at the end of Corn Street onto Small Street, which is also lined with many striking old buildings! If you keep walking along Small Street and make a right down Bell Lane, you'll get to see the only remaining portion of the medieval city wall at St. John's Church.
Just across the main road from St John's is the famous Christmas Steps, a narrow, historic stepped-alleyway that squeezes through buildings!
BBQ in the Park
Bristolians love spending time in their city's many beautiful green spaces, and having a BBQ is one of their favourite ways to enjoy these parks!
If the weather is good during your trip to Bristol, you should definitely plan to get in on the action! It's an awesome way to soak up the Bristol vibes and a wonderfully laid back experience. Grab a disposable BBQ from the supermarket and take a frisbee or a hackysack for entertainment!
There are a few regulations regarding safety and respect when it comes to BBQing in the city's public spaces, but the majority are just common sense. Don't leave your BBQ unattended while it's lit, and don't put it in the trash until it's cooled down. Make sure you clean up after yourselves and respect those around you!
Night Out in the Center and Stokes Croft
If you're feeling strong after your evening antics in Harbourside the previous night, head on through to the city centre and neighbouring Stokes Croft to get a different taste of Bristol's famous nightlife. The area is great for all kinds of nights out, from chilled evenings to loud and late club nights. There's also plenty of street food options for a late night snack between venues!
Stokes Croft is the city's artistic and alternative cultural hub and is a top-quality area for a killer night out in the city. There are plenty of off-beat and trendy nightlife venues, from chilled out bars and lively pubs to rowdy clubs that keep thumping deep into the night!
With street art lining its walls and buildings, Stokes Croft has an alternative atmosphere and an exciting evening vibe most nights of the week! Grab some drinks at the Full Moon backpackers for a vibrant backpacker atmosphere!
Stokes Croft is also just a short walk from the city centre, which is another hub for Bristolian nightlife. Check out Timbuk2, an underground club with a great vibe and solid techno DJs.
Bristol Aquarium
The Bristol Aquarium aims to inspire in its visitors a deep inspiration of the natural world. It's a beautifully constructed aquarium that offers a diverse variety of displays! Get ready to be fully immersed in an underwater world that takes you on an enchanting journey around the waters of our Earth!
The aquarium's displays range from the tranquil underwater gardens of the Mediterranean to aquatic world of Bristol's own harbour. The displays convincingly recreate a series of themed underwater habitats, so you'll get plunged into ecosystems from around the world!
Some of the highlights include a full-size recreation of a sunken ship and a vivid window into the mangroves of the Amazon. Expect to see a range of underwater creatures including sharks, seahorses, jellyfish, turtles, manta rays, and unicornfish to name a few! Entry to the aquarium costs around $19 USD.
Georgian House Museum
Georgian House is another Bristolian time capsule, but this time you'll be transported back to the late 1700s. Unfortunately, Bristol's pedigree as an important location for marine trade comes with a darker side; the city was a major port for the slave trade in the 18th century.
By stepping into Georgian House, you'll find yourself immersed in the home of a wealthy sugar merchant and slave plantation owner, who lived there from 1790. It's a six-floor townhouse that has been restored to recreate how it would have looked back in its glory days.
Discover what life was like above and below the stairs. Explore the kitchen, housekeeper's quarters, and laundry below the stairs, and the opulent Drawing Room, Dining Room, and Study above. Learn about a portion of Bristol's history in an immersive way and hear stories about the houses former occupants.
Georgian House offers a fascinating window into a time of disparity and allows you to reflect on the city's convoluted past.
How to Get Around in Bristol
Bristol is the largest city in South West England, but despite its size, it's still a pretty easy city to get around in! There are generally a few transport options for any journey.
The city has an extensive network of buses that run pretty regularly and are quite efficient. They also run to and from most parts of the city, so you can generally catch a bus to where you need to go! The buses offer great discount rates for students. So, if you're a student, be sure to bring your student ID.
Amongst Bristolians, walking and cycling are extremely popular methods of transportation. The city is well equipped for cyclists, and walking allows you to duck down alleyways and through parks that you wouldn't otherwise see. Both of these methods also allow you to get a real feel for the city and experience it like a local!
However, Bristol is known for being exceptionally hilly, so unless you're heading downhill, both walking and cycling can drain your energy pretty quickly!
If you've had a long night out, and the late-night bus is a bit of a long wait, you can always grab an Uber or a taxi. Hopping in an Uber is usually your best bet, but you can always flag down a blue metered taxi for a quick ride home!
Closing Thoughts on Bristol
Bristol is a wonderful city, with an incredible amount to offer. The whole city has a lively backpacker atmosphere that will welcome you with open arms, and there is an endless amount of things to see and do.
The two universities in the city, along with the strong youth hostel presence, make for a youthful crowd. This permeates into the city's famously exciting nightlife and music culture, that grips the city almost every night.
Those who travel to Bristol will find that it's a perfect city for all kinds of travellers, with lively music culture, world-class nightlife, rich cultural landscape, and extensive history!
So whether you're a party animal, music fanatic, history lover, or an artistic soul, Bristol will captivate you and leave you wanting more!