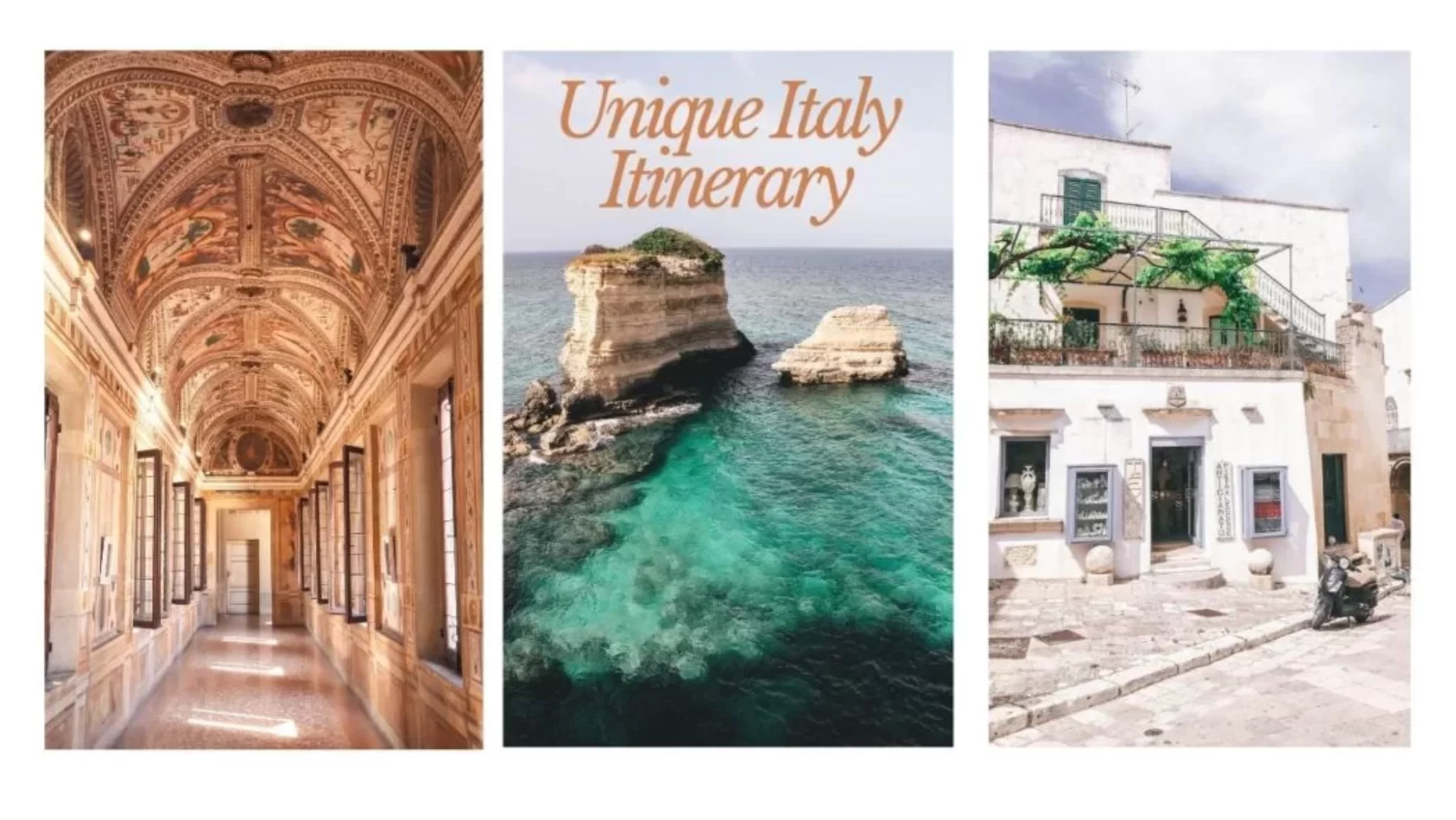 Planning your Italy itinerary can be nigh on impossible, especially for first timers, as there are simply too many beautiful towns to visit, historic sites to tick off and beautiful beaches to explore. While most people will flock to Italy's most famous cities like Venice, Florence and Rome or pick an idyllic island down south to spend their week-long holidays, I would like to present to you something completely different.
I'm going to share my amazing 10 day Italy itinerary with you, a journey that will give you a taste of two very different sides of the country, allowing you to appreciate all Italy has to offer from North to South. With both an incredibly well-connected flight and train network, distance should not stop your from planning your dream Italian journey.
This unique itinerary is all about "doubling your journey in Italy" and seeing two contrasting parts go the country on one single trip. It will allow you to explore postcard-perfect villages, picturesque hill-top towns and spectacular coastline down south in Puglia followed by historic cities, the stunning Lake Garda and the wineries surrounding it as well as a brief stop in Milan – Italy's largest city and home to some of the country's most important pieces of art.
My 10 Day Italy Itinerary From Puglia To Lombardia
Italy Itinerary Map: Top destinations
Start your Italy adventure down south by doing a road trip around Puglia and stopping off at as many of the prettiest towns in the region as possible and of course making time for chilling on Puglia's stunning beaches and enjoying some of the best cuisine in Southern Italy.
I think about 5 days in Puglia should be enough, to ensure you have enough time to explore Lombardia too. This whole itinerary could be done in a week if you cut out a few towns, or alternatively you could spend longer in certain destinations and spread the itinerary out over 2 weeks!
VIDEO: Puglia Road Trip
Day 1 – Explore Otranto, 

Torre Sant'Andrea and 

Lecce
Otranto
Otranto is the best place to start your 10 day Italy itinerary as you can work your way up the coast from here and see the best of Puglia. Very close to Otranto you will find Punta Palascia Lighthouse, known to be the most Easterly point in all of Italy. It's situated inside a very beautiful natural park that protects the wild coastline of Otranto with its untouched beaches, unique cave systems and of course important plant life.
On your way back into town, either driving or on a popular Ape (Auto Rickshaw) tour, you should stop off at Bauxite Cave – a disused quarry that is now a natural reserve for small animals and birds that congregate here each evening to wash and drink.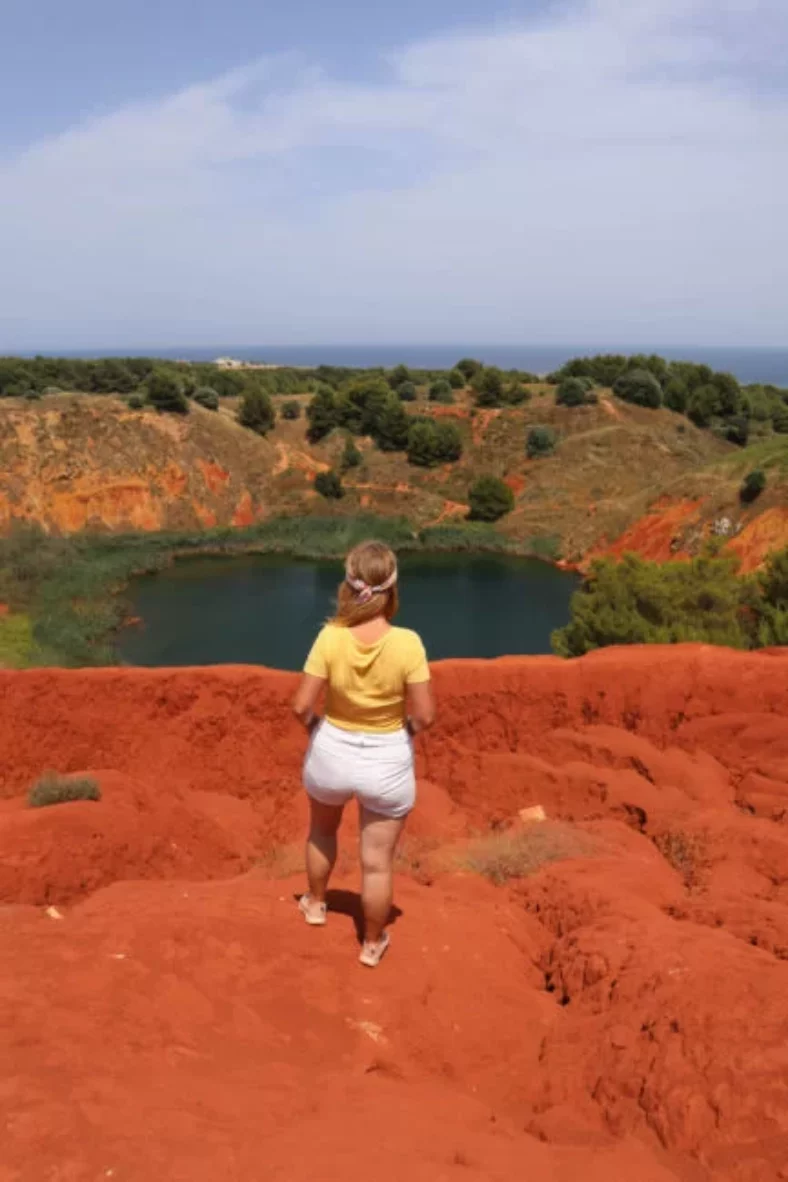 The soil around the pond is this rich, red colour similar to the landscapes you would see in Australia or Arizona but certainly not Italy! It makes for some very unique photos and there are some nice, short hikes in the area.
Otranto Old town is a must visit on any trip to Puglia and was one of my favourite places to visit as I found it a lot quieter than some of the other top-visited towns and villages. I adored the white-washed buildings inside the towering city walls, the impressive Otranto castle and the cute restaurants and boutique stores dotted around the old town.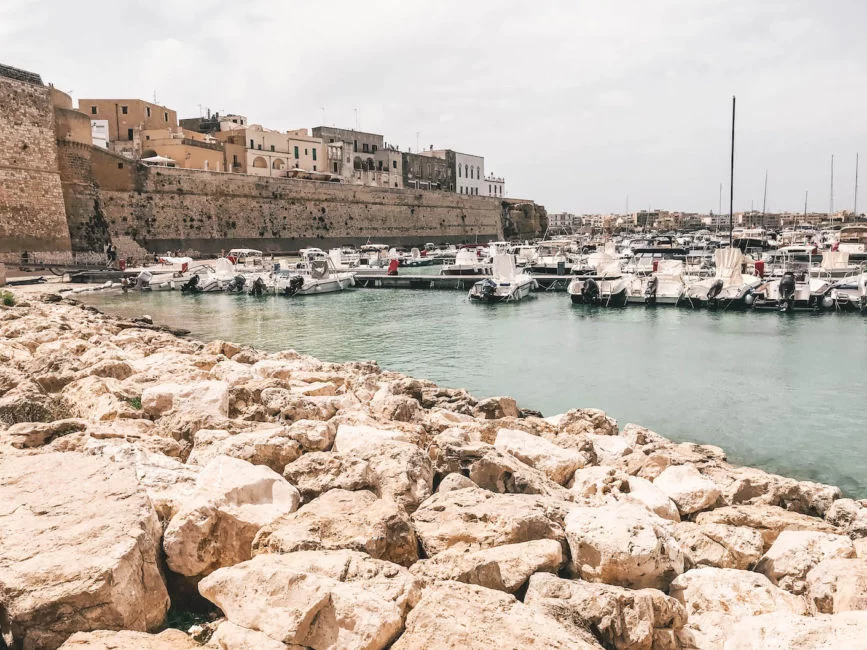 The harbour here is both a popular spot for boating and swimming, and despite being a "city beach" the water is sparkling clean and perfect for families and young children.
Otranto Cathedral is a particularly peculiar place, sometimes referred to as "The Cathedral of Skulls" as in contains the skulls and bones of 800 martyrs as well as a trippy "Tree of Life" mosaic on the floor – it's well worth a visit!
You can either choose to stay in Otranto for two nights and use if as a base  for exploring the south of Puglia, or alternatively stay in Lecce (probably a better idea) and use that as a base instead. Either way, you can find affordable and luxury villas in Puglia to stay in during your trip.
Torre Sant'Andrea
Torre Sant'Andrea is a fun stop when driving from Otranto to Lecce. It's one of the most photographed stretches of coastline In Italy, famous for its iconic arch and sea stacks. You can, carefully, walk along the cliffs here or if you're feeling extra adventurous join the crowd and jump off a lower section of the cliff into a natural swimming hole below.
There were almost 100 people swimming and jumping off when we visited in late June so I image in gets even busier throughout the summer. You can slowly drive to the famous natural swimming pool Grotta della Poesia which is just 10 minutes away or to the picturesque (but BUSY!) Torre dell'Orso beach – perfect place to chill out for an hour.
Lecce
Lecce was another historic city in Puglia that really surprised me. I had honestly never heard it before we arrived, and with most places in Italy I was very pleasantly surprised.
How could you not be happy wandering around a city steeped in history, home to an amphitheater that dates back to the 2nd Century that miraculously is still used today for events and concerts – albeit with a little less blood splatter! 😉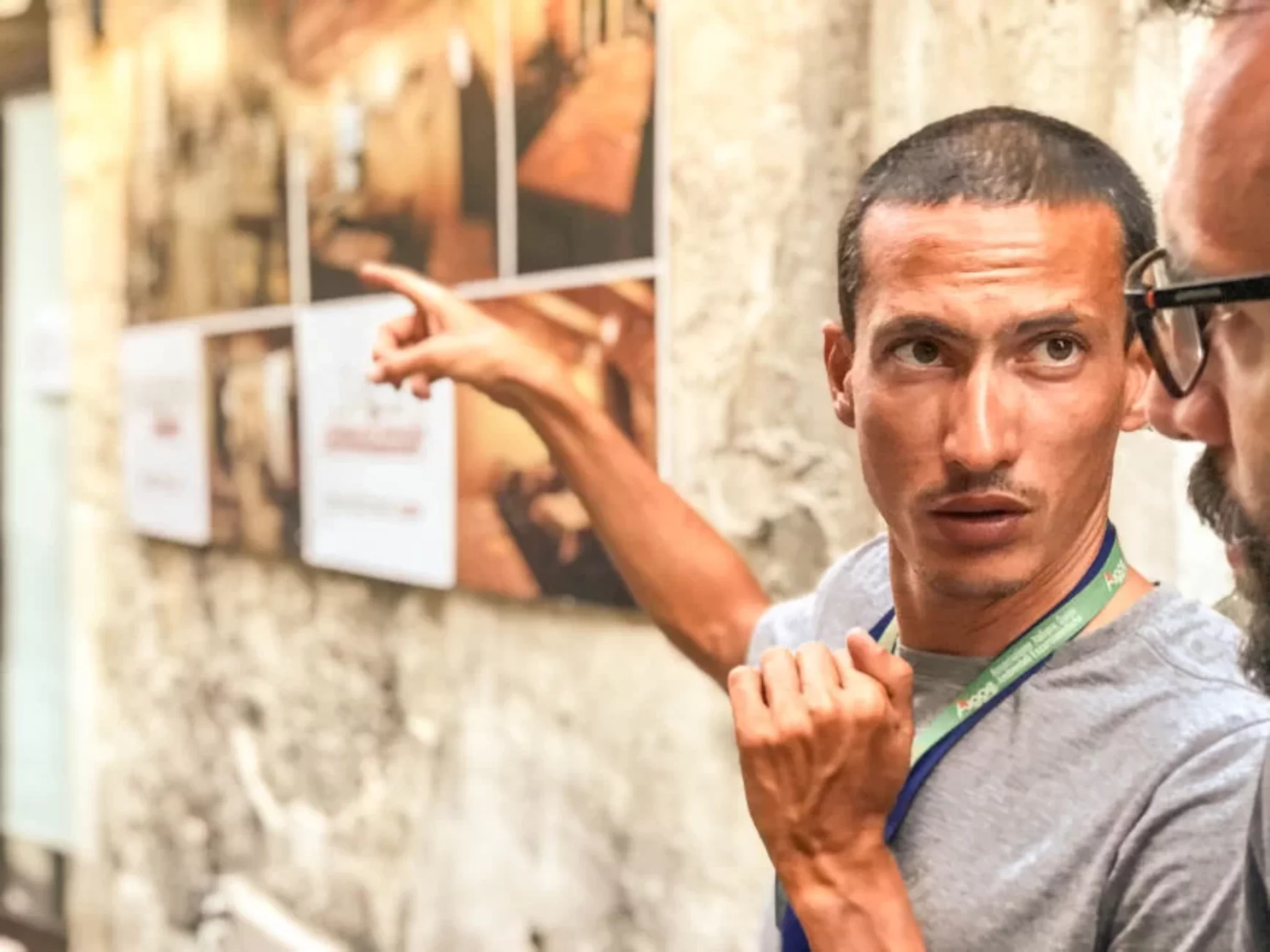 Lecce is also a top foodie destination in Puglia, with loads of top-rated cafes and restaurants to stop off at. We tasted some traditional Lecce iced coffee made with almond milk (perfect for any vegans!), dabbled in some cocktail-making and enjoyed one of the most memorable meals of our trip on a restaurant by the main piazza.
The architecture, especially during the golden hour each evening, is what will truly take your breath away in Leece. Be sure to check out the gorgeous Basilica di Santa Croce, the Cattedrale dell'Assunzione della Virgine, the old castle and Porta Napoli – the main gates that will take you into the old town.
I recommend arriving anytime after lunch as the late afternoon and evening is the perfect time to explore followed by dinner out on the main squares, listening to live music if you're extra lucky.
Day 2 – Drive to Locorotondo and Alberobello
Locorotondo
Following a relaxed morning in Lecce – people don't seem to wake up there until after 9am! – I recommend driving up to Locorotondo, one of the prettiest villages in Puglia. The towns get its name from is circular shape, sitting at the top a hill with both spectacular views of the surrounding countryside and a feeling of privacy, protected within its own high, city walls.
My friend Dan says that Locorotondo was "his favourite place to visit in all of Puglia" and we both wish we had a little longer to spend there Ideally drive up here in the late morning and have a leisurely lunch at one of the postcard-perfect restaurants inside the city walls.
The town gives off real Greek vibes with its white-washed buildings, fairy lights, narrow laneways and colourful flower displays. Even if you don't stay for lunch, you could spend at least an hour just getting lost down the myriad of laneways, checking out some cute, boutique stores and stopping off for a quick Spritz.
Alberobello
After lunch it's time to drive to Alberobello, one of the most-photographed towns in Puglia. It's famed for its unique Trulli houses which are found all over the Val D'Itria, the fertile valley in which Alberobello is situated.
It had been rumoured that the houses in The Smurfs were based on these famous Trulli houses, but this has not been confirmed. Regardless, you're sure to fall in love with the cobblestone streets, strange-shaped houses and quirky vibe to be found in Alberobello.
The houses are best visited just before sunset with streams of light flood down through the hillside where most of the Trulli houses can be found.
While on one side of the Main Street you will find more traditional Trulli where people still live in the buildings, on the opposite side many of the Trulli houses have been turned into shops, cafes and restaurants with beautiful terraces built on to draw in the tourists.
If you want the streets all to yourself, then you'll need to come back around 7.30am – a magical time for photography in Alberobello.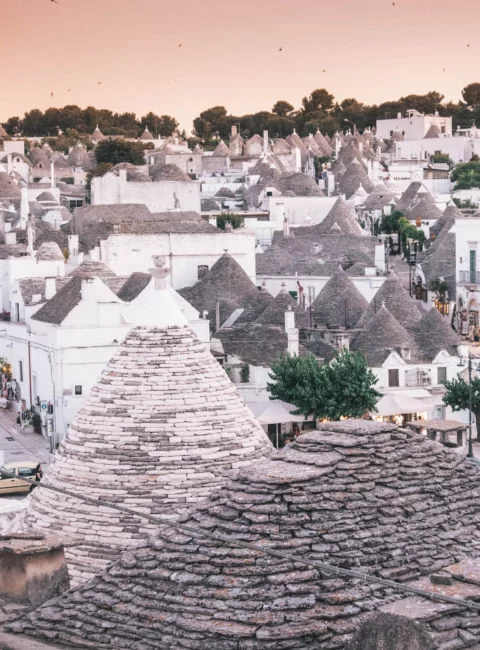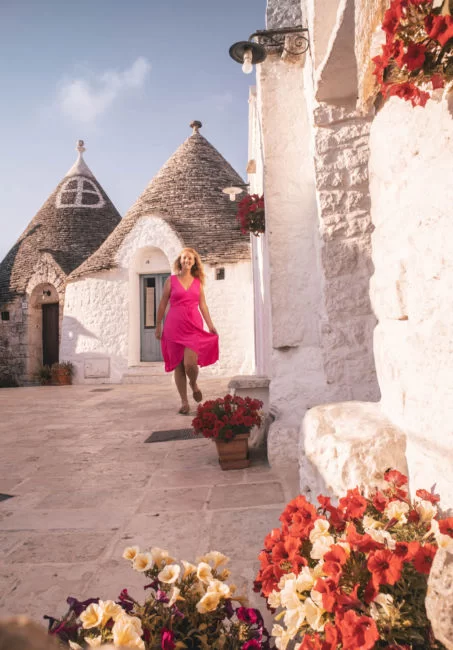 Day 3 –  Val D'Itria Cycling tour and Torre Canne National Park
Val D'Itria
One of my personal highlights of Puglia was the morning cycling tour we did in the Val D'Itria. Admittedly it was rather hot, and I believe April/ / May or September / October would be a lot more pleasant – I thoroughly enjoyed our tour of the valley by bike.
Our guide was fun, informative and always made sure we were all stocked with cold, drinking water – and didn't pull his hair our when we insisted to stop for photos every 5 minutes.
The scenery was incredible as we passed through endless olive groves, cute Trulli houses made of stone dotting the countryside, old stone bridges and fields full of colourful wild flowers.
While our tour was only 3 hours long, Puglia Cycle Tours can arrange tours up to 10 days in length for those feeling a little more adventurous.
Torre Canne National Park
Torre Canne is a wild and wonderful National Park full of undulating sand dunes, adventurous kite surfers and endless miles of wild, beaches to relax on. The town itself, with its seafront-facing hotels, iconic white lighthouse and pretty beach is a great place to stop off for lunch.
Once you've got your feed park as close to the kite-surfing beach and enjoy the feel of the soft, wine sand beneath your toes as you watched skilled surfers lift several feet off the waves, pulled by strong winds. There are also several beach-bars / restaurants along this strip to the right of the protected sand dunes, where you can rent a sun lounger for the day or enjoy a gelato or two as you watch the sun slowly descend into the ocean.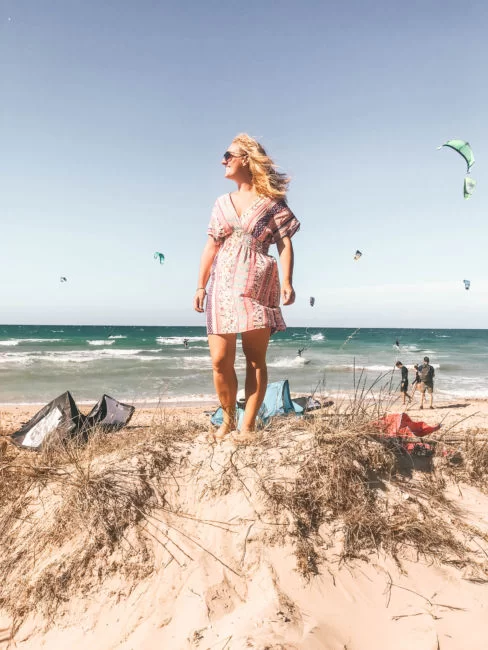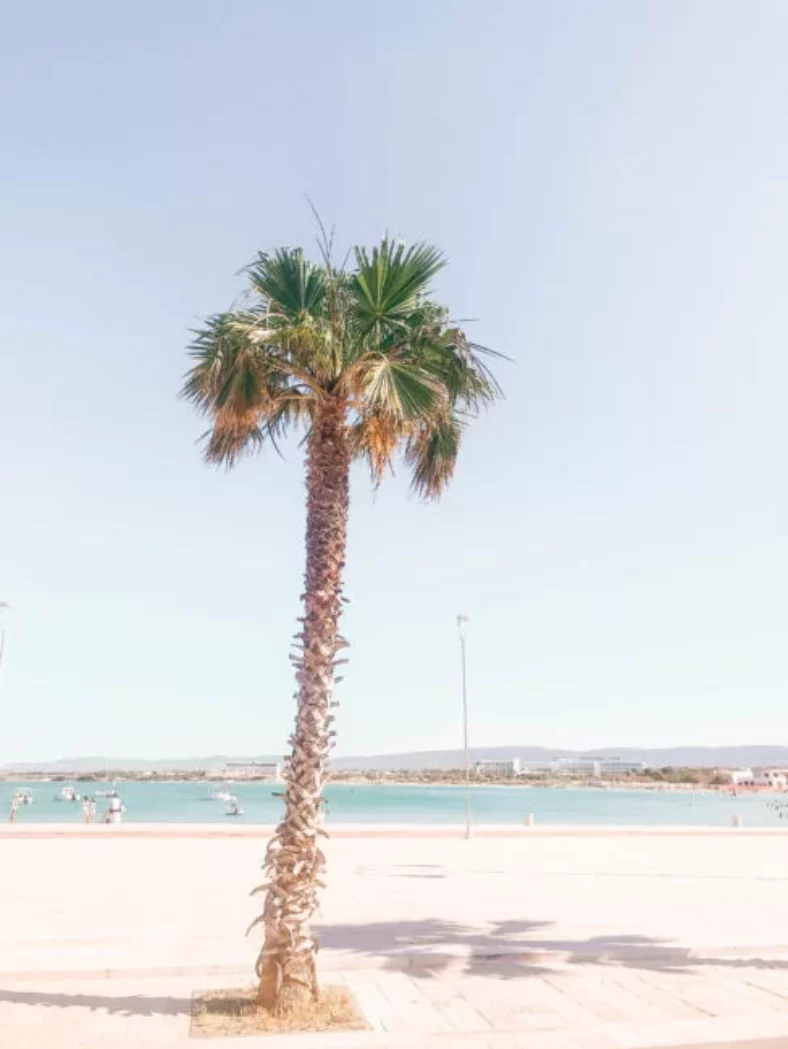 My best tip would be to book 2 nights in Alberobello so you don't have to be packing and moving each day. It will make you vacation more relaxed, yet still allow you too as much of the tops sites in Puglia as possible.
Day 4 – Polignano a Mare and Bari food tour
Polignano a Mare
Ahhh Polignano a Mare – the most iconic town and coastline in all of Puglia, if not Italy! If you've seen any tourism brochures or holiday deals advertising Puglia, there's 90$ chance they used a photo from this stunning town to entice you to visit.
As one of the most popular towns in Puglia, it will be busy but don't let that stop you from visiting this absolute gem. How could you not be fascinated by a town that looks like it's been carved into a cliff face, with large caves under some of the buildings actually being used as fancy restaurants!
On top of the caves, precariously-built buildings, and colourful laneways throughout the city that will ensure you get lost again and again – there's also the famed beach that looks like it should be located on a hidden island in Thailand rather than in the middle of a busy town in Southern Italy.
The views down to the beach are just as stunning from either side of town, and they really are jaw-dropping. The sheltered waters are a swimmers heaven and there's ever some questionable cliff jumping spots nearby.
This is also where the Red Bull Cliff Diving championships take place in with professional divers having to climb out windows and on to the balconies and roofs of the locals houses to reach the perilously placed diving platforms!
Be sure to stop off for lunch at one of the gorgeous ocean-view restaurants that are famed for serving some of the best seafood in Puglia. A foodie heaven!
Bari
At first, like many people, you might consider skipping Bari – labelling it as just another big city not worthy of your precious time. I beg you, however, to give beautiful Bari a chance – even if it's just to taste the wonderful food!
Walk through the pretty stone archways and maze-like laneways that open out onto old piazzas that seem stuck in time. Sit out and enjoy some coffee with the locals, or stop off for some award-winning focaccia.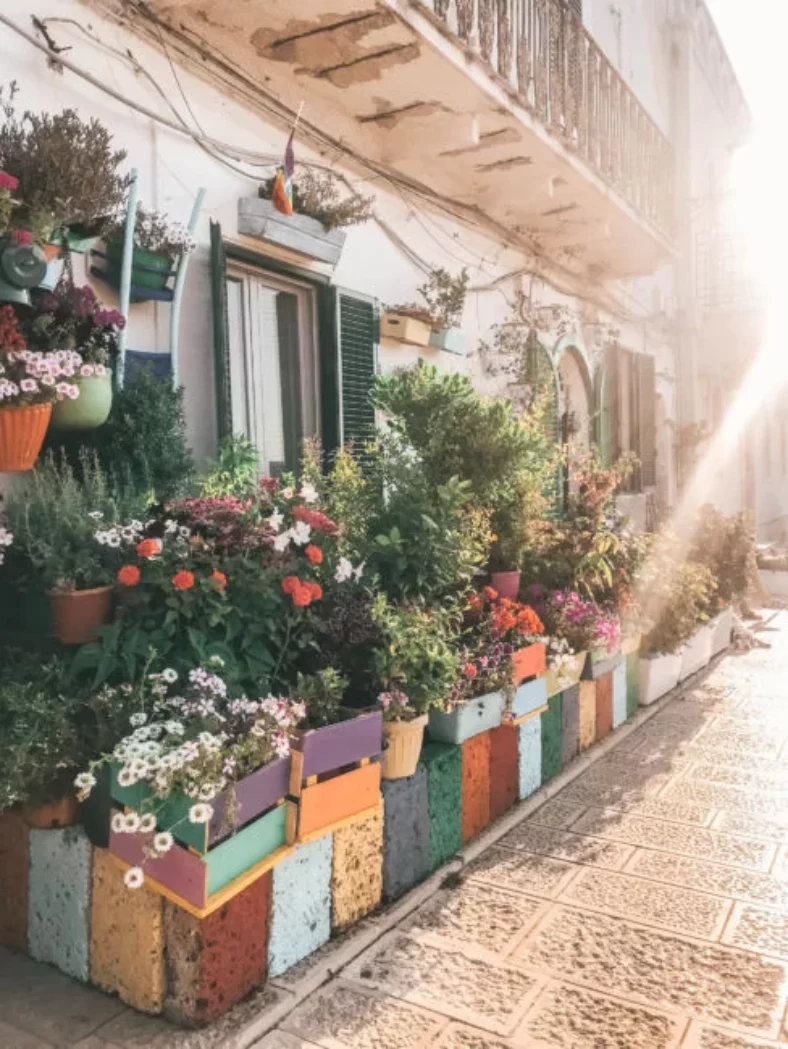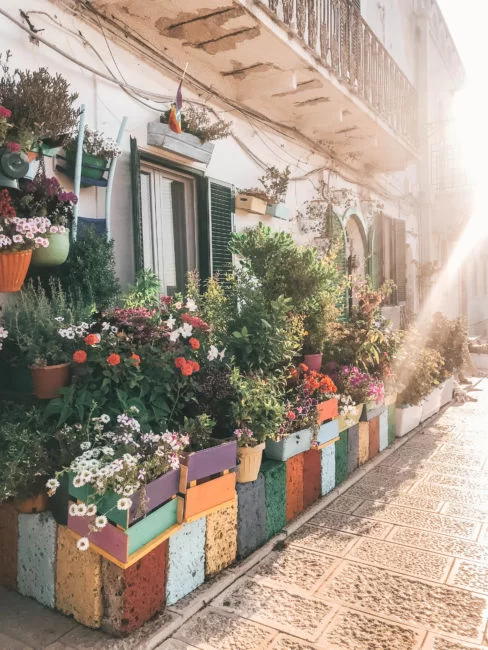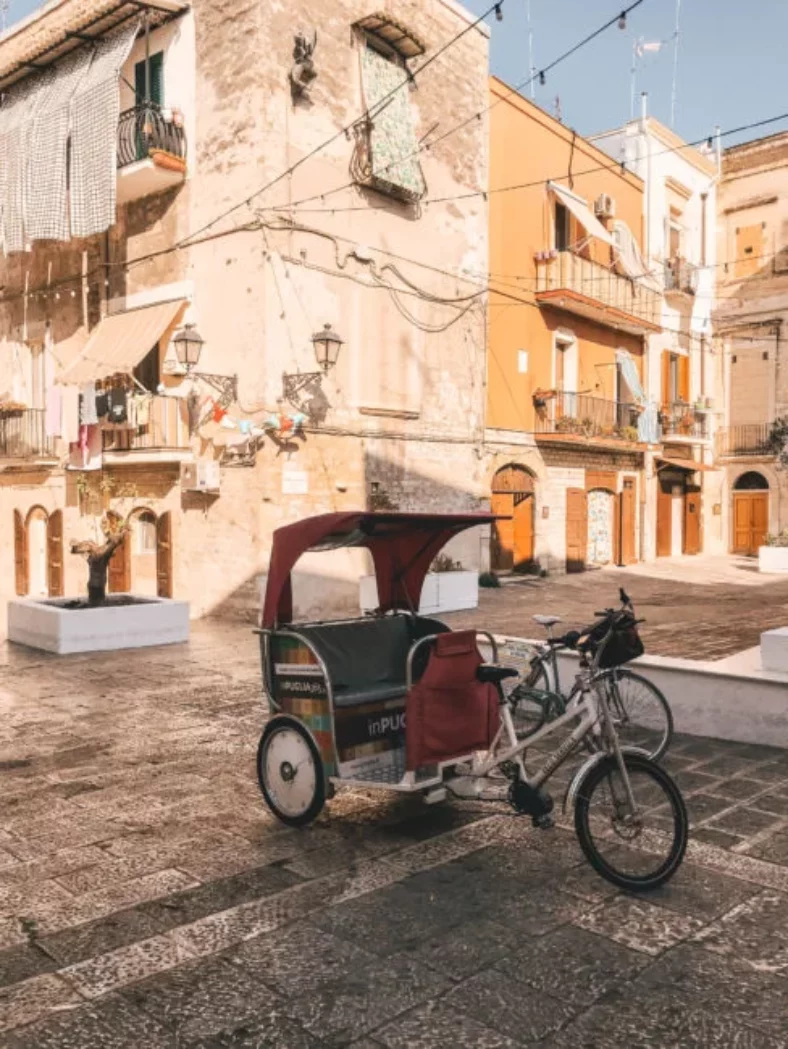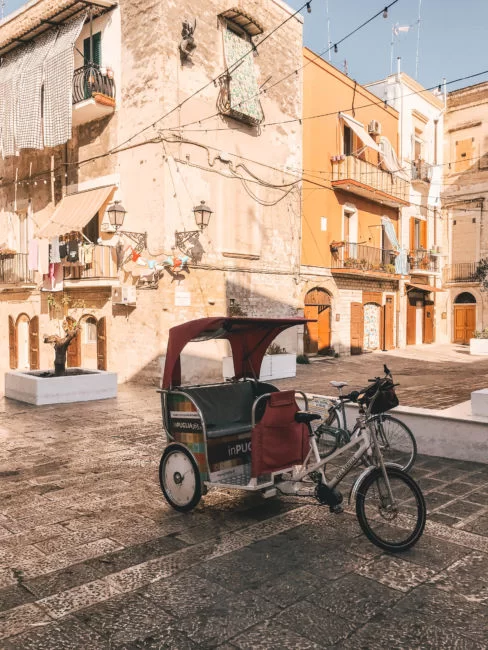 We decided to make the most of our very short time here by signing up for a rickshaw tour of the city with Bari Velo Service – all three of us squished in the back while our chirpy guide peddled us around the city. This allowed us to see the main sites, such as Basilica San Nicola (yes, pretty much a cathedral dedicated to Santa Claus or "Saint Nicholas"), the old harbour, the old town and some amazing pit stops to taste as much local Bari cuisine as possible!
I really felt like we got to know the town super fast, mainly thanks to the fact that our guide seemed to know everyone and pretty much got invited into traditional houses in the old town by happy nona's spending three evening making fresh pasta, and of course letting us have a taste.
From pasta to polenta, cured sausage, award-winning focaccia and a hand full of fresh cheeses to taste – a trip to Bari is worth it simply to try the food.
Book yourself into a hotel in Bari for two nights, another great base, and a great location for your flight to Milan in just over 24 hours!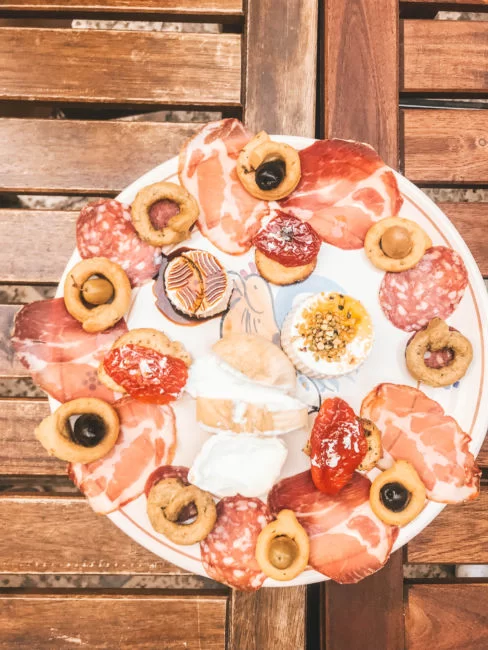 Day 5 – Sant'Agata di Puglia and Bovino
Bovino
After a few days exploring Puglia's prettiest coastal towns and beaches, it's time to head up into the mountains to catch a quick glimpse of an alternative side of Puglia – a side I didn't actually know existed.
Farming is huge in the north of Puglia and the endless fields of green and incredibly long, flat roads make for some very easy and tranquil driving. I recommend you spend the day checking out two historic towns in this area, Bovino and Sant'Agata di Puglia.
You can also sign up for a quick cooking / past making demonstration at an old watermill close to Bovino and enjoy a delicious homemade lunch inside the old mill.  really unique activity and one of the most memorable meals of our trip!
Most people visit Bovino to understand its unique geographic and historical importance within Puglia – and due to the fact that it's a listed member of the society of "Italy's Most Beautiful Villages".
The small, mountain-top town looks down on three Italian regions; Puglia, Campania and Basilicata – which made it one of the most geographically important towns for defence in the past.
While it might be small and can easily be visited in one morning, Bovino comes with 2,000 years of history, an impressive Norman Castle and some of the most spectacular views in all of Puglia.
Top sites include San Pietro Church (which contains artwork form the school fo Caravaggio), the Roman Aqueduct,  and the pretty villa communale which we were told will soon be transformed into an outdoor library / reading venue!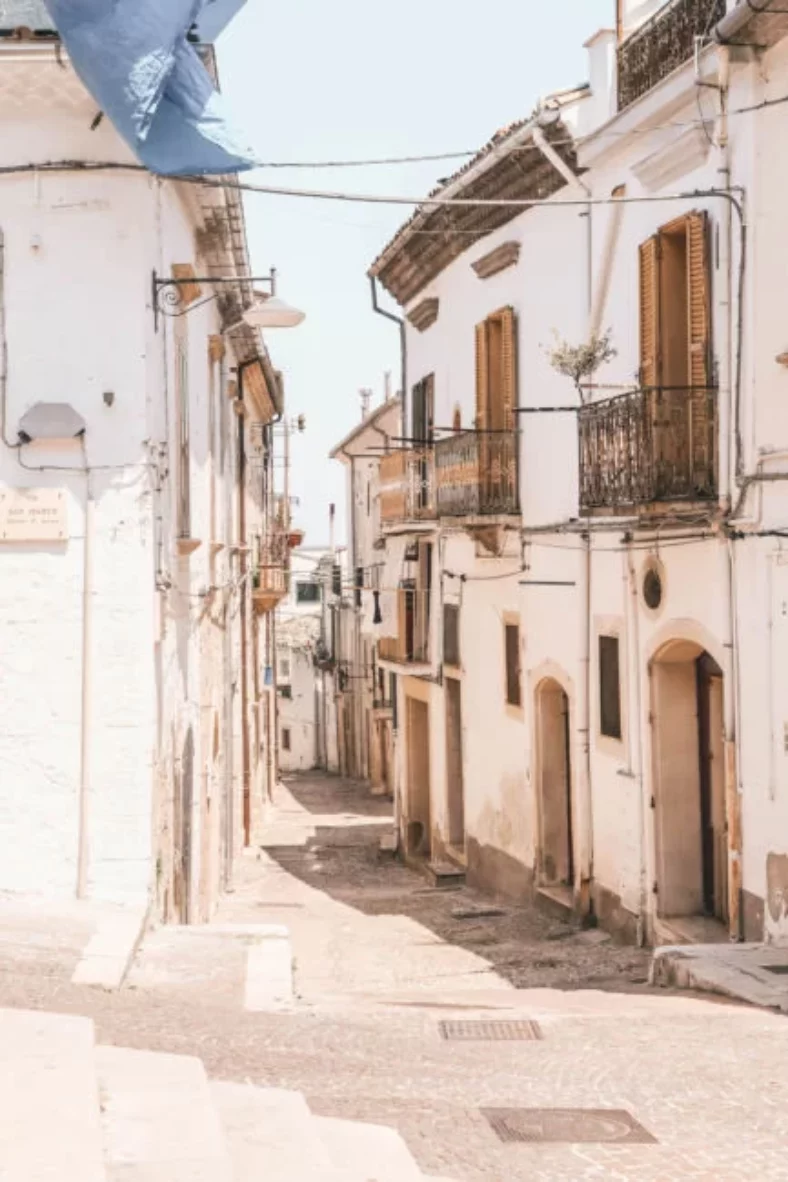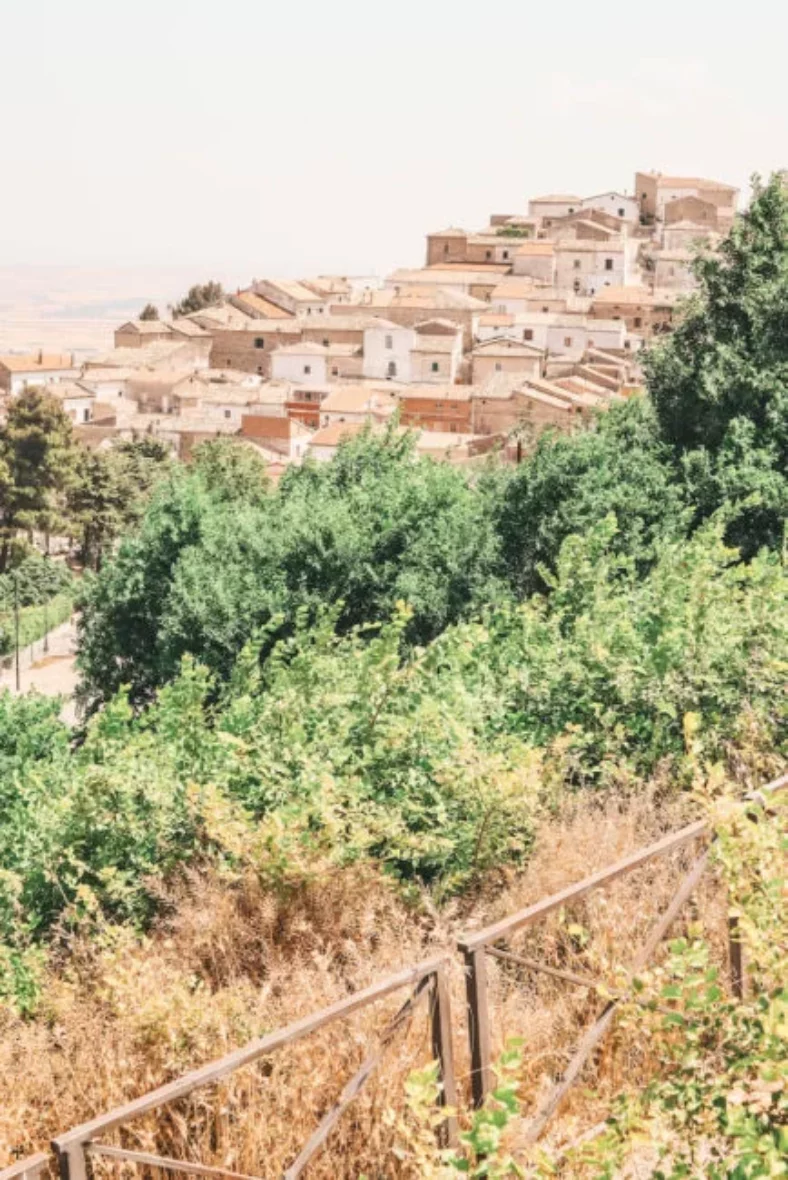 Sant'Agata Di Puglia
Less than an hour drive from here is the equally pretty but thankfully more lively (yet still quite sleepy!) town of Sant'Agata di Puglia – where you may feel like you've been transported back in time. I think I enjoyed my time here more than Bovino and if you're tight on time and can only visit one of the two, this is the one I would choose.
We were lucky enough to have what felt like an entire team of local girls guide us around the time, armed with massive bunch of old keys so they unlock secret doors and passages and show some of the more ancient sites of the town.
The views were from the main square, which is covered on colourful flower boxes and is where you'll find the men of the town sitting outside on plastic chairs, chatting and enjoying a late afternoon coffee..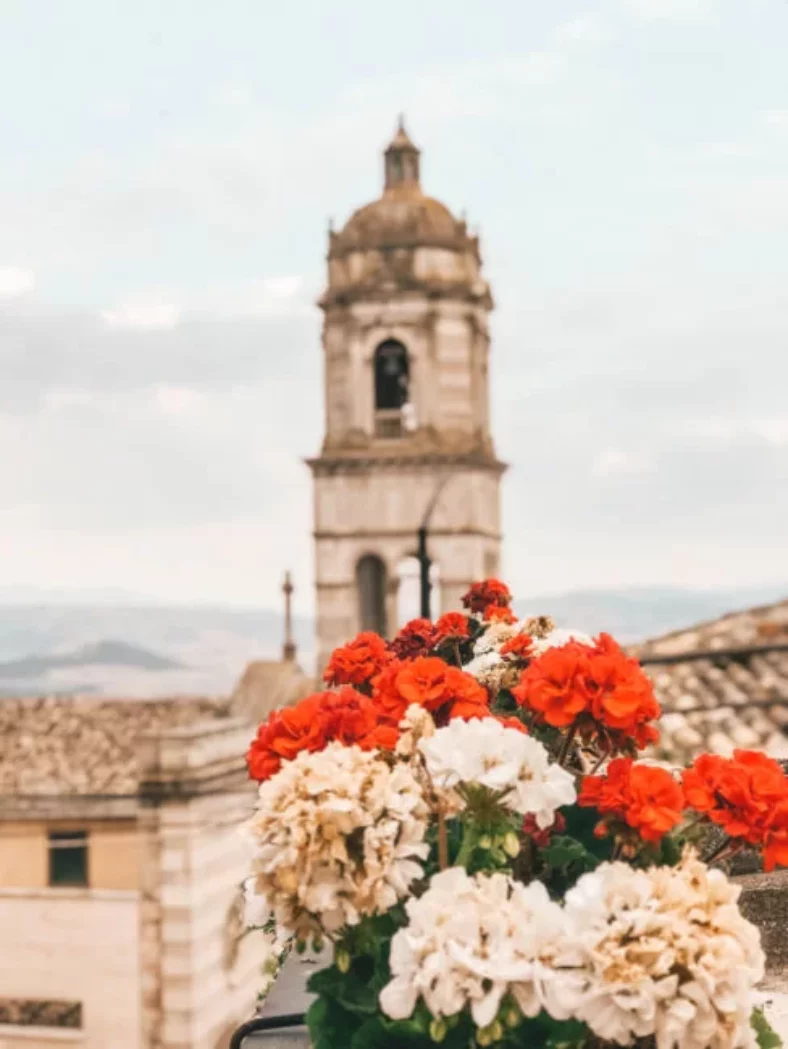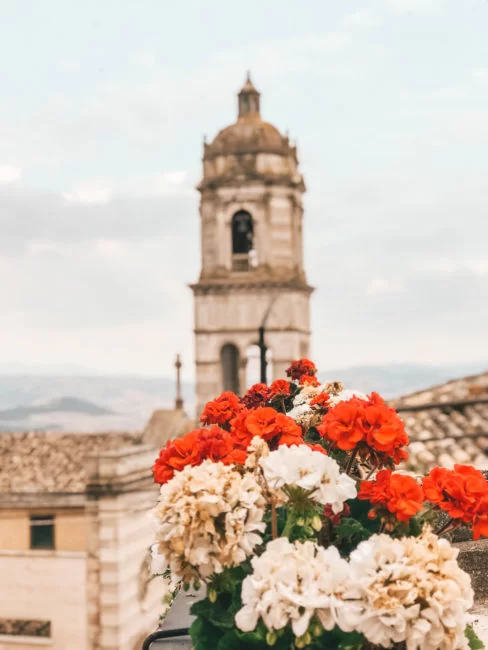 Once you climb higher and higher, past impossibly narrow laneways that you sometimes have to squeeze through, up endless steps and past the old water mill, church and pretty houses, you'll come out at the very top of the town at the impressive Bovino Castle.
Here you can enjoy panoramic views of the surrounding countryside and, if you're anything like me, dream of a day when you can live in a castle like this and enjoy views this pretty every day of your life!
We can all dream, right?!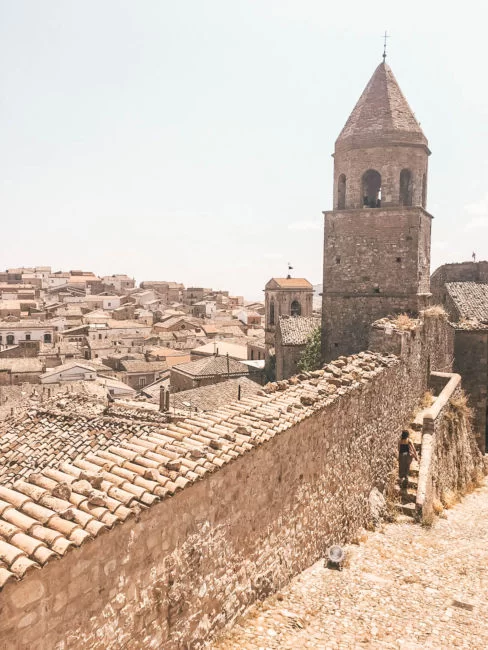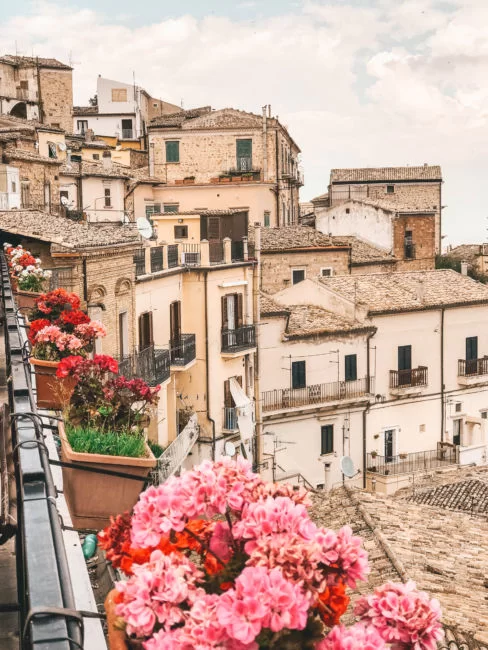 Day 6 – Fly to Milan, drive to Lake Garda 
Now starts the second part of your 10 day Italy Itinerary, the part that brings you up to the historic Lomberdia region in Northern Italy. Home to the largest city in Italy, the largest lake in Italy and some of the most historic (yet less frequently visited) towns in the country – your holiday will continue with a different twist.
Book and early morning flight to Milan, pick up your rental car and drive straight to Lake Garda, less than a two hour drive away and a big contrast in scenery from down south.
Hiking to Lido di Manerba
After all the rich food in Puglia, we decided it was time to get a little more exercise so we signed up to a 3 hour hike around the Western shores of Lake Garda. Our wonderful guide brought us to a spectacular viewpoint then we walked down through so wooden land to what looked like a secret beach where we were pretty much the only one's there.
Our guide then produced some snacks and a bottle of sparkling wine, much to our delight, and saw with our feet in the cool waters of Lake Garda, sipping wine and enjoying the sunshine.
There are lots of picturesque downs on the south end of the lake to explore, which is how we spent our afternoon, driving from one to them next, devouring endless gelato.
We stopped off in Desanzano del Garda for lunch, a picturesque town with a small marina, castle and restaurants overlooking the water. You can also go for a swim nearby, which might well be needed int he intense midday heat.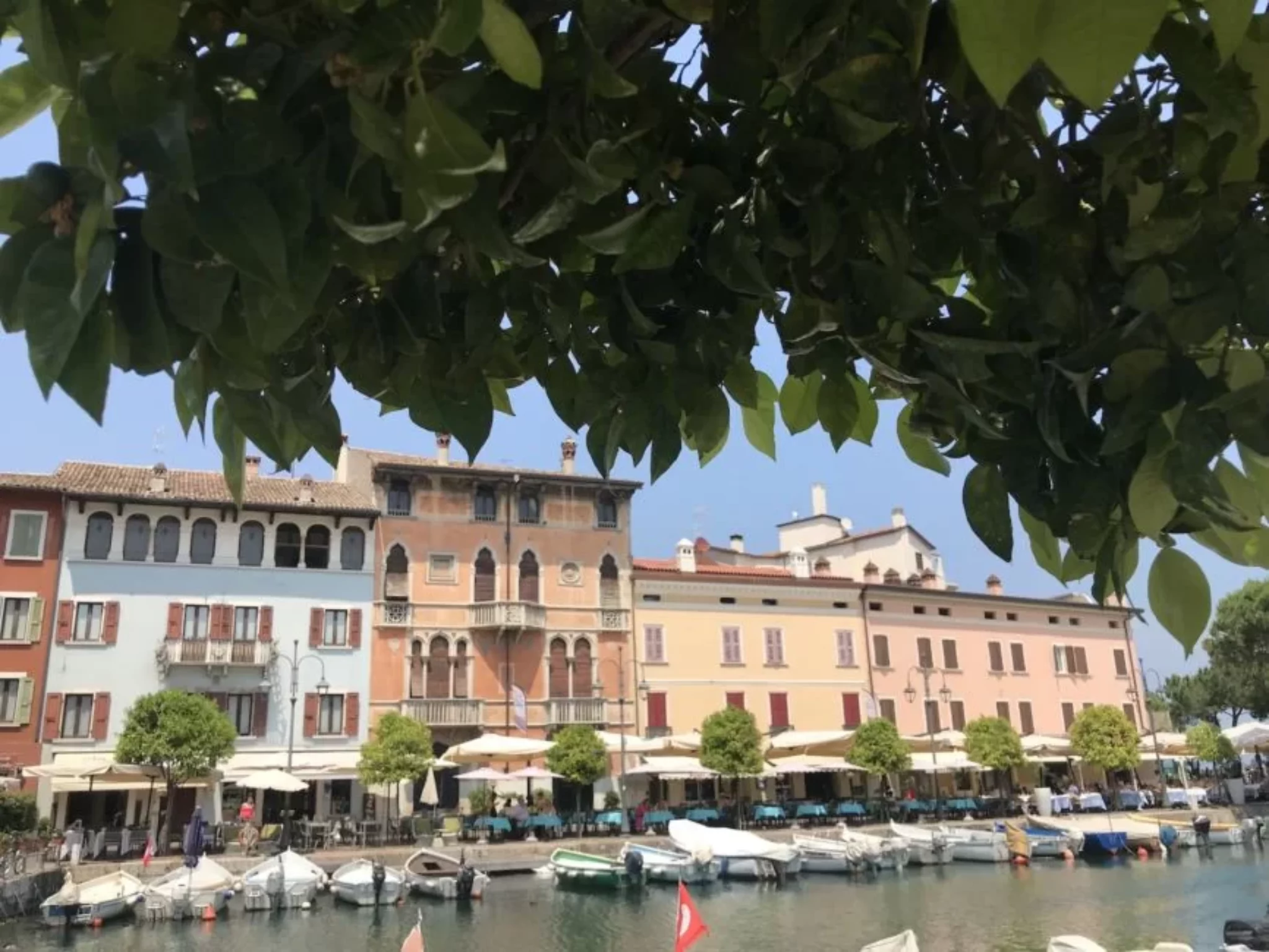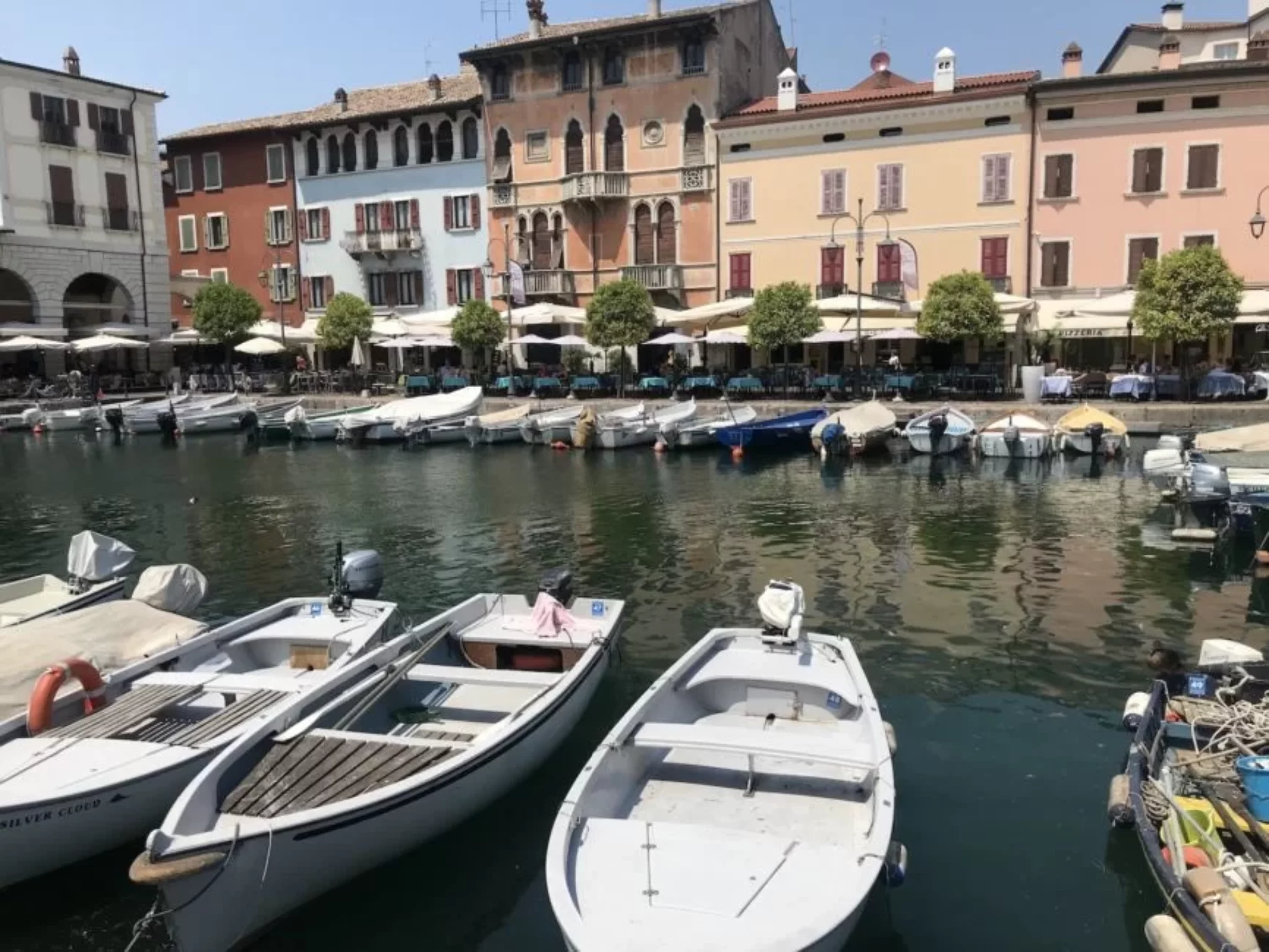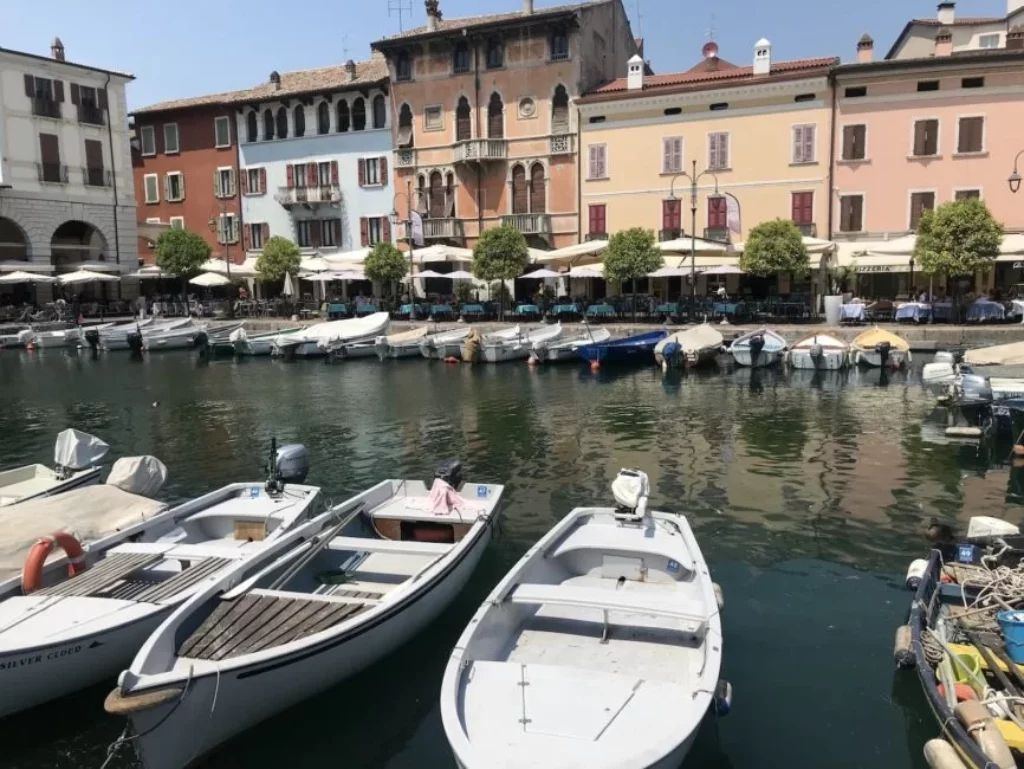 I recommend ending your first day in stunning Sirmione, probably then most famous town on Like Garda. While it is bust and touristy, it absolutely needs to be on your Lombardia itinerary as the castle here is incredible and the sunset views are to die for.
Enjoy a sunset spritz on the main piazza or invest in one of the largest ice-creams I've even seen while you sit on the castle wall or the pier enjoying the lakeside views. The atmosphere here from about 8pm until 10.30pm really is something special – almost magical.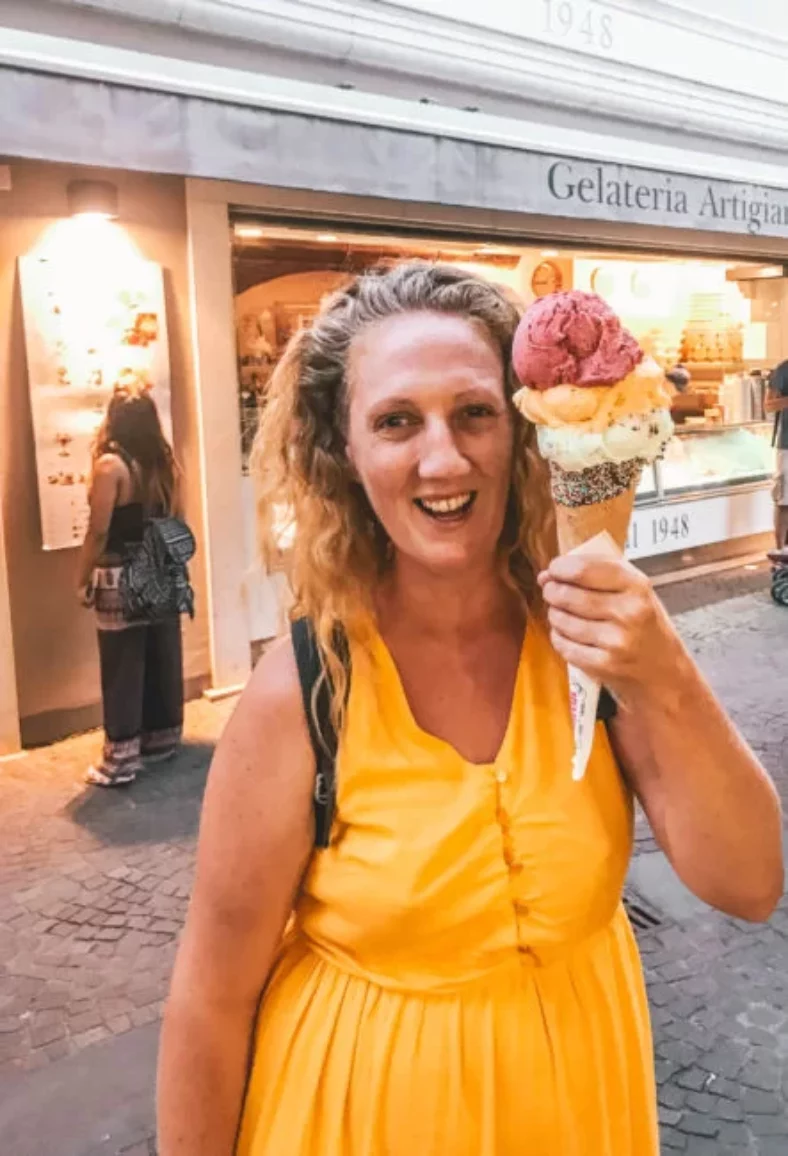 Day 7 – Morning in Sirmione plus cooking course / wine tasting
Morning at Sirmione Castle
As the main place to visit in Sirmione is actually closed in the evening, I recommend coming back here to walk around during the day and to ascend the castle for spectacular views of the lake.
You can also rent a boat for an hour pretty cheap, and ride around the lake to get alternative views of this unique spit of land. You will also see the ruins of an ancient roman villa (you can also walk here) which many people visiting don't seem to know about.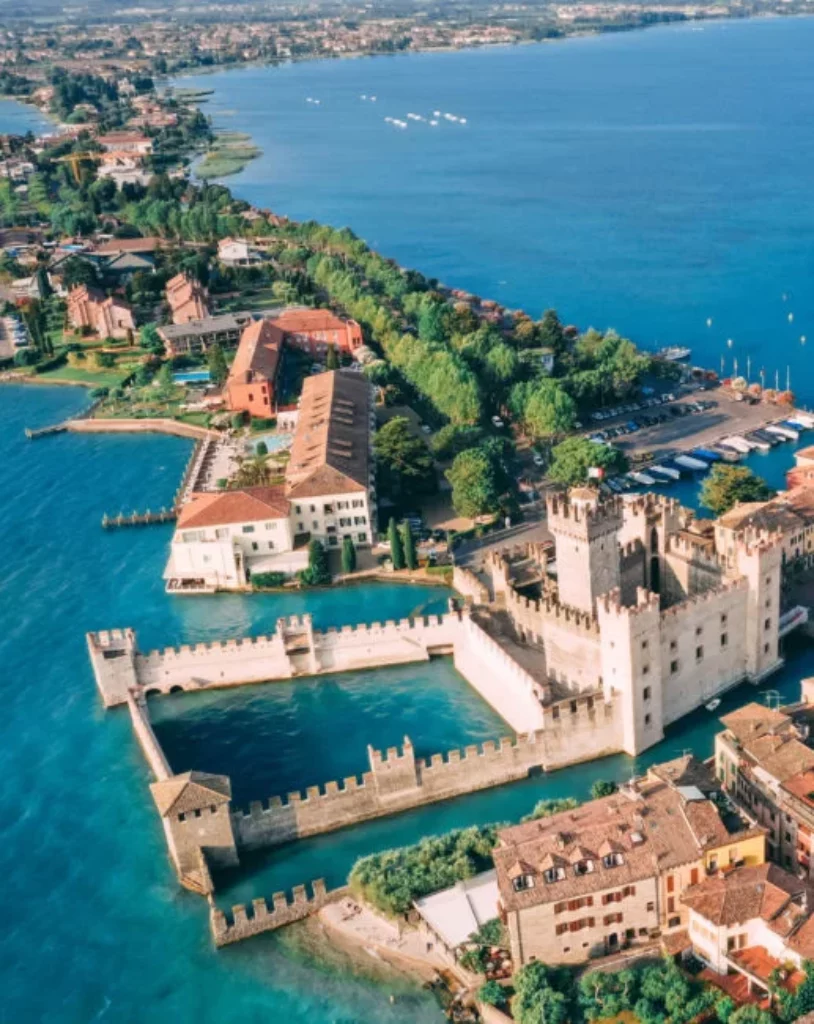 Cooking class
Close by to Sirmione, you can sign up to do a half day cooking course which was the absolute highlight of my time in Lombardia. We got to spend the day at a winery (yes, there was wine tasting involved) then a local lady came to show us how to make traditional pasta dishes and Italian desserts.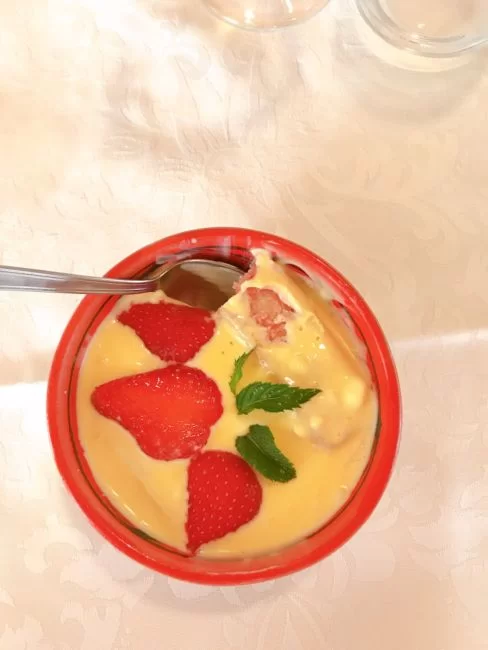 We mate Raviolli, Tagliatelle and a unique strawberry Tiramisu dessert which was just dreamy. I never realised how long the process of making fresh pasta was, but found it very relaxing and almost therapeutic.
The whole process of preparing the pasta and waiting for everything to cook took a few hours and then we had such a beautiful dinner on their farm, accompanied by some of the family owners then run the winery and of course their delicious wines!
Spend the night in Sirmione or near by or alternatively drive to Mantova in the evening and spend the next two nights there.
Day 8 – Explore historic Mantova plus sunset cruise
Out of all the wonderful places to visit in Lombardia, Mantova was the most surprising in my eyes. I couldn't believe a town with so many historic buildings, so many grand palace and such, rich history had not been on my radar until now.
With a population of just 49,000, you might find it hard to believe a city this small could be home to quite so many important historical buildings and monuments.
It's all thanks to one family, the noble Gonzaga family, who are credited with commissioning the city's most important palaces, turning the city into a musical and cultural power house and for constructing the three artificial lakes that circle the city – the family's ingenious method of protecting their empire.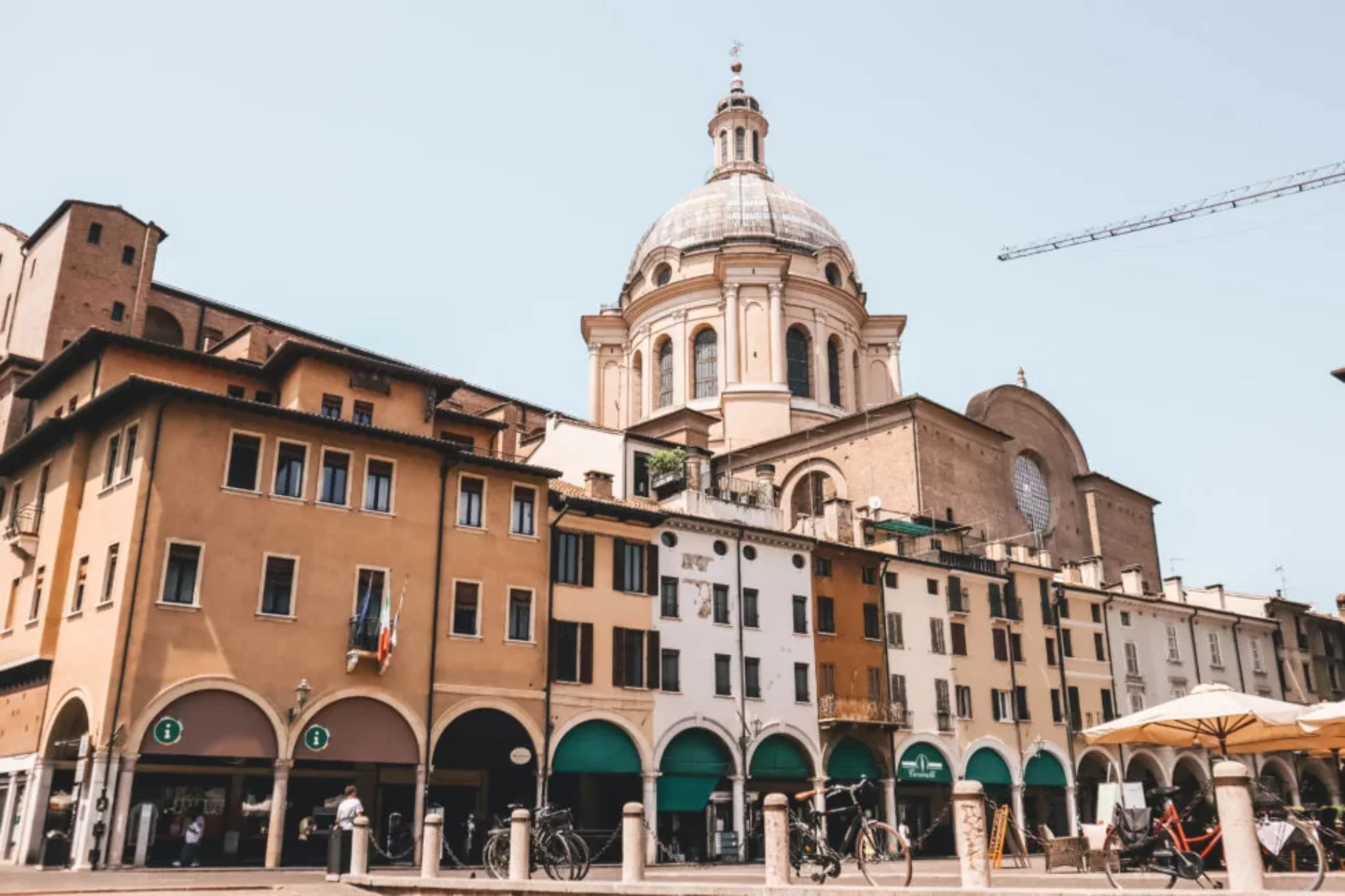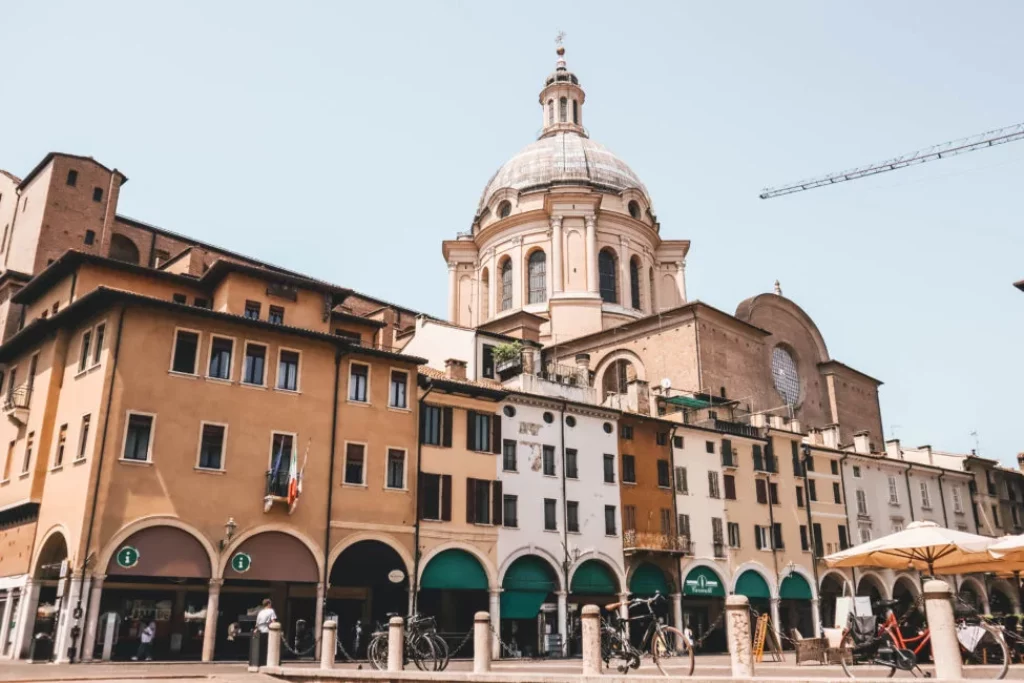 You will definitely need a full day to explore this historic city, and I highly recommend hiring a guide to show you around.
From the Palazzo Te, a palace that was once a stable yard, to the immense Palazzo Ducale, the unique Rotonda di San Lorenzo, Castel San Giorgio Mantova and the tiny but perfectly formed Teatro Bibiena – there are so many beautiful places to visit in Mantova. So much so that I actually wrote an entire article about why you should visit this stunning city here.
Once you've finished sightseeing for the day, and have hopefully learned all about the Gonzaga Legacy as well as tasting your fair share of local cuisine such as pumpkin ravioli, I recommend you sign up for a sunset cruise on one of Mantova's famous artificial lakes.
We weren't sure what to expect from his but we were were pleasantly surprised to find out it took us through a nature reserve and past some of the largest lily pads I've ever seen in my life. It was great to see the city from a different view and to get a unique glimpse at the houses and nature areas around the lake.
Once the sunset cruise has finished, head back into the old town to find a something to eat or join the locals by sitting out on the piazzas for drinks late into the night. These guys, in my experience, know how to party!
Day 9 – Morning in Sabbioneta and Cremona, night in Milan
It's the second last day of your Italy itinerary and it's time for a music lesson with a side of history. While we didn't have time to visit the town of Sabbioneta on our trip, Cremona and Sbbioneta go hand in hand.
We just spent the morning in Cremona before heading back to Milan and it was the perfect amount of time to experience this quiet city that is in fact known around the world for its music, or more specifically, it's violins!
This is where the most famous violin maker in the world came from, Antonio Stradivari, and for the past 400 years the city continues to nurture world-talented violin makers. Today, there are over 150 highly skilled violin-makers living in the city, all of whom hand carve these beautiful instruments, with prices for a violin starting around the 14,000 euro mark.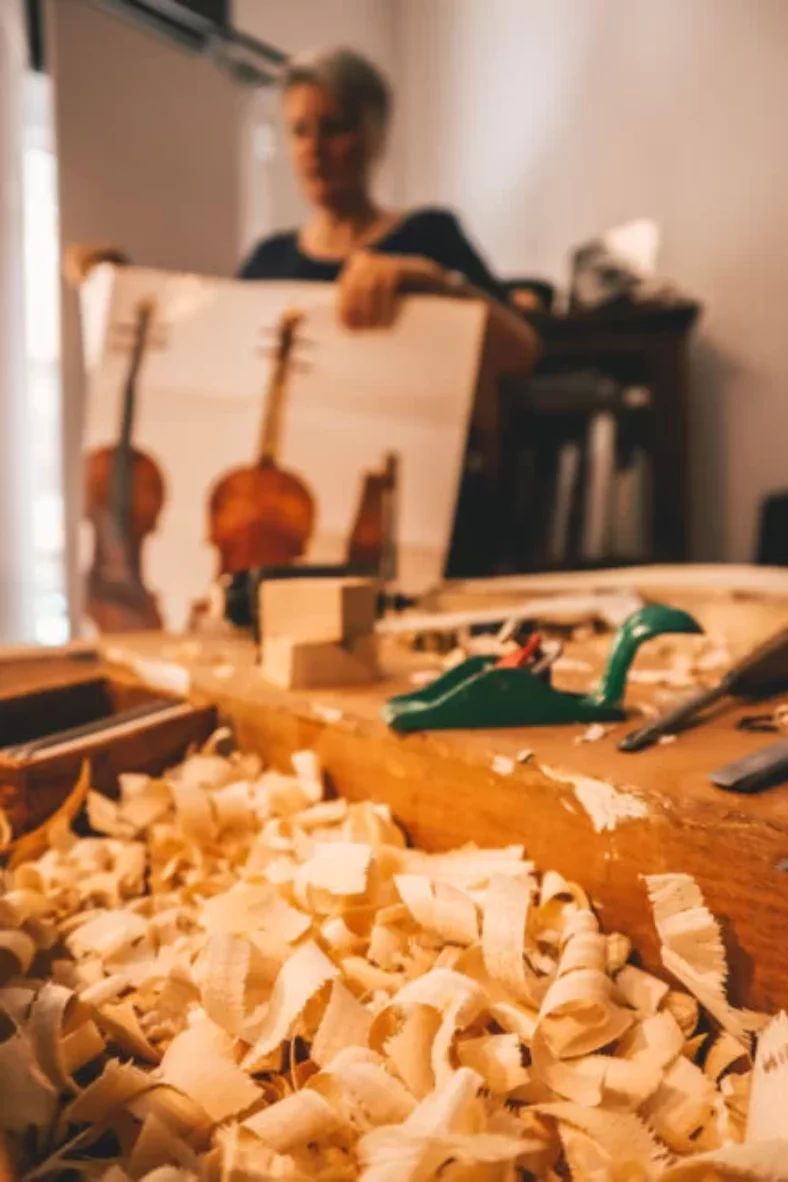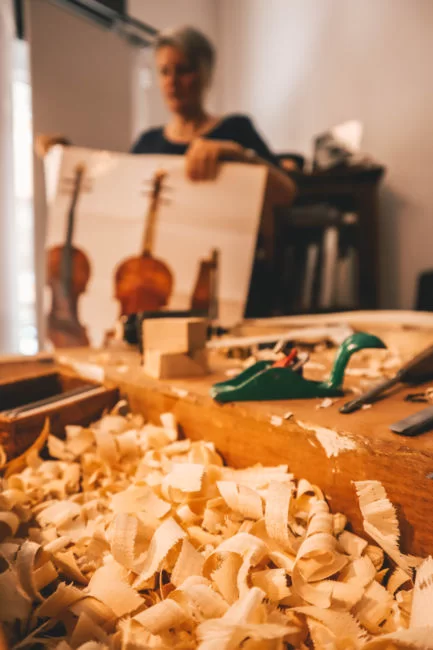 You can visit the famous Violin Museum to see some of the world's most famous violins, made famous by the musicians who once played them. There's also the opportunity to visit a violinmakers workshop, to learn about their technique and to see them at work which can be fun.
Besides violins, Cremona also has am incredibly tall church tower worth climbing for spectacular views of the city, an impressive cathedral with absolutely breaking tapestries and frescoes and ancient churches and places to take a glimpse at before hitting the road for Milan.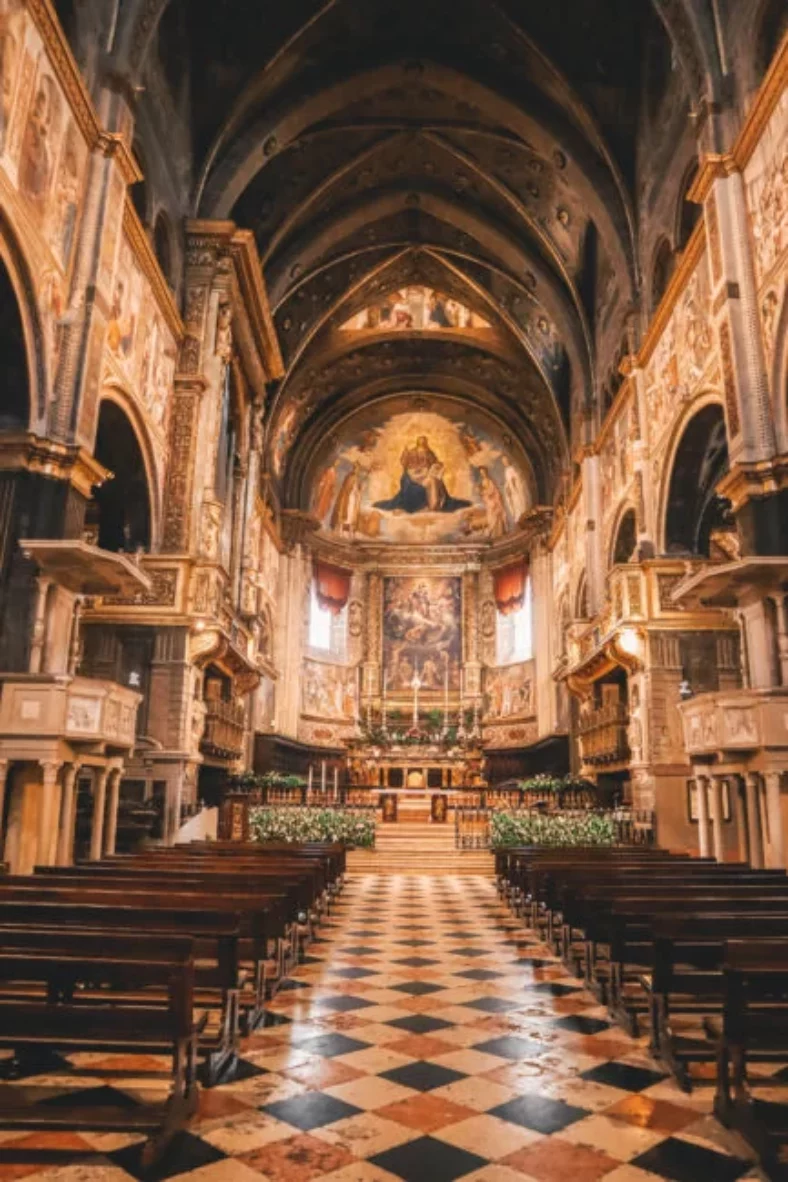 Oh, and the town also has some rich culinary traditions worth trying before you depart – in particular locally made nougat and  mostarda cremonese, which is sort of like mustard (tastes like mustard!) but is used as a dip or spread for cheese and crackers.
Day 10 – Full day in Milan before flying home
Many people write off Milan, preferring to visit "prettier" cities like Rome, Venice or Florence but Milan honestly has so much more to offer than first meets the eye.
You can see so much in short space of time, and I actually wrote an entire post about my fun 24 hours in Milan that you can read for more details.
Essentially in one day you can see this main sites such as the ultra modern Porta Nuova district, the castle, the stunning Santa Maria delle Grazie church which is home to The Last Supper, the lesser known  San Maurizio al Monastero Maggiore church and of course Milan's iconic cathedral, the Duomo.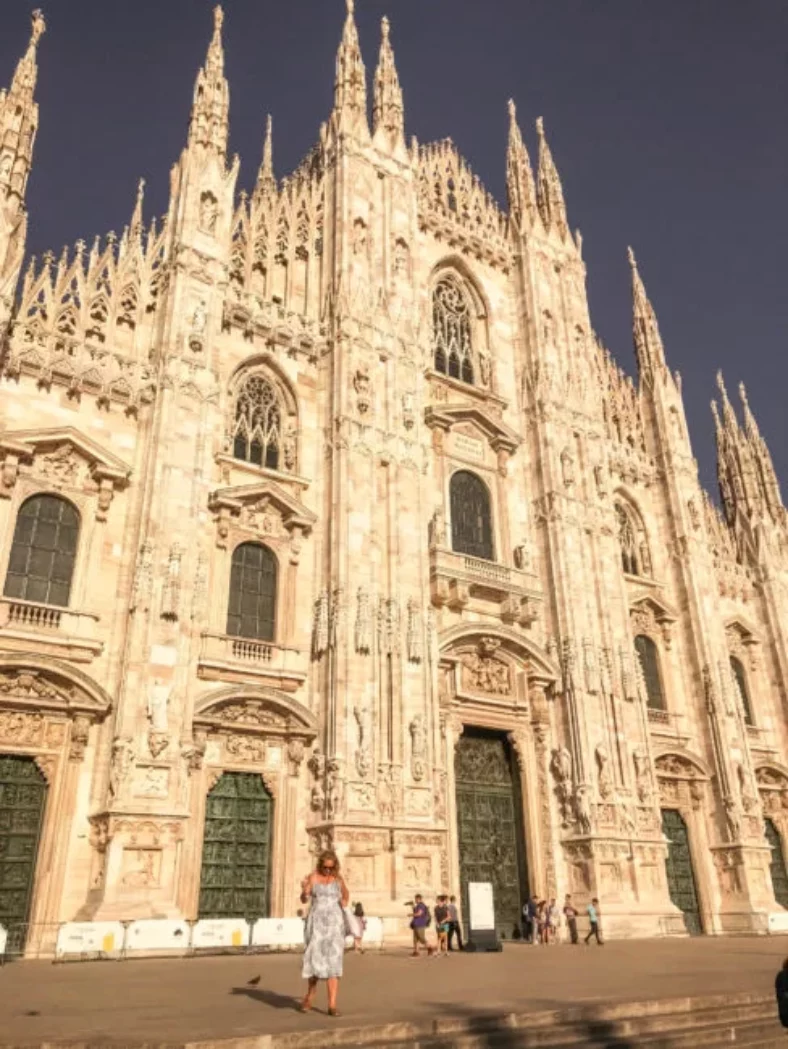 One big tip would be to ensure you book tickets in advance if you want to see The Last Supper and if you want to go right ip to the top of Duomo to see the famous terraces and panorama views of the Piazza Duomo and city beneath you. Queues can be long and tickets can even sell out weeks in advance.
After a busy day of sightseeing, you can spend the evening in Milan enjoying "Happy Hour" in Navigli District, one of the liveliest nightlife districts in the city, situated on canals that most people don't even know exist in Milan!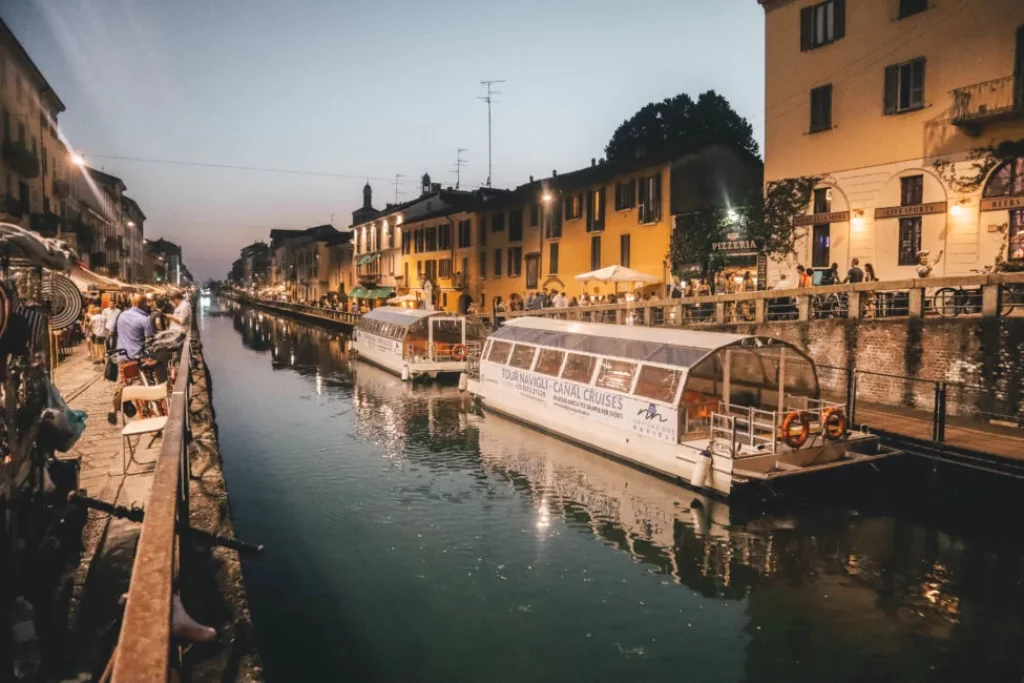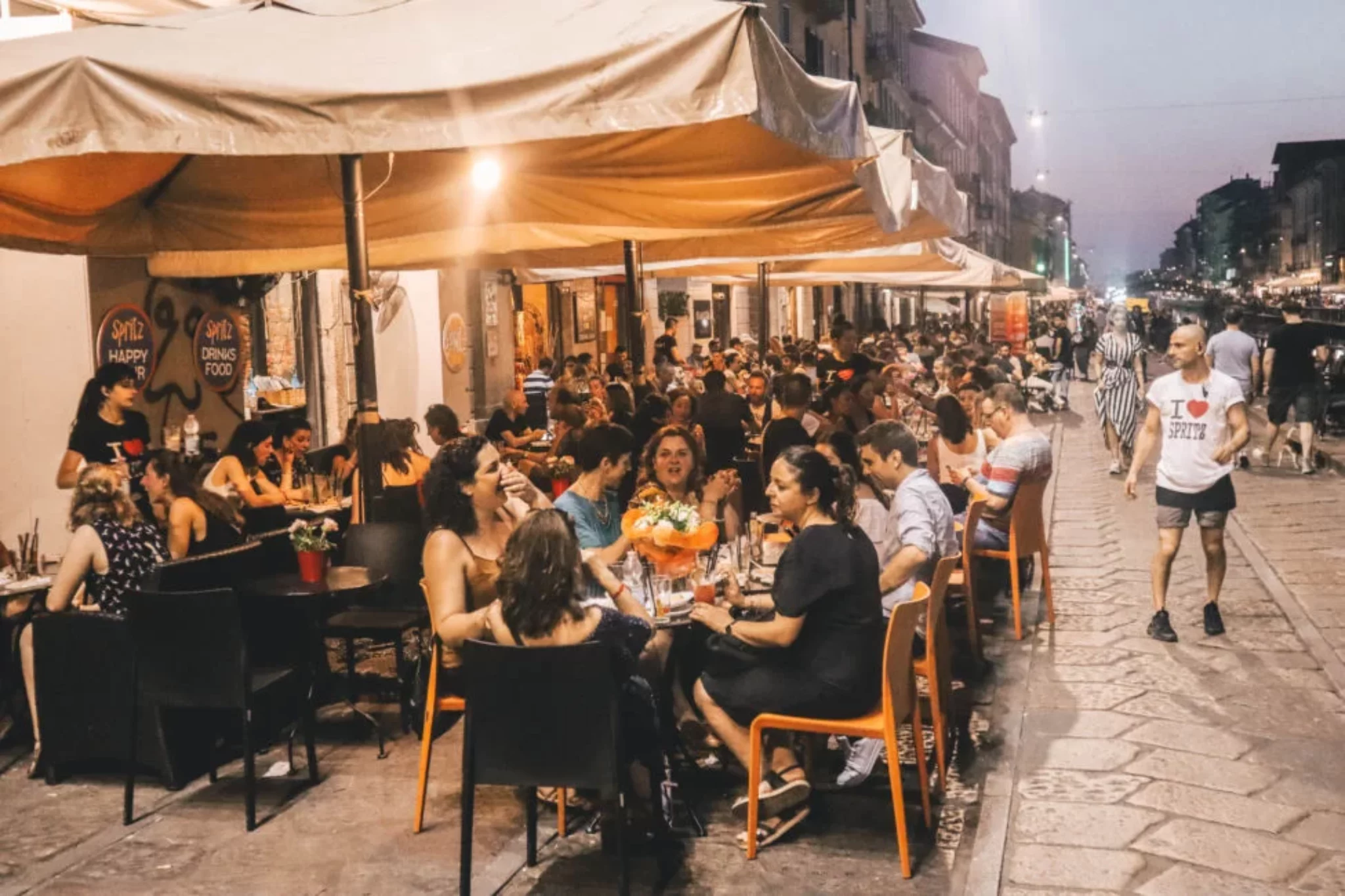 Here you can pay just 9 euro for a drink and then an extra 2 euro for an incredible buffet feast – so 11 euro total for a cocktail and "dinner" which is pretty unbelievable in Milan!
Final words
And that's it! I think if you only have 10 days in Italy and want to get a taste for all Italy is famous for, Puglia and Lombardia are two great regions to explore.
From fairytale villages, white-washed towns and picturesque lakes to historic cities and artwork, spectacular coastline and a taste of Italian history and musical traditions, this is an itinerary that will creating lasting memories of one of the most beautiful countries in thew world.
NOTE: This article was written following an 8 day blogger trip to Italy entitled #DoubleYourJourney – a collaboration between Lombardia Tourism Board and Puglia Tourism Board.
Last updated on October 13th, 2023 at 01:52 pm