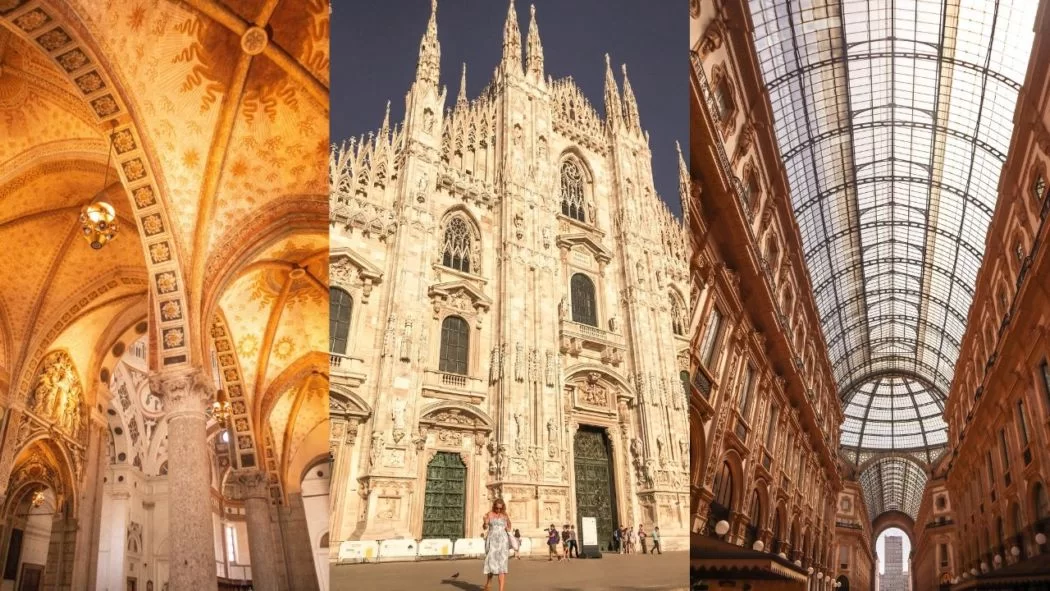 One might argue that it's impossible to see a city in a day, and they would probably be right. However, I was pleasantly surprised by how much I was able to see and do in just 24 hours in Milan….especially seeing as it's the largest metropolis in Italy! For my guide to Mantova in 24 hours, see here.
Below is a video made about my day in Milan as well as some information on a few top sites to go and see, where to eat and drink and how to make the most of your time in this beautiful, and surprisingly modern city.
VIDEO: What To Do in Milan in 24 Hours
Here's the video I made with my friend Dan about our jam-packed day sightseeing in Milan. We saved time (and energy) by doing an auto rickshaw tour of the city and considering it was 41 degrees that day, I'm not sure we would have been able to walk to all the top sights in the short time that we had as Milan is a huge city and it's not possible to walk around as it might be in smaller towns and cities in Italy.
Milan Itinerary:  24 Hours in Milan
Stop 1: Porta Nuova Financial District
We started our day in newest part of Milan, knowns as the Samsung District. This is where you'll find many of the top financial institutions as well as Milan's tallest skyscraper, the Unicredit Tower. We were surprised how incredibly clean and green this area was – a fresh introduction to an Italian city.
You can also check out the "Bosco Verticale" (an urban jungle of sorts), a pair of residential towers in the Porta Nuova district which have more than 900 trees growing out the sides of the buildings! Great spot for photographs and an apartment building that must be amazing to live in. But there are many other luxury hotels in Milan that provide visitors with a magical place to stay.
As you are walking through this district towards the older part of the city, you will pass a cool art installation of trumpets. This permanent installation of 23 golden trumpets links the ground floor to the underground, allowing passers by to hear the sounds of the underground.
If you look up through the hole in the roof at this exact spot, you'll see the perfect framing of the towering Unicredit building. Just don't walk under it on a blazing hot day, the reflections from the glass shining down on you will make you feel like you're melting!
You can stop off in the square for a coffee or quick snack, and if you're lucky you might even be able to listen in on a jazz concert or an summer exhibition, which happen throughout the year at the nearby Unicredit Pavillion.
Stop 2: Brera district 
As you walk away from Porta Nuova and the Samsung District, you will slowly start to notice a change in scenery. From shiny skyscrapers and high-end designer clothes stores to quiet residential areas, as you make your way through the old city gates to Brera – the old town.
Here you can wander down laneways and through open doorways to get a glimpse of what the old Milan would have looked like. Think beautiful apartment buildings with large balconies and secret gardens. Facades covered in ivy that are only viewable from the back of the building and soft classical music enchanting passers by to stop off for a quick drink.
Like Venice, getting lost is part of the fun. Wander through the many Palazzos, admire the art adorning the windows of local shops and consider stopping off briefly at the oday, Pinacoteca di Brera Museum where you can see masterpieces painted by some of Italy's most famous artists.
This area is also a great place to stop for lunch to enjoy the buzzing atmosphere and spend some time people watching, in the hopes of spotting a lurking celeb or two.
There's no shortage of restaurants but some places worth stopping off at include; Parma&Co, Fashion Café or 10 Corso Como – a beautiful cafe, restaurant and concept store where they'll be happy to empty your pockets and bank account. Sure it's pretty, located in a secret garden and with stunning design and decor – but you'll also get charged 10 euro for a glass of orange juice. You have been warned!
Stop 3: Piazza del Duomo
From Brera, it's about a 10 minute walk to the very centre of Milan, where you'll find the cities most famous landmarks. First you will walk past the Opera, then through the dazzling halls of the Galleria Vittorio Emanuele II – a stunning shopping centre that links two of Milan's most important buildings – the Opera and the cathedral.
It's probably one of the only shopping galleries in the world that feels more like a Royal Palace or ballroom than a shopping centre!
As we were tight on time, and budget, we walked right through the mall and out the other side onto the Piazza Duomo – the main square in the city where the stunning cathedral takes pride of place.
Here we signed up for a two hour auto rickshaw tour so that we could see the best of the city in a short period of time – but also have the freedom to custom make our own little private tour, stopping off for gelato whenever we felt like it!
Stop 4: Visiting Milan's top sites in an Auto Rickshaw  
This was the best idea we had as it allowed as to see so much of the city in just two short hours. Below are the main historic (and sometimes more modern) landmarks that we stopped at which I recommend you check out too:
Church of Santa Maria delle Grazie
Besides Milan cathedral, the beautiful church of Santa Maria Delle Grazie is the most famous in Milan.
While the church itself is charming, and the frescoes adorning the walls invite the visitor in for a closer look, it's one famous painting that makes this church so famous. Leonardo Di Vinci's "The Last Supper" calls this small church home, houses in a custom built museum next door.
If you want to see the painting in person then you will need to book tickets online week before your visit. Sadly we didn't do this so were unable to see the painting with our own eyes. Next time!
When you exit the church and look to your left, you will see a line of buildings across the road. It's said that the big yellow one of where Leonardo Da Vinci actually lived while painting "The Last Supper". Fun fact for you!
Castello Sforzesco
Our Auto Rickshaw tour also brought us past Castello Sforzesco, a castle dating back in 1468, but sadly we didn't have enough time to explore inside. You can see it from many sides and angles if you walk around the main building and go for a stroll in the nearby city park.
If you have the morning before you leave free, this is probably where I would recommend you spend it. Especially seeing as it is now a centre for many of the museums of Milan so I'm guessing you could spend a lot of time in there.
San Maurizio al Monastero Maggiore
Considering I had never heard of this church before, it was most definitely the place that surprised me the most out of all the beautiful places visited in Milan.
As I opened the door to go inside I let out quite a loud "WOW", as my eyes opened wider in wonderment. What looks like a very small chapel at first glance, is covered from floor to ceiling in incredibly detailed and colourful frescoes. Every inch of the building. I had never seen anything like it and couldn't process fast enough what my eyes were seeing.
I know visiting many churches in one day can be overwhelming, and many people visiting Italy quickly suffer from "church fatigue" – but I PROMISE this is one church you don't want to skip.
Milan Stock Exchange Statue
Okay now for something very, very different. The statue is pretty self explanatory but here's a few quick facts. It's ac contemporary art exhibit build in the centre of the Milan Stock Exchange. It's anti-capitalist and anti-fascist and has been standing there, holding pride of place, since 2009.
Piazzale Luigi Cadorna Needle Statue
We drove passed this pretty fast so it was hard to actually get a decent photo (!) but in Luigi Cadorna Square you will find a giant sculpture of a Needle, Thread and Knot.
The statue is a salute to Milan's talent for fashion and design, but also represents the hard work carried out by the people of Milan every day, every week, every year.
Stop 5: Golden Hour at Milan Duomo Terraces
If you're planning to visit the Duomo, Milan's most famous landmark and one of the most well know cathedrals in Europe, then I highly recommend booking your tickets online. The best part of the visit is being able to go up into the food of the cathedral, known as the terraces, admiring the intricate carvings and looking down on Piazza Duomo from above.
We booked our tickets for 5pm, the last slot of the day, so we could take a quick look around the inside of the Duomo before it closed then took the life right up onto the roof to explore and take photos during the golden photography hour. This was by the highlight of my 24 hours in Milan and is the top thing every visiting tourist should do.
Finish your day in Milan in one of the coolest districts in the city; Navigli. I bet you didn't even know there were canals in Milan, did you?! There are in fact 5 main canals in this part of Milan and it's here, along their banks, that you'll find the best  nightlife in the city – buzzing with people and laughter each evening.
Most people will come here for Apertivos at "Happy Hour" which is normally from about 7.30pm until 10.30pm. Any drink on the menu will cost you about 9 euro then you pay an extra 2 euro for unlimited food from the buffet. This includes fries, onion rings, pasta, pizza slices, a whole selection of desserts and more. If you sit down at any the restaurants at this hour, you are pretty much expected to take part in this "Happy Hour" deal – but why wouldn't you, it's AMAZING!
If you're not too full from your free refills of delicious food from the extensive buffet, and you extra large glass of Spritz, then head out down along the canal until you find a cute dinner spot to enjoy some local wine and watch the world go by.
You'll be lucky if you make it back to your hotel before midnight, but boy oh boy will you have made the most of your short time in Milan!
EDITOR'S NOTE: This article was written following an 8 day blogger trip to Italy entitled #DoubleYourJourney – a collaboration between Lombardia Tourism Board and Puglia Tourism Board.
Last updated on October 13th, 2023 at 12:52 pm