Barcelona Day Trip Activities
Showing all 2 results
Visiting Barcelona? Why not spend a day at one of the most exciting destinations around - PortAventura! PortAventura Park is an amazing place to enjoy some fun in the sun and is ideal for a family adventure. The park is located just 45 minutes outside of Barcelona. You can experience 17 different attractions and water slides at the water park - including the highest freefall slide in Europe! The main park is home to all kinds of thrills, while Ferrari Land is perfect for car lovers. Enjoy the different Caribbean themed pools, ride Europes tallest rollercoaster, or simply soak up some warm Spanish sun in a fun setting. Read on to discover some different PortAventura ticket options that are suitable for families, tourists, or anyone seeking some thrills around Barcelona.
More details +
The PortAventura theme parks are exciting attractions to experience from Barcelona! They offer a wide range of thrills that are fun for the whole family. These ticket options offer great ways to experience PortAventura. There are a number of different ways in which you can visit this attraction, so be sure to pick the right ticket for you.
PROS:
Easily accessible from Barcelona
Loads of attractions and rides on offer
Includes 3 different dedicated parks
Different ticketing options are available
CONS:
Parking isn't included
You may need to organize transport
You cant do all three parks in one day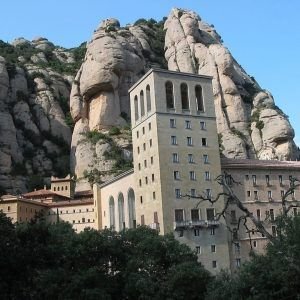 Visit Catalunya's most famous mountain range and monastery on a tour of
Montserrat from Barcelona
. Perched on top of a beautiful mountain is the 1000 year-old Benedictine Abbey, Santa Maria de Montserrat, which houses the Virgin of Montserrat Sanctuary, a basilica housing the shrine of the Patron Saint of Catalunya, and a museum with ancient artifacts.
More details +
These tours solve the question of how to get to Montserrat from Barcelona by bus. This activity is perfect for the whole family, but only select tours include a guided tour and the site is not wheelchair accessible.
PROS:
Hassle-free way to get from Barcelona to Montserrat
Informative guide will prepare you for your visit to Montserrat
Free cancellations up until 24 hours before the tour departs
Child-friendly
CONS:
Not wheelchair accessible