Rome Art Activities
Showing all 3 results
Welcome to the Colosseum! One of, if not the, most iconic landmarks found anywhere on our planet, and one of the New 7 Wonders of the World. Situated in the center of Rome, tours of the Colosseum are both well suited to your itinerary needs and conveniently located to some of Rome's other attractions! Below we list a variety of different options you can choose from when looking at Colosseum tours and travel guides. From the standard Colosseum guided tour to a tour of the gladiator's dungeons and a nighttime experience, there are options for families, couples and single tourists alike!
More details +
Rome is a city so entrenched in ancient history that you could spend years delving into its crypts and never find all its secrets. The Colosseum is no different, and we believe that these are some of the best tours to best encapsulate this! From its archways to its well-trodden cobbled roads, the Colosseum stands as a testament to man's ingenuity and capabilities. A marvel to behold!
PROS:
See one of the greatest man-made landmarks in the world
Skip the thousands of queuing people
Get an insider's guide into the history of the monument from local professionals
CONS:
Lots of walking
No hotel pickup
No wheelchair accessibility
Rome is undoubtedly one of the most popular cities to spend time in for any traveler. All of the museums, monuments, cathedrals, and historical landmarks could take months to explore. However, we rarely have the unlimited time needed to experience everything a city like Rome has to offer. Have no fear. The travel gods have gifted explorers with limited time, a tool to help them experience the
best places to visit in Italy
 without missing a single activity. What is this heavenly tool? It is known as a skip-the-line tour. This holy itinerary item can help you cut hours of waiting from your activities so that you have more time to explore while you
tour Europe
 instead of waiting in line at a given museum or activity. So if you're planning a visit to the Eternal City but are strapped for time, get ready to learn all you need to know about the Rome Capitoline Museums, skip-the-line tours.
More details +
Editor Review
A skip-the-line tour is a secret weapon for every explorer with limited time to spend in a given city or country. They are also very versatile tours that can cater to almost every need a traveler could have. The only real downside is that they aren't always accessible for disabled tourists, and very few, if any, of them allow pets.
PROS:
Saves lots of time.
Flexible affordability.
Wide variety of options for every type of adventurer.
CONS:
Not all the tours are accessible for disabled explorers.
Start times can be easily missed.
Not all the tours are guided.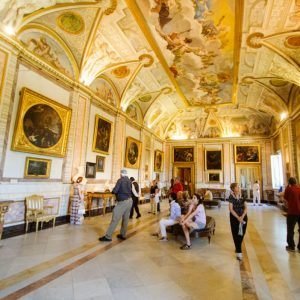 The Galleries Borghese is an essential stop for any art lover in Rome. This historic art gallery based in the eternal city holds some absolute masterpieces by many famous painters. The Borghese Museum has carefully controlled entry - allowing the place to never get crowded. This means that booking your ticket in advance is important, to guarantee access to this amazing gallery. The Borghese Gallery and museum holds works by famous Italian masters, such as Caravaggio, Bernini, and Titian. Beyond the fascinating works on display, there are also beautiful gardens to explore. This is one of the best cultural activities in Italy. The following activities give you a skip-the-line tour and guaranteed Galleria Borghese tickets reservation.
More details +
If you love art and history, then a guided visit to the Borghese Gallery will be sure to bring you a great amount of joy! This is a fascinating and beautiful attraction in Rome.
PROS:
Expert guides that speak English
Skip-the-line tickets
A small group tour in an uncrowded gallery
CONS:
Not accessible for those with disabilities