Sydney Night Activities
Showing all 2 results
Nothing offers gorgeous views of Sydney quite like the Sydney Harbour Bridge Climb. The 134-meter tall bridge stands boldly between the center of Sydney and the North Shore. It's suspended over the water, with breathtaking vistas extending out in every direction, including the Sydney Opera House close by. This climb allows you to scale the inner or outer arm of the bridge using a series of catwalks, ladders, and steps, all while in the hands of an experienced guide. Your guide will provide stories and context to the views as you climb. Day, night, and twilight options are all available!
More details +
The Sydney Harbour Bridge Climb is a truly unique experience. The views are spectacular and the climb is really enjoyable.
PROS:
Amazing views
Informative and entertaining commentary
Sense of achievement
Good exercise
CONS:
Not suitable for kids under 8
Only accessible for physically fit and able people
Can be hindered by bad weather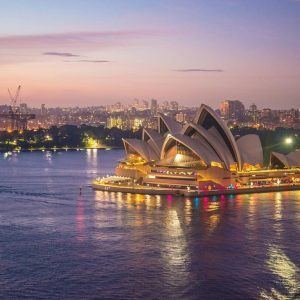 A Sydney Harbour Cruise is one of the best ways to get acquainted with the city. Many of Sydney's best-known sights and attractions lie right on the water's edge, allowing you to soak them up from the comfort of a cruise boat. Popular sights include the Sydney Opera House and
Sydney Harbour Bridge
. The cruises come in a variety of types and available options. Amongst others, you can choose to dine on a cruise at sunset,  enjoy a fast-paced tour of the main attractions, or make use of a hop-on-hop-off ticket to get around the city by boat. Whichever option you choose, you'll get to experience Sydney from a whole new perspective, and take in some amazing views.
More details +
These Sydney Harbour sightseeing cruises offer a wide variety of experiences, each with their own unique charm. Seeing Sydney from the water is a real must-do while visiting the city, and a harbour cruise is a great way to do so.
PROS:
See Sydney's main water-side sights and landmarks
Learn about the city's heritage
Take in some beautiful views
A variety of enticing options
CONS:
Some cruises aren't wheelchair accessible
Pay extra for guaranteed window seats