Africa, filled with breathtaking wildlife, scenery, and rich culture, offers unforgettable experiences. From following a pride of hunting lions to dancing to the beat of an African drum, African safaris provide both leisure and adventurous activities for all.
However, we know that an African safari experience may seem costly at first glance. So, how do you enjoy the wildlife adventure without breaking the bank? An all-inclusive African safari vacation offers value for money experiences with excellent value and luxurious options.
Fortunately, an all-inclusive safari means you pay a set daily rate per person which helps to steer clear of those additional expenses. So, what's included? Generally, it includes your accommodation, three meals per day, standard drinks and snacks, as well as tours and game-viewing activities.
To make your trip to Africa even better, we've highlighted the best African safari destinations and resorts below.
All Inclusive Safari – South Africa
South Africa is one of the world's best Big 5 safari destinations. From its breathtaking beaches and abundant activities to its rich history and local culture, there are countless reasons why it is a top vacation destination.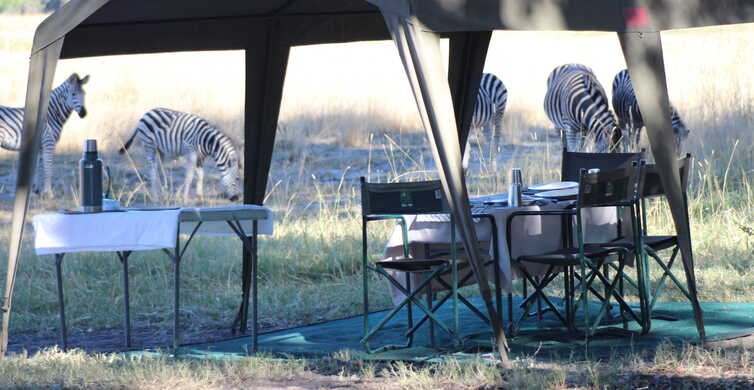 Kruger National Park
A Kruger safari will provide you with exceptional game viewing with an abundance of wildlife, including the popular Big Five. Situated across the Limpopo and Mpumalanga provinces. The Kruger National Park is one of the largest game reserves in Africa and the perfect destination for thrilling all inclusive vacations in South Africa.
A classic 4×4 safari with Kruger's experienced tracker-and-guide teams delivers spectacular, dependable Big Five sightings all year round. For those ready to get their boots dirty, guided walking safaris are perfect to explore the captivating fauna and flora.
In Kruger, you'll find a selection of high-end, all-inclusive safari lodges. To make you feel a little more at home, accommodation offers include amenities such as exclusive-use vehicles, private pools, air conditioning, and of course Wi-Fi!
Highlights:
Extensive diversity of wildlife – Big Five animals, over 140 mammal species, and more than 500 bird species
Luxurious accommodation – with plenty of South Africa vacation packages that are all inclusive
Admirable infrastructure – allowing animals to roam freely
Both classic 4×4 and walking safaris with experienced trackers and guides
Private guided game drives
Photographic safaris
Private reserves
Wide range of activities – stargazing, wine tasting, spa treatments, mountain biking, wilderness trails, and much more!
Finest safari food – award-winning chefs; kosher and halal-friendly dishes
Easily reachable area with an abundance of air connections
All-Inclusive Safari – Tanzania
Safaris in Tanzania provide splendid wildlife sightings in striking locations, with unfenced infrastructure and endless plains. Expect to spot immense herds of plain animals and diverse species of birds, including flamingos, vultures, and ostriches.
The Serengeti National Park
The Serengeti National Park in Tanzania covers 14 763 square kilometers with tons of wildlife sighting opportunities. It is a World Heritage Site and home to a broad range of animals including lions, leopards, baboons, cheetahs, rhinoceroses, and many more. The Serengeti is well known for its immense herds of plain animals, specifically wildebeests, zebras, and gazelles. With more than 500 bird species and crocodiles inhabiting the marshes alongside the Mara River.
The Serengeti is renowned as the site for The Great Migration. This annual journey comprises an estimated two million antelope – mainly wildebeest – giving birth between January and March, and then slowly migrating North to Masai Mara in Kenya from April to June. You can also enjoy this spectacular journey from a bird's-eye view via Serengeti Balloon Safaris.
This classic safari destination offers activities and accommodation options for all. From luxurious lodges and private villas to mobile camping that moves behind the wildebeest migration.
Highlights:
Be a part of The Great Migration
Game drives
Luxury accommodation at a top all inclusive resort in Africa
Mobile camping
Hot-air balloon safaris
Tours, hiking, fishing, bird watching, and much more.
Visiting the Retina Hippo Pool where you'll see about 200 sloshing hippos – there's a picnic area too!
All Inclusive Safari – Botswana
Botswana is an ideal safari destination with its abundance of wildlife including crocodiles, sitatunga, impala, leopards, and wild dogs to name a few. It is a haven for birdlife and home to smaller, nocturnal animals such as honey badgers, bush babies, and African wild cats.
The Okavango Delta
One of Botswana's iconic safari destinations and the world's largest intact delta, the Okavango is filled with papyrus-fringed channels joining open areas occupied by water lilies. This World Heritage Site is situated in north-western Botswana surrounded by the arid Kalahari Desert, covering approximately 16 000 square kilometers.
The Okavango Delta supports a flourishing wildlife population that is mostly protected by its inaccessibility. It provides visitors with exceptional wilderness experiences, magnificent wildlife sightings, and spectacular scenery.
Wildlife viewing in this extensive area is dependent on your location. There are several camps with some focusing on predators and others on photography, as well as specialist walking camps.
It is best to visit the beautiful Okavango during its Dry season (May to October) as the lower water levels and storms may limit activities during the Wet season. We recommend visiting this beautiful location from June to August to get the most out of the water safari with the high water levels.
Highlights:
Diverse wildlife
Astonishing water-based safaris – perfect for spotting those dazzling dragonflies and reed frogs
Day and night game drives
Guided nature walks
Exclusive accommodation – private reserves; unfenced camps allow animals to stroll through
Various activities – boating, birding, mokoro rides, photography hides, and many more.
Easily combined with other African safari destinations – the Kruger National Park, Victoria Falls, Chobe National Park, and Savuti.
All-Inclusive African Resorts
For the finest all-inclusive trips to Africa, we've formulated a list of the best resorts in Africa below.
South Africa resorts – all inclusive
South Africa has plenty of unmissable accommodation for a safari vacation. Some of the best resorts include:
Lion Sands River Lodge
Ann De Vliet Holiday Resort
Kapama Karula
Hazyview Cabanas
Sabi River Sun Resort
Mount Sheba Rainforest Hotel & Resort
Tanzania resorts – all inclusive
Tanzania has numerous luxury accommodations that are perfect for a safari vacation. We've listed a few of the top resorts in Tanzania below:
Four Seasons Safari Lodge Serengeti
Mbalageti Serengeti Hotel
The Residence Zanzibar
The Loop Beach Resort
SeVi Boutique Hotel Zanzibar
Zawadi Hotel Zanzibar
Zanzibar White Sand Luxury Villas and Spa
Botswana resorts – all inclusive
Botswana offers some of the most beautiful landscapes in Africa. There are several all-inclusive resorts with spectacular views, with the best of which are listed below:
Ghoha Hills Savuti
Deception Valley Lodge
Sable Alley
Ngoma Safari Lodge
Avani Gaborone Resort & Casino
Final Thoughts on African Safari Vacations – All Inclusive
With its vast wilderness and diverse wildlife species, it's no wonder Africa is a go-to destination for safari-goers. Whether you're choosing all-inclusive trips to South Africa, Tanzania, Botswana, or a combination of all, you won't be disappointed.
Trips to Africa that are all-inclusive, definitely give you the best bang for your buck. So, book your African safari now!
Last updated on October 13th, 2023 at 02:35 pm