Best Beaches in Australia | Our Top 11 Seaside Spots
Known as "The land of Sunshine", Australia has a coastline that stretches to approximately 60 00km with more than 10 000 beaches.
Australia is sunny almost all year round, which makes it the perfect holiday destination to enjoy a family fun-filled day at the beach, enjoy your favorite watersports and soak up the sun while working on your tan.
But, having over 10 000 beautiful beaches stretched across Australia's 6 territories bordering the sea presents a unique problem… Which Australian beaches should you actually visit?
It could be a nightmare trying to narrow it down yourself. This is why we've made life easier for you and compiled a list of Australia's best beaches according to region.
Best Beaches in Queensland
If you find yourself in Queensland, be sure to visit these beaches.
Whitehaven Beach
Whitehaven Beach, Image  Alix26  on Pixabay
Whitehaven Beach is a 7km stretch along Whitsunday Island and is protected by the Whitsunday Islands National Park, located in the heart of the Great Barrier reef.
This is one of the most famous beaches in Australia and has consistently been voted as Australia's best beach, top eco-friendly beach, Queensland's cleanest beach, and has also picked up the Tripadvisor Travellers Choice Award.
Whitehaven's crystal clear water and key location on the Great Barrier Reef, make it the perfect location for an unforgettable snorkeling adventure.
If you are in the area why not explore this beautiful area with the Whitsundays Island Cruise?
Noosa Main Beach
Noosa Head Main Beach, Image by Raygar He via Unsplash
Noosa Main Beach is located just 2 hours north of the city of Brisbane in the coastal town of Noosa Head.
The beach is nestled in between the beautiful Noosa National Park and the popular tourist hangout of Hastings Street. It is one of the most popular beaches in Australia as surfers of all ages flock to the area to attend the Noosa Festival of Surfing held every year in March.
Best Beaches in New South Wales
If you're going to be spending time in NSW, check out these beaches:
Bondi Beach
Bondi Iceberg Pools, Image by Kevin Bosc on Unsplash
Bondi Beach is considered the most famous Australian beach and one of the most beautiful beaches in the world. It is about 5miles from Sydney's city center and is home to trendy cafes and restaurants and some of the best waves in Australia.
Hyams Beach

Hyams Beach, Photo by Bee2Fast via Pixabay
Hyams Beach is a picture-perfect holiday destination located just 2.5 hours from the main cities of Sydney and Canberra, on the fringe of the Jervis Bay Marine Park.
It holds the record of the "Whitest Sand in the World " in the Guinness Book of records. This area is home to bottlenose dolphins, fur seals, and penguins. As well as Humpback and Southern Right Whales in winter. Visitors can enjoy snorkeling, diving, swimming, and stand-up paddleboarding.
If you find yourself in Hyams Beach, why not take a Dolphin Watching Cruise in the nearby Jervis Bay Marine Park area? It will be great fun for the whole family!
Best Beaches in Western Australia
Staying in WA? Be sure to spend some time in:
Cable Beach
Cable Beach is a 14-mile-long stretch of beach located in the city of Broome. It is considered the most famous beach in Western Australia and one of the most beautiful beaches in Australia.
This beach is best known for its sunset camel ride tours along the beach and is one of the best places in the world to watch the sunset.
Lucky Bay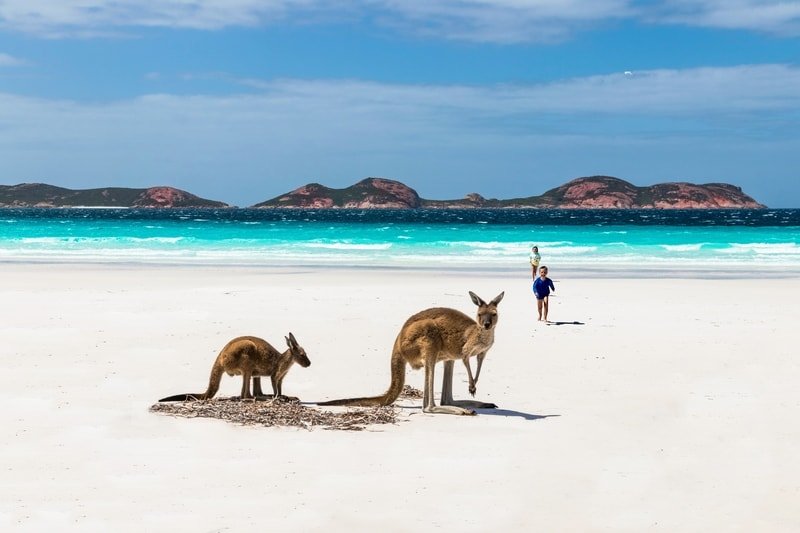 Lucky Bay Beach, Image by Nick Dunn via Unsplash
Lucky Bay is located in the Cape Le Grand National Park, a 45-minute drive from the town of Esperance. It is considered the whitest beach of Australia's white sand beaches. It's a popular beach in the area and visitors can often find a kangaroo or two enjoying the sun.
Best Beaches in South Australia
If you're staying in the South Australian Territory, be sure to visit:
Vivonne Bay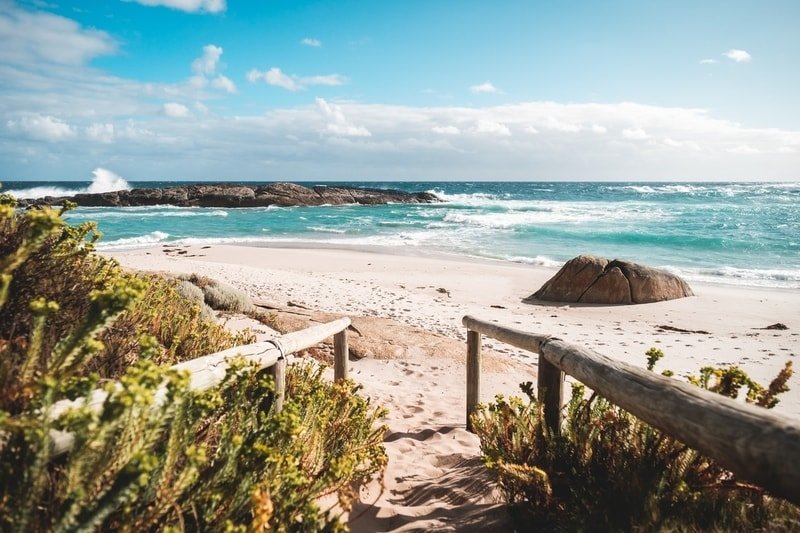 Vivonne Bay on Kangaroo Island, Image by Lachan Ross via Pexels
Located on Kangaroo Island, this 3.7 mile stretch of beach is known for its unspoiled views and mesmerizing turquoise blue water. Visitors can enjoy swimming, surfing, picnics, fishing, boogie boarding, and seal tours.
Rapid Bay
Rapid Bay, Image by Thomas Parkes via Pixabay
Rapid Bay is located 62miles from the city of Adelaide. The area is well known for its impressive cliffs and is popular with divers and snorkelers as it is home to a wide range of sea life and shipwrecks.
Best Beaches in Victoria
If you're in Victoria, be sure to visit:
Bells Beach
Bells Beach, Image by Samantha Ball via Unsplash
Bells Beach is a coastal town located 53 miles from the city of Melbourne. It is considered the surfing capital of Australia and is the home of iconic surfing brand Rip Curl. Only the most experienced surfers dare to ride the waves of Bells Beach.
St. Kilda Beach
St Kilda Beach, Melbourne, Image by Maddi Bazzocco, via Pixabay
St. Kilda Beach is located in the vibrant city of Melbourne and is a short 3.7 mile journey from Melbourne's city center.
St. Kilda is Melbourne's most popular beach and is lined with trendy hangouts. It is also a family-friendly beach where everyone can soak up the sun and enjoy a variety of watersport activities.
Best Beach in Tasmania
If you find yourself away from the mainland, be sure to visit:
Wineglass Bay
Wineglass Bay , Image by Lonewombatmedia via Pixabay
Wineglass Bay is a short 2.5-hour drive from Tasmania's capital city, Hobart. It is located in the Freycinet National Park. This is the perfect beach getaway destination from busy city life with its unspoiled views, pristine white sand, crystal clear water, and serenity.
A Final Note on the Best Beaches in Australia
We hope that we've made life slightly easier for you by narrowing down Australia's 10 000+ beaches to our Top 11 in this guide!
And if you weren't a fan of the beach before, we certainly hope that we have persuaded you to visit at least one beach during your stay in Australia, even if it is just to soak up the sun and be mesmerized by the beauty of the "Land of Sunshine."
For more information on what to do when you get to Australia, be sure to check out our Guide to Australia.