'Aussie! Aussie! Aussie! Oui! Oui! Oui!' Feel the Aussie spirit and put a spring in your step, Kangaroo Jack. We're taking you on a tour to the best cities to live in Australia. The beautiful country of Australia is a melting pot of various cultures and has the perfect balance of urban and natural landscapes that stretch out for miles. So, get ready to head down under – no scuba gear required.
We all know that The Outback is full of some really wild and scary-looking bugs that even National Geographic hasn't identified yet. But don't worry, this isn't an episode of Fear Factor and we won't be triggering your phobia of spiders.
Some of the best places to live in Australia are in the big cities dotted around the country, far from the bush and we're here to share those cities with you.
Australia is one of the world's most urban countries with continual development. So with that in mind, there's definite room and opportunity for you and your family to move in. From Melbourne to Perth, we'll map out which of these Aussie cities is the best for you.
Where to Live in Australia
Choosing where to live can be a daunting task and with so many great Australian cities to choose from, making a decision can be a little tricky. So, we've taken the liberty of breaking down these seven cities of Australia in detail to make that final decision a little easier.
Adelaide | Best Food & Wine
Adelaide, the capital of South Australia is a city unlike the others in the country. This city has a quiet hum and a laid-back country feel. As opposed to the busier hustle and bustle of bigger cities like Sydney. But even though Adelaide might sound a little humdrum in comparison, don't rule it out just yet. Adelaide is a friendly place and is one of the cheapest places to live in Australia.
Adelaide can seem a little far out in the South. But the easy access to other places through their extensive transport system is what makes Adelaide a great city for those individuals who appreciate their independence. Adelaide is also famous for its annual festival, which showcases the various arts. And it's where you can have a taste of some of the regions finest wines and food.
Adelaide is growing in popularity. Especially for newcomers as the lifestyle it provides is relaxing, affordable and the people here are sure to embrace you in a Koala bear hug.
Brisbane | Beautiful Natural Landscape
Brisbane is Australia's third-largest city in the country. And despite having one of the most beautiful city skylines, its flora and fauna life is one to die for. But with its added warm temperature, you'll want to drive out to the coast every chance you get, as it's in close proximity to the city.
Living in Brisbane is like living in a postcard. The city offers up so many outdoor activities to do for those of you who consider yourselves something like Bear Grylls. But for those who aren't so keen on 'adventure time' unless it's on Cartoon Network, BrisVegas might be what tickles your fancy. Yes, locals call this city BrisVegas for its casinos, seaside resorts and shining lights on skyscrapers.
Canberra | Raising A Family
The Australian Parliament assembles inland to Canberra. The city of Canberra is also the best place to live in Australia for families. Despite being the nation's capital, this city is more of a small town. As there are fewer residents here than in any other city in the country.
The real estate in Canberra is affordable and a major attraction for growing families to come here and plant some family roots. And speaking of roots, the city is lined with trees that give this place a homier, small-town feel.
Wintertime can get a little frosty here, but in the Summer, you can spend quality time with family down at Lake Burley Griffin. Here, families gather and enjoy the lake view, sail and fish.
Canberra's social scene isn't too bad either, there are plenty of good family-orientated restaurants. And a historical-cultural presence as this is also where the National Gallery of Australia is located.
Hobart | Affordable Living
Now, Hobart is an underrated gem as it's located in Tasmania, the southernmost city in Australia. But Hobart is the second oldest city in Australia, so it's full of history and culture. Hobart moves at a slightly slower pace than most, but it's the lovely relaxed atmosphere that makes it so desirable.
The city of Hobart has a vast range of real estate from high end to affordable. The riverside suburbs are a fan favourite among growing families and retirees. There aren't many employment opportunities in Hobart but there are plenty of outdoor activities to explore.
Melbourne | Arts & Culture
Melbourne is the mecca of arts and culture in Australia. This Australian city is a multicultural hub with a strong art scene, amazing galleries, museums and hundreds of cool bars and restaurants to choose from. When people ask the question, 'where should I live in Australia?' Melbourne is usually the first place to be mentioned.
Just like the concrete jungle known as New York City, Melbourne residents are from all over the world. The City of Gardens, as Melbourne is nicknamed, tends to have unpredictable weather. And the cost of living in Australia's multicultural hub is a little high. But is Melbourne the most expensive city in Aus? The answer may shock you but it isn't.
Melbourne attracts a young crowd but neighbourhoods like Surrey Hills and Camberwell are areas where young families choose to reside. The employment opportunities in the city are buoyant and steadily continuing to grow.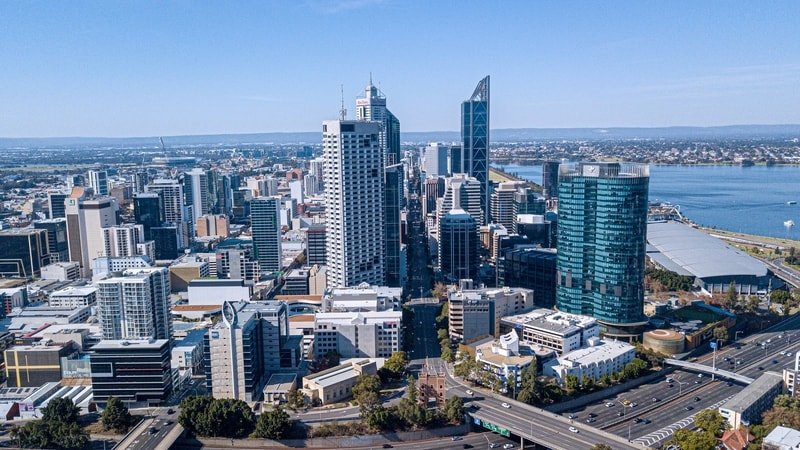 Perth | Best Weather
Perth is another distant city from the rest but those who choose to live here, appreciate the distance. What do they say? Absence makes the heart grow fonder and we're so very fond of this warm and friendly city. The atmosphere in the city is very boho-chic and it's rich with nature with plenty of outdoor activity.
Located on the west coast, Perth is in close proximity to some of the most beautiful beaches in Australia. This cosmopolitan city is always warm, so it will feel like summer all year long.
The folks of Perth understand the meaning of work-life balance. As you'll find most of them hanging out by Swan River, the opera or any of the many bars and restaurants Perth has to offer right after they've clocked out.
Sydney | Most Opportunities
We might have saved the best for last but that would be entirely up to you if you like what Sydney has to offer. Sydney is by far the biggest city in Australia with over five million residents and with some of the worlds most iconic monuments- did someone say Sydney Opera House?
When it comes to the cultural and social scene of Sydney, you need not worry. Sydney has everything from beautiful hiking trails to the famous Bondi Beach. There is no shortage of art galleries or museums. And if food is your thing, you'll be happy to know that the hit tv show MasterChef originated here so you know you're in the right place.
With Sydney being one of the popular kids on the block with all its undeniable appeal, it would be cruel and unkind of us to lead you astray- so we're ripping off the band-aid. Yes, Sydney is one of the best cities in Australia but it is the most expensive. In fact, it is one of the most expensive cities in the world, right alongside Paris and Switzerland.
But after you swallow that honesty pill we just fed you, here is some great news to make you chipper, mate. Sydney has a large and successful economy, which means there are plenty of prospects and opportunities for you to grab onto.
So, Where Should I Live In Australia?
Now mate, we know the decision is a bit of a head-scratcher but unfortunately, that decision is something this guide can't help you with. The beauty with Aus is that you're spoilt for choice. And that whatever ideals you have for yourself or your family, there is an Aussie city for you.
But if it were up to us, the best place to live in Australia is in… the city that fits your lifestyle so perfectly that you could see yourself there for years and years.
Last updated on October 13th, 2023 at 03:04 pm