From lounging in thermal baths and exploring the neo-Gothic tunnel at the Great Market Hall to cruising the magnificent River Danube, Budapest is a city that will likely exceed your expectations. 
Whether you're looking for sunkissed summer days, or a winter wonderland, the capital of Hungary will offer you something unique in all four seasons. Even the flower-filled months of spring and everchanging autumn days will have you starstruck. In other words, choosing the right time of year to travel to Budapest depends entirely upon your holiday objectives.
If you've been wondering about the best time to visit Budapest but still can't decide — look no further! We've put together an essential guide to the best months to visit. 
Why Visit Budapest?
Hungarian culture is defined by folk tradition, poetry, theater, traditionally embroidered garments, and unique cuisine. Known as the Spa Capital of the world and one of the best European food destinations, Budapest is famous for its public thermal baths, dazzling nightlife, and breathtaking architecture. Its buildings exhibit a fascinating blend of baroque, gothic, art nouveau, and socialist classicism.
Experience Budapest's natural beauty in the form of the majestic Danube River, the surrounding mountains, and the gorgeous green gardens and parks scattered throughout the city. Budapest's efficient, low-cost public transport allows you to easily access and explore all the town offers. To push its allure up even more, Budapest is one of the most affordable cities to visit in Europe.  
With a continental climate, Budapest's weather varies throughout the year. Its summers are hot with low humidity, and it's a time when the city comes alive. In winter, Budapest is often covered in a soft blanket of snow. Although cold and gray, winter in Budapest brings out the essence of Christmas and holiday joy. 
Thanks to its rich cultural heritage, Budapest is nothing short of whimsical and wondrous. Now that you're all excited by the prospect of a Budapest trip, it's time to look at what each season offers.
Months, Weather and Activities: A Budapest Travel Guide
Below is an explanation of each seasonal experience in Budapest. This includes activities, temperatures, weather, and the pros and cons of visiting Budapest during each of the four seasons. 
This information will help you decide the best time to go to Budapest based on your needs, desires, and budgets. 
Summer in Budapest
Budapest summers are picturesque and perfect for relaxing in restaurant terraces and rooftop bars while sipping on a fröccs (Hungarian wine spritzer) under the sun. See all of your favorite international artists at the Sziget Music Festival, usually held over five days in mid-August. 
Every weekend in July, watch Liberty Bridge transform into a pedestrian-only public space. It offers early-morning yoga or the chance to bring a bottle of wine and watch the sunset. Liberty Bridge even has its own schedule for events in the summer, so be sure to check it out. 
Budapest Summer Temperatures
Summers here are generally hot, with average highs of 82°F (28°C) and lows of 60°F (16°C). Summers are also the wettest time of the year for Budapest, with June being the wettest month of the year. The city is known to encounter several heat waves throughout the summer. 
Budapest Summer Pros
The days are long and warm, making summer the perfect time to enjoy the beaches and swim in the Danube River. It's also a great opportunity to picnic and spend the afternoon in one of the many parks. During the summer, there are tons of concerts, festivals, and outdoor events. 
Budapest Summer Cons
Remember that summers in Budapest can be hot and crowded. July and August are hectic, as they are also the peak tourist season. For some travelers, this is the worst time to visit. Public spaces and transportation can be overcrowded, and accommodation prices are higher than usual. 
Travel Tip: If you're traveling to Budapest in the summertime, book museum tickets, tours, and events well in advance. 
Fall in Budapest
Fall in Budapest is a time of tradition and folk festivities. The city sheds its green summer coat for hues of reds, oranges, pinks and browns. With lower temperatures and mild weather, fall is a perfect time to visit one of Budapest's 123 thermal baths. 
Another ideal fall activity and a cozy way to experience Budapest's incredible cuisine is to book a Budapest dinner cruise on the Danube River. And if you're in Budapest at the start of October, grab a beer at Oktoberfest. 
Budapest Fall Temperatures
Budapest in September sees average highs of 73°F (23°C) and lows of 55°F (13°C). In October, the average temperature drops to a high of 60°F (16°C) and a low of 46°F (8°C). Budapest in November is cold – with daily average highs of 48°F (9°C) and nightly lows of 39°F (4°C).  
Budapest Fall Pros
Compared to the peak season of summer, fall experiences fewer tourists, mild weather, and cheaper accommodation prices. September is considered one of the best times to travel to Budapest. The weather in Budapest in September and October is crisp and cool and filled with plenty of sunshine. 
Budapest Fall Cons
The weather can change quickly during fall, and you may experience some rainfall during the days. But don't worry – it will rarely rain for the whole day. 
Travel Tip: Don't say cheers with glasses of beer, as this is considered offensive to Hungarians! In 1849, Austrian generals executed 13 Hungarian Martyrs. Legend has it the Austrian generals celebrated by clinking their beer glasses. 
Winter in Budapest
Coupled with romantic architectural creations, the city in winter offers a cozy, Christmas-like atmosphere. Winter is when you can feel Budapest's rich cultural and traditional atmosphere. During your winter stay in Budapest, visit one of the best Christmas markets in Europe or go ice skating at an outdoor rink. 
You can also hop over to one of Budapest's many ruin bars — derelict buildings and outdoor spaces transformed into snug taverns, cafes, and restaurants. If you're feeling theatrical, get dressed up and watch a show at the Hungarian State Opera. 
Budapest Winter Temperatures
It's fair to say Budapest in the winter is cold. In December, the city experiences an average high of 39°F (4°C) and a low of 32°F (0°C). January and February are incredibly frosty, averaging highs of 41°F (5°C) and lows of 26°F (-3°C). In winter, it's not uncommon to experience temperatures as cold as 14°F (-10°C), and it may snow in Budapest throughout the season. 
Budapest Winter Pros
Budapest in December is ideal if you've always wanted to experience a white Christmas. Enjoy the sights, lights, and attractions with little to no crowds and at discounted prices. 
Budapest Winter Cons
Budapest in winter is frigid. If you prefer warmer temperatures, visiting in wintertime may not suit you. Also, around Christmas time, you can expect a significant surge in crowds again. 
Travel tip: Come prepared with comfy shoes that have a grip for walking on icy (and slippery) roads and sidewalks. 
Spring in Budapest
Spring sees Budapest come alive again after a long and cold winter. The air is fresh with opportunity and fragrant from the blooming cherry blossoms, tulips, and daffodils. It's a perfect time to explore the city on foot or go on a Budapest bike tour. Visit Margaret Island, Budapest's largest green oasis in the middle of the Danube River. 
In mid-April, the Budapest Spring Festival boasts entertainment and live performances of music, theater, and visual arts at dozens of venues around the city. If you fancy spending time on the water, embarking on a Budapest boat trip on the Danube River offers mesmerizing views of the city from a new angle. 
Budapest Spring Temperatures
Budapest in March sees average highs of 51°F (11°C) and lows of 37°F (3°C). April has moderate temperature highs of 62°F (16°C) and lows of 46.4°F (8°C). May is the warmest spring month, with the days reaching a lovely 73°F (23°C) and the evenings a bearable 54°F (12°C). Over spring, Budapest usually sees 1.5 inches of rain. 
Budapest Spring Pros
Enjoy pleasant temperatures, catch the seasonal flora at its best, and bypass the increased crowds accompanying the upcoming summer.
Budapest Spring Cons
Budapest is prone to rainfall and afternoon storms during the springtime, although these are usually fleeting and don't last too long. 
Travel Tip: If you're traveling to Budapest in spring, pack light clothes for the daytime and warmer layers for the night.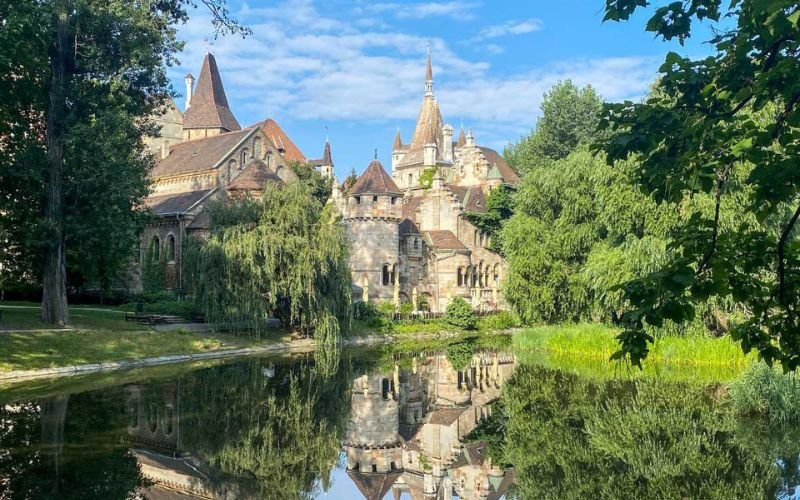 Decision Time: What is the Best Time of Year to Visit Budapest?
Summers in Budapest can be hot and overcrowded, making exploring the city seem overwhelming. On the other hand, winters can be icy and gray, and not very motivating to get out and sight-see. 
The shoulder-season months of May, June, September and October are considered the best time to visit Hungary, and more specifically, Budapest. Visiting the city during these months means you'll experience fewer tourists, mild and pleasant weather, and cheaper prices for just about everything. This means you get all the perks of good weather and affordable travel while enjoying Budapest's top attractions and events.
Of these options, May or September are the best months to visit Budapest due to their warmer temperatures. 
Next Read: If you enjoyed this read, learn about the best time to visit Austria to help extend your European trip even more.