A Waterfront boat ride is one of the best ways to see Cape Town, she is beautiful from the water but there are many more reasons to go on a cruise in Cape Town.
From whale watching, sunset cruises or dinners, taking a trip to Robben Island or just going on boat rides. We list the best Cape Town Waterfront cruises the city has to offer!
Know Before You Book:
Bring sunscreen
Some tours can be rescheduled
Not suitable during storms
Seasickness can occur
Highlights:
Marine life sightseeing
Intimate experience of the waterways
Family friendly
Experience one of the best Cape Town boat trips, and take in the serenely beautiful Cape waterways! Boat rides are an unforgettable way to see the best of Cape Town.
Waterfront Boat Rides Prices 2023
Prices for boat rides range from $3 USD (R45) for a waterfront canal ride, to $2500 (R30 000) to rent a yacht. You can generally find a sunset cruise, 3-course dinner cruise, whale watching or Robben island boat tour for less than $100 USD.
On Most fair-weathered days you will find all different types of boat rides from Cape Town. In Summer the sunset cruises are a great way to spend the evening, from June whale watching is best done from a boat with Robben island rides are popular year round. This is an activity for everyonee who is not inclined to seasickness 😉
Party Yacht Hire Cape Town
If you're looking for a cheap party yacht hire, then you will find all of the best available options here! Get together with friends and family for an unforgettable party cruise along Cape Town's famous waterways. Make memories of a lifetime, and enjoy a party out at sea.
Waterfront Boat Trips to Robben Island
A Robben Island boat cruise in Cape Town is not to be missed when visiting the Mother City. The only way to reach Robben Island is by boat or helicopter, so this one of the most popular waterfront boat trips at the V&A.
Sunset Waterfront Boat Cruises Cape Town
Sailing along the Atlantic Ocean with the wind in your hair and the sun warming your skin. The seagulls overhead and the seals and dolphins dancing below you. This is what taking a catamaran trip from Cape Town has to offer. Taking a boat cruise in Cape Town is a must!
Cheap Boat Rides Cape Town
Make the most of the best boat hire prices Cape Town offers! These waterfront boat tours offer value for money and an unforgettable experience of Cape Town!
The Serenity One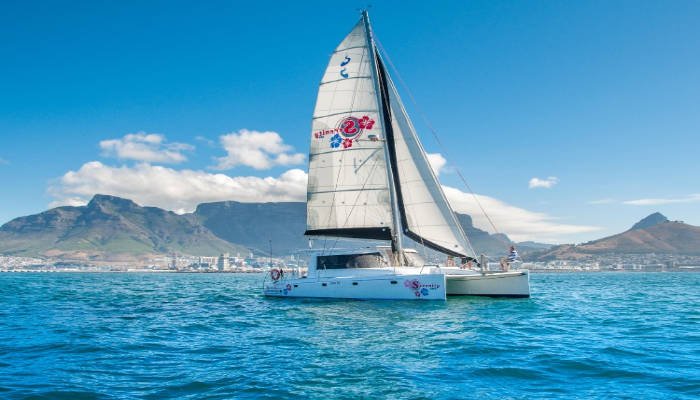 An attractive, luxurious Sailing Catamaran that sails the seas smoothly. This single-decked day charter catamaran sailing vessel is ideal for Clifton Cruises and Day Charters and for those seeking an extraordinary boat trip Cape Town can provide.
Operating Times and Days
The cape town boat cruises run daily, between 8.30 am and 8.30 pm. There are ordinary sailing in the bay cruises, and there are champagne and sunset cruises available.
Duration
Cruises can last anywhere from 60 minutes to 3 hours depending on the chosen cruise.
Waterfront Boat Trips Prices
Prices can range anywhere from R400 ($28, £20, €24) to R28 000 ($1900, £1748, €1556), depending on the package you choose or whether or not you're hiring the entire catamaran.
Price Includes
The champagne and sunset cruises offer complimentary champagne.
Know Before You Book:
Bring sunhats and sunscreen
Not suitable for those prone to seasickness
Not suitable for rainy days
Highlights:
Comfortable boat seating
Luxurious finishes
Variety of options available daily
Marine sightseeing
Complimentary champagne
Facilities
Covered Cockpit area
Twin Marine Toilets
Open Trampoline
8-Seater Bar
Full Catering on Request
Self-service gallery on-board
Capacity
SAMSA Licence for 40 Passengers & 3 Crew
The Ameera
A stylish, modern, state-of-the-art catamaran, named after the owner's daughter. The Ameera is a smaller boat, but not any less luxurious.
Operating Times and Days
Time slots are available in 3 categories, Morning, Afternoon and Sunset.
Duration
This cruise lasts 90 minutes.
V&A Waterfront Boat Rides Prices
Prices for the Ameera can range anywhere from around R400 ($28, £20, €24) to R12 000 ($851, £667, €748) depending on the type of cruise you are looking for.
Price Includes
There is a glass of complimentary sparkling wine for those who choose to take the sunset cruise.
Facilities
Cash Bar
Braai
Toilets
Trampoline
Roof Covering
Capacity
The Ameera has a maximum allowance of 38 passengers.
The Tigresse
The Tigresses is a majestic 62 ft sailing catamaran. Built in Cape Town in 1997, this vessel offers the perfect atmosphere for romantic cruises and makes for the best sunset cruise Cape Town has.
Operating Times and Days
The Tigresse runs daily.
You can catch a morning ride, an afternoon trip or a romantic sunset cruise.
Duration
Each cruise is around 90 minutes. Private cruises can last longer.
Cost
Prices for the Tigresse can range anywhere from around R400 ($28, £20, €24) to R12 000 ($851, £667, €748), depending on the type of cruise you are looking for.
Price Includes
With the price of the sunset cruise, you will be given complimentary sparkling wine.
Facilities
Cash Bar
Scully
Toilets
Trampoline
Roof Covering
Capacity
The Tigresse can hold 60 passengers at a time.
City Sightseeing Harbour Cruise
Take a relaxing cruise on Cape Town's little red boat and view the wonders of the waterfront harbour. From the resident seals playing in the water, to the international ships that tower over the smaller boats. These boats also offer a great option for those looking for an amazing party boat Cape Town can offer.
Operating Times and Days
The cruise runs every day, starting at 10 am and ending at 5 pm.
There is a new pick up every 20 minutes.
Duration
The cruise takes just 25 minutes, giving you time to continue your own walking tour through the waterfront.
Cost
Children under 5 are free. Children 5 – 17 years old will pay around R80 ($6, £4, €5) and the fee is for adults is about R120 ($9, £7, €8).
Facilities
On-board commentary is available in 15 languages
Kid's audio channel.
Capacity
A maximum of 35 passengers can be taken at a time.
Where Waterfront Boat Rides start?
The boats all leave from the Waterfront in Cape Town.
As well as the boat rides mentioned above, there are also speedboat rides available from the V&A Waterfront and kayaking adventures, too. You will also find private luxury cruises that we have not mentioned too.
The VNA Waterfront's most exciting activity
Get off the docks and venture out into the Atlantic Ocean
PROS
Great for anyone
Beautiful views of Table Mountain
Guaranteed to see a Cape Fur Seal
Chance of seeing dolphins
CONS
Poor weather can ruin the activity
Not suitable for persons exceptionally susceptible to sea sickness
Add your review
|
Read reviews and comments