Passing by the French countryside and admiring the snow-covered farms en route to Zürich is a dream come true. The cityscape of Paris turned to a gorgeous farm landscape as we whizzed past on our train. 
While planning my trip to nearby Paris, I knew I had to include Zurich on the trip. Despite being a beauty in itself, there are a number of places in the nearby Swiss Alps that can be covered as day trips from Zurich. Here's the perfect way to spend 4 days in Switzerland. 
Here I will share my favorite experiences and the best day trips from Zurich which you can enjoy on your trip to Switzerland, for the train trip of a lifetime.
Memorable Day Trips from Zurich, Switzerland
There are plenty of gorgeous places to visit from Zurich that are all fairly close by. When it comes to getting to your destination, this Swiss Travel Pass will definitely come in handy. 
Beautiful Basel | Day Trips
One of the best Zurich day trips is just an hour outside the capital in Basel, one of the top cities to visit while exploring majestic Switzerland. Located on the French-Swiss border, the city is often overlooked by tourists. Of course, Zurich has the perfect Swiss city charm, but the history of this small town will dazzle the historian in you.
The biggest perk of being a small town is that you can visit almost all the must-see places in Basel in just one day. Spending more than a day here will leave you with a medieval image of Switzerland. In fact, there's a fun walking tour and scavenger hunt you can participate in to make your adventure in this town even more memorable.
I recommend starting this Basel city tour by Marktplatz, the town square which hosts open-air farmer's markets on the weekends. While exploring this colorful town square, make sure you look out for the iconic Town Hall, known locally as the Rathaus.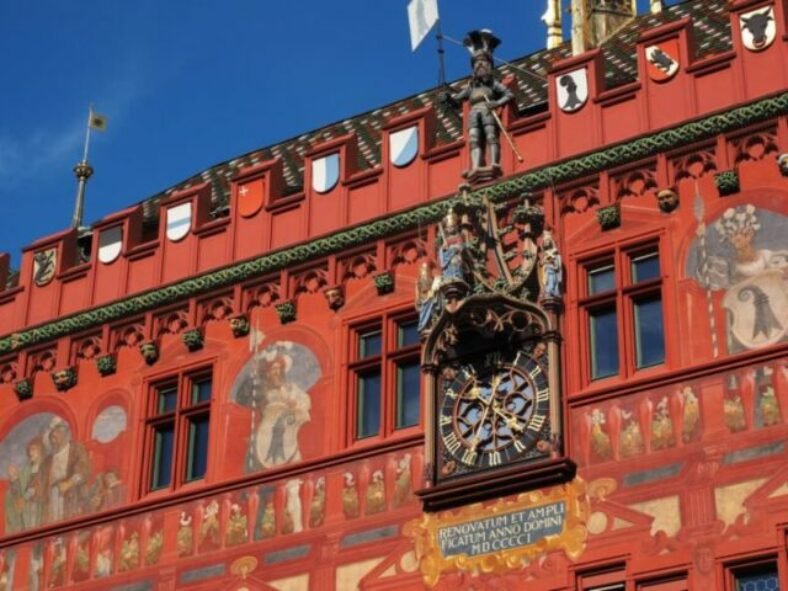 Make your way towards the Elizabeth Church dating back to the 18th century. A fine example of Neo-Gothic architecture, the church is sheer bliss for architecture lovers. 
Like cruises? Head to the Rhine for spending a perfect afternoon on the cruise here. Basel is a city for artists and art lovers, so if you fall in either category, you won't leave disappointed. The town is famous for its art culture and has more than 30 museums. You can choose to cover at least one or two museums on your Basel city tour.
Basel is one of the must-see off-beaten destinations for a day trip from Zurich.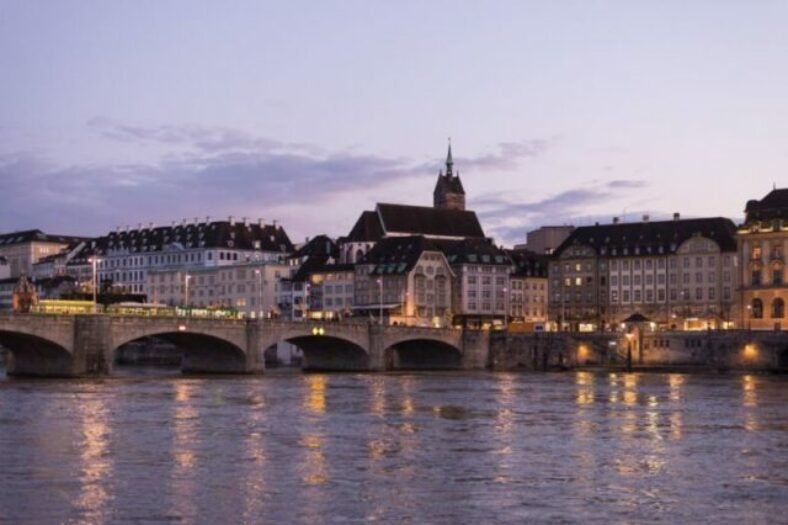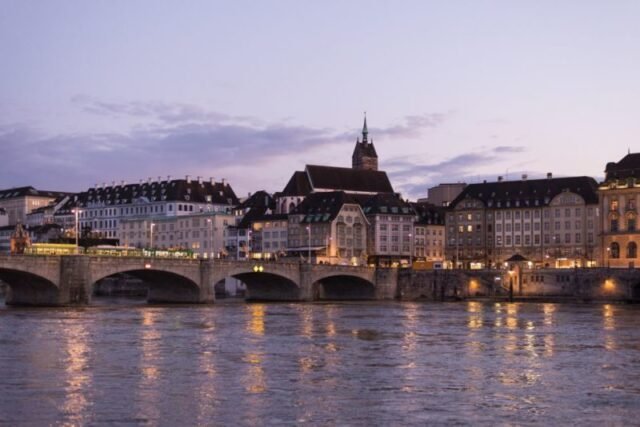 Lovely Lucerne | Zurich Day Trips
Lucerne offers those gorgeous, dreamy landscapes we see on our Instagram feeds, igniting our wanderlust. This sumptuous Zurich day trip is within 40 minutes from the capital city and is often seen by tourists while en route to Mount Titlis. 
Some even ignore the captivating town itself & catch a glimpse of the famous lake from the train. I don't recommend skipping it, though, as it truly deserves more than a few hours. I strongly urge putting aside an entire day for this charming Swiss city. 
I recommend grabbing a classic walking tour of the city with a guide to help you negotiate the streets and sightseeing highlights. If you fancy giving your feet a rest, though, take a popular electronic tuk-tuk tour instead. Taking a tour at the Swiss Museum of Transport is certainly another exciting way to spend an afternoon. 
The Chapel Bridge is the most famous tourist attraction in Lucerne, and the most Instagrammed as well with a gorgeous view of the Alps behind it. Its interesting history begins in the 14th century, and as recently as 1993 it was partly demolished by fire and rebuilt again in 1994. However, many of its irreplaceable triangular paintings were lost to the flames. 
 I believe no visit to a European city is complete without a visit to its old town square, and such is the case with Lucerne. The exuberance of the town square will leave you with amazing memories. Sip a coffee at one of the Swiss cafés overlooking the Chapel Bridge and delight in the ambiance of your surroundings. 
Finally, we get to Lake Lucerne. I kept the best for the last — it's one of the top places to visit in Switzerland. The spectacular lake with turquoise blue waters will revive your belief in old-world charm. Don't miss out on spending the afternoon here, strolling around the lake. 
For the best experience, take a tour up Mt Pilatus cable car and enjoy a leisurely lake cruise afterward. Come evening, it's time to take a break from touring and savor your dinner at one of the city's famous restaurants, Taube, known for its local Swiss cuisine. If you have some extra time, pop down south to Meiringen for dessert. 

A Trip to Mount Titlis | Day Trip from Zurich
When it comes to delivering on a fantastic day trip, Zurich is your city. Let's move on to the most awaited part of your Swiss trip — the Alps. It is just not possible for you to visit Switzerland and not take at least a day to view this most beautiful country from above. Mount Titlis is one of my favorite mountains in the Swiss Alps, and I know you'll love it too.
The Swiss rail network for Mount Titlis takes you through the jaw-dropping landscapes on the lead-up to the Alps. Its beauty is beyond words, possibly even imagination. The towns turned into terrains soon enough, slowly merging with the snow-covered mountains.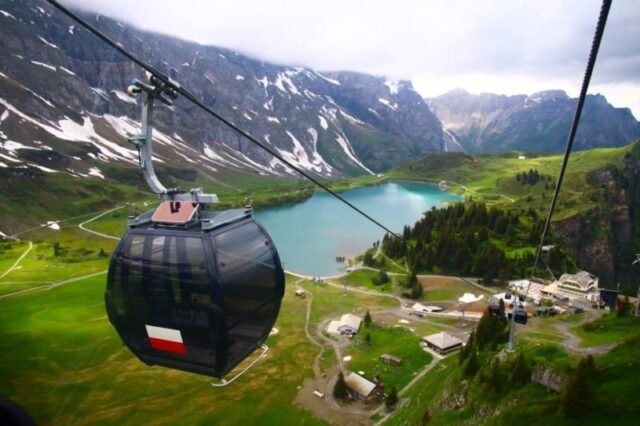 The Gondola ride from the base station takes you to the top. This 360-degree rotating gondola yields mesmerizing views of the Alps. It fills up pretty fast in the peak season, and when I went in March, the rides were full of skiers. If you love snow activities, pack your ski gear.
From Zürich, this tour with air-conditioned transport will deliver you on an epic sightseeing adventure through Lucerne and up Mt Titlis. If you fancy spending more of your time playing in the snow, this tour offers similar sights with the added fun of snow tubes and beginner skiing, equipment rental included in the price.
Titlis Cliff Walk, Europe's highest suspension bridge at 10,000 feet, is a showstopper. Initially reluctant to go out in those freezing temperatures at the top, I gained courage from my fellow tourists. The Cliff Walk gave me a lifelong memory.
Heard of Bollywood? Indian superstar Shahrukh Khan's iconic movie, Dilwale Dulhaniya Le Jayenge, was also shot here. If you're lucky, you can get a picture with the poster. Sadly, it wasn't there when I went.
Tip: Buy the tickets for the gondola and general admission in advance here.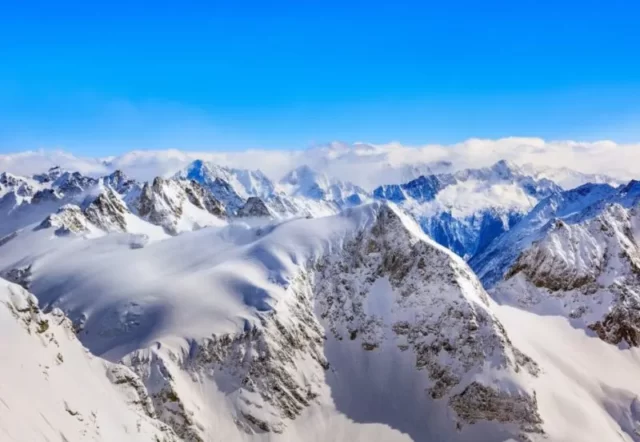 Visit Mount Pilatus | Zurich Trips
Another 45-minute excursion from Zürich by train is Mount Pilatus. Rumored to be the land of Pontius Pilate's body, Mt. Pilatus presents delightful views. The landscape of Lucerne lake can be seen from the top, making it a perfect trip to invest in.
There are two different ways to reach the top of the Mount Pilatus. Either take a cable car or the cogwheel railway. The latter doesn't operate in the winter, so if you're going to see snow, the cable car is your best bet. You can experience both on a self-guided tour, where you'll climb to the top in the gondola and make your way back down via the train.
Look out for the tunnels which lead to the window for a panoramic view of the various alpine peaks visible from here. On the top, there are restaurants and hotels too if you feel like enjoying a meal with a view. Honestly, who'd say no to that?
The suspension rope park in Fräkmüntegg is another attraction from Mount Pilatus. This is a thrilling activity and may not be suitable for the light-hearted. In fact, it might just be one of the most adrenaline-pumping Zurich day trips by train. If you fancy a full-day guided tour that includes multiple stops, this tour offers an enthralling experience.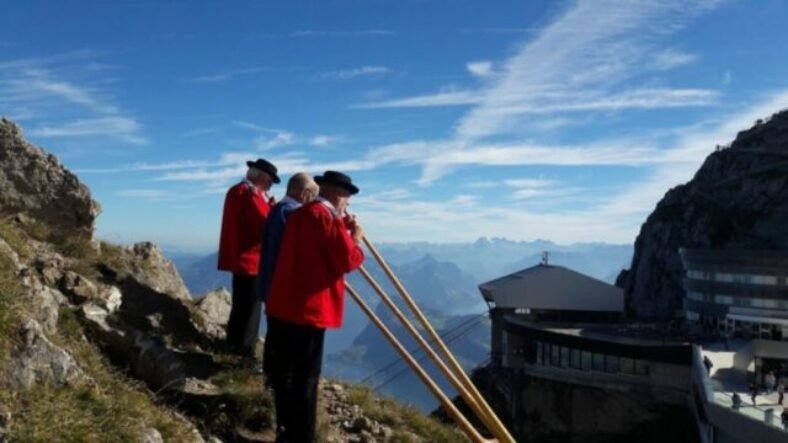 Be Awestruck at Jungfraujoch | Zurich Excursions
When a trip to Switzerland comes to our mind, a tour to the Top of Europe is on everyone's bucket list. Vacations in Zurich just aren't complete without a visit to this iconic winter wonderland. Exploring Jungfraujoch from Zürich is one of the best things to do when in Switzerland.
At 11,150 feet, Jungfraujoch has sumptuous views from the top and also boasts a great history. The famous cogwheel train taking tourists from Interlaken to the top dates back to the 18th century. 
Europe's highest train goes through the beautiful Swiss villages and tunnels with multiple stoppages for tourists to admire the views. Buy the entry ticket for the train in advance here, or book a full-day tour for an expansive experience that starts from your hotel doorstep.
The panoramic views of the mountains when the train reaches above 6,561 feet are just mind-blowing. The snow-capped mountains are a stone's throw away, and the beauty of the Swiss homes are postcard perfect. I'd suggest stepping down at Eigergletscher station for a quick photo-op. Climbing through the dark tunnels and emerging into the light of each stop promises more and more spectacular views. The journey itself is as mesmerizing as the top of Europe.
There are various things to do in Jungfraujoch when you reach the top. The Sphinx Observatory, which can be reached via an elevator, is a must-do for some more panoramic views of the snowy mountains. Europe's largest ice field, Aletsch Glacier, is also visible through this observatory.
The Ice Palace with various ice sculptures to admire is another thing you must do in Jungfraujoch. Snow activities like skiing and snowboarding are also available, although only in summers, and at a cost not included in the ticket. 
Lastly, check out the famous chocolates in the Lindt Swiss Chocolate Heaven, where you can learn all about the history of Swiss chocolates. Don't forget to buy some before you leave. Trips to Zurich are incomplete without a bagful of tasty treats from Lindt to take back home — try to save some for friends and family if you can, but no judgment if you eat them all!
Day Trip from Zurich, Switzerland | Conclusion
Basing your vacation in Zurich has a lot of advantages, including all these day trips you can cover for an enthralling trip in Switzerland with barely any travel. Whether you spend some time in Lucerne marveling at the lake and Mt Pilatus or opt for a winter wonderland experience at the top of Jungfraujoch, you can't go wrong. 
There are also many convenient tours that include pick-up or their own transport, so there's literally no reason not to explore the local sights. When planning your iconic Swiss trip, try to fit some (or all) of these destinations into your itinerary.