Have you always wanted to try your hand at horse riding? With the unique combination of a bustling metropolis in close proximity to exquisite and varied nature, horse riding in Cape Town is the perfect place to start. In under an hour, and just a few kilometers from the city center, you can mount up surrounded by fynbos and gorgeous wineries, ready to make memories.
Whether you are an adrenaline-seeking explorer or simply looking to soak up the scenery on a gentle stroll, horse riding is the perfect activity for any able-bodied adventurer!
The tours that we've listed here are fit for all levels of riders, are catered towards different travelers' interests, and offer a chance to experience Cape wines and delicacies.
The choice is yours when it comes to selecting a tour that excites your sense of adventure, whether that be with a gallop into the sunset or a private tour through rolling landscapes.
Horse Riding, Cape Town Prices and Options:
Exploring Cape Town by horseback doesn't need to cost an arm and a leg. That's why we have scoured the web and even tried some of the best-rated horse riding experiences ourselves. This way, we can give you a comprehensive list of affordable horse riding in Cape Town and its surroundings.
Horse Riding in Cape Town Wine Region & Tastings
Discover why the Cape wines are so loved, and the reason they have been served across the globe for centuries. Horse rides through the cape's famed vineyards are quite popular and make for a more relaxed, rustic style of touring and tasting Cape nectar. Pick your top horse riding wine tasting tour, in and around Cape Town, for a memorable experience.
With the added elevation of being on horse, you've set yourself up with the perfect view overlooking the magical vineyards. It's the ultimate experience for solo travellers, couples and groups of friends. Check availability and pricing for one of our favourite tours below:
Check Price & Book
Horseback Riding Cape Town: Options
Be mesmerized by spectacular views in and around one of the most beautiful cities in the world and enjoy a Cape Town horse riding experience. Embark on a relaxing ride into the wide-open spaces of beaches, vineyards, and grasslands that hug the city.
Horse Riding Franschhoek
Paradise Cottages and Stables features wine tasting tours on horseback, suited towards novice riders. Starting from the stables, which are situated in Franschhoek (capital of the Winelands), the trail wanders through verdant forests, dry Winelands, and over rocky mountains. During your ride, you'll stop at two wine estates for tastings: Mont Rochelle and Rickety Bridge Winery. Both of which are renowned wine farms.
Founded in 1787, Rickety Bridge offers superb wines to sample in splendid surroundings. On the menu are Sauvignon Blancs, Pinotages, Merlots, and many more iconic wines. At Mont Rochelle, there's also plenty of choices with the likes of Cabernet Sauvignon, Merlot, Shiraz, and Chardonnays making appearances. These can be tasted in the century-old cellar, the bar, or the restaurant – if you fancy a lunch break.
Your guide is a thoroughly experienced professional horse rider in South Africa and will tailor the ride to your experience. The rides, which are on beautiful pure-bred Arabian horses, last about four hours, with forty-five minutes spent at each winery.
Operating Times: Monday to Saturday from 8:45 to 13:15 and 13:15 to 17:45
Location: Robertsvlei Road, Franschhoek
Duration: Approximately 2 hours 30 minutes riding time and 45 minutes wine estate stops
Need to Know: Wine tasting and lunch not included
Cape Winelands Riding
Imagine the ultimate wine tasting on horseback through the Cape Winelands and to many early farmsteads! Cape Wineland's riding offers an incredible wine tasting route for the perfect horseback adventure. After a peaceful meander through the vineyards and orchards, you'll arrive at Backsberg Wines for some tastings.
There's a wide variety of Sauvignon Blancs, Chardonnays, Merlots, and Shirazes, amongst others, for you to select your golden five tastings. Don't worry – it doesn't end there. The route back to the stables is brand new and sublimely beautiful.
Operating Times: Starting times are flexible, on appointment
Location: R45 Simondium
Duration: Approximately 2 hours 30 minutes riding time and 1-hour wine tasting
Need to Know: Wine tasting is included
Horse Riding Stellenbosch
Heading out of the Mother City, Wine Valley Adventures offers carriage rides in the Stellenbosch/Paarl region. Their specialty is incorporating wine tasting into the rides. A favorite option is the Picnic Carriage Trail which includes one wine tasting, a carriage ride, and a picnic.
Horse riding Stellenbosch prices depending on whether wine and meals are included.
Operating Times: Rides operate daily, on the hour
Location: Stellenbosch/Paarl Region
Duration: Approximately 20 minutes to 2 hours
Need to Know: Available for those who want to horse ride or just enjoy a horse experience
Mountain Valley Horse Rides, Cape Town
There's no denying that Cape Town is one of the most beautiful destinations in South Africa. IT owes much of its fame to its impressive landscapes. You've heard about the vineyards, but the valleys between them are just as spectacular.
This tour begins as the sun starts to set, allowing incredible sunsets the chance to show off for an audience.
Check Price & Book
Beach Horse Riding on Cape Town Beaches
South Africa offers picture-perfect experiences for adventure excursions, from valley and forest trails to romantic, private horseback riding.
Perhaps the most noteworthy adventure of them all is horse riding on the beach. Here we explore the best horseback riding in Cape Town (and surrounds). So get ready to saddle up and explore the pristine stretches of white sand and blue waters on your horse.
Horse riding prices are dependent on the length of the ride you choose.
Check Price & Book
Noordhoek Horse Riding Options
The long, flat beach of Noordhoek, or Long Beach, with its pale waters and gusts of sea spray and sand, has an isolated and adventurous feel. Its size, 8km, also makes it perfect for horse riding.
Incidentally, Noordhoek is one of the only horse-friendly beaches in the city. You can trot alongside the gushing waves, dip your feet in the icy waters or admire the local birdlife on the seasonal lagoon. As well as an opportunity to explore the Kakapo shipwreck from the far end of the beach.
Sleepy Hollow Horse Riding
There's a reason Sleepy Hollow Horse Riding is so popular; the horses are selected according to the rider's experience and the staff is knowledgeable and passionate about horses. A two-hour horse ride on Long beach is pure magic, through fynbos, wetlands, sand dunes, and flanked by salty ocean swell.
They have three scheduled rides per day at 9 pm, 1 pm, and 4 pm. The ride is at a steady walk (15km/hour) and picks up to a trot for a small section of the beach if you're confident enough
Operating Times: Rides out at 9 am, 1 pm and 4 pm
Location: Noordhoek
Duration: Approximately 2 hours
Need to Know: Arrival time is 45 minutes prior to your booking
The Dunes Horse Riding, Noordhoek
The Dunes horse riding stables is another reputable outfit for horseback riding on Noordhoek beach. Did you know that the ocean around Noordhoek is sometimes visited by dolphins and whales? Better keep an eye out!
Operating Times: Beach rides run at any time, by appointment
Location: Noordhoek
Duration: Approximately 1 hour 30 minutes
Need to Know: Plan a surprise romantic horse riding experience with champagne
Imhoff Equestrian Centre
Another option for beach rides, Imhoff Equestrian Centre in Cape Town caters for all levels of experience. As they are based in Kommetjie, the horseback trail starts on their farm and meanders through the wetlands for about 20 minutes before arriving on Noordhoek beach.
There are usually two guides on a trail, allowing the more experienced to canter ahead while beginners walk along the shores in good company and safe hands. Your knowledgeable guides will talk about the environment and any animals you might see on your journey.
These rides take approximately an hour and forty-five minutes and depart three times a day. On your return to Imhoff, there's the option of a well-deserved lunch or tea in the restaurant or café, as well as a visit to a snake park!
Operating Times: Three beach rides daily
Location: Noordhoek
Duration: Approximately 1 hour 45 minutes
Need to Know: Travel through the wetlands to reach Noordhoek beach, there is no riding on any roads
Romantic Horse Riding Prices and Options
Seeking your very own fairy tale experience? There are countless romantic activities in Cape Town that will leave your hearts full (or melted). It's made possible with romantic horseback riding through the scenic Paarl Nature Reserve, flanked by the view of the Du Toits Kloof mountain range and surrounded by breathtaking natural beauty.
Check Price & Book
Horse Riding Paarl
Stroll off into the sunset in seek of a moonlit horse riding adventure, with sundowner snacks and drinks at Wine Valley Adventures. These rides begin at Rhebokskloof Wine Estate in Paarl and meander into the Paarl Nature Reserve. The views of the farming plains, the surrounding mountains, and iconic Table Mountain, are spectacular. This guarantees a romantic date!
Operating Times: Rides operate from 6 pm daily
Location: Paarl
Duration: Approximately 2 hours
Need to Know: This activity is weather dependent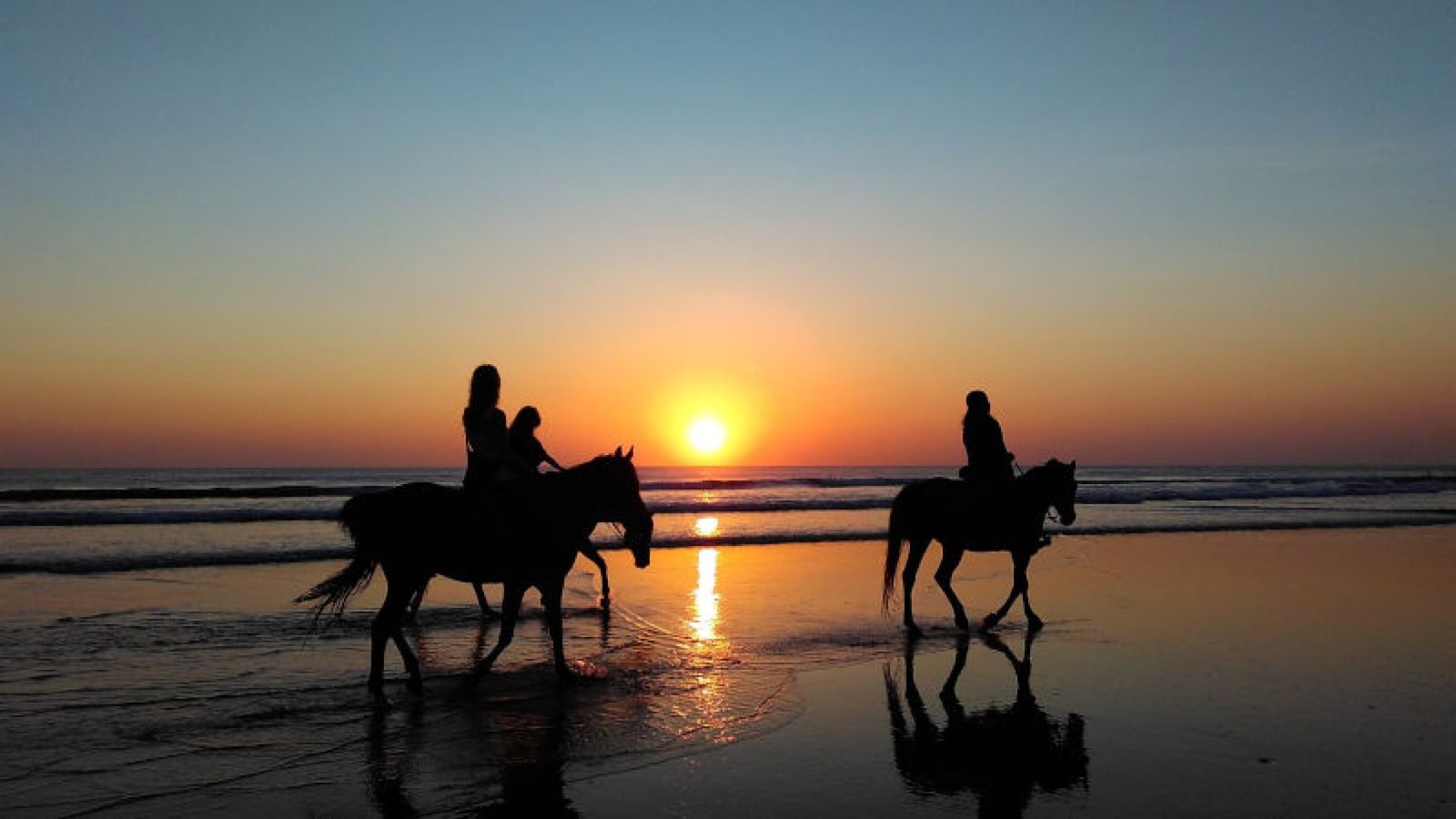 Overnight Horseback Riding Trips
If you're looking to spend some more quality time with your loved one, an overnight horseback riding trip couldn't be more romantic. You can spend the days riding in pristine natural environments, picnicking in shady spots along the way, and sampling splendid Cape wines. The nights can be spent at secluded luxury establishments.
There's not much more to paradise than this! These horse riding trails happen around Cape Town, extending up to Stanford and the Elgin Valley, and are custom-made according to budget, skill, and time.
Multi-Day Beach and Mountain Trail
For an extravagant weekend away, the Multi-Day Beach and Mountain Trail at Horse Riding Cape Town meets all your desires. You will be provided with three nights of luxury and days of tranquillity. In a couple of days on horseback, you'll experience a diverse range of landscapes.
These include the Walker Bay Conservancy with the scent of fynbos wafting around you, endless shores where waves crash in eruptions of sea spray, sandy dunes littered with small bushes, mountains, dams, vineyards, and other farms.
Highlights include swimming in a farm dam with your horse and concluding each day's journey with a seaside dip! Between July and November, you may even be lucky enough to spot a few whales! Along the road, you can stop for some wine tastings on the splendid Springfontein and Lomond wine estates and enjoy everything from a Shiraz to a Chardonnay.
Every evening is characterized by delicious food, comfortable rooms full of beauty, and candlelit baths for you and your loved one. With such a great package in hand, no-one could say you aren't a romantic!
Operating Times: Arranged on demand
Location: Overberg Region
Duration: Packages range from 2 to 8 days
Need to Know: Closed June to July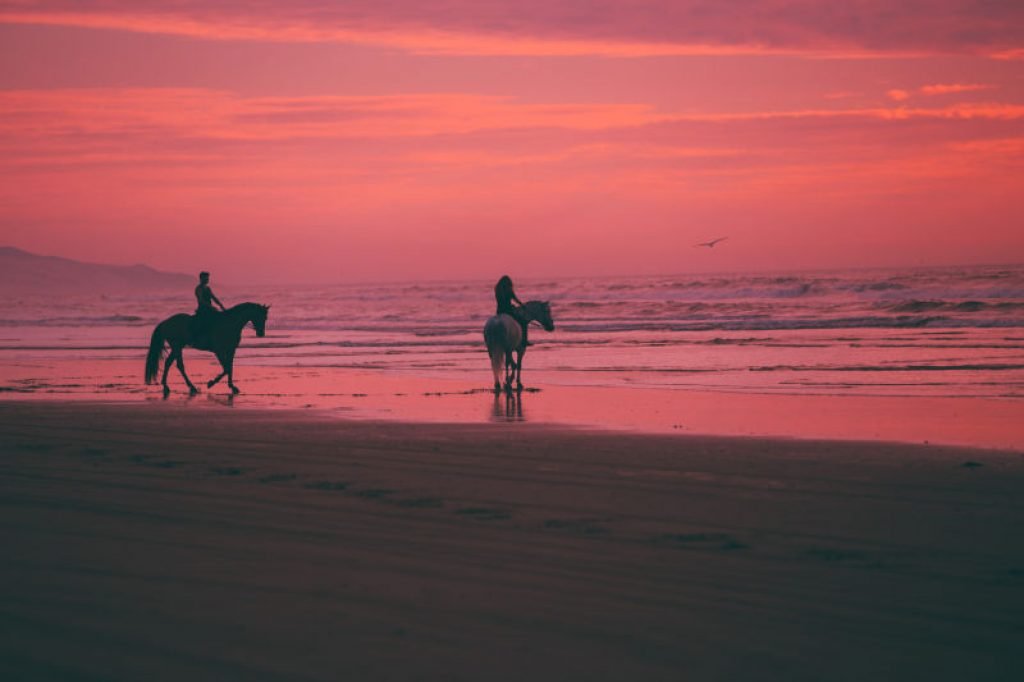 Places to Have Horse Riding Kids Parties
If horse riding is your passion, then an equestrian party is probably a dream come true. There are a variety of horse riding birthday parties possible in Cape Town, from trails in the vineyards to carriage rides and picnics while your horses graze. With such a variety of options, a horse riding party in Cape Town is not only for kids!
Cape Town Horse Riding for Kids
Considering a fun-filled pony party package, tailored for kids? Children get to not only ride a horse but also learn how to look after it. Your guests can enjoy a party program of learning to groom and saddle a horse, riding it in the area, and unsaddling the horse before finally enjoying party snacks. Chips, sweets, cupcakes, and cool drinks are some of the treats. What a perfect party for any prince or princess!
Oude Molen Horse Riding
A great idea for parties is to take a horse ride at Oude Molen stables and then find a beautiful, shady spot to have a picnic. This suits any age and provides structure for your event. You could ride astride one way, and in a carriage on your return. To give your event a grander atmosphere, consider making your horse riding party part of a theme such as vintage or Jane Austen. Your guests can dress up and enjoy the otherworldly vibe of parasols, horses, and carriages!
Oude Molen horse riding, Pinelands, offers cart rides, in addition to horse riding trails, providing two fun activities for your horsey party! Oude Molen is conveniently situated only 10 minutes from the city center.
There are lovely views of Table Mountain from this historic site, where the Khoi grazed their cattle and the Dutch farmed. You'll also get the gift of knowing that your party helps to support this community eco-village which supports the local community in a sustainable way. If you opt against a picnic, there's always the onsite café to host the cutting of your cake.
Operating Times: Monday – Saturday: 8 am to 6 pm, Sunday: 8 am to 5 pm
Location: Pinelands
Duration: 1 hour +
Need to Know: The premises were once home to a mental asylum and a military barracks in the past!
---
Your Cape Town Horse Riding Adventure Awaits You
With so many different locations and different packages, Cape Town's horse tours are suited to everyone's desires. Offering so much more than just a quick trot around, they can take you to some of the city's most iconic natural environments and help you to taste true Cape hospitality.
A horse riding experience is a great way to introduce yourself to the surroundings of the city. If the experience whets your appetite, you may want to explore some additional day trips from Cape Town.
Your experiences of the Winelands and the beaches will be so much more enriched by your lofty position on horseback. With the added options of horse riding parties and overnight romantic getaways, there's a horse ride in Cape Town for every occasion!
Enjoy the Cape's awe-inspiring natural beauty, from horseback!
PROS
Connect with a majestic and calm creature
Exquisite natural beauty
Suitable for a range of skill levels
A range of price options (depends on where you choose to ride)
CONS
May be affected by poor weather
A minority of people find horse riding uncomfortable
Add your review
|
Read reviews and comments