Showing all 2 results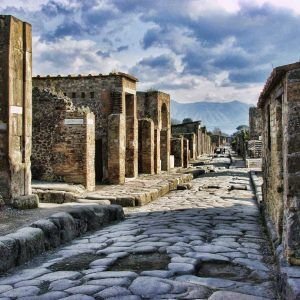 Visiting Mount Vesuvius and Pompeii Ruins are on the top of many travelers' bucket lists - and for good reason. The fascinating, ancient ruins of Pompeii will tickle any history lover pink, and a short 8 km away, Mount Vesuvius stands tall as a mesmerizing natural wonder. Both sites are known to be iconic points of interest in Italy, attracting travelers from all over the country. If you can tick off both Italian attractions in one go, it will help streamline your Italy itinerary, helping you fit in everything on your list of things to do in Italy. The following three activities offer the convenience of visiting these sites - with your family, your partner or alone.
More details +
As long as you avoid the crowded times, a visit to Pompeii Ruins and Mount Vesuvius will leave you feeling enriched, enlightened and exhausted after an unforgettable day of sightseeing!
PROS:
All transportation included
A combination full-day tour
Expert guides that speak English
CONS:
Can get very crowded at times
Not accessible for those with disabilities
See the best of Naples in a shorter amount of time on the platform of a Segway! These personal transporters are the most innovative way to tour Naples, Italy. See the natural beauty of the city and learn the history while whizzing around on a narrated outdoor tour. Segways are easy to use and operate, the two-wheeled transporters sense your body's movement and respond automatically, sensing when to speed up or slow down. They're even easier than riding a bike because they balance themselves. Your guide will show you the city's key highlights and describe the history with the aid of an audio guide. You'll be able to listen to your tour guide while taking in the spectacular views of the city.
More details +
PROS:
A great way to see more of the city in a shorter period of time
Training is provided
CONS:
Riders must be over 100 pounds
Must be 16 years of age or older