Cape Winelands
Come sunshine or rain, visiting the Cape Winelands to do some wine tasting is always a fantastic way to spend your day. Tasting a variety of wines paired with gourmet dishes while enjoying the beautiful scenery makes it one of the most popular activities to experience the true essence of Cape Town.
The most popular towns to visit are Stellenbosch and Franschhoek – the 'Wineland charmers'. Surrounded by picturesque valleys and mountains, both towns offer a variety of scenic wine routes and tourist attractions.
Stellenbosch Wine Route Attractions
Stellenbosch is a University town nestled in the heart of the Winelands district. Entrenched with a deep-rooted history and boasting streets that are filled with beautiful oak trees, the town also offers a variety of delicious restaurants, coffee shops, galleries and boutiques.
It is the host of South Africa's oldest wine route and consists of over 300 wine farms divided into  a number of sub-routes which include Simonsberg, Helderberg, Bottelary Hills and Stellenbosch Valley.
Tourist Attractions in Franschhoek
Established by the French Hugenotes in the 17th Century, Franschhoek has become a favorite attraction for locals and tourists to experience Cape Town's little 'slice of France'. From gourmet restaurants and boutique shops to a number of historical monuments, it also has a vibrant atmosphere that makes the town's popularity well justified.
Activities to do in Franschhoek include chocolate tasting at Do An Artisanal, visiting museums such as the Huguenot Memoriam, devouring French-inspired dishes at La Petite Dauphine or hopping on the Wine Tram to get a taste of the best international wines and beautiful vineyards this unique district has to offer.
Showing all 2 results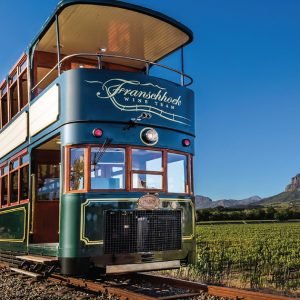 The Franschhoek Wine Tram hop-on hop-off tour is one of the best ways to discover the true essence of this picturesque valley, its rolling vineyards, breath-taking scenery, warm hospitality, world-class cuisine, fine wines and a 300-year history.
Best seller
Watch the colorful envelope of your hot air balloon become buoyant as billows of combustion bring it to life, affording its passengers an unforgettable, upwardly lifting experience. Cape Town is known for its amazing mountains, sprawling winelands and gorgeous coastline. What better way to see this beautiful city than on one of the incredible hot air ballooning tours? From families to couples looking for a romantic activity, there's a tour to suit everyone. Take flight with the rising sun as it illuminates the magnificent Cape Winelands landscape below. Think it's all a bunch of hot air? Think again!
More details +
What could be better than soaring over spectacular vineyard landscapes on board one of the most nostalgic forms of flight? Photos of the setup routine are welcomed, as this in itself is something special to see. From the incredible take-off to the memorable views, this tour is unforgettable.
PROS:
Unmatched aerial views
Experience of a lifetime
Photo opportunities like no other
Breakfast and sparkling wine included
CONS:
This one's for the early birds
Not ideal for those with vertigo
Subject to cancellation due to weather conditions