I believe telling a travel blogger or vlogger that photography is STRICTLY forbidden and that they must lock their camera and phones up in a locker has the potentially to be devastating. However, when this news was delivered to us just before our Lamborghini factory tour, it actually added an element of mystery to the excitement.
It was also momentarily freeing to lock away our backpacks, cameras and phones and to set off on what felt like a top secret factory tour of one of the world's most coveted car brands. In this post I'm going to explain in much detail as possible what it's like to do the factory tour and then visit the amazing Lamborghini Motor Museum on the same site in Sant'Agata Bolognese.
Lamborghini Factory Tour: All You Need To Know
Where is the Lamborghini Factory?
The Lamborghini Factory, which is the ONLY place in the world that makes Lamborghini cars, is located in the town of Sant'Agata Bolognese – less than 30 minutes from the city of Bologna, in the Emilia Romagna region of Italy.
The whole town is in some way influenced by the factory, with Lamborghini themed bars, restaurants to accommodate employee lunches and corporate meetings and rental outlets where you can test drive the cars…for a hefty sum.
Can ANYONE do a Lamborghini Factory tour?
Yes, anyone can do a factory tour as long as you show up when the factory is in operation and during factory operating hours, of course. It's best to book your tour online as it can get booked out during busy periods. The tour, includes museum entry and full guided tour of the factory and assembly lines costs 75 euro per person.
It's open every day of the year from 9.30pm to 6pm except the following dates: May: 1, August 5-23, November 1, and December 23-31. Tours start at 9.30am and the last tour starts at 3.45pm. Remember it's a factory with normal working hours, so is closed on weekends!
Also, as mentioned at the start, no phones or cameras are permitted in the factory so don't expect to get any shots there. The museum is very cool though and lots of photo opportunities there.
What's the factory tour really like?
As someone who isn't exactly a massive sports car fan, and knows nothing about engines nor twin turbo anythings, I was surprised how interesting I found the tour and how much I learned over the course of one short hour.
We started at the impressive factory entrance, that has small replicas of the 3 Lamborghini cars currently in production at the factory; the Aventador, the Huracán and Urus.
Once you step inside the factory, it's a hub of activity and any true car fans will no doubt be on an alternate state of happiness at seeing endless Aventador's on the production line.
It's honestly an incredible sight – seeing almost a dozen dreamy sports cars, lined up one after the other, all painted in custom colours and with customised seats, logos, and stitching – all being worked on at different work stations but all on one moving line.
We were told that the factory assembles 13 Aventador cars each day, and that each car spends exactly 35 minutes in each work station before moving along to the next station, sort of like a huge version of sushi dishes moving around a restaurant conveyor belt.
The first station attached the frame of the car to the engine, for example and as the carb moves from station to station, it starts to take form, a roof is added, seats that have been perfectly upholstered are added, steering wheel, mirrors, bumpers and of course many many layers of paint.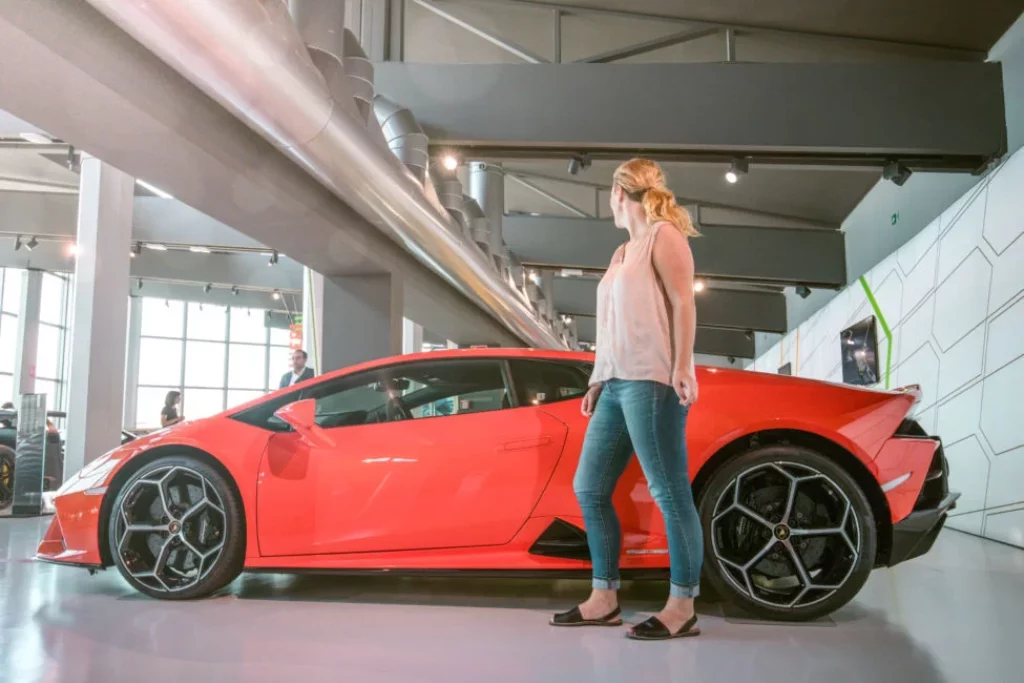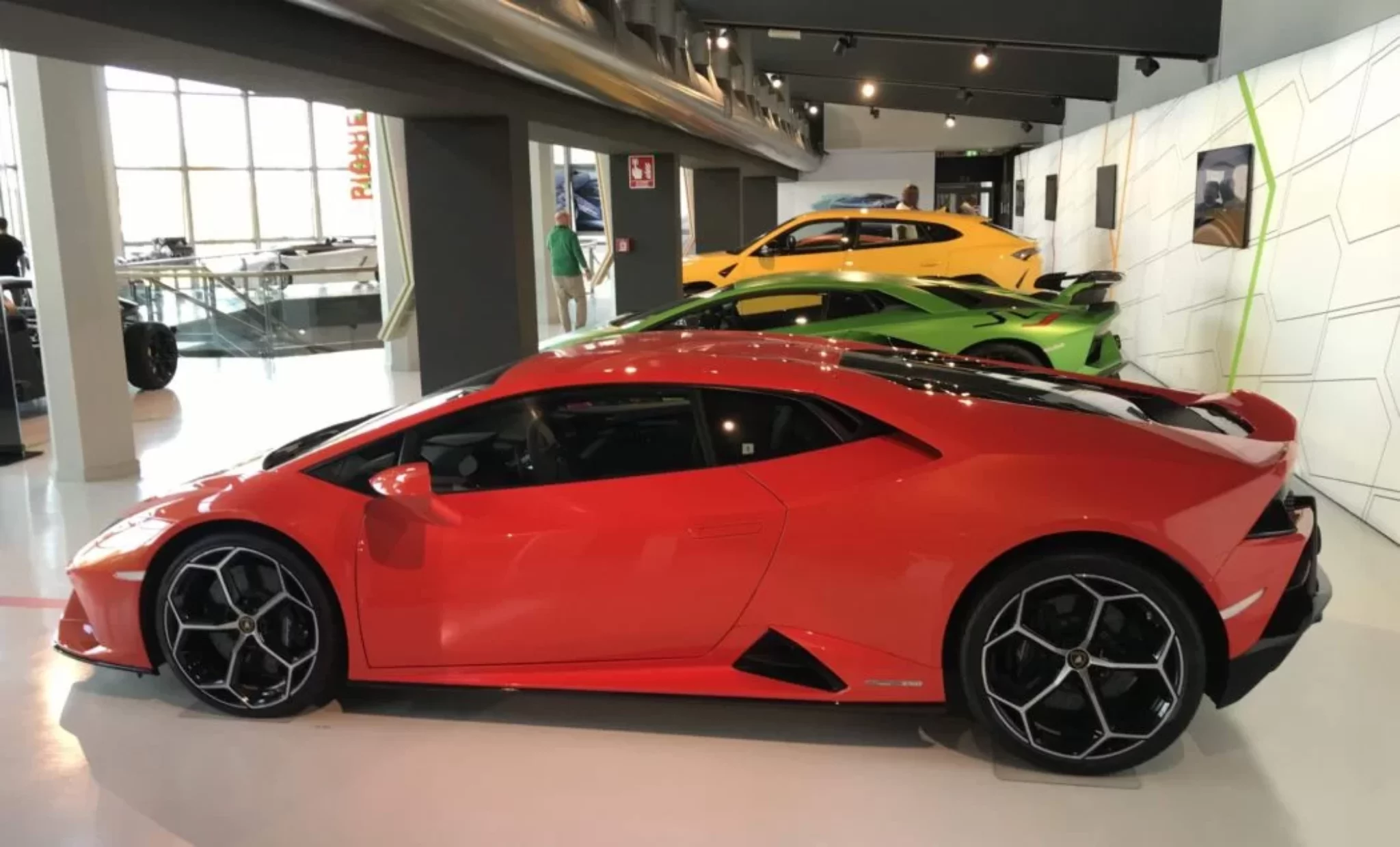 As we walked on, watching all the men (and many women, to be fair) hard to work in their neat Lamborghini uniforms, we came to the Huracán assembly line which is identical to the Aventador except these cars are about 100,000 euro more expensive and thus take longer to assemble.
Here, the cars remains at each work station for 100 minutes – so almost 3 times as long as the Aventador. Only 4.5 Huracán cars are made each day, so just 22 cars a week.
Each and every car that is assembled here has already been sold. Each car is made to order and buyers can customise almost everything and anything about the car. There are over 200 coolers of paint, different types of fabric, threads and stitching.
Some customers even choose to have a custom picture – for example of their dogs face – stitched on to the back of the head rests. Something that will set you back a few extra thousand euros.
Every 35 minutes for the Avendator line, a car will be finished, and will be driven away from the assembly line to be thoroughly tested. Every single car is also tested on the roads in Sant'Agata before been shipped to its new owner – to ensure perfection and zero problems present.
The tour in total lasted about an hour as we walked from station to station and honestly I found it all fascinating.
Touring the Lamborghini Museum 
Once the factory tour is over, you can return to the museum, grab your phone and camera, and continue the tour of the museum.
Your guide will tell you a little about the life a Ferruchi Lamborghini, why he started the company and how he made his fortune before the cars, as well as giving you information about all the cars on display and how much they're all worth!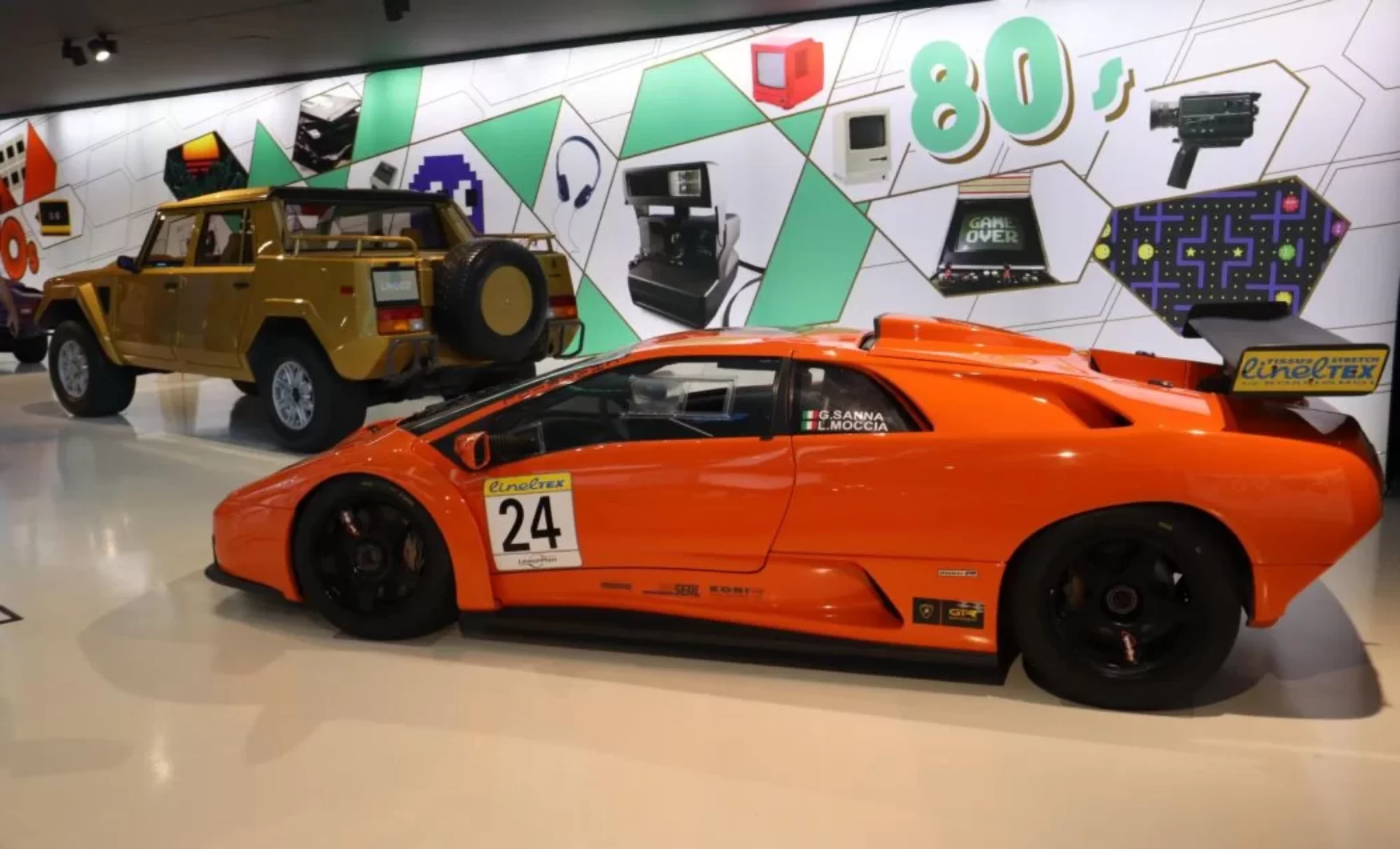 Upstairs you can see examples of all 4 cars currently in production as well as one prototype car, and you can also do a fun simulator activity where you're strapped into a read Lamborghini car seat and get to drive it around a virtual track – until your crash – which is what happened to all of us in less than 2 minutes!
If you're a big Lamborghini fan, you will love the museum part of the tour. So many beautiful cars, vintage classics, one offs and lots about the history of the company. Plus, of course, lots of fun photo opportunities.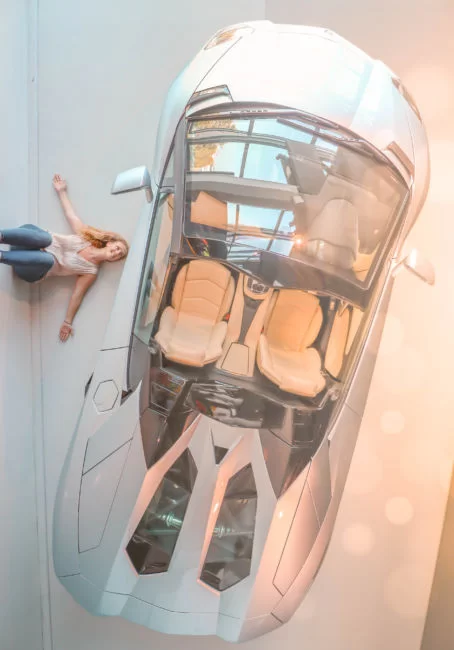 Fun Lamborghini facts and stories
Lamborghini is named after the founder of the company, Ferruchio Lamborghini.
The story behind why Ferruchio Lamborghini first set up his company is a fun one. After the war, Italy was a nation fully reliant on agriculture so Ferruchio decided to set up a business selling tractors – a business that was extremely successful.
Once he had made a small fortune, he decided to treat himself to his first sports car, a Ferrari! However he soon discovered that the clutch didn't work too well, and decided to replace the Ferrari clutch with one from his tractor!
He even complained to Enzo Ferrari, who was having none of the complaints, shooing him away saying what would he know! This spurred on the outgoing Ann oftentimes cheeky Ferruchio who decided he would build his own sports car, and compete with Ferrari. And so he did!
BONUS: Read about my experience driving a Ferrari in Modena!
The logo for the Lamborghini is The Charging Bull – a fine animal to compete with Ferrari's leaping horse!
While many people think the bull logo was simply designed to compete with the horse on the Ferrari, the truth is a little different. First of all Ferruchio was Taurus, so the bull is his zodiac sign. This, on top of the fact that he had a keen interest in Spanish bull fighting, helped him decide on the bull as the logo for his new sports cars.
The rivalry between Lamborghini and Ferrari was known though, and I'm sure having a strong animal like a bull to compete with Ferrari's horse definitely gave Ferruchio a little laugh.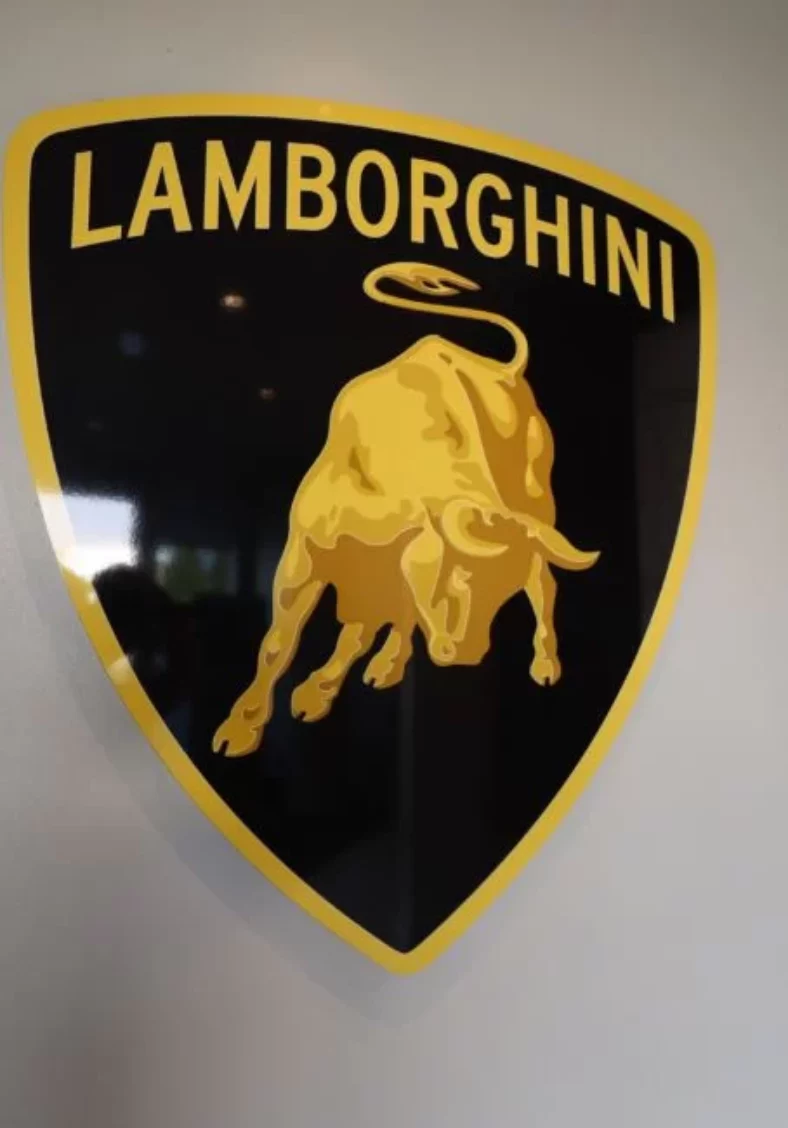 Ferruchi never wanted Lamborghini cars to be used in Motor Racing
Unlike most other sports car owners, Ferruchio has no interest in motor racing and had no intention of using his cars to race. In this way he was a stark contrast to the founders of Maserati and Ferrari, who were really only selling cars to fund their real passion – motor racing!
Times changed, however, and nowadays Lamborghini is trying to catch up and get a slice of the motor racing industry – and all the money that goes with it.
BONUS: Read about my visit to the Maserati Museum, owned by legend Umberto Panini.
They brought out a Lamborghini SUV to satisfy their TALLER customers
Many Lamborghini customers in the USA are very rich and successful NBA sports stars. The problem is that Lamborghini sports cars are actually quite small, and the seats are built to fit someone with a maximum height of 190cm. Many basketball stars, and even American Football players are simply too large to fit into the small sports-car-seats.
Eventually Lamborghini decided to bring out a larger model, and SUV, to satisfy the needs and demands of its growing US customer base.
Lamborghinis are actually used by the Italian police force
When it comes to picking the right vehicle to use as police cars, speed must always come into account. It seems the Italian police force is a big fan of speed, and many of their patrol cars are none other than luxury Lamborghinis!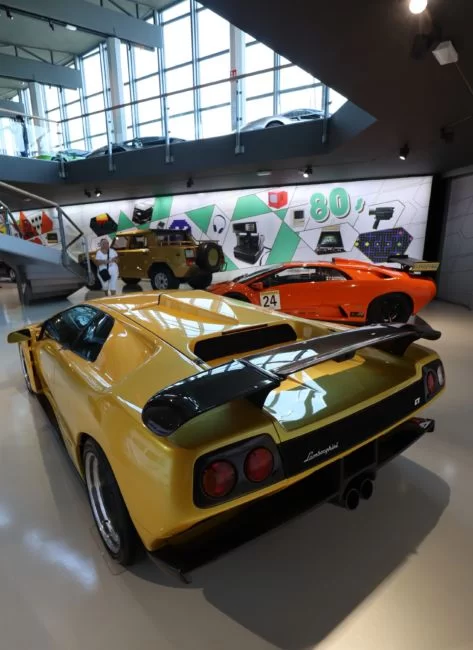 How to get to Lamborghini museum 
The Lamborghini Museum and Factory are only about 30 minutes from the city of Bologna. It's best to drive yourself if you have a rental car, or take an organised tour. Alternatively you can take public transport to Sant'Agata and walk to the factory form the bus stop.
The museum is actually very close to the airport, so you could take a taxi direct from the airport and do a tour, or else drop in before flying out of Bologna airport and heading home.
If you're coming from another city in Italy, it's also accessible by public transport. For example there's a train that runs from Venice to Bologna and stops at a station just a short 15 minutes walk from the factory.