Puglia is an absolutely stunning part of Italy. It is situated on the south-east corner of Italy, right on the heel. There are parts of it that are very famous and others that are still completely undiscovered. It's this perfect mixture that makes it so magical and why there are so many magical things to do in Puglia – perfect activities for a Puglia road trip. It's arguably one of the top places in Italy (besides Rome, obviously, but we'll let you decide.
We headed down to the town of Margherita Di Savoia in Puglia to see what wonders they had to offer and we weren't left disappointed! The place is so absolutely Italian… It is a beautiful, serene chaos that I couldn't get enough of. There are miles and miles of beaches that are still relatively undisturbed by tourism, an excellent spot to go if you're looking for something off the beaten track.
VIDEO: Things To Do in Puglia
My favourite things to do in Puglia
1. When in Puglia, eat late!
First of all, eating in Italy is very different. Lunch can be as late as 5pm and dinner in some cases can start as late as 11pm! We arrived to a welcome from the local tourist board and about half the town. The alcohol started flowing and eventually at 10pm we sat down to an absolutely delicious feast of fresh mozzarella, homemade pasta, locally caught cockles, fresh tomatoes. You name it, we devoured it!
There is no way to describe how fresh and delicious the food of Italy is. The vast majority of our time was spent eating food and it was an absolute treat for the senses.
2. Farm fresh produce
Usually I stay away from tomatoes but the ones over here are just so absolutely fresh and delicious that I couldn't stay away. We even visited a local onion farm as the locals were harvesting the onions and I took a bite out of one of them… It tasted sweet! The area is famous for their onions and they don't export them so they are unique to the place. Everything we ate was locally grown or caught… Even the wine was locally produced. The whites were often frizzante and were delicious, light and refreshing in the hot weather.
It really is just something that needs to be experienced and enjoyed. My one big tip is… Hold on to you wine glass! They like to take away the wine before the dessert is served whether your glass is full or not!
3. Check out the Salt Fields
The Salt Flats in Margherita Di Savoia are the biggest in Europe and have been around for hundreds of years. They are also one of the most unique things to do in Puglia! They have provided a livelihood for the people of the area and the salt is famous for being 'exceptionally salty'. Ok, I know that sounds strange but it's true! We had a great time learning about how the salt is made; the water is drained into different locks as it evaporates until all that is left is the salt itself. You can even visit these massive salt mountains. There really is nothing like them, a thunder storm was rolling in when we visited them so there were all sorts of whites, greys and pinks when we were there taking pictures.
4. Visit the pink lakes
The pink lakes of the salt fields are one of the most interesting things to witness. They are vibrantly bright pink. This is the final stage before the water fully evaporates and leave the salt behind. The reason the lake is pink is because millions of tiny pink crustaceans live in the water and this shines through when the level is low.
5. Admire the flamingos
As well as that the flamingo is a bird that spends time in the salt fields during the summer eating the tiny crustacean. That's where their pink colour comes from. The salt fields are a great place to photograph flamingos…. if you have a zoom lens or drone! Even if you don't, it's still one of the most unusual things to do in Puglia region.
6. Spend a day at the beach 
The area of Margherita Di Savoia has recently been awarded blue flag status which means that its Mediterranean waters are amongst the cleanest around. The beaches stretch for miles and miles in each direction. If you want to have a hotel and spot on the beach near your hotel that's no problem. If you want a quieter experience you can drive 5 minutes down the road to a more secluded spot. We spent some time on a beach that had relics of the Roman Empire on it. There was an ancient wall that stretched out into the ocean.
As well as that you can rent out a fishing boat if you want to try your hand at catching some local fish. We went out in a katarmarang and it was an absolutely beautiful day for it. Looking for the best beaches in the area? Here's a guide to Puglia and its coastline.
7. Visit Castel del Monte
Castel del Monte is a mysterious 13th century castle that truly has to be seen to be believed. It sits on top of a mountain and looks out at the Italian landscape for miles and miles in each direction. Built by Emperor Frederick II no one is exactly sure what its purpose was.
8. Learn the history
It doesn't seem to be built as a defensive fortress but people think it may have been an offering to the gods. The place is obsessed with the octagon shape and on the inside it can be very labyrinthine.
The place has had a really interesting history. It was a prison, a quarantine for people sick with the plague, a barn for livestock to graze in and even a Nazi lookout post during World War two. The restoration of the castle took about 100 years and now it is as close to being back to its former beauty as possible. It is a UNESCO heritage site and well worth the day trip out to see.
9. Do a tour of Barletta
The city of Barletta dates back to before the Roman Empire… It's been around a looooong time! It does feel like stepping back in time when you step into it. Everything is steeped in history in culture. We explored the amazing Norman structure which has some beautiful artwork and relics inside. It also contains the only known bust of King Frederick II. Our tour guide and friend during our stay there was very proud of this bust and kept touching it while telling us how rare it was!
As well as that you can find the 'Colossus of Barletta.' It a giant bronze statue, standing as a centrepiece to the city but the weird thing is, no one knows who it is!
It washed up on a shore nearby in 1204 and depicts a roman King. He is holding a cross and an orb in his hands and has been the symbol of the town ever since. Barletta is full of tiny cosy alleyways that are full of life and colour. It's an absolutely stunning town.
10. Yoga in a unique setting
If you need to talk a bit of a break from all the delicious food and the energetic people of the area you can head over to the salt flats for some yoga.
Let's preface this… I am not a yoga person. The last time I could touch my toes was probably back when I was still crawling about on all fours. We were all tired and not particularly in the mood for a yoga class. But we sat down beside the salt flats and gave it a go. The teacher was excellent and in no time all the hubbub and noise disappeared and for a few short minutes we were all in a very peaceful space. It was a lovely experience. If yoga is your thing then this is certainly a unique thing to add to your to do list.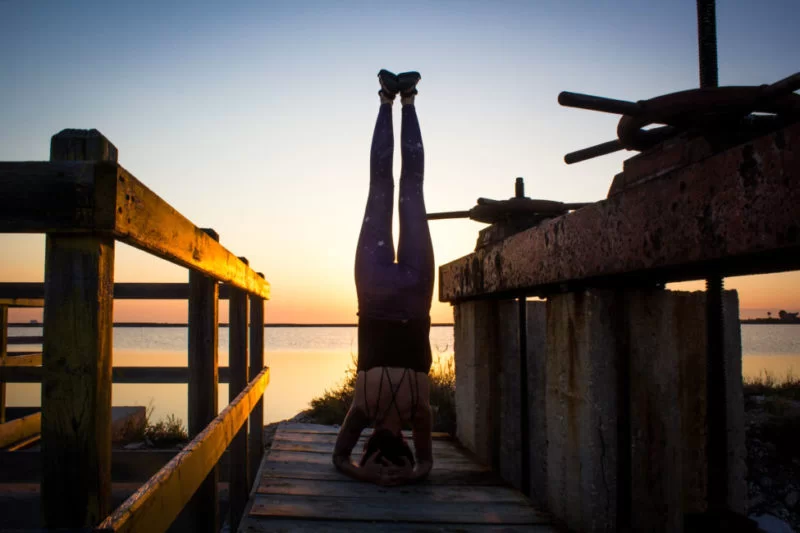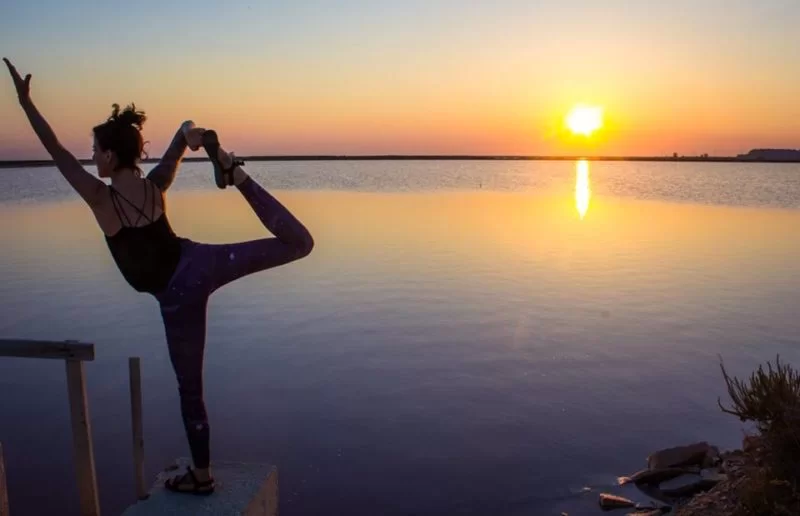 11. Eat dinner on the beach
We went back in for dinner and came out to a bar on the beach for an after-dinner drink where they had set up two bonfires. It was so pretty, the fire pits illuminated everyone as we sat out on the shores of the Mediterranean.
It would be an absolutely glorious place to have a celebration of any sort if drinking and dancing on the beach is your thing!
The pristine beaches of Margherita Di Savoia offer more than just a tourism experience. Most of the restaurants open out onto the beaches and some are specifically designed to do so. There are also places that open in and become the most beautiful venues for any event. Our first night in town we were dining in one of these venues. A bride and groom even showed up to dance and pose for us. Ok, they were probably/ definitely models, but either way we were really impressed and they certainly did look the part.
So what are you waiting for… If you want to see a side of Italy that few tourists see, Margherita Di Savoia is the place to go!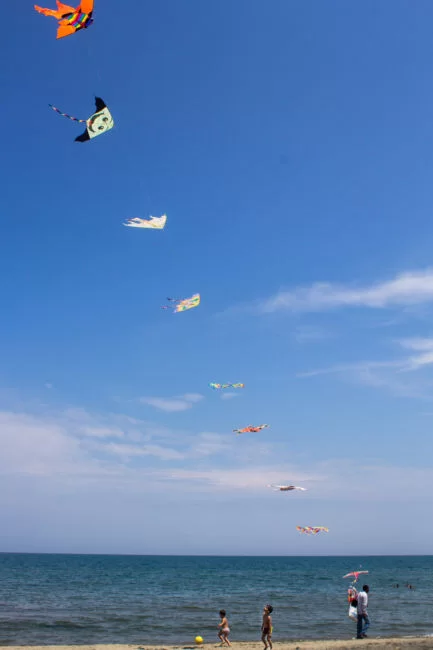 This article was written by Journalist On The Run writer Oisin Feeney following a press trip to Puglia with Destination Makers. Check out their site for more information on this magical destination!
Last updated on October 13th, 2023 at 01:52 pm