Within the vast waters of the Indian Ocean, one will find the small island of Mauritius. With a population of 1.2 million people and a surface area of a mere 1 860 sq km, it only takes 1 hour and 30 minutes to travel from the north to the south. With such a small space, you'd be surprised to find just how many Mauritius attractions and activities there are to indulge in.
If you're looking to get your guide to Mauritius, look no further. Here we highlight some of the best activities, from hopping on a kayak or a catamaran to diving under the surface for some snorkelling and more. All at the best prices.
A stone's throw away from attraction-filled South Africa, this tropical island offers an abundance of activities and sightseeing opportunities, making it easy to fall in love with. We've listed some of the best excursions and attractions, with Mauritius activities prices, for you to map out your perfect island adventure.
Prices for Activities in Mauritius Island
There are so many adventure activities in Mauritius that you may end up wanting to extend your trip. Take your pick from some of the best Mauritius activities packages below.
Water-Based Things To Do in Mauritius Island
If you're planning a trip to a tropical island such as Mauritius, there is no way that you can leave without having dipped your toes in the warm ocean water. As a tourist or a local, you are never at a loss of options. The best way to do it is to enjoy holiday packages to Mauritius.
There is also a variety of water activities in Mauritius for those with a competitive spirit. You can also take a cruise to the beautiful surrounding islands, or dive into the world of marine life.
1.    Relax On Catamaran Trips, Mauritius
A catamaran trip to explore the surrounding islands is hands down one of the best activities to do in Mauritius. Start your day early on a gorgeous 40-foot catamaran, along with tourists from around the world and onboard crew that are nothing but friendly and accommodating.
A catamaran trip offers great value for money. It is a relatively cheap, all-inclusive excursion that offers everything from the unforgettable experience to the great service, and the incredible food and drinks.
Once you arrive at your selected island, you will be taken to shore via rubber-ducky. Lounge around the beach and catch some vitamin D in the sun while waiting to be served an assortment of Mauritian foods and delicacies.
You can expect to be served the likes of baguette (french loaf), fish, chicken, vegetables, as well as a few tasty sides and salads. The open bar flows constantly with cocktails and soft drinks, while braver visitors can enjoy the local "Jungle Juice" – a dangerous combination of orange juice and the local rum.
If you're looking for the ultimate catamaran cruise from Grand Baie, then you're in for a real treat with this epic catamaran cruise deal.
2.    Swimming With Dolphins In Their Natural Habitat
The early bird catches the worm! Or, in this case, the early bird catches a speedboat to the adventure of a lifetime. Start your morning with a dolphin swim under the guidance of an expert who can share interesting information about the aquatic animal life beneath the water's surface.
As one of the most popular Mauritius excursions, there are various online packages offering the opportunity to take a speedboat through the bay to observe and swim with the dolphins. A Mauritius dolphin tour package usually includes a pit stop at various aquatic structures and snorkeling spots.
Watching dolphins play through the water is an incredible experience on its own, but joining them in their natural habitat is truly something special.
During the day, you are likely to find many tourists wanting to see the dolphins. It is unfortunate that this is such a popular attraction as it can become quite invasive and ruin the opportunity to see these majestic animals in their large pods. It is best to get there as early as possible so as to avoid the crowds that are sure to join.
Take the time to enjoy the gorgeous, clear waters and the surrounding marine life. Swimming with dolphins is one of the most special activities to experience in Mauritius. A Black River swim with dolphins is an exceptional experience.
3.    Discover Aquatic Life While Snorkeling in Blue Bay
Blue Bay Marine Park is a premier snorkeling destination and one of the best places to visit in Mauritius! This beach was given its name because of the beautiful blue color of the lagoon. It is known for its extensive list of coral species as well as its 353 hectares of marine life.
Whilst on the beach, you could speak to any of the locals with glass bottom boats. They will take you on an hour-long excursion to the Blue Bay reef. Here you can snorkel and really enjoy the underwater marvels that this marine park has to offer.
If you love the ocean, then snorkeling in Blue Bay is an activity not to be missed. This snorkeling in Blue Bay experience goes one step ahead and provides a speedboat experience, a delicious BBQ and a visit to other Mauritius attractions, such as the Grand River South East Waterfall.
4.    Dive Deep With Blue Safari Submarines & Sub Scooters
Take a submarine tour through the tropical Mauritian waters, diving 35 meters down under. Typically, submarines can only hold a maximum of 10 people, ensuring that you are offered an intimate and personalized adventure.
The tours are normally led by an experienced guide that will offer you an educational tour of the vast coral and marine species.
Sub-scooters are essentially really exciting underwater motorbikes, which you can use to glide through the water, on your own or in tandem. You will have a complete 360° view of the marine life that calls these gorgeous waters home. And for a short while, you may feel like you're living in a futuristic underwater universe.
Looking for an epic underwater sea experience? The solar undersea walk at the bottom of the sandy Grand Baie lagoon is another unforgettable experience in Mauritius. You can book the solar undersea walk here.
5.   Dive Deeper And Go Scuba Diving
If you want to go one step further and a few meters deeper, you can also book a scuba dive in Mauritius. The island is known to be home to some of the best scuba diving spots just waiting to be explored.
Diving deeper below the ocean surface, you are exposed to a whole new world of marine life. The tropical waters of Mauritius are rich in sea life and full of fascinating shipwrecks. This lively environment deep below makes a scuba dive in Mauritius one of the best in the world.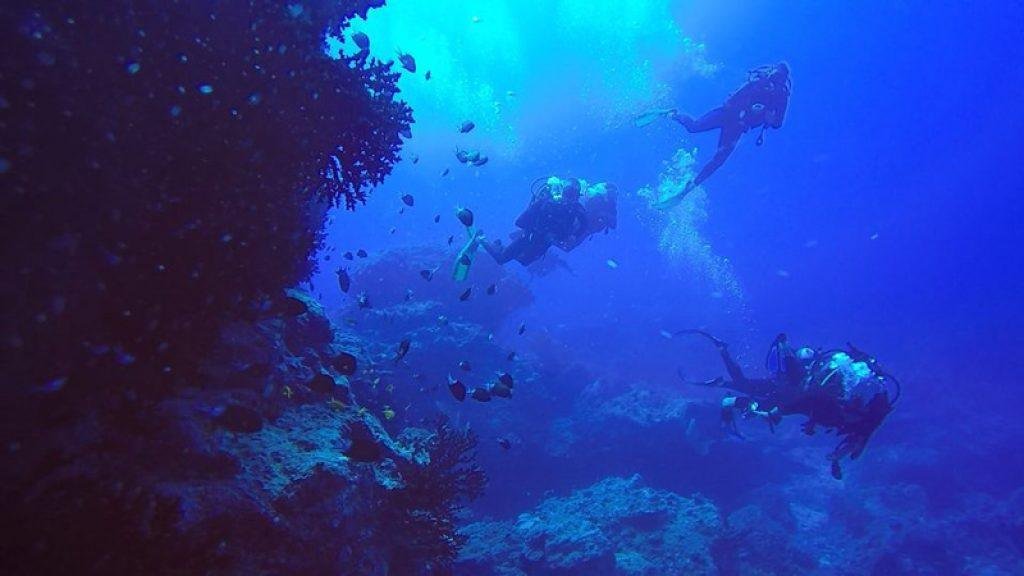 6.    Embark On A Sea Kayak Adventure
Keep your head above water with a sea kayak. A sea kayak adventure is one of the most fun activities in Mauritius. Paddle your way around the island, taking in its beauty as you go. This is the perfect excursion for groups of family or friends who enjoy a good mix of exercise and relaxation.
The still water allows you to kayak through the mangroves and explores this gorgeous lagoon with ease.
While you can find experienced guides to accompany you on your adventure, you can also rent a sea kayak and set off on your own. Take your pick from a single, double or triple seater, depending on how large your group is, and whether or not you'll be taking your little ones on the ride with you.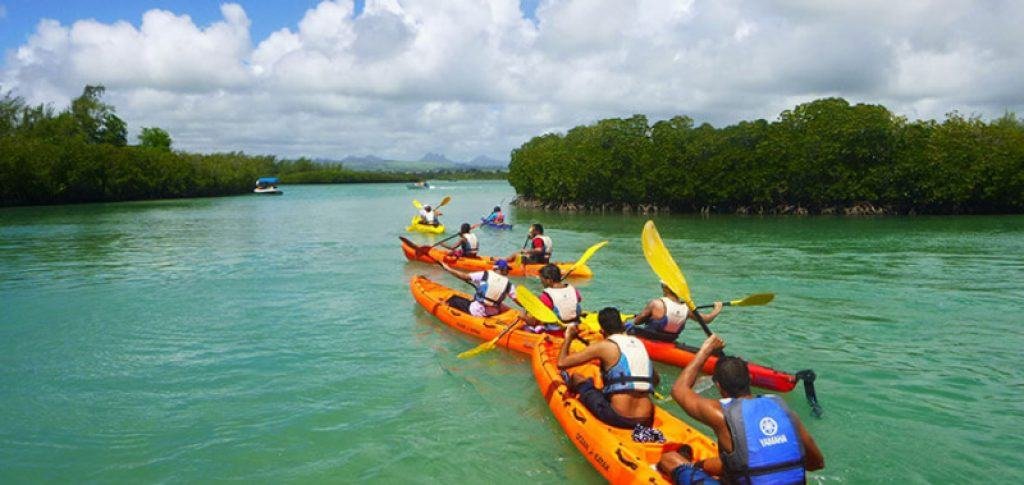 7.    Feel The Sun On Your Skin While Kitesurfing
Locals thrive on water sport activities in Mauritius. Your choices stretch from kitesurfing to windsurfing, wakeboarding, and SUPing. But, kitesurfing is one of the island's more popular sports, and one of the adrenaline-filled Mauritius things to do.
Local kiters are usually found in and around Le Morne, Bel Ombre, Pointe D'esny and Anse La Raie. These are the best locations for the sport as they are surrounded by reefs that create the perfect kiting waves. Although the wind in Mauritius is not always as strong as one would like, Mauritius can harness trade winds of up to 30 knots!
If you don't know how to kitesurf but want to learn, you can book a kitesurfing lesson.
The best thing about Mauritius is that, although some beaches are a surfer's paradise, others remain flat, completely protected from the waves. This makes the island ideal for other water sports such as skiing, wakeboarding, and SUPing.
If you prefer sports like water-skiing or wakeboarding, most of the island's beaches have locals waiting to take tourists for a tow through the water. They will also offer you the necessary equipment if you don't have your own.
Alternatively, the calm conditions also offer a far more relaxing activity, SUPing. You can find many online SUP rentals and tours. Just make sure to book a tour with a guide for a more educational excursion and to do your research on the various activities in Mauritius' prices.
8.   Spend A Day At Nearby Ile aux Cerfs
If you're looking for the perfect day trip from Mauritius, then it has to be a catamaran trip to Ile aux Cerfs. This full-day adventure gives you a perspective on the islands that surround Mauritius, providing the opportunity to snorkel in clear blue waters and feast on a tasty barbeque.
By exploring the surroundings of Mauritius, you are given insight into just how far this paradise and its beauty extends. Make sure that you pack your sun-protective gear because this promises to be an epic, fun day out in the sun.
9.   Get A Bite On A Fishing Excursion
Venturing off to the deep ocean of Mauritius is a popular activity for fishing enthusiasts. Many travelers and locals alike spend hours trying their luck with a rod and a line.
There are several fishing excursion opportunities in Mauritius with local guides that take you to the best areas to catch and ensure that you are fed and hydrated along the way.
As an added bonus, you can jump off the boat and explore the coral reefs as you ride on by!
Best Things To Do In Mauritius On Land
If you are looking for land adventures in Mauritius island, with a dream of conquering its heights, then take a hike. No, seriously, the hikes in Mauritius are incredible.
On the other hand, if you prefer to keep your feet planted safely at sea level, explore the island's culture and tropical wonders. Regardless of what tickles your fancy, there are countless Mauritius island activities and prices to suit your taste and budget.
10.    Take To The Trails On A Hiking Adventure
There are several trails in Mauritius that bring you face-to-face with some of the island's beautiful nature and vibrant wildlife.
If you find yourself in the Black River area, take the time to hike the Black River Gorges National Park. The park offers amazing views and a great learning experience about the native flora and fauna.
This three-hour hike is a great way to familiarize yourself with the local Mauritian landscape while breaking a sweat. When you need to cool off, just jump into the river.
11.   Climb Up Higher On A Mountain
There are so many amazing hikes in Mauritius that give travelers the opportunity to marvel at the mountain a couple of hundred meters above sea level.
A great alternative to the trails is to hike Le Morne mountain, which is a UNESCO site. The story behind the hike is fascinating, with the legend of escaped slaves plummeting to their death rather than being taken back into slavery. This weighted story makes the hike to the top all the more rewarding and surreal.
These hikes are the perfect activity in Mauritius for the physically active tourist or for the adventurous view hunter.
If this eco-hike makes you want to grab your hiking shoes, then make sure you book your spot with the Le Morne mountain hike.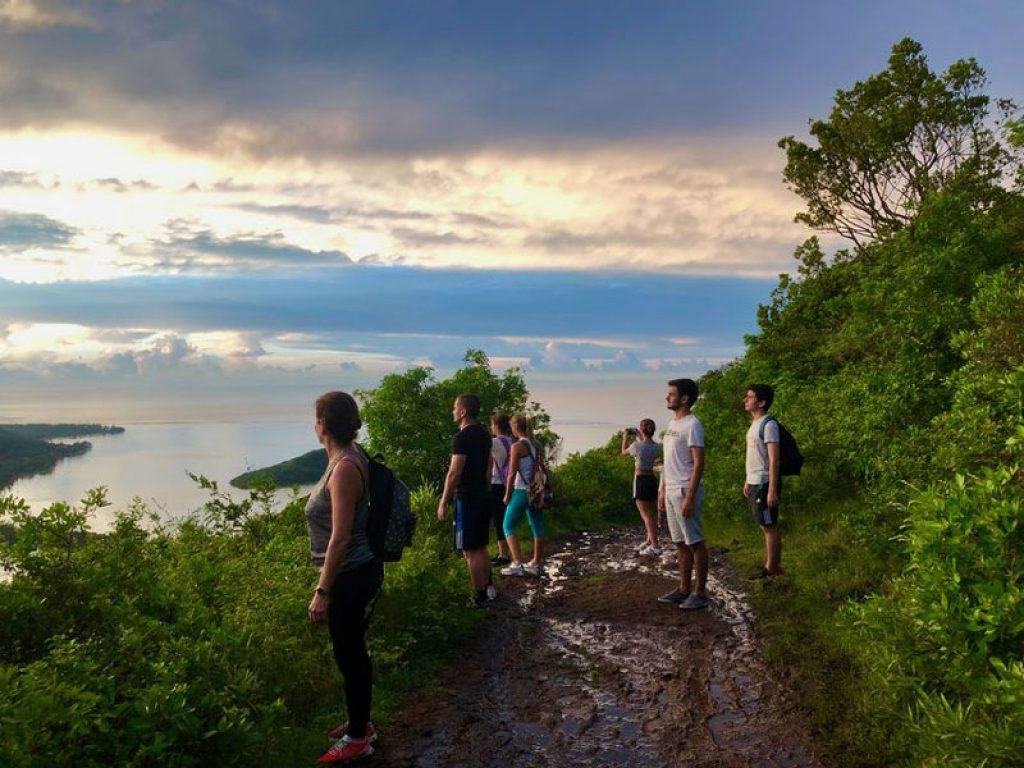 12.    Visit The Hindu Temples
If you consider yourself a cultural highbrow, then exploring Mauritius' Hindu temples is an activity that must be added to your 'to-do list'. It is incredible to see how such a small island is host to so many diverse cultures and religions. The Hindu temples and monuments are specifically a point of interest and seeing them is one of the top things to do in Mauritius.
Maheswarnath Shiv Mandir is a particularly important Hindu temple as it became one of the island's most important ceremonial centers. It hosted the first pilgrimage from Triolet to Le Grand Bassin, in the process, igniting a new festivity, now known as Maha Shivaratri.
It is celebrated in honor of Lord Shiva, where pilgrims bring their offerings to the Holy Lake, Ganga Talao.
Besides being the destination of the pilgrimage, Ganga Talao is one of Mauritius' premier cultural attractions. It exists now as a freshwater lake within a volcanic crater and holds a uniquely peaceful and spiritual atmosphere. We would highly recommend this experience to any traveler.
If the local spiritual practices of Mauritius interest you, book a tour of the temples with a local guide.
13.    Indulge In Local Cuisine
Calling all foodies, a food tour in Mauritius is a must-do activity. Spend your time indulging in a culinary journey that introduces you to various flavors and tastes that are local to the island.
Wander through the markets, discover local restaurants and allow your tastebuds to experience new flavors.
If you're looking for a unique and memorable food-centric experience, then you can book the Port Louis,Mauritius street food tour.
14.    Cool Off At Rochester Falls
Rochester Falls is the most popular waterfall to visit in Mauritius because of its incredible rock formations.
The falls are one of the best-loved Mauritius tourist attractions. The smooth curves have been carved through millions of years of erosion. Located in Souillac, this is a must-see for any visitors who find themselves in the area.
This dreamlike water feature stands 10 meters high and is the widest waterfall on the island. With such a dramatic backdrop, is a great place for a picnic. The soundtrack is not half-bad either with crashing water, rustling leaves, and chirping birdlife.
Please note that a few tourists have complained about theft in the area, so never leave anything in your car. Although this is a very unusual occurrence in Mauritius, remember that crime exists all around the world.
If you can't make it to Rochester Falls, there are plenty of other incredible waterfalls to explore. Another popular place of interest in Mauritius is Tamarind Falls, combined with a hiking trip that you can check out here.
15.    Trek Up To The Various Mauritius Volcanoes
Talking about island wonders, did you know that Mauritius is an island of volcanic origin?
There are three volcanic craters that can be found in Mauritius, namely in Curepipe, Trou Kanaka and Trou aux Cerfs. Each of these amazing spots is a major tourist attraction in Mauritius.
Deciding to explore Trou aux Cerfs will present you with a truly incredible sight. It is a dormant volcano, 800 meters high, with a crater 100 meters deep. The site is open to the public, so anyone is able to sit and picnic or simply enjoy the view.
Don't miss your chance to see the dormant Trou aux Cerfs volcano. Book your Southern Mauritius landscape tour here.
16.    Wander Through Chamarel
A visit to Chamarel is one of the best activities Mauritius has to offer. Chamarel is a small village located in the Black River. A visit to Chamarel is a top choice for a Mauritius day trip.
It is known for various attractions, such as Chamarel Falls and the Seven Coloured Earth.
Chamarel Falls can be seen from either the lower or upper viewing deck. It boasts an incredible 83-meter tall waterfall that is surrounded by lush, green vegetation. This is a wonderful attraction to see prior to visiting "La Terre de Sept Couleurs".
It is the main tourist attraction in Chamarel. Created by basaltic lava formed into clay sand dunes, that have separated into a pallet of seven colors.
People believed that the dune colors were cast by shadows, however, this is untrue. In fact, the colors are real and it is the shadow that is the illusion.
Don't delay in getting your seven-colored earth, Chamarel eco-park ticket!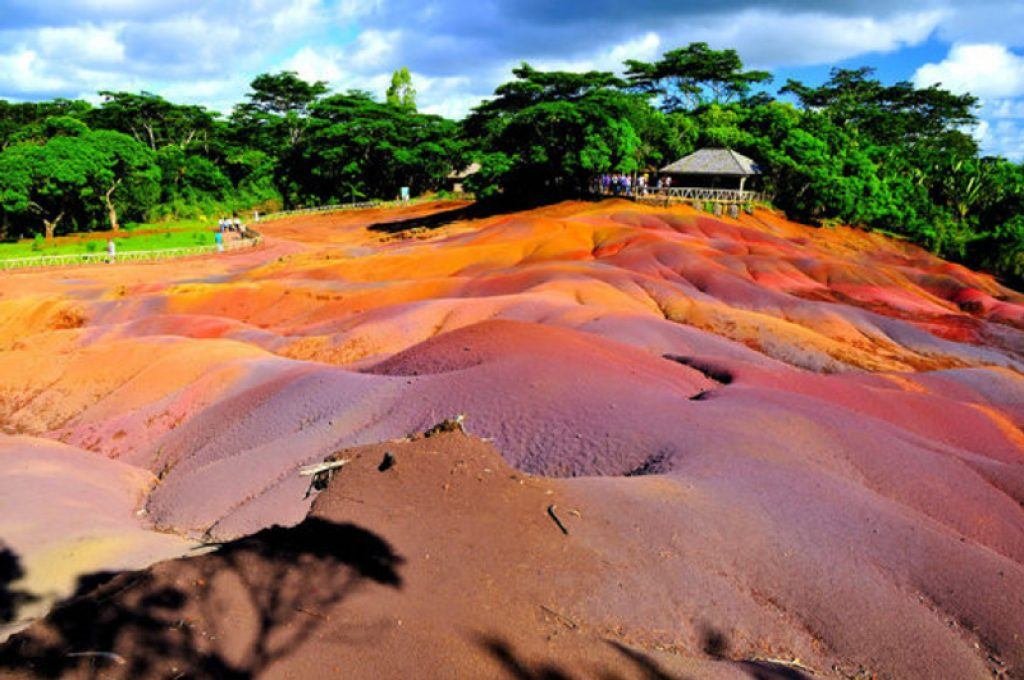 17.    Dedicate A Day To Discover Casela
Casela was by far one of the best attractions in Mauritius. It is suggested that everyone put this on the top of their list of what to do in Mauritius! With a substantial amount of different activities, we would suggest dedicating an entire day to enjoy the activities of the park. These activities are great for families, couples or groups of friends.
Children can enjoy the petting farm, where they can feed and play amongst the animals. There are also horse and camel rides as well as various guided interactions with the park's wild cats.
For a more adrenaline-filled activity, Casela holds the record for the longest zipline in the Indian Ocean. It offers multiple zip-lining courses and packages that include a bridge crossing and a canyon jump.
Should you need a break in between, they also have a restaurant that serves different meals, with everything from pizza and pasta to Chinese and grills. They also offer different Mauritius activities packages on their website. These include specific tours and activities that you can buy, based on whatever suits you best. It really is "a world of adventures".
Make sure that you fit this incredible activity into your itinerary by securing your Casela ticket here.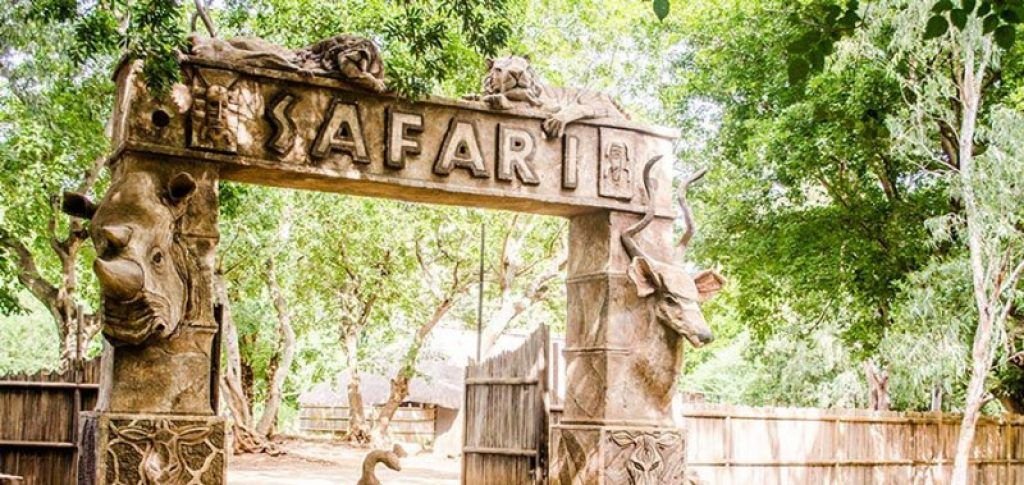 18.   Go For A Buggy Ride Along The Riverine Trail
This is the ultimate experience for off-road enthusiasts. It provides a unique and exhilarating way to discover Mauritius. The island is filled with several nature reserves that offer great encounters with the environment. Hopping on board a buggy is a fun way to experience this nature.
You can book a buggy ride along the Riverine Trail and enjoy the experience that leads to L'Abattis des Cipayes. The ride through the rich and diverse landscape promises to be an unforgettable experience for all.
19.   Spend A Day At A Tea Plantation
Enjoying a cup of tea is a comforting experience for many, but most people don't understand the process that is involved in making the warm (or cold) drink. Visiting a tea plantation in Mauritius is a great educational experience and a fun activity to experience with the whole family.
The Bois Cheri tea route is a very popular attraction on the south side of the island. The plantation has beautiful grounds and makes for great photographic opportunities as well. If you have the time, then it's best to spend a day exploring the beauty of the entire area with a South Mauritius scenic tour.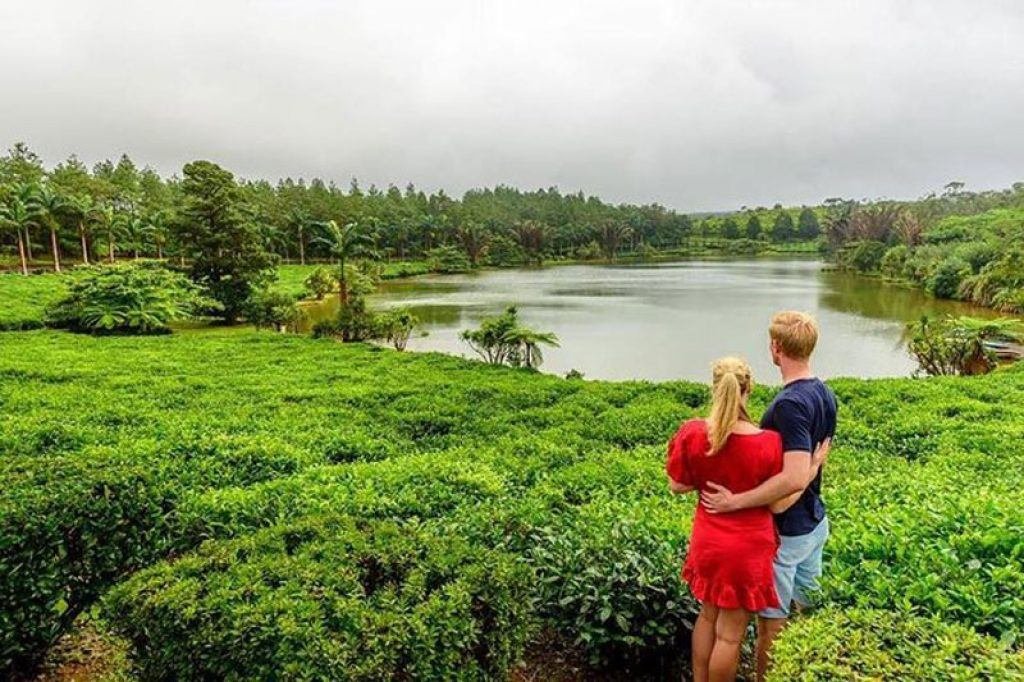 20.   Pedal Around The Island
A great way to see the island from a different perspective is to grab a bicycle and get your legs spinning. Even better than the incredible views and the authentic experience, cycling around the island puts you on a path that is far from crowds and tourists.
Prepare to see beautiful beaches, local villages and mesmerizing cliffs as you whizz on by. Don't forget to take the time to stop and take some pictures because loved ones back home won't believe your experience otherwise.
If you don't have a bike available while visiting Mauritius destinations, then you can book a bicycle tour of the island's pristine scenery.
21.   Embrace The Nightlife In Mauritius
The beautiful nature of Mauritius can keep you entertained for hours. This can result in you wanting to flop onto your hotel bed after sunset, so make sure that you reserve some energy for the amazing things to do in Mauritius at night.
The island boasts some of the most spectacular sunsets, delicious dinner spots and incredible entertainment. Some of the fondest memories are created by sipping on a cocktail on the beach and tucking into a local Creole dish. Once your belly is satisfied, head on over to the streets and soak up the festive environment as you explore the many bars and clubs.
If you want a little bit of guidance on how to best enjoy Mauritius nightlife, book your evening tour here.
Mauritius Activities in The Air
It is common knowledge that the human species was never meant to fly. However, we have persisted to create ways in which we can. Here are a few things to do in Mauritius that fulfill that childhood dream to one day take to the skies.
22.    Soar Through The Sky While Parasailing
Enjoy a breathtaking, birds-eye view of the Mauritius beaches and inland wonders whilst being towed behind a speedboat. Parasailing is the ultimate excursion for the basic adrenaline junkie. It is not as extreme or terrifying as it seems, although reaching those heights is quite something.
It truly is amazing, but a short-lived experience. Being able to see far and wide, with the clear, tropical waters contrasting with the warm island sand.
There are various places across the island for tourists to parasail. Grand Baie is a great location because the beaches are bustling with tourists, and the ocean is alight with kite surfers, water skiers, and wakeboarders.
If you want to see the views of Mauritius from a spectacular viewpoint, check out this amazing parasailing experience that offers you a short but sweet airborne adventure.
23.    Enjoy A Bird's Eye View With A Helicopter
If parasailing just isn't enough of a thrill, see Mauritius from a different perspective. Take a helicopter trip around the island to enjoy the stellar island views. Get a glimpse of the well-known underwater waterfall, as well as many other major sights and incredible island features.
Although expensive, this incredible experience definitely provides value for money. Enjoy a bird's eye view as you sweep over some of the key landmarks in Mauritius such as Le Morne Brabant and Ganga Talao.
This incredible helicopter ride in Mauritius also goes past Chamarel Waterfall and Black River Gorges National Park.
24.    Fly Through The Air With A Skydiving Adventure
If this tickles your fancy, then you need to book your skydive experience while in Mauritius. Prepare to be thrown out of one of a plane with a highly qualified instructor and feel the adrenaline like never before. This Mauritius activity is not for the faint-hearted!
This is arguably one of the best ways to get a complete view of this incredible island, other than from 10,000 feet in the air. It is one of the most exhilarating Mauritius activities to do if you have the guts.
This is a relatively expensive excursion, however, it is definitely worthwhile if you're wanting to expand your collection of memories. After all, nobody forgets jumping out of an airplane.
Final Thoughts On Mauritius Activities, Attractions and Sights
So there you have it, the most comprehensive list of Mauritius' best attractions, excursions and things to do. If you find yourself touring this incredible island full of adventure and wonder, make sure to cover it by air, land, and water.
There are so many places of interest in Mauritius that you can easily cram your itinerary full. From Chamarel to swimming with dolphins, the beautiful places in Mauritius are found far and wide across the island, just waiting to be explored.
Mauritius, Africa's premium island holiday
Local people's friendliness
8.5
PROS
Magnificant weather
Superb stretches of white beach
Crystal clear ocean
vibrant local culture
CONS
Can be expensive
Often hawkers on the beach
Add your review
|
Read reviews and comments