Are you journeying soon to the Land of a Thousand Lakes? Catch our list, and we'll be your guide to the most wonderful places to visit in Finland! It really is the most magical country.
Wonderful Places To Visit in Finland
Land of a Thousand Lakes
An enchanting wonder in Europe, Finland may just have everything for everyone.
In this fascinating Land of a Thousand Lakes, you'll find cozy country cottages to adrenaline pumping winter sports; bare and quiet landscapes to vibrant industrial towns; serene and majestic monoliths to long festive stretches of beach and sand and shore.
Apparently, the beauty of Finland and its many-faceted landscapes can make poets of many a wanderlust-driven traveler.
Thousands would flock to the tourist traps that are France and Spain and Turkey. However, many, if not all of those who have tasted Finland know that they should have done so sooner.
Believe us when we say, a few days (or even weeks) is just not enough to get your fill of this relatively unknown part of Europe. Unfortunately, unless you're in the 1% your budget as well as time will limit your travel.
Fret not, fellow wanderer. We've listed the eight most wonderful places to visit in Finland you'll want to prioritize when you visit Suomi.
Breathtaking places to visit in Finland
Kallio, Helsinki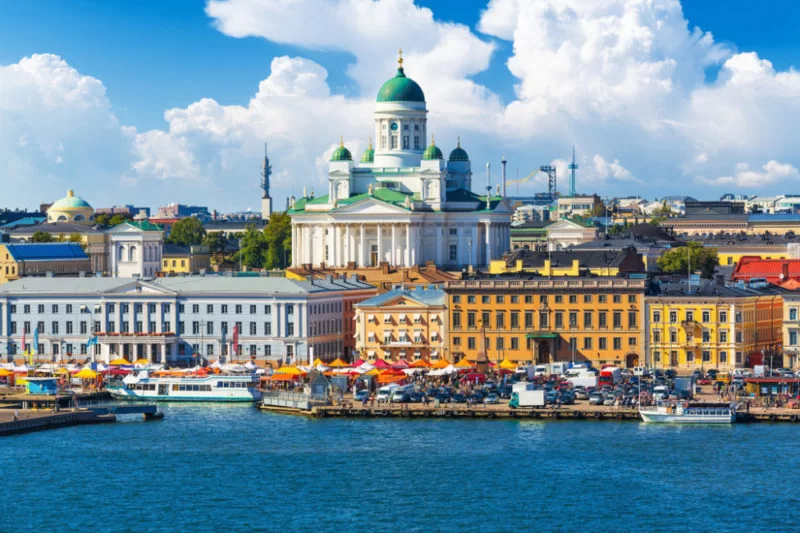 As the capital city, uber-modern Helsinki is most likely your gateway into Finland. However, you shouldn't immediately rush out of the city as soon as you land! History, culture and the arts await you in Finland's capital.
Speaking of history and culture, did you know the word "sauna" is Finnish? In fact, there are over three million saunas in the country, which speaks well of its importance to Finnish culture.
So, before you go wandering in the boreal forests or the long stretches of excellent beaches, start Finland right by taking a load off in the many private and public saunas in Helsinki.
A local favorite, for instance, is the traditional saunas you'll find in Helsinki's Kallio district.
Ruokolahti, Etelä-Karjala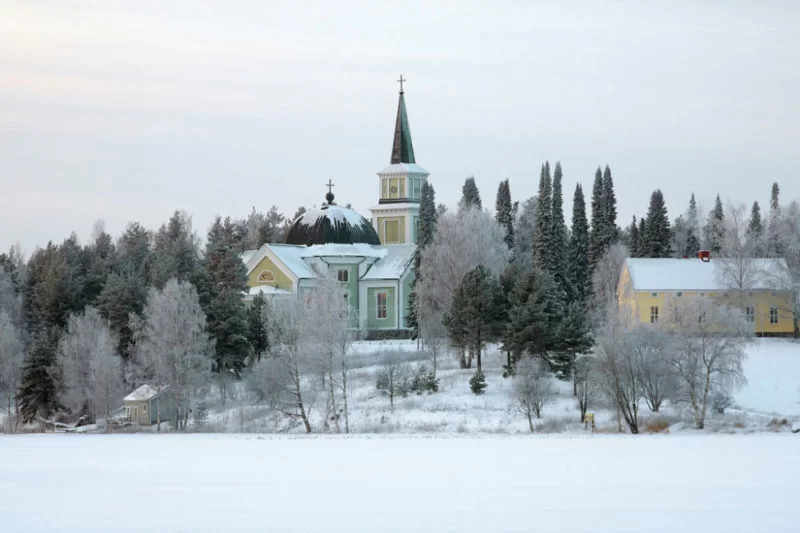 The Finnish municipality of Ruokolahti in the South Karelia region is most popular for its grand landscapes and natural beauty.
At first glance, this town of 5,000 may feel somewhat out of place in your travel itinerary. That is until you see Kummakivi. You may need a handheld GPS to find this singular monolith.
Kummakivi or Strange rock has attracted many visitors the world over. And for a good reason: it's an enormous boulder that seemingly defies gravity as it continues to balance itself on top of a smaller rock formation.
How and why Kummakivi has ended up here, we may never know why.
Lake Saimaa, Linnansaari National Park
To the west of Ruokolahti, you'll find the heart of the Finland's Lake District: Linnansaari. In this district, you'll meet the shorelines of Lake Saimaa, the country's largest lake.
The picturesque body of water is perfect for canoeing, swimming, fishing, or day of meditative lounging along its peaceful beaches.
Finland is the land of a thousand lakes after all, so it's only appropriate that you visit the biggest and arguably the most scenic lake, if any at all.
Old Rauma, Rauma
If you feel like going back in time and stepping into 18th century Finland, then the picturesque wooden town of Old Rauma will be perfect.
Especially so when you visit in the winter, and the town looks like it came straight out of a dazzling fairytale. You'll truly lose yourself in its magic as you explore and visit the many cafés and boutiques.
You can find this Unesco World Heritage Site in the heart of Rauma where there are over 600 wooden buildings that'll please those who appreciate intricate architecture.
The Turku Archipelago
If sailing, boats, and island-hopping are your preference, then you'll surely fill your itinerary with the 20,000 islands making up the Turku Archipelago just outside of Turku City.
You can choose to traverse and explore these islands and skerries via car, boats, or ferries. Additionally, there will be no shortage of places to stay as the islands are littered with cottages that you can rent.
Alternatively, you could always bring your tents, which will add to the experience even more!
Being the former capital, Turku is Finland's oldest city. So if you somehow tire of the numerous islands, you can step into the city steeped in history and culture.
If you do, don't forget to feast on the Aura River that runs through the center of the city; then end your day with a breathtaking sunset and some crayfish potato.
Olavinlinna Castle, Savonlinna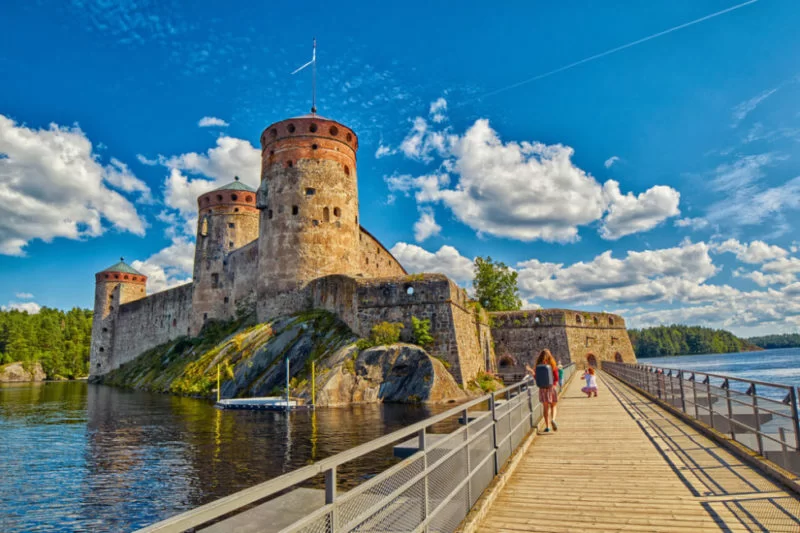 There's nothing like a grand old castle to remind you how far we've come as a human race.
Even more so when the castle in question is over 500 years old. Danish knight Erik Axelsson Tott took charge of erecting this mighty fortress as a bastion against medieval Russian attacks.
However, if castles are not your thing, you can still stay awhile in Savonlinna to check out the largest wooden church in the world. Capable of fitting over 5000 people, Kerimaki Church is nothing but a masterpiece.
Moreover, rumour has it that the church's ridiculous size was the result of a builder's confusion – using imperial inches of metric centimeters!
Rovaniemi, Lapland
Besides its numerous lakes, many also refer to Finland as the Land of the Midnight Sun. And one of the best places to witness this fascinating phenomenon is in the municipality of Rovaniemi, within Finland's Lapland province.
Additionally, the best time to visit the city is during the summer months of June to July when you can bask in the warm light of the sun seems never to set.
If you feel there isn't enough daylight to enjoy the lovely province of Lapland, then consider this time when the nights are white and the days go on forever as wishes granted.
Pallas-Yllästunturi National Park, Lapland
Many would say that traveling is about the journey and not necessarily the destination. However, that may not be strictly true when you journey to the historic Lappish villages in Pallas-Yllästunturi National Park.
No doubt it will be a joy to trek through the arctic fells of Lapland, which has the freshest air in Europe. However, when night falls, you'll remember why you came – the breathe-taking experience of seeing the Northern Lights. Truly, there are no words as well as sentiments even to echo the sublimity of seeing this natural phenomenon with your own eyes.
The Finns have a saying: Hymyillä kuin Naantalin aurinko, literally meaning "smiles like a sun in Naantali." The short Finnish phrase describes the look on the face of a person filled with joy and bliss.
That being said, you'll also inevitably smile like a sun in Naantali when you visit Finland and see its many wondrous sights.
Author Bio
Louise is the founder of TheAdventureLand.com, where she and her associate's blog about Outdoor experiences, tips & tricks that will help you have an exciting adventure. She is also a tour guide of travel company where she learned many things about wilderness. "Let's pack our bags and explore the world!". Follow me on Twitter and on Google+