Botswana Safari Tours | Best Safari Adventures 2023
Last updated on September 17, 2023 6:05 am
Add to wishlist
Added to wishlist
Removed from wishlist
0
Add to compare
An African safari in Botswana means exceptional game drives, river cruises, and bird watching. The country is home to the highest concentration of wildlife in Africa. The animal sightings, large salt pans, and Kalahari desert ensure that your safari in Botswana will be a memorable one.
If you can afford it, a luxury safari in Botswana is highly recommended. The incredible lodges and high-quality experiences ensure your holiday is relaxing and memorable. Game drives visit wild landscapes where large numbers of elephants, buffalo, and plenty of Africa's top predators can be spotted.
Take to the sky for a birds-eye view of the Okavango Delta. This freshwater wetland is a world heritage site and lies at the heart of the arid Kalahari Desert. Being guided on the water in a Makoro (a traditional dugout canoe) makes the safari experience in Botswana uniquely different from the neighboring Namibian Safaris.
Highlights
High possibility to view the Big Five
Tours longer than one day goes to other reserves or national parks
All mentioned tours have a wide variety of animals to spot and game are in high volumes
Know before you book
Not all tours come with refreshments
Not all the tours are wheelchair accessible
The best Botswana Safaris provide you and your family with world-class wildlife sightings in a spectacular setting. The dry Kalahari desert, semi-arid savannah, and Okavango Delta all have incredible luxury lodges, tented camps, and campsites on offer.
When flying into one of the main airports or privately chartering a plane between reserves, you will get a birds-eye view of Botswana's diverse landscape. The adventurous traveler will be glad to know that 4×4 self-drive safaris are possible with vehicles and camping kits available to rent.
Travel on safari in Botswana for an unforgettable wildlife experience!
Want to discover even more safaris in Africa? Discover more by reading our post on the best safaris in Africa
Botswana Safari Tour Prices
When traveling to one of Africa's best safari locations, you can expect a luxurious package to cost a small fortune. On average, a luxury safari including light aircraft transfers, morning and afternoon game drives, luxury accommodation, and mouth-watering meals will cost 600 USD per day (BWP 6600). Enhance the experience further with a helicopter flight over the Delta.
Botswana camping options are more affordable and favor renting a self-drive 4×4 rig. Transfers or a rental 4×4 will make up 50% of the cost of your trip when arranging a safari in and beyond Botswana. A self-drive trip or affordable commercial alternative will cost on average 250 USD per day (BWP 2750) for two people.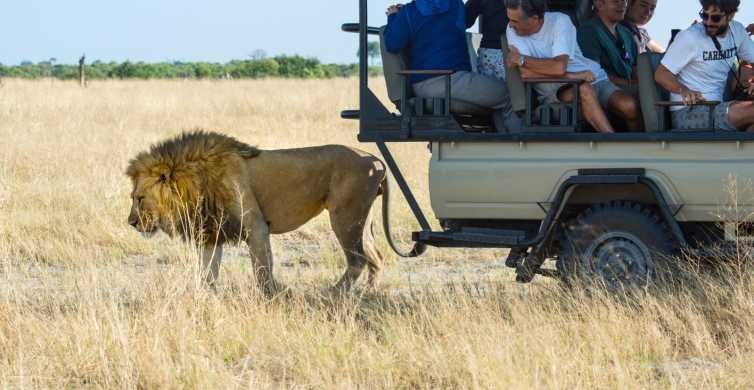 Botswana Safari Tours Opening & Closing Time
Safaris in Botswana vary in opening and closing times. Since they offer morning and evening game drives, they are very flexible with their times.
The earliest you can expect a safari drive or tour is 5:30 to 6:00 am, and the latest tours start at sundown, around 8:00 to 09:00 pm depending on the time of year.
Monday – Sunday: 05:30am – 09:00pm
Best Time To Go On A Botswana Safari
Botswana's climate is semi-arid. The rainfall is unpredictable and highly regional, leaving most of the country hot and dry. Strong sunshine usually follows the rain, evaporating most of the surface water. You can expect high temperatures of 95° F (35° C) during the hot summer months.
The summer season is from November to March with rainfall bringing relief from the hot temperatures. Almost all the rainfall occurs in the summer months with the highest average rainfall over January and February. The north-eastern areas receive over 25 inches (650mm) of rain, while the south-western areas receive only 10 inches (250mm).
The winter season starts in May and ends in August. You can expect dry and sunny weather with cool to warm temperatures. Pack warmly as nighttime temperatures can drop below freezing point in the south-western areas of Botswana. We recommend visiting from April to October for the best weather and incredible game viewing.
Botswana Safari Tour Options
There are plenty of safari tours to choose from and you can easily find one that accommodates your schedule. Botswana safari tour options vary from three to four-hour tours, to staying at the safari for an entire weekend.
Chobe National Park: Game Drive, Lunch, and Cruise Day Trip
This full-day adventure tour is the ideal option if you are short on time. You get to experience the famous Chobe National Park and experience why it is such a well-known safari hotspot. On one of the largest game concentrations in Africa, you'll start the day off with a cruise on the Chobe River.
Next up you'll get to enjoy a full buffet at a nearby lodge before embarking on a game drive of the National Park. The park is home to tons of elephants, Cape buffaloes, lions, and much more. With refreshments served throughout the entire experience, the only thing you'll be thrusting for is more game animals.
What we liked: Stunning views of lions and elephants drinking from the river during the cruise.
INCLUDES:
Hotel pickup and drop-off
Lunch, drinks, and water
Park and guide fees
EXCLUDES:
Alcoholic drinks
Gratuities
This nine hour tour is the perfect option for any first time safari goers. It gives you everything you would want from a safari tour, in no more than one day. With the experienced guides and lush nature all around you, this tour has all you need if you aren't planning on staying in the country long.
Check Price & Book
Chobe National Park: 3-Hour Game Drive
Experience the amazing wildlife located in Chobe National park with this short but amazing three-hour game drive. On this amazing tour, you'll get to see animals such as buffaloes, elephants, lions, and many more species that are located in this National Park.
Known as the "Land of the Giants", Chobe National Park has many large game species that you'll find scattered around the park. A qualified safari guide will take you all around the park in search of big game that number over 50 000.
What we liked: Experienced guide and game spotter added more value to the tour with information on each breed of game.
INCLUDES:
Hotel pickup and drop-off in Kasane
Tea & coffee
Professional guide and game spotter
EXCLUDES:
Food
Park fees
Gratuities
This tour is one you definitely need binoculars for. With experienced game spotters, your search for animals becomes much easier. You'll get to take photos with certain game animals, while the guide educates you on the amazing ecosystem in the park.
Check Price & Book
Maun: Private Guided Day Safari in Moremi Game Reserve
Discover the vast wilderness of Moremi Game Reserve and be in awe as you get to view tons of animals in their natural habitat. This tour takes you on a full-day game drive in an open-sided vehicle as you get into close proximity to the game.
You'll get to view the Okavango Delta with the chance to encounter the Big Five. An experienced guide will take you through almost the entire reserve while also giving you information about their ecosystem.
What we liked: The chance to see both the rare white and black rhino roaming in the reserve.
INCLUDES:
Park fees
Breakfast & Lunch
Professional guide
Hotel pickup and drop-off
This amazing tour gives you so much value since the tour includes everything you would need. You'll enjoy breakfast and lunch as you take a break from viewing their awesome game. The guides are all friendly and have an exceptional amount of knowledge of the reserve. And the possibility of seeing the Big Five with your own eyes, adds even more excitement to your trip.
Check Price & Book
Luxury Okavango Safari – 3 Day
This luxury safari tour in Okavango is the best way for any adventure traveler to spend their weekend. Day one is a slow start, with check-in and welcoming drinks being the first order of business. But you will later embark on an amazing sunset game drive on the Boteti River.
Day two has an early start with the option of the activities. First one being a full day safari at Okavango Delta with a nature walk. Option two is a full day open vehicle game drive in the Moremi Game Reserve. Now day three starts with a great bush breakfast before they take you back to the airport or hotel.
What we liked: The overnight stay in a luxury safari tent is an added bonus that makes you feel like you're sleeping in the heart of the serve.
INCLUDES:
Airport pickup
Breakfast, lunch & dinner
Professional guides
This tour gives you enough time to explore the wil during the morning hours and even at sunset. The experienced guides are friendly and inform you of all the details of the animals and ecosystem. You also get to experience the Boteti River by motorboat or by a traditional dug.
Check Price & Book
An African safari in Botswana means exceptional game drives, river cruises, and bird watching. The country is home to the highest concentration of wildlife in Africa. The animal sightings, large salt pans, and Kalahari desert ensure that your safari in Botswana will be a memorable one.
PROS
Big Five can be spotted
Most tours offer you refreshments
All reserves and national parks are highly populated by game animals
CONS
Not all tours are wheelchair accessible
Many tours don't allow children under the age of 4
Specification:
Botswana Safari Tours | Best Safari Adventures 2023
| | |
| --- | --- |
| Accessible | Not all tours are wheelchair accessible |
| Duration | 3 hours to 3 days |
| Inclusions | Transport, ,Guides, Game Spotter |
| Exclusions | Alcoholic drinks, Gratuities |
| Meals | Meals are only included in full-day tours |
| Pick-up | Yes. Airport and hotel pickup and drop-offs is included |
| Suited for | Adventurous, adventurous couples, families. |
27 reviews for
Botswana Safari Tours | Best Safari Adventures 2023
Botswana Safari Tours | Best Safari Adventures 2023