Guide to Island Hopping in the Philippines – What to Expect
Last updated on October 4, 2023 7:00 pm
Add to wishlist
Added to wishlist
Removed from wishlist
0
Add to compare
The Philippines is one of the best tropical island countries in the world and an ideal place to island-hop. Palawan has many incredible spots to explore. One such spot is El Nido. Here, for instance, the various boat tours are an opportunity for you to see the best that El Nido has to offer.
From its immaculate white sand beaches and crystal waters, to the hundreds of sea-life species; you simply cannot vacation in El Nido without having a boat tour on your list! Your Philippines itinerary for the day will consist of so many exciting activities that although it may seem impossible for the next thing to be as good as the last, it somehow will be.
Once on your boat tour, you will see that this is truly a utopian slice of paradise. Between the incredible, rugged rock faces and the perfect aquamarine waters. The day is filled with constant pinch-yourself moments. There will be times you get the sense that you are in an untouched corner of the world.
Philippines Island Hopping Tour Prices
Below we list some of the many tours that offer island hopping in the Philippines and their prices.
Philippines Island Weather – What to Expect
When planning your trip to this jewel, it's helpful to consider that the best time to visit is between December and May. These are the least rainy months and make for ideal weather to enjoy boat tours and other exciting activities.
During the monsoon season, there will still be boat tours available but the boat ride will certainly be less smooth sailing. For those who usually fall victim to motion sickness, you've been warned!
Philippines Island Hopping in El Nido
Finding a place to book an island hopping tour will not be a problem. Just about every few seconds you will pass what seems to be a mini travel agency. Here you will be able to book various tourist activities as well as transportation.
The boat tours have pretty standardized prices so 'shopping around' for the best deal is not necessary. As you walk around El Nido, you will experience the wonder of the towering rocks and limestone cliffs that mark this island.
There is also the laid back feeling you'll get seeing everyone walk the streets in nothing more than bikinis and boardies. You'll pass many enthusiastic local vendors who summon you in to eat what they're serving or to buy what they're selling. It may be best not to eat the street food, as many have claimed it left them hugging the toilet bowl for a few days. This will not be a problem because there is no shortage of incredible and well-priced restaurants.
Watch out for being swayed by the first place you pass as there will be plenty of buying opportunities. And be sure also to watch out for the Tuk Tuks that fly past in a constant steady stream.
Booking a Boat Tour
There will be 4 island hopping tours you can book – Tour A, B, C and D. These vary slightly in the islands and lagoons you will visit. Tour A is generally known for lagoons and beaches, tour B is popular for caves and islands, tour C is ideal for great snorkeling, and tour D is somewhere in between, featuring beautiful island beaches.
There is so much beauty to go around so you can't go awfully wrong with your choice. You can also always ask the staff serving you to recommend the most popular tour and they will certainly advise you. In the case of popularity, you will likely be recommended tour A or C.
What to Bring When Philippine Island Hopping
The boat tours all start at the same spot where you will gather on the beach with others from your tour. You will likely meet new people on the boat so this is a great way to make friends.
However, a useful tip to note is that if you would like to avoid the crowds, you could book a private tour and get the boat to yourselves.
It is very important to bring sunscreen and to constantly apply it, as you will be in and out of the water all day. Other than that, there is nothing hugely essential to bring. Bear in mind whatever you do choose to bring, should be adequately water protected.
On the island, there will be many waterproof bags and phone cases sold. These aren't necessary but are available if you'd like to bring things along. If you have a Go-Pro, this would be a great opportunity to bring it out. There will be many opportunities to get those beautiful Philippines island pictures and some action shots snorkeling and jumping off the boat.
Your Island-Hopping Philippines Itinerary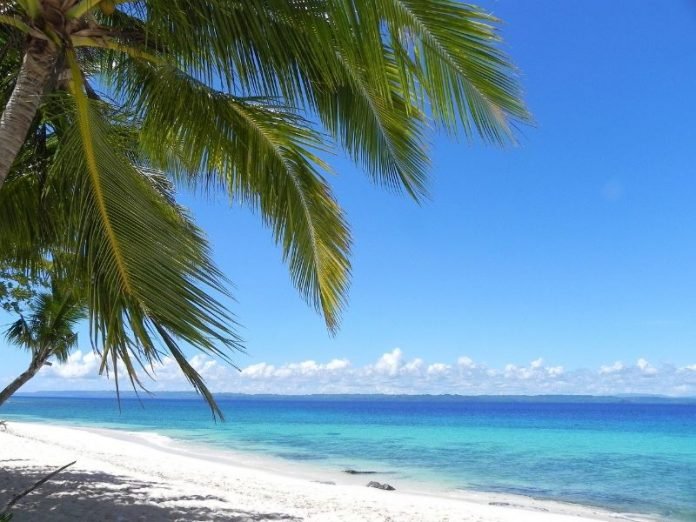 There are many exciting activities to look forward to, so be prepared for a jam-packed day full of fun. It's always great to add a grand adventure to a vacation to make it extra memorable, and this will be nothing short of a day filled with adventure.
Kayaking in the Lagoons
A really exciting element to the tours is the kayaking in the lagoons, specifically in Small Lagoon. You'll likely find that this is a highlight of the day. The incredible limestone karsts that protrude out of the sea will leave you nothing short of awe-struck.
There is a single kayak or even 2 and 3 person options available. It is preferable to go for a 2 or 3 person boat because paddling can get tiresome quickly, so the more manpower the better.
The water is incredibly blue and you will be able to see fish and corals simply while paddling around.
A great element of this activity is that the water is often shallow enough in some places for you to get out and pull your boat. This will likely be the case because the water is simply too inviting not to hop in! Watch out for unseen rocks or urchins if you choose to walk alongside your boat – a foot wound would put a real dampener on your day.
In this lagoon, there are also some big rocks that stick up from the water, and here those more adrenalin orientated adventurers can exercise their thrills by jumping off.
Snorkelling
Don't worry about bringing your own snorkeling gear, it will be provided on the boat. The snorkeling is a breathtaking experience. You will find yourself losing track of time, with so much to see and explore. El Nido boasts some of the most stunning marine wildlife in Asia. It will be a surreal time spent exploring the underwater world.
The hidden lagoons and coves you can swim through will also make this an unforgettable experience. Tour C has been known to be the best tour for snorkeling, around the Matinloc and Tapiutan Islands. However, Tour A is also a great option for snorkeling but is combined with kayaking to provide a unique experience of seeing the beautiful scenery above and below the water.
Island Beaches
The island beaches look like something from a postcard or from the pages of a magazine. With white sandy beach and pristine waters, you are in for a treat. The boats have to stop a little distance from the beach because the water becomes too shallow so be prepared to swim to shore.
It will be worth the swim, because once there you can kick back and sip on a fresh coconut while relaxing and soaking up the sun. Remember to swim to shore with some money in hand for your coconut, even if it has to be with one arm up above your head.
You can also spend time snorkelling around in the crystal waters or get a fun game of beach volleyball going.
The secret beach and the secret lagoon are both very exciting stops on the tour as they have a really unique feel to them. The secret lagoon, however, requires climbing through a rather small hole one at a time which can often lead to a bunching up of people wanting to get through. Once inside it can be really crowded on a busy day so it may not be the spot you end up hanging around in for too long.
Delicious Local Philipino Lunch
Lunch time is a real treat and will most likely pleasantly surprise you! Your tour guides and staff will prepare an incredible meal usually consisting of grilled fish, chicken and pork as well as rice, vegetables and fruits.
They will either very skillfully prepare and serve this on the boat, or may also stop off at one of the islands for lunch. Either way, don't worry about going hungry! You are welcome to bring your own sodas but plenty of fresh water is provided on the boat.
Final Words on Island Hopping in Philippines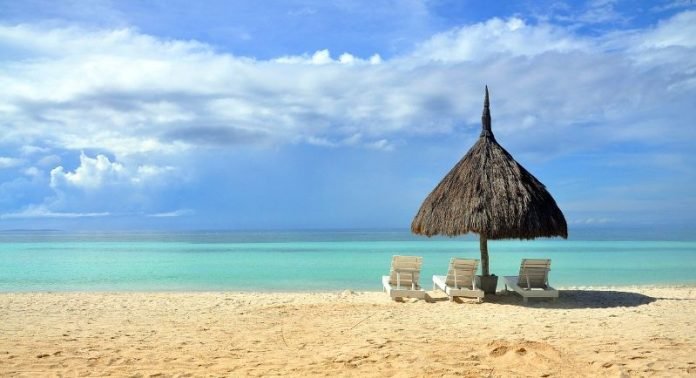 Although there are on and off seasons to visit this idyllic spot, it's always a great choice. The rainier months would be great for those who are looking for more solitude and would also mean less need to compete with the masses for those Instagram-worthy pictures!
During the peak seasons you will encounter the crowdes and spiked prices a little more, but you will experience the place in all its buzz and glory.
Whether it is for an exciting friend vacation, a family reunion or a romantic getaway with that special person, you will struggle to go wrong with choosing El Nido, Palawan. And who knows, maybe you will leave so inspired, that you start that Philippines travel blog you've been thinking about.
21 reviews for
Guide to Island Hopping in the Philippines – What to Expect
Guide to Island Hopping in the Philippines – What to Expect