Add to wishlist
Added to wishlist
Removed from wishlist
2
Add to compare
Kedarnath is one of the four pilgrimage sites in Uttarakhand, India. It receives thousands of visitors and is only open for six months a year. It is also the most remote pilgrimage spot surrounded by the Himalayan mountains. That's why a Kedarnath helicopter service is the preferred mode of transport for many people.
Each helicopter service to Kedarnath has a different flight starting point. Booking a Kedarnath helicopter can be a confusing task to a first-time visitor.
Luckily, the hard work was done on your behalf. Here's everything you need to know about booking a helicopter trip to Kedarnath.
Read on to see the best deals to perform your Kedarnath yatra by helicopter.
Kedarnath Helicopter Service
Kedarnath receives heavy rainfalls during the monsoon seasons. During this time, dirt roads and pathways become very slippery and difficult to walk or drive on. After the tragic 2013 flood in Kedarnath, many more people are opting to fly by helicopter.
Why You Should Choose A Helicopter For Kedarnath
You can reach Kedarnath by railway or road, but the fastest and most convenient way is by helicopter. A trek to all four pilgrim sites can take up to 11 days by road, but helicopters cut the travel time to two days.
Booking a helicopter service to Kedarnath is a quick and easy process that can be done online or off.
There are six helipads in Kedarnath that provide a small landing space. Most flights take between 5–15 minutes, depending on your starting point.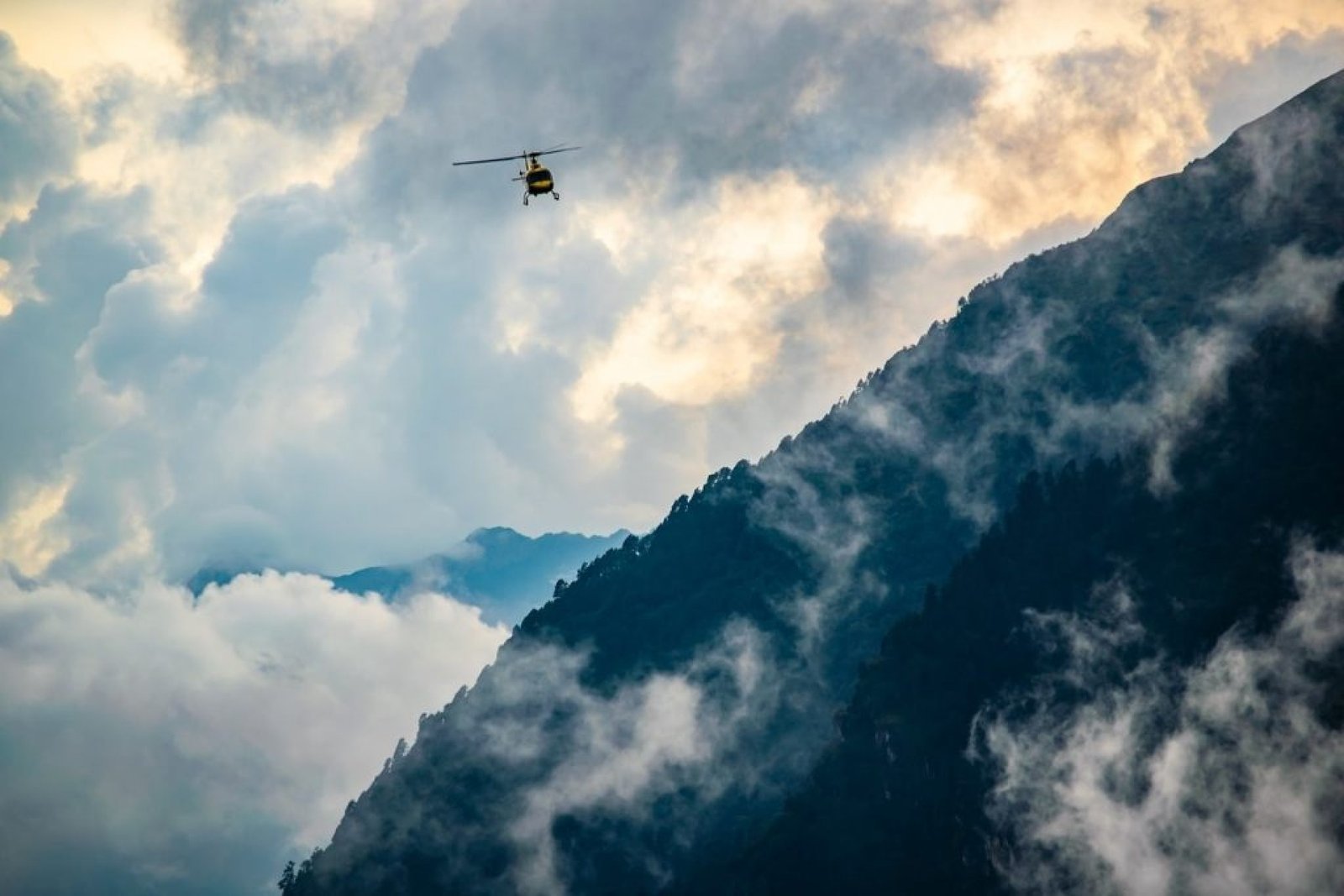 How to do a Kedarnath Helicopter Booking
In October 2020, over half a million visitors participated in the pilgrimage to the Kedarnath shrine. Before booking any trip, it's always a good practice to follow the travel guidelines set out for that destination.
What You Need To Know Before Booking Your Trip
It's the ultimate desire of every Hindu to visit these four sites and perform a yatra (pilgrimage). Hindu pilgrims believe this yatra helps to achieve salvation. The breathtaking landscapes make Kedarnath helicopter services the perfect way to get to the beautiful temple.
The temples are open for visitors from May to October. The best times to visit are when the temples open in May or between September and November when there's less of a crowd.
Monsoon season is from June to October, which sees heavy rainfalls and humidity. It is not recommended for elderly tourists to visit during this time because of the slippery terrains that come with the rainy season. Most helicopter companies don't do bookings for Kedarnath during the heavy Monsoon periods of July and August.
If you plan on staying for a few days, you might need accommodation while doing the trek.
GMVN is a governmental enterprise of Uttarakhand that was established to promote tourism in the area. It provides inexpensive luxury accommodation for visitors. The GMVN Swargarohini cottages are only a six-minute walk from the temple shrine and have doctors on call if needed.
What documents you need:
A form of photo identification like a passport, licence, or ID card
Phone number
Medical checkup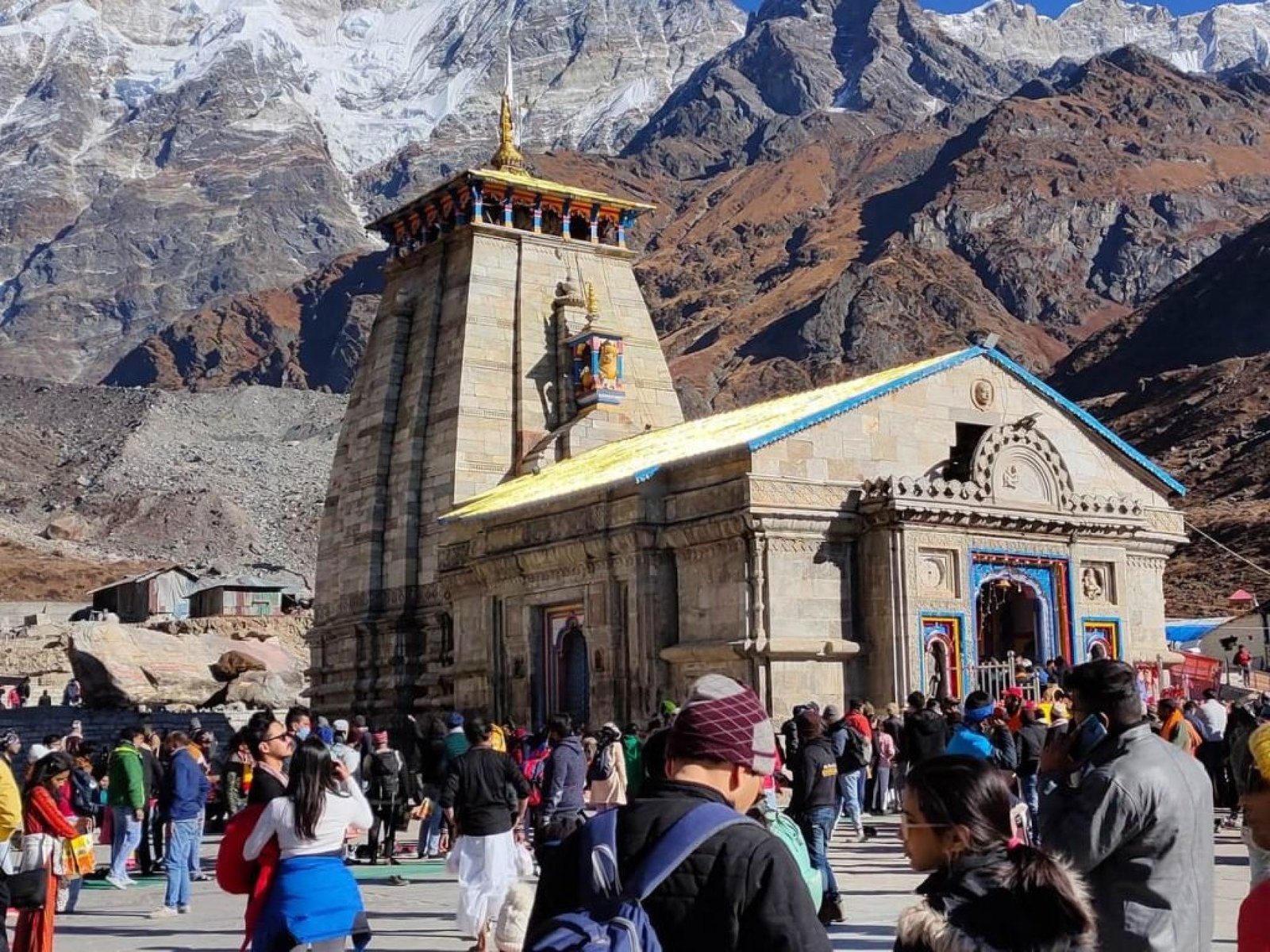 Kedarnath Helicopter Booking Price
There are a few reputable helicopter services you can use, but their prices vary depending on your starting point.
What changes your Kedarnath helicopter price?
There are different kinds of pilgrimages that people perform when visiting Kedarnath. The Kedarnath Temple is one of the most sacred temples of the pilgrimage sites.
Char Dham translates to 'four abodes', and it is the collective name for the four pilgrimage sites in Uttarakhand, India. If you want to do a Char Dham, then a Char Dham helicopter service will be better suited for you.
Some tourists only wish to visit the two most sacred temples, Badrinath and Kedarnath, so they do a Do Dham yatra. A Badrinath to Kedarnath helicopter fare is usually not as expensive because it can be done in one day.
The cheapest option is a helicopter booking for Kedarnath only, with the helicopter fare being between INR. 4408 ($60) to INR. 7 3483 ($1000).
Phata to Kedarnath Helicopter
Phata is a small village with one of the busiest helipads en route to Kedarnath. It is in close proximation to the town with only a nine-minute helicopter flight.
You can make a Phata to Kedarnath helicopter booking online or offline through Pawan Hans. The bookings are for either a one-way or a round trip flight to Kedarnath. During the round trip, you have about 4.5 hours to perform the yatra before your flight leaves to go back to Phata.
Pawan Hans Price:
Round trip INR. 4720 ($64)
One way INR. 2360 ($32)
Sirsi to Kedarnath Helicopter
Sirsi is the closest helipad to Kedarnath with an 11 minute long journey. Sersi is a small village after Phata. Himalayan Heli services offer one-way and round trip flights. You have two hours to have a viewing and pay respects at the temple before you have to leave.
Himalayan Heli services price:
Round trip INR. 4680 ($64)
One way INR. 2340 ($32)
Guptkashi to Kedarnath Helicopter
Guptkashi is a major town just before Kedarnath, and it has a flight that takes about 15 minutes to reach the place. Most travellers prefer leaving from Guptkashi because of the facilities that tend to be available in a major city. Travellers will have 4.5 hours to view the temple. The Bell 407 helicopter used by Arrow Aircraft can seat up to six passengers per flight.
Arrow Aircraft prices:
Round trip INR. 8850 ($120)
One way INR. 4275 ($58)
Dehradun to Kedarnath Helicopter
Dehradun flights are more expensive because of the long distance and the many stops in between. Flights can be done in one day or, sometimes, it's spread out over a few days. The amount of time available for passengers to view the temples depend on the package they choose. Himalayan Heli Services offer special VIP packages, which makes them more expensive.
Trillophillia  price:
Round trip INR. 54 000 ($730) per passenger
Himalayan Heli services price:
Round trip to Kedarnath INR. 53 000 ($720) per passenger
Round trip from Dehradun to Kedarnath and finally Badrinath INR. 80 000 ($1 083) per passenger
What's the best flight?
The best price for you depends on whether you're planning to visit all four pilgrimage sites or only a few. Helicopter booking prices are also dependent on the helipad you plan on leaving from.
Regardless of which option you choose, a helicopter ride to Kedarnath is the best option. It gives you a scenic view en route to the sacred temple while saving you time and money.
Kedarnath Helicopter | Booking And Prices