9 Best Prague River Cruises | Sightseeing, Dinner Cruises & More
Last updated on June 2, 2023 7:34 pm
Add to wishlist
Added to wishlist
Removed from wishlist
0
Add to compare
Prague is one of the most visited cities in Europe. And little wonder, with its many historical buildings and a variety of stunning architecture.
What better way to see all these spectacular sights than from the river? There are many Prague river cruises on offer that will delight you. Read on to discover the different options you have for taking a river tour through this magnificent city.
Highlights:
See Prague's famous monuments from a new perspective
Enjoy drinks or meals on-board
Listen to audio commentary about the city
Know before you book:
Book ahead of time, as boats can only take a limited number of passengers
Not all tours are wheelchair friendly
Arrive at least 15 minutes before your cruise starts, to ensure you get a good seat
If you like to tour Europe, the city of Prague is certain to amaze you with its variety of beautiful architecture.
Prague is situated on the banks of the Vltava river. This is the longest river in the Czech Republic and flows right through the centre of Prague.
On one side of the river lies the Old Town and the New Town, and on the other side the Lesser Town and Prague Castle. Spanning the two sides are 18 bridges along the river, including the historical Charles Bridge.
Of course your main reason for choosing a cruise on the Vltava river is that you want to see the sights of Prague. But you can have different experiences of the same city depending on the time you go and the type of tour you choose to take.
Prague River Cruises Prices 2021/2023
The cost of cruises start at about $16 USD (340 Kč) and can go up to $60 (1,300 Kč) depending on the type of boat ride you choose. Sightseeing tours under an hour long are cheaper than longer cruises that include meals.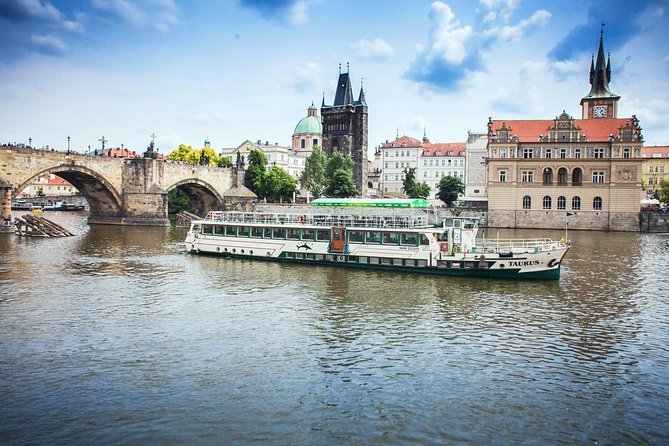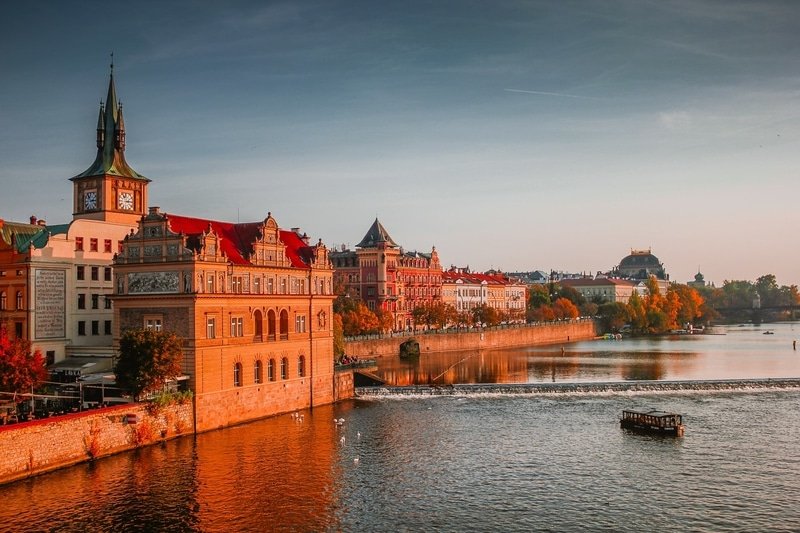 Available Times for River Cruises in Prague
Most sightseeing river cruises are available throughout the day, between 10am to 7pm.
Specific tours such as lunch or dinner cruises have more set times. Lunch cruises start around 12pm, and dinner cruises set sail at around 7pm.
Best Time to Go On a Prague River Tour
The best time for a cruise down Prague's river depends on the type of experience you would like to have.
Do you want the opportunity to take stunning photos of the city's historic buildings? Then a daytime sightseeing tour might be for you.
Do you prefer a longer relaxing cruise with entertainment? Then you can choose a dinner cruise with live music.
Fall or spring are the best seasons to take a Prague river cruise. You can avoid the crowds from the summer tourist season, as well as the cold weather from winter.
Options for a River Cruise through Prague
Your options for taking a cruise on Prague's river are sightseeing, lunch, evening, and dinner cruises.
A daytime cruise along the Vltava river is the perfect way to see Prague's historical buildings and bridges. If the weather is warm, you can stand on deck and watch swans gliding past on the river.
If you prefer to stay under cover, almost all boats have cabins with large windows so that you can stay inside and still enjoy the sights.
Here are some unique options for daytime sightseeing cruises along the Prague river:
Prague: Eco-Friendly Sightseeing Cruise
On this tour, you can experience all the sights that other cruises offer, but with the benefit of knowing that the boat you are on is completely eco-friendly. This aluminum boat is powered only by electricity.
This is a 50-minute cruise that takes you past Prague's famous monuments, like the Charles Bridge, and the Prague Castle. An interactive mobile audio guide tells you more about each building you pass.
There is indoor seating available with large wraparound windows. Or you can sit on the rooftop and see the iconic Gothic architecture from up close when the boat passes under the Charles Bridge.
What we liked: Eco-friendly tourism is a win for everyone.
---
INCLUDES:
Audio commentary
Onboard Wi-Fi
Check Price & Book
---
Prague: 45-Minute Historical River Cruise and Refreshments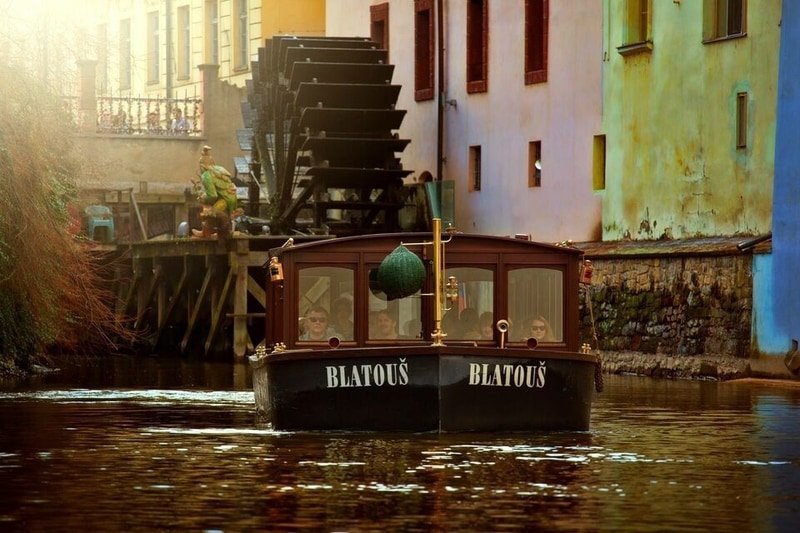 This cruise is aimed at history lovers who want more in-depth information about Prague Castle and Charles Bridge.
The 45-minute tour takes you along the waterways of the Old Town on a traditional canal boat. The ride is peaceful and allows plenty of time for you to take stunning photos. An audio commentary is included, with 19 different languages to choose from.
The refreshments included in the cruise consist of a drink of your choice – coffee, beer, soda, or even mulled wine in the winter. And you get a snack of ice cream during summer or traditional gingerbread in the winter.
An entry ticket to the Charles Bridge museum is included in the cruise, for those who want to dig deeper into the monument's history after the river cruise.
What we liked: In-depth audio commentary about Prague's history.
---
INCLUDES:
Entry ticket to Charles Bridge museum
Your choice of drink
Ice cream or gingerbread snack
---
Check Price & Book
---
Prague Boats 1-hour Devil's Channel Cruise
This cruise takes you off the beaten path to discover Devil's channel, also known as Little Venice. You can experience a beautiful part of Prague without being surrounded by crowds.
The small boat takes you past many beautiful medieval buildings, including the Grand Priory Mill, the Prague Metronome, and Prague Castle. The captain himself provides commentary to your small tour group.
What we liked: The chance to discover less-seen sights of Prague.
---
INCLUDES:
Live commentary by boat captain
Small tour group (max 25 people)
EXCLUDES:
Food and drinks
Wheelchair accessibility
Check Price & Book
---
Sometimes a sightseeing cruise is too short to truly take in everything that Prague has to offer. If you would like to spend more time on the river, as well as enjoy some traditional food, a lunch cruise could be a perfect choice.
Here are our favorite options for lunch-time cruises:
Prague: 2-Hour Lunch Cruise on the Vltava River
This lunch cruise travels further down the Vltava river, showing you landmarks such as the Charles Bridge, Prague Castle, National Theater and the Emmaus Monastery.
At the start of the cruise, you will be welcomed with a traditional Czech aperitif. After that, a delicious buffet lunch is open for the duration of the trip. The buffet includes a wide variety of hot and cold options.
There is a live band on board to provide lovely background music during the cruise. Online audio commentary and a map of the area is available.
What we liked: Buffet lunch open throughout the cruise.
---
INCLUDES:
Buffet lunch
Live music
Wheelchair accessibility
Check Price & Book
---
Prague Vltava River Lunch Cruise
This lunch cruise takes you along the Vltava in an air-conditioned riverboat, while you enjoy a buffet lunch of traditional Hungarian foods.
The approximately two-and-a-half-hour trip takes you past monuments such as the prestigious Rudolfinum concert hall, St Agnes Monastery, and the Prague Castle.
What we liked: Long tour to see many famous Prague monuments.
---
INCLUDES:
Buffet lunch
Air-conditioned boat
EXCLUDES:
Drinks
Wheelchair accessibility
Check Price & Book
---
A sightseeing tour in the evening is a very relaxing experience. The same buildings that were visible during the day, transform into magical places in the evening light.
Here is our top pick for a relaxing evening trip:
Prague: 50-Minute Sightseeing Evening Cruise
This brief evening cruise lets you enjoy breathtaking views of Prague from the middle of the Vltava river. Monuments such as the Charles Bridge, Prague Castle, and fort Vyšehrad look spectacular when they are highlighted by the city's night lights.
You can relax in the covered part of the boat with air-conditioning, or enjoy the views from the open deck. Basic audio commentary is available in different languages, but the main focus of this cruise is just to sit back and enjoy the sights.
What we liked: See landmarks of Prague illuminated by the evening lights.
---
INCLUDES:
Open deck for stunning views
Air-conditioned boat
Check Price & Book
---
If you would like to enjoy a longer evening cruise on Prague's river, a dinner tour could be the perfect option. Take in the beautiful sights of the city's monuments in the evening light, while you enjoy a delicious meal and live music.
Here is a list of our preferred dinner cruises:
Prague: Sightseeing Dinner Cruise on Open-Top Glass Boat
This stylish dinner cruise treats you to a night of luxury on the Vltava river. You travel in a unique boat that has glass walls and ceilings, allowing you panoramic views of the city on the riverbanks.
The 3-hour cruise takes you past historic monuments such as the Rudolfinum, the famous Dancing House, and the Prague Castle. The boat also has open decks where you can take stunning pictures of these monuments illuminated by night lights.
The onboard buffet offers you a wide selection of international and traditional Czech dishes. Vegetarian and vegan options are available. You can enjoy your meal while listening to live music and gazing out the window at the sights of Prague.
What we liked: Glass-topped boat makes for excellent viewing.
---
INCLUDES:
Buffet dinner with wide selection of dishes
Welcome drink
Live music
Check Price & Book
---
Prague Jazz Boat Evening Cruise
This evening cruise is a wonderful combination of live music, good food, and stunning views.
The 2.5-hour cruise lets you enjoy the sights of Old Prague while being part of a more social atmosphere. A small band of musicians is onboard to play quality jazz music for the whole trip, in a variety of styles.
You are welcomed on board with a drink. An optional 3-course meal of traditional Czech food is available, with vegetarian options.
What we liked: Live jazz music from quality musicians.
---
EXCLUDES:
Food (3-course meal optional extra to be booked)
Check Price & Book
---
Prague Boats 3-hour Dinner Cruise
This dinner cruise provides you with plenty of time to see all the sights of Prague while enjoying a buffet.
You receive a traditional Czech aperitif as a welcome drink when coming on board. After that, an open buffet of Czech and international food is available for the rest of the cruise.
There is live music and a printed guide to the area to help you enjoy all the monuments of Prague. You can stay inside or go onto the outside deck. The boat takes you past the Charles Bridge, the Rudolfinum, the Dancing House, and Prague Metronome, to name but a few.
What we liked: 3 hours to enjoy the famous Prague attractions.
---
INCLUDES:
Open buffet with a variety of dishes
Welcome drink
Check Price & Book
A cruise down the Vltava river will take you through the heart of the city of Prague, providing a memorable experience.
PROS
No need to walk long distances to see the city
Many options available for times to take a cruise
CONS
Some boats can feel crowded
Audio commentary is not always clear
Specification:
9 Best Prague River Cruises | Sightseeing, Dinner Cruises & More
| | |
| --- | --- |
| Accessible | Wheelchair accessible (depending on tour) |
| Duration | 1-3 hours |
| Includes | Audio guide in mutliple languages |
| Meals & Drinks | Meals are provided on some tours and are excluded on some |
| Suitable For | Individuals, Groups of friends |
53 reviews for
9 Best Prague River Cruises | Sightseeing, Dinner Cruises & More

9 Best Prague River Cruises | Sightseeing, Dinner Cruises & More