The Seychelles, with its colourful locals and beautiful beaches, is a definite must-visit for tourists. Think cocktails on the beach and swims in the dazzling waters of the Indian Ocean.
Whether you are a fan of lazing around on the beach or you are an adventure seeker with a penchant for water sports, the Seychelles has something for you. In this post, we provide you with some geographical information about this island nation and we outline our top three Seychelles islands for tourists and why we recommend them.
Where is the Seychelles?
The island nation of Seychelles is formed from 115 islands and is located to the northeast of Madagascar and about 994 miles from Mombasa, Kenya (East Africa). The Seychelles bask in the warm waters of the Indian Ocean, making it a hot destination for those in need of white sand and relaxation.
How to get to the Seychelles
Getting to the Seychelles from the United States is no easy feat. The average flight duration is one day and usually involves two long-haul flights. There are flights available from Phoenix, Atlanta, Washington, and New York, among others.
The hefty flight length is why we suggest that you book a trip between 9 and 14 days in length, to make sure you squeeze the best out of your trip. We promise you – it'll be an unforgettable experience. We strongly recommend that you plan an island-hopping trip and visit the Seychelles' three best islands below.
#1 Praslin: Best Seychelles island
Praslin is the second-largest of the Seychelles islands, known for its fantastic beaches and tropical feel. Praslin is renowned for being one of the most divine destinations in the world.
With turquoise and jade-green ocean, lush jungle forest and breath-taking views, one can easily see why Praslin claims this title.
Travelling around Praslin
It is fairly simple to travel around Praslin as it is just under fifteen square miles in size. Public transport in the form of a bus is the quickest way to get around. The bus schedule runs from 9am to 5pm.
You don't have to go far to find someone who speaks English so don't stress about getting lost. By night, we suggest you take a taxi, but please note, many of the taxis won't take luggage.
Although the public transport system is up to scratch in terms of its functioning, we recommend renting a bike at least once while you visit Seychelles. It's the best way to engage with the landscape and really soak up all the island has to offer.
Things to do in Praslin on your Seychelles islands vacation
Praslin is a hub for fun activities and sightseeing. With that said, there are two things we insist you do while visiting this Seychelles island.
Anse Lazio
Located on the northwest tip of the island, Anse Lazio will not fail to astound you with its awe-inspiring views and gorgeous scenery. Voted as the planet's most beautiful beach numerous times, you would think this beach would be swamped with tourists.
Luckily, this isn't the case. When you arrive at this remote treasure, you'll find a place to make your own with ease. Make an afternoon of it and relax on this beach for an afternoon or two.
Make sure you take plenty of sunscreen and keep an eye on your valuables, just in case. With its beautiful surroundings, Anse Lazio makes a wonderful location for pictures!
Vallée de Mai
You haven't been in Praslin unless you've visited Vallée de Mai. The stunning Vallée de Mai is listed as a world heritage site and is one of only two spots in the world that is home to the natural coco de mer palm.
The coco de mer nut, also known as the sea coconut, was believed to grow on palm trees underneath the waters of the Indian ocean. In addition, Vallée de Mai offers three hiking trails and plenty of diverse birdlife.
Mahé: Meet the Seychelles people
While indulging in your Seychelles travel, we suggest putting Mahé on your list of islands to visit. This is Seychelles largest island and home to the capital, Victoria.
Most of the Seychelles islands' population resides in Mahé, making it the perfect location to mingle with the locals and get to know the Seychellois people.
Travelling around Mahé
Similar to Praslin, Mahé can also be explored by bus and taxi. However, we recommend that you rent a car for at least one day during your trip. Mahé is 16 miles long and 4 miles wide, making it substantially larger than Praslin.
A bike tour wouldn't cut it for an island this size, and in order to see the island's lush forest, multiple beaches, and local hubs, you should rent a car and take a day to drive around the island and explore its wonders.
Things to do in Mahé on your Seychelles islands vacation
Victoria
When in Mahé, the capital calls. Victoria is a gorgeous little city complete with locals, flea markets, curios and little cafes – a busy hub for Seychelles tourism. Visit the Victoria market to be WOW-ed by the bright colours, glorious menagerie of fruit, vegetables and fish.
A major attraction in Victoria is the clocktower modelled off of England's Little Ben. The botanical gardens and the National Museum of History are also hot spots for tourists.
Beau Vallon Beach
Another main attraction on Mahé island is Beau Vallon beach. As well as being picturesque, Beau Vallon beach acts as a base for many fun activities in Seychelles. These activities include snorkeling, jet-skiing, diving, and paragliding – perfect for a bird's eye view of the island.
The beach is located near major hotels and restaurants, meaning you will have your choice of places to dine and stay. In addition, if you want to try the local fare, there are also Seychellois people selling the local delicacies just up from the beach. The creole fish barbeque is a must taste!
Moyenne Island: The Pirate Island
Moyenne is one of the smaller islands of the Seychelles. This island is located off the north coast of Mahé and can be visited as part of a tour (visit the Victoria harbour in Mahé to see which boat trips include a stop at Moyenne).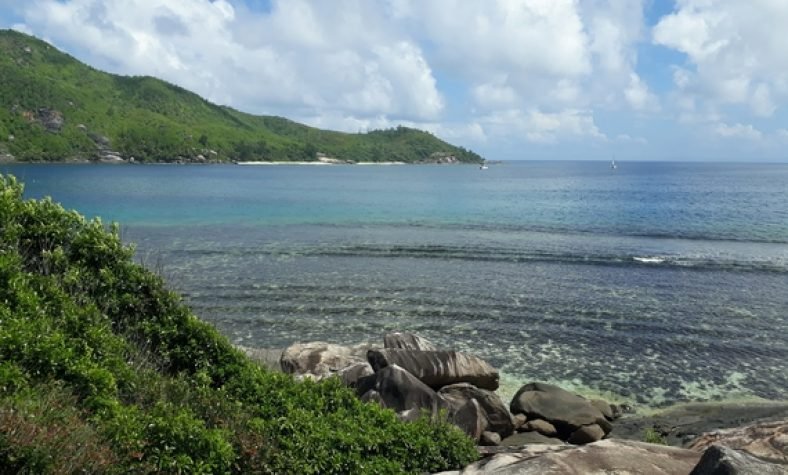 Travelling around Moyenne
Moyenne island is small enough to traverse by foot with plenty of trails and can be reached by boat as part of a boat tour.
Things to do in Moyenne on your Seychelles islands vacation
Lose yourself in the legend
What Moyenne lacks in size, it makes up for in character and reputation. Moyenne is rumoured to have pirate treasure buried somewhere on its expanse.
There are also two graves on the island, which are believed to belong to seafaring pirates. Former owner of the island, Brendon Grimshaw, found evidence of some potential hiding places, however, to this day, the treasure has not been found…
Giant tortoises
Once on Moyenne, you have to meet the island's regal inhabitants, the giant tortoises. Grimshaw made it his mission from the time he bought the island in 1962, to develop this wild island into a beautiful sanctuary. And he succeeded.
Grimshaw, with help from a partner, built three miles of nature trails, planted roughly 16 000 trees, and purchased and bred the giant tortoises. By doing so, he created an island of unrivalled beauty and also contributed to conservation. Moyenne Island is one of the world's smallest national parks with a huge number of species of plant life.
Final Thoughts on the Seychelles
Although the journey involves a few long haul flights, the beauty and attractions that await you in the Republic of Seychelles make the flights worthwhile. After visiting Praslin's Anse Lazio and Vallée de Mai, you will be transformed.
You'll be charmed by the local delicacies on Mahé and fall in love with Moyenne's history, plant life, and distinguished tortoises.
What are you waiting for? Book your vacation across the Seychelles islands today!