While Cyprus is best known for its great weather, gorgeous beaches, and crystal clear waters, my recent press trip to Paphos with Ryanair made me realise this destination has a whole lot more to offer than just nice beaches! It's truly one of the best places to visit in Cyprus and a must to add to your list. Having just spent a wonderful weekend in this popular coastal resort with Lorna from Fashion Boss, here's my pick of the top 21 things to do in Paphos.
From enjoying then beautiful sea views to visiting the best local, historical attractions, try tick off as many of these fun activities in Paphos, even if you only have a long weekend in Paphos!
21 Unique Things To Do in Paphos
21. Learn to scuba dive in crystal waters
While Cyprus might not be the first country to spring to mind when you think of Scuba Diving, this small island nation offers world class dive sites and is also an ideal place for beginners to learn to dive.
Our hotel even offered a free intro lesson in the swimming pool for anyone keen to learn the basics before committing to a week long course. With crystal clear waters, off shore reefs and endless ship wrecks to explore, Paphos and the island of Cyprus is truly a scuba divers playground.
You can also sign up to day trips that will take you diving or snorkelling in crystal clear waters!
20. Drive to Aphrodite's Rock
Aphrodite's Rock is by far one of the top places to visit in Paphos as it is where Greek mythology and natural beauty come together in one place. The drive itself along the coast is stunning, as you pass narrow, winding roads and admire the turquoise waters below. Once you arrive at Aphrodite's Rock (the "goddess of love") you can walk down to the beach and out to the sea stack, said to be the birth place of the Goddess.
While the rock itself isn't that spectacular, the drive is beautiful and it's a great place to go hiking and of course swimming. Feeling adventurous? You can do a quad bike tour along the coast instead of driving!
19. Visit the beautiful Paphos Fort
Paphos Fort is probably one of the most popular things to do in Paphos, especially if you're tight on time and fancy spending the majority of your time in the harbour and old town. The original fort has been destroyed and rebuilt many times, with the Ottomans restoring it to its former glory in the 16th century. It is now a fully protected UNESCO World Heritage Site (one of many in Cyprus!) and is said to be the emblem the Paphos region.
We visited the fort in the morning, while it was still cool and quiet, and enjoyed perfect reflections of the fort in the water that surrounds it. Don't forget to visit the famous "mermaid like" statue that looks out onto the ocean, looking away from the fort. It's a statue of a women that's dedicated to Aphrodite, in the place where she once lived.
18. Explore The Tombs Of The Kings
The Tombs of the Kings are one of the top tourist attractions in Paphos. The highlight of visiting the Tomb of the Kings is learning about the ancient settlers who first settled in this part of Cyprus. These tombs are situated just outside Paphos and some date back to nearly 4th century AD. Even though the name suggests that kings were buried here, only officials and aristocrats were actually found here. The Tombs of the Kings were declared a World Heritage Site by UNESCO and they have been properly preserved and, made accessible for tourists to look round.
I loved walking around the tombs and how accessible they were – you can walk down the steps and into the larger tombs. They have been preserved very well and the entire site has quite an eerie feel as there's very few tourists around and its located on a deserted part of the coastline.
View this post on Instagram
17. Visit The Paphos Mosaics
When the Romans were in Cyprus, back in the 2nd Century AD, prosperous and prominent citizens built massive houses and grandeur palaces in the area. These magnificent buildings contained well detailed mosaics that illustrated various mythological scenes, mainly on the floors. The area was christened the "House of Dionysus" since many of the illustrations involved Dionysus, who was the god of wine.

The mosaics were well preserved under a layer of soil that had covered the ancient city for many centuries. They have since been excavated and put on display, making them accessible for visitors, and a top tourist site in Paphos for art lovers.
We spent an afternoon here admiring the mosaics but as it was almost unbearably hot we didn't spend nearly as much time as we could have! The park is open daily from 8:30am to at least 5pm, sometimes later in summer. By far one of the top attractions in Paphos for tourists visiting.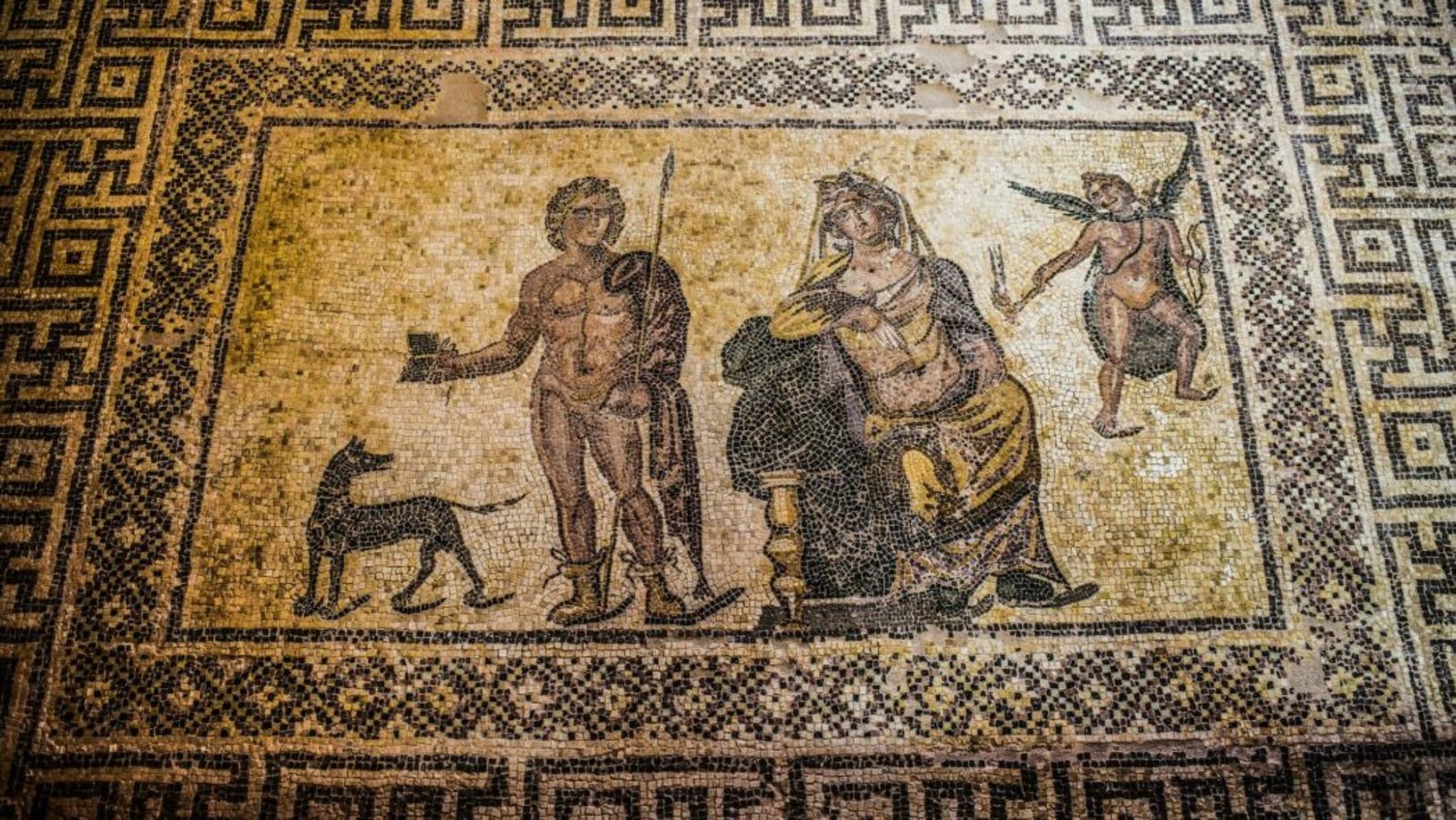 16. Agia Kyriaki Chrysopolitissa
Another historical site you definitely need visit in Paphos is Agia Kyriaki Chrysopolitissa. This is an awe-inspiring church which was constructed way back in the 13th century. It is a reasonably modest church which was erected over a Byzantine Basilica ruin with a beautiful mosaic tile floor. What makes this church special is the fact that it has been built on the site of the pillar of Saint Paul, the place where Peter was flayed after trying to spread Christianity in the area.

You can visit the site of the church and clearly see the pillar without entering, and there are a lot more interesting ruins in the same site to explore. Just a small area has been discovered, and the true extent of the remnants will probably be never known!
15. Laze by the pool at Capital Coast
While there are lots of gorgeous hotels lining the beaches in Paphos, we loved staying at the Capital Coast Hotel mainly thanks to their massive swimming pool with sea views and spectacular sunsets. Grab a seat at their poolside bar or reserve a table for dinner on their outdoor terrace to watch the sun go down over a bottle of vino.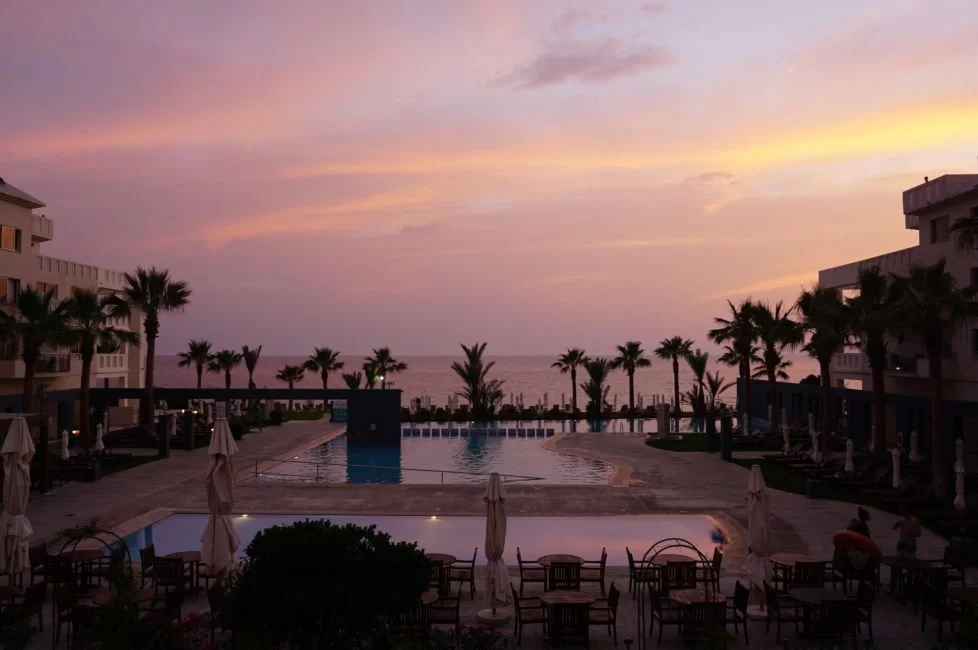 View this post on Instagram
14. Walk around Old Town
Paphos town centre recently got a facelift, thanks to funding from the European Capital of Culture Award, which the town won in 2017. Every year, this award is presented to different cities to showcase their diverse cultural appeal, something Paphos certainly has no shortage of. The height of the Old Town allows  you to enjoy the ambiance of the town while taking in panoramic views of surrounding landscapes, and looking down on the never ending coastline, all with a cold cocktail in hand.
There is also a lot if beautiful Greek-style, white-washed architecture, many of which are simple school and public buildings – but are a joy to photograph!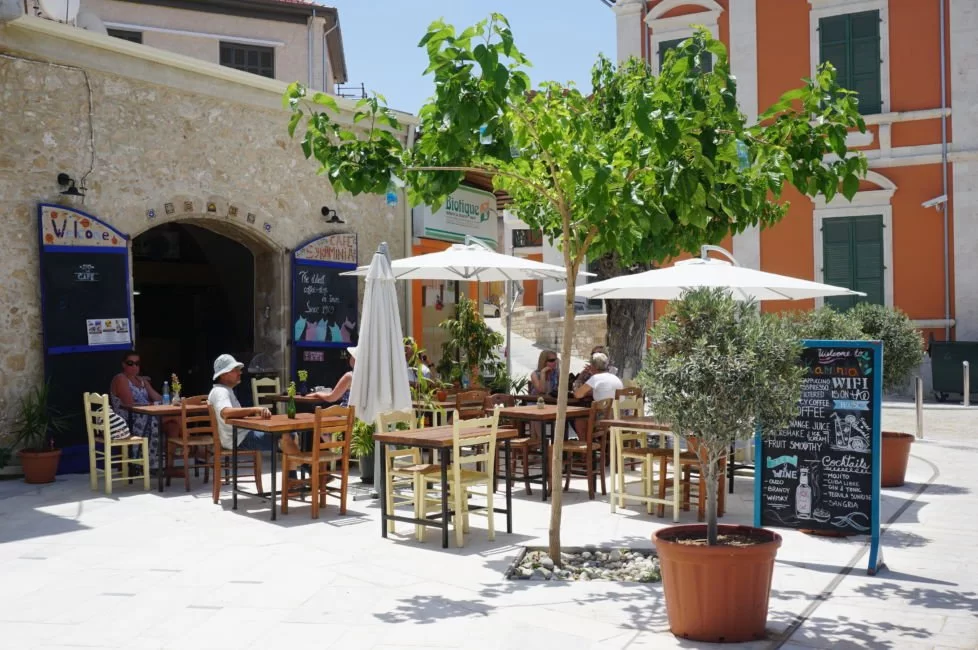 13. Street art tour
I was pretty surprised by how much cool works of art you can find around Paphos, and thoroughly enjoyed our guides quick tour of both the old and new town. Many of the buildings and shop fronts had huge works of art of what looked like spontaneous graffiti across entires floor-to-ceiling walls, adding a real splash of colour to the town.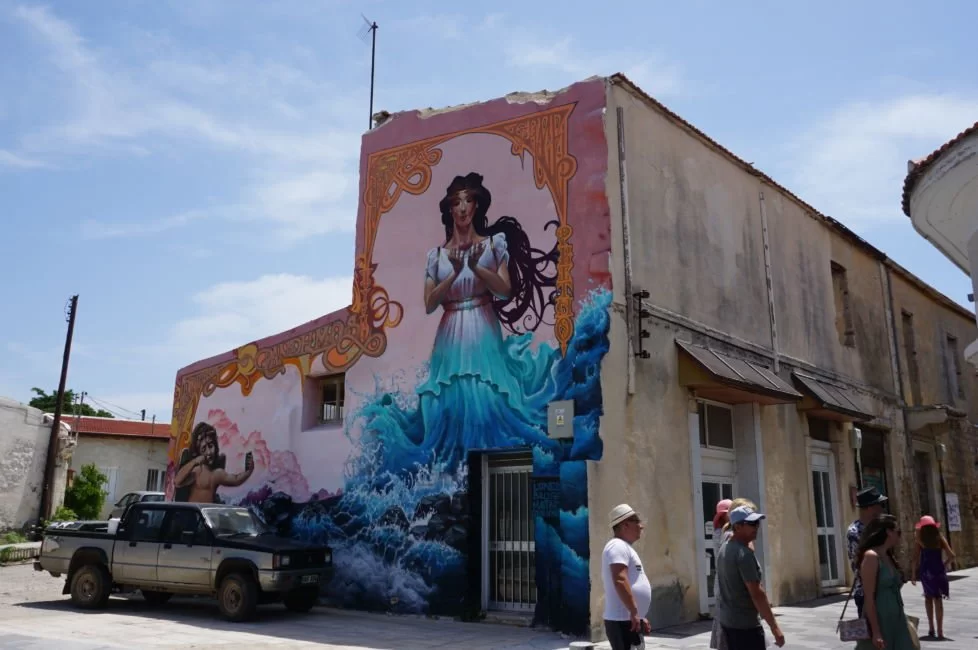 12. Eat in local taverns
The only way to taste true Cypriot food is to head to the local taverna outside of town. Sadly many of the restaurants along the beach are very touristy, so to taste authentic cuisine you'll need to drive outside the town to the smaller towns and villages. one of the best meals we had was at a super local tavern called Fytos Taverna en route to The Blue Lagoon – where the lovely women running the place seemed to bring dish after dish after dish – until there was literally no room left on the table!
11. Watch local artisans at work
If you have a morning to spare and have had enough of the beach, or if you just love shopping for unique artisanal products, head along to The Place in Paphos Old Town. The Place is a hub of creativity and home to over a dozen creatives living in the area, fro artists to potters to shoe makers. You can watch them all at work, ask questions, commission work and of course buy their gorgeous creations. There's also the chance to escape the heat and enjoy a nice cold, ice-coffee in their cafe area. A must visit in Paphos!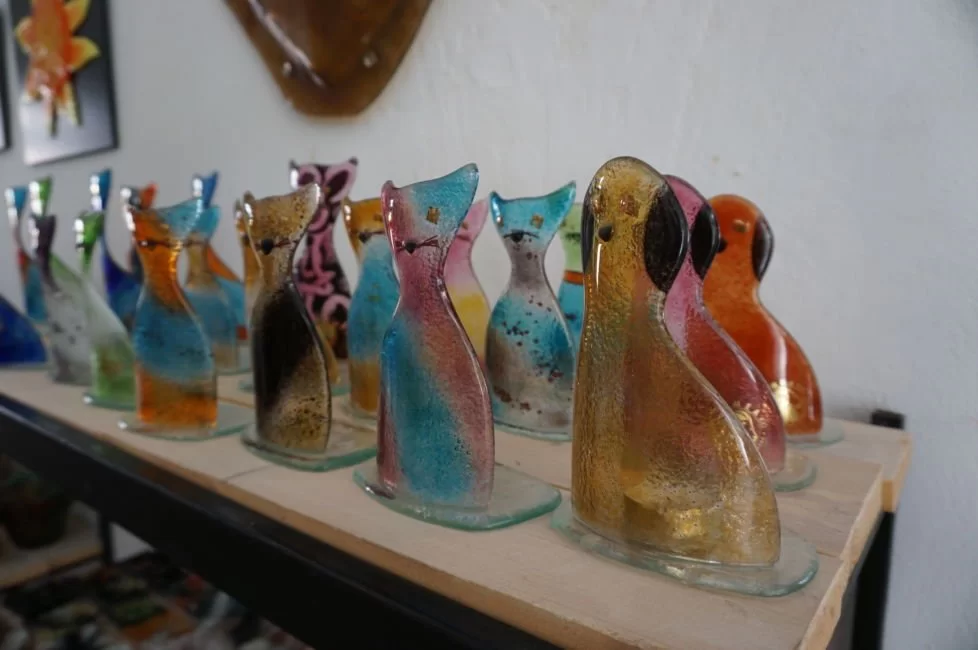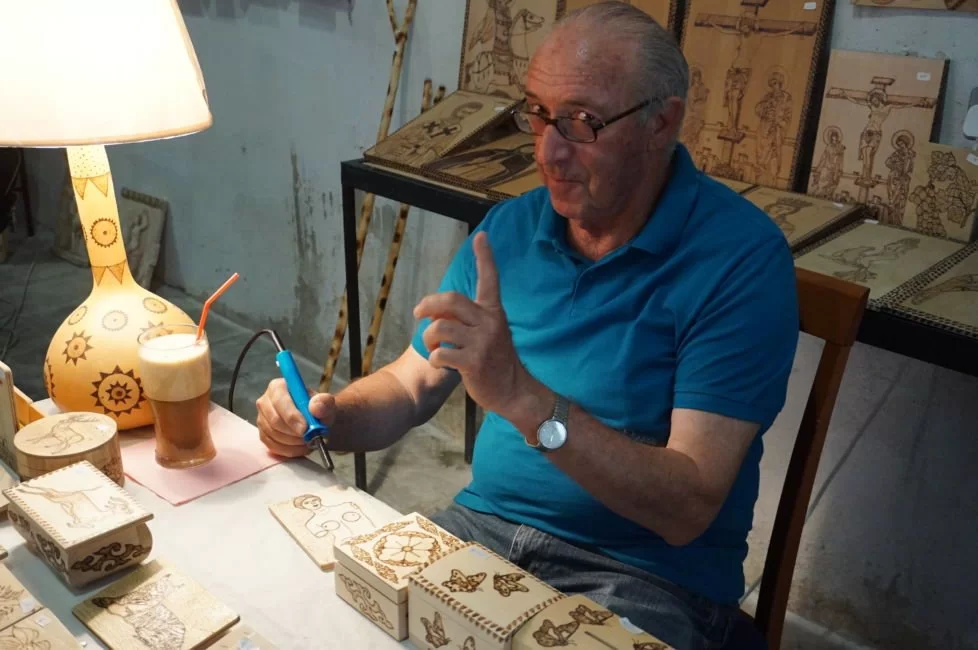 10. Go wine tasting
Cyprus is well known as a wine producing nation and it's no surpise that you'll find a dedicated wine route running inland from the coats. In the recent past, Cyprus wine is becoming more valuable around the world, mainly thanks to the local winemakers trying to improve wine quality through more modern methods while maintaining ancient traditions, making it a very unique product and taste.

There are many wineries you can visit including Vouni Panayia Winery situated on the hillside outside of town. They only use the Xynisteri and Martheftiko grapes which are indigenous breeds making their wines tasty and smooth! Delicious and a must visit for wine lovers!
9. Visit cat heaven
Right, this one is odd but a real treat for cat lovers. Just outside of town there is a sort of orphanage for cats, otherwise known as the "Cat Village". We're talking HUNDREDS of cats all living happily in this one place, with many roaming freely in the car park, curled up under rusty cars or playing with cat toys inside of the cat home. If you're looking for one of the weirdest things to do in Paphos., you've found it! Check out their website for visiting hours and more info about this wacky place.
8. Stop for tea at Agios Neophytos Monastery
The Agio Neophytos Monastery, sitting on a hill above Paphos, is a beautiful place to visit any time of year. The monastery itself has panoramic views of the surrounding countryside, and the buildings and gardens are a pleasure to walk around. The best part of all is that visitors are welcomed in for a cup of tea and some cake, which you can enjoy on big, royal-looking chairs in the company of monks and priests.
7. Day trip to The Blue Lagoon
If you're a water baby like me then a boat trip to The Blue Lagoon needs to be top of your Paphos bucket list. Leaving from Latchi harbour, this fun half day trip takes in the beauty of the Akamas Peninsula and ends up in the famous Blue Lagoon, just a small bit further down the coast from Aprodites Rock.
Here you can jump off the boat and go snorkelling in the insanely clear turquoise waters or sit on the boat and enjoy some free wine ora boozy mojito! By far one of the most fun things to do in Paphos and the best day trip we did for sure. Trips can be booked online here or with a local guide after arrival.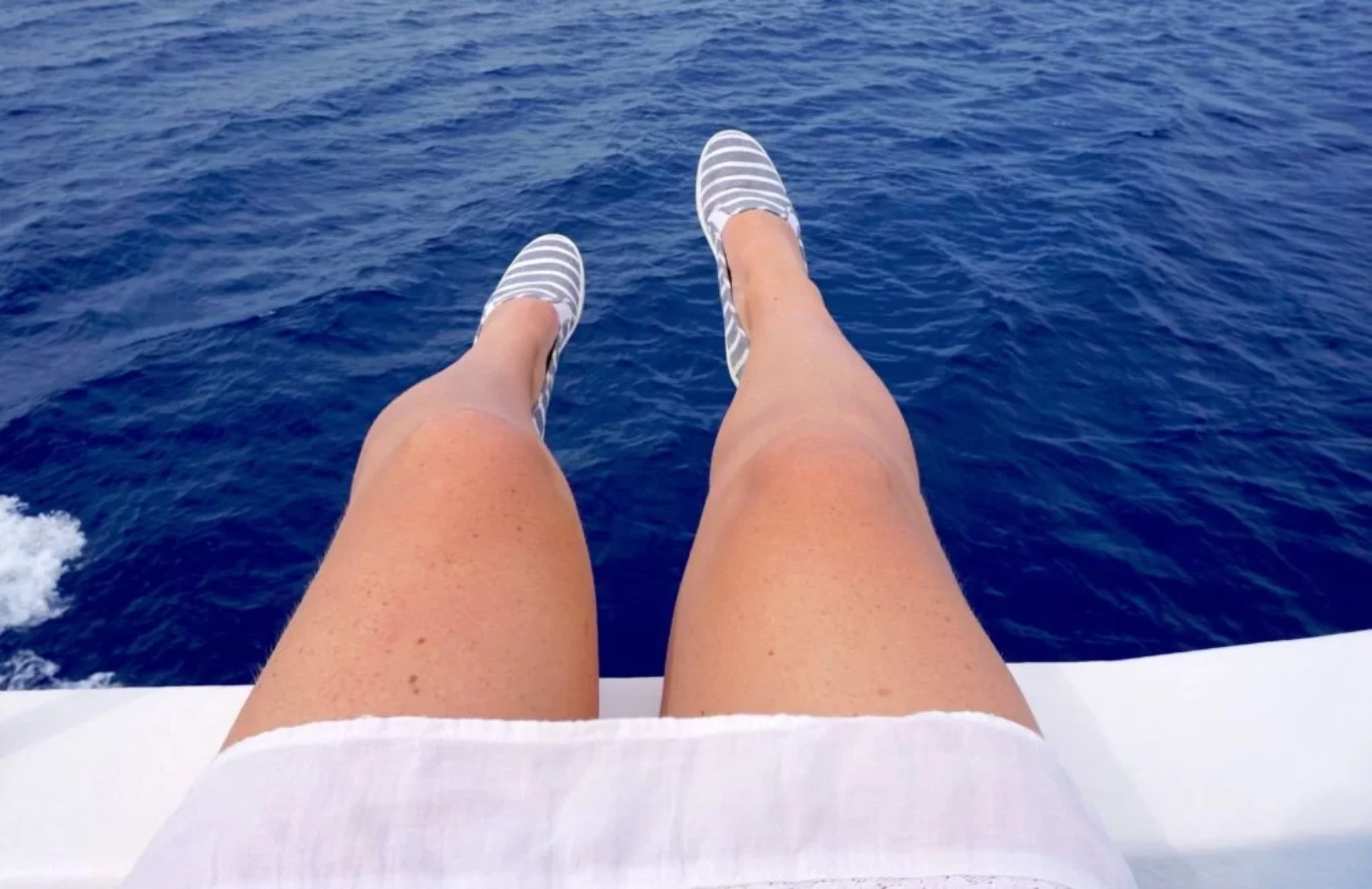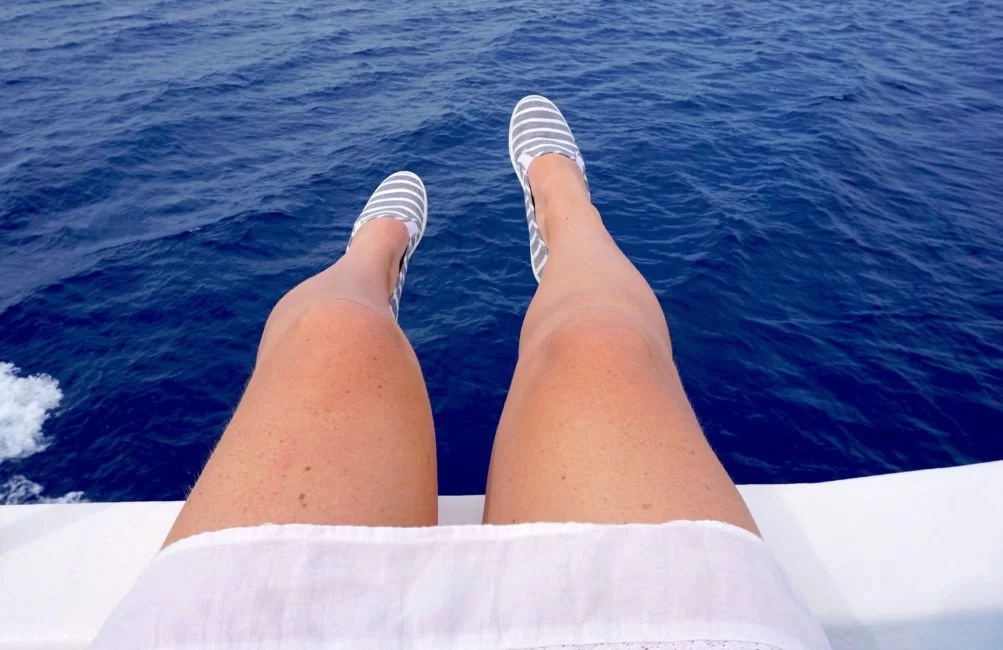 6. Beach day at Coral Bay
It's impossible to visit Paphos and not hit the beach. Many beach resorts in Paphos have their own private beaches where you can unwind and sunbathe. However, the best beach area in Paphos is the public Coral Bay, situated around five kilometers north of Paphos city.
Coral Bay, as the name implies, is home to crystal clear waters in a very sheltered bay and is a haven for water sports enthusiasts. It gets very busy though, so head there early if you want sun chairs and an umbrella!
View this post on Instagram
5. Explore shipwrecks and hidden coves
On our way to The Blue Lagoon, and just after passing the famous Coral Bay, we hugged the coast on our mini road trip and explored some quiet coves and unknown beaches. We also stopped off to photograph an incredible shipwreck (called the Edro 111 Shipwreck) right next to the coastline and Lorna and I agreed it was one of the most stunning stretches of coastline on the entire island! I think one of the best ways to explore the area is simply to rent a car and start driving, stopping off at every small, hidden cove you can find!
View this post on Instagram
Things to do in Paphos at night
4. Dinner with a view at Muse Cafe
Muse cafe, situated on a hillside and providing you with a spectacular view of Paphos and the coastline, is a top spot for sunset cocktails and delicious food. It was probably my favourite place to eat on the whole trip, with burgers to die for and cocktails so good I would return to Paphos again and again just to taste them The atmosphere up there is amazing, with a nice mix of locals and tourists, and the design of the building itself with its huge sail-shaped bar is uber modern and totally lovable.
3. Bar hopping in Old Town
If you fancy a few late nights out but want to escape the famous bat street, where you will be surrounded by hoards of drunk "lads on tour" doing body shots, then get a taxi to the old Town and spend the night bar hopping with the locals instead. One of my favourite spots was Boulevard Wine Bar – great atmosphere, good music and even better cocktails!
2. Late nights at Summer Club
One of the oldest and longest running clubs in Cyprus, Summer Club (which as the name suggests is only open for the summer season) is by far the best place to go clubbing in Paphos. We were there the night it opened for the summer season 2018 and couldn't believe how busy it got. It's right overlooking the beach, and this massive complex has 2 large bars, a big dance floor and endless tables of local socialites with a few hundred euro bottles of vodka on their tables! Dress up, dress up REAL nice, if you're planning a night out here!
View this post on Instagram
1. Drinks by Paphos Harbour
While visiting the archeological park, ensure you take a stroll around Paphos Harbour, just a short distance from the park. With many outdoor restaurants with a sea view, famous for their freshly caught fish and seafood tapas at Theo's Restaurant, it is a great place to hang out around lunch or dinner. It's also a pretty place for late night strolls or to capture the sunset as it sets into the ocean in the distance.
View this post on Instagram