Thailand is one of the most eclectic mixes of culture, food, and people found anywhere on earth. A longstanding popular tourist destination for people from across the globe, the warm weather, incredible sites, and delicious food ensures they come back year after year.
Whether you're looking for the hustle and bustle of a city, lazing your day away on one of the many beautiful beaches, explore the glorious and historical temples that are all over the country, or dine on the best street food in the world, Thailand has it all.
This is our list of the best things to do while you're in Thailand. Doesn't matter if you are there for a week or for a month, in the city or on the beach, there is something for everyone.
The Grand Palace
One of the first majestic sites you should see once you are in Bangkok, is the Grand Palace. The Grand Palace is home to Royalty, government officials, and many more high-powered Thais.
Make sure you dress appropriately, and take the time to have a tour of the grounds. The building itself is incredibly beautiful and even if there is a queue to get in, it is most definitely worth the wait.
Street Food
Thailand is known as the street food capital of the world. Many people may feel uneasy about trying the street food, and would rather opt for a restaurant or a well-known food chain, but believe us when we say, you are definitely missing out.
You can get everything from fresh fruit, kept cold in ice and great for a refreshing snack on those hot days, or fried insects or bugs, if you are a bit braver, as well as some delicious meat skewers, and of course, a bowl of Pad Thai, perfection in a bowl.
Markets
Thailand is famous worldwide for being a great place to shop, and the many markets across the country are the places to do it. These markets are enormous and offer everything you could imagine.
Take a walk and you will find clothing, toys, jewelry, food, a foot massage, novelty items, and everything in between. The prices are incredibly cheap and bartering is the norm in Thailand. Brush up on your haggling skills, and you will leave with the best deal every time.
Floating Market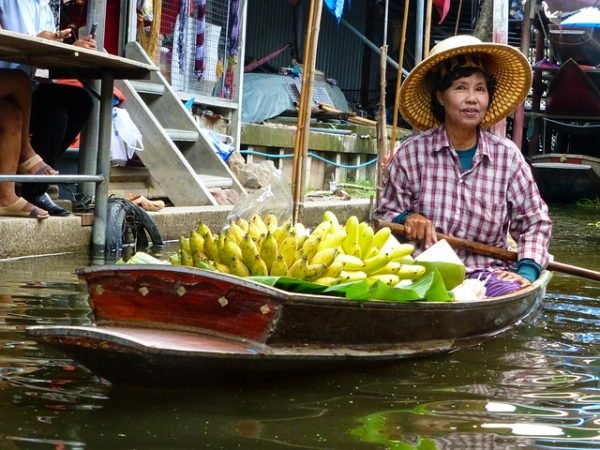 Found near Bangkok, the floating market is the most unique market in the country. With every vendor floating along the river with their wares and produce stacked on their own boat, you can find everything from clothing to herbs.
Float down the river yourself, see what you can find, and see Bangkok from a very unique perspective, and it's an experience you won't forget. And plus, you may come across a surprise or two.
Wat Pho
Found in Bangkok, Wat Pho is one of the most famous Buddhist temples in the world. With absolutely incredible buildings and artwork, as well as many different statues of Buddha. A tour of the temple complex is an absolute must.
Wat Pho is also home to the Reclining Buddha. This 46m long and 15m high Buddha is a meeting place for locals and tourists alike, and is a must to see for anyone in the city. This incredible statue is something you will never forget once you see it, words don't do it's beauty justice.
Temple Tours
With so many temples and shrines found across the country, it isn't difficult to miss out on some of the most famous ones. This is where a temple tour is a must. There are many tour companies that offer these adventures and you should definitely take a day for the tour.
These tour companies will usually pick you up from the hotel you're staying at, and the tour guide will give you every detail you will need, as well as show you any of the small secrets the temples have to offer. A brilliant way to spend the day in one of the cities.
Take a Tuk Tuk
It may be one of the smaller things to do, but tuks tuks in Thailand are one of the most unique ways to travel around the city. With colourful tuk tuks and even more colorful drivers, this method of transport is fun, and sometimes gets the blood pumping.
Phang Nga Bay
Phang Nga Bay, found North of Phuket, is a very unique and unforgettable place. Not only does it boast an absolutely beautiful beach, with soft sand and crystal clear water, there are also some incredible rock formations.
Appearing straight up out of the sea, Phang Nga Bay has many sheer, limestone cliffs that appear vertically out of the water. Take a boat trip around all the islands, stopping at many quiet beaches and soak in the glorious surrounds.
Phi Phi Islands
Phi Phi Islands have some of the most picturesque, if not the most picturesque beaches in the world. Looking like they have come straight out of a movie or a postcard, these beaches play host to a tropical getaway you will never forget.
A 90 minute ferry trip from Phuket, these islands have soft, sandy beaches, and crystal clear turquoise water that is teeming with marine life, and one of the best places to scuba dive and snorkel.
The nightlife on Phi Phi Don is infamous, and if you are ready for an all night party, then this the place for you.
Thailand is a country that will never disappoint you. Whether you are old or young, there for a week or there for a year, Thailand is an unforgettable gem in the South-East Asian crown. The food, the people, the culture, the tuk tuks, the beaches, everything is a new adventure.
The glorious weather allows you to visit year round, and the many festivals and events make it a hub for tourists and locals. Make Thailand a bucket list country, and if you have been already, hopefully this has given you the push you need to come again.