Amman, Jordan's capital city is home to over 4 million of the country's 9 million people. A city of contrasts, with its age on display in the heart of the city and among the city's 7 hills.
Yet, it is no stranger to modern convinces with Samsung stores littered among the narrow, winding streets and fast food franchises situated next to typical Jordanian eats. I hear time and time again of visitors to Jordan heading straight to Petra or visiting Madaba, Mount Nebo and then rushing back to Israel, but there are so many unique things to do in Amman, if you just give it a chance! Looking for more Jordan travel inspo? Read this post about Petra.
Top Things To Do in Amman
Amman's History: The Citadel & Roman Theatre
Most city tours start on Amman's highest hill, Jebel al-Qalia, to visit Amman's Citadel. Atop Jebel al-Qalia lies the massive remains of the Hercules temple, built during the reign of Marcus Aurelius in the second century AD, and the fist of Hercules, the only remaining piece of the estimated 13 meter statue erected at the site, its shattered pieces long since pillaged.
There is evidence that the Jebel al-Qalia has been occupied since about 1800 BC due to its strategic location. From the top of the hill, you can see the Roman Theatre in downtown Amman, cut into the side of a mountain, likely to protect many of the 6000 spectators it could hold, from the sun. Built in the 2nd century AD it is an impressive remnant and the most popular attraction in Amman for tourists.
In Amman, You will not find thousands of tourists dotted like ants among the relics like you would see in Rome, making a city tour one of the most unique things to do in Amman. You may encounter another tour group or other visitors, but for the most part, both the Amman Citadel and the Amman Roman Theatre were quite empty in the morning when we visited them.
Tourism in Jordan is suffering due to the instability in the region. But despite its neighbour's conflicts, the negative media coverage on the Middle East in Western media and the two million refugees camped near Jordan's Northern border, we felt completely safe the entire time in Jordan. Safer, in fact, than in many Western cities such as Paris or LA.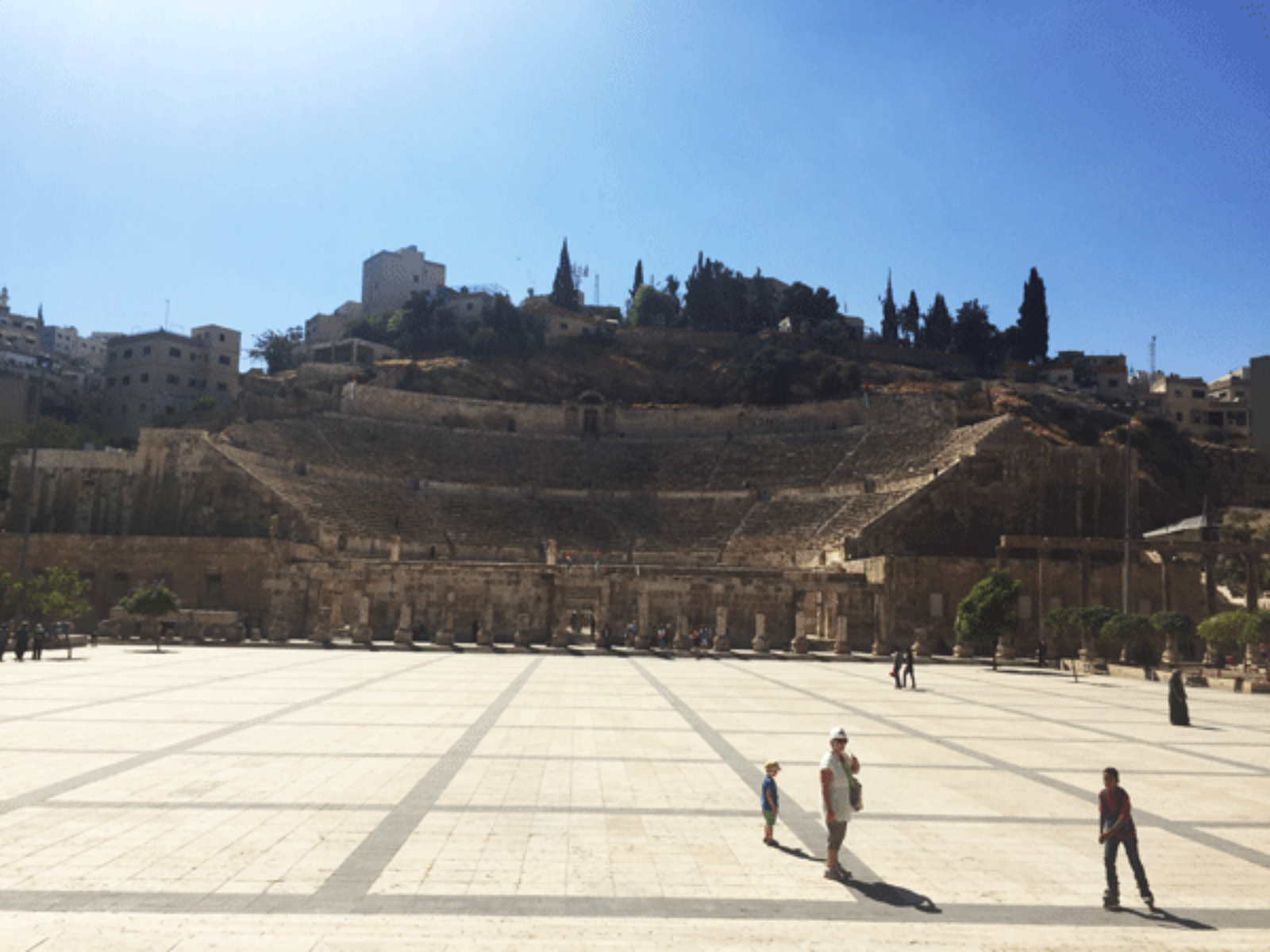 Open Air Markets in Amman
After visiting the theatre, we wandered through the open air markets, with sellers hawking their goods to passerbys. The boys were wide-eyed with the commotion of buyers and sellers, with the "Welcome to Jordan," flashy smiles, and the auctioneer style chants, as sellers compete to gain attention (and well, to make as much noise as possible). It was a busy place, as Jordanians bought fresh fruits, veggies and other wares to take home. While Amman has built modern malls in recent years, and does have plenty of grocery stores, a lot of food is still bought from traditional markets, roadside stands and small bakeries.
Navigating Amman's winding, narrow roads and hilly terrain makes it tough to walk, except for the downtown core. I would suggest you plan your day in advance if you do not have a car and driver. You can get more info on Transportation in Jordan here.
A quick look at the Nymphaeum, a partially preserved Roman public fountain which is currently being restored should be part of your day if time allows. Built in the second century A.D., it was believed this public bath contained a 600 square meter (6450 square feet) pool, it is of the most unique things to do in Amman.
The toughest part of your walk may be trying to navigate your way across the street. While I read a copy of Lonely Planet's Guidebook, there is an entire half page dedicated to tips on how to cross the road. I laughed at a comment I read online to "find an old lady and have her help you across," but found myself looking for one on more than a couple occasions!
Food in Jordan
There are plenty of cheap eats in Amman, the local fast-food "shwarma" will cost around 2 JD (just under USD3.00) and consists of delicious slices of lamb or chicken sliced from a revolving spit.
After wandering the winding streets of downtown Amman, a visit to the famous Hashem Restaurant in Amman is a must for any foodie. And to be honest, everyone should visit. Open since 1952, this open air restaurant is a favourite of King Abdullah II and almost every dignitary or celebrity that passes through Amman will find their way to Hashem. It does have indoor seating, but literally wedged between two building, most of the patrons spill into the patio and enjoy their meal outdoors.
Their legendary falafel and hummus, combined with their cheap prices make it a favourite for locals as well as tourists. If you arrive right at dinner time, expect it to be busy. Try and pick a non-peak hour to visit if possible.
Jordan Museum
While we did not get a chance to visit the Jordan Museum, it will be one of the top things to do in Amman when we return. Home to Jordan's share of the Dead Sea scrolls, as well 8000 year old statues, this international standard museum should not be missed in Amman.
You will be able to see Amman's Egyptian heritage, as the city was once known as Philadelphia, after the ruler Philadelphus (283-246 BC). It was also one of the cities of the Roman Decapolis, before becoming part of the Empire around 30 B.C. The museum will help you get a feel of Amman's long and storied history.
What to Wear in Jordan?
Before visiting Jordan I was conscious of their conservative values. Despite being officially a muslim country, there is a large Christian population as well. Women are not required to wear head scarves, nor is it recommended. The Christian women do not cover their head, so unless you are Muslim, I do not suggest it (unless of course you are visiting religious centre such as temples).
As a women, wearing conservative shorts will not garner you unwanted attention, but you will stick out of the crowd. People in Jordan do not dress the same as we do in North America. You could walk the streets of Amman wearing a tank top, but you will honestly look silly. It just screams tourist. I suggest some comfortable pants, I found myself in jeans often, with sandals and a t-shirt. Long sleeves are not necessary, a short sleeve t-shirt will be fine. Cotton and flowing fabrics will help keep you cool in the hot temperatures.
Safety and Security in Jordan
I have travelled to Jordan in 2016 and 2017. The current security risk from Canada's travel.gc.ca indicated to "exercise a high degree of caution" but noted that there was no nationwide advisory, but to avoid travelling within 5kms of either the Syrian or Iraqi borders. Honestly, we could not have felt safer traveling here with our children. I expected a high military presence, but while there was an abundance of security, it was not what I was expecting. You can read more on our post Is Jordan Safe?
Major hotels in Jordan have metal detectors and bag scanners, which the locals are accustomed to, and it gives an extra sense of security to visiting guests. i did not find this caused me or my family any worry. In fact, the kids were (for once) happy to carry our bags and run them through the scanner. The doormen were always friendly and happy to show the boys pictures of their scanned bags.
In fact, everywhere we went, we encountered welcoming friendly people. Everything I read about the Jordanians included comments about their hospitality, and those comments were genuine! Most Jordanians working in the tourism industry speaks good (or at least passable) English, on account of their education and English being taught in the schools.
Finishing off the day in Amman found us wandering Rainbow street as we stopped for an ice cream. Still full from Hashem's eats, we made our way back to our hotel with our guide and driver.
Where to Stay in Jordan
Jordan is typically an affordable place for luxury accommodation. If you are a luxury traveller you will find great value here. And if apartment rentals or cheap accommodation fits your style, there is plenty of that as well. I rented an apartment for a night for JD20 (about USD25) but also paid JD150 for a hotel room. Whatever your budget, you can find it in Amman!
On our first visit we enjoyed the Landmark Hotel and I would recommend it as a great choice.
Author bio
Lindsay is a freelance writer, photographer, lifetime traveller and a lover of learning. She left her career in 2016 to share her passion for travel with her two young boys. She resides in the suburbs of Vancouver when not jet setting abroad. She is the Editor and Founder of Carpe Diem OUR Way, a family travel blog. Follow her Instagram, Twitter or Facebook.