Everyone know the top 5 things to do in Amsterdam. Checking out coffee shops, the Heineken Experience, shopping for tulips or Stroopwaffles and maybe walking through the Red light district. But what ELSE is there to do during your 3 days in Amsterdam??
Hopefully this guide should answer exactly that. Between the video below and my brief 3 days in Amsterdam itinerary, I hope this blog will help you plan your trip to one of Europe's most beautiful cities.
VIDEO: 3 DAYS IN AMSTERDAM
3 Days in Amsterdam Itineray: Eat, Play, Explore
Venture out of central Amsterdam to the Eastern Docklands and the new West neighbourhoods and you'll find there's a LOT more to Amsterdam than first meets the eye.
I'm talking about cranes turned into hotels, craft breweries next to windmills, Street art museums, cafes made from up cycled materials, quirky music venues, local food halls and markets, fair trade gift stores, green parks and gorgeous city lakes clean enough to swim in.
From offices inside of house boats, factory canteens turned hip coffee shops, a swing dangling high above the city and virtual reality flight experiences in pretty outdoor pavilions- THIS is the Amsterdam I'm going to show you.
This is your Amsterdam Neighbourhood Guide and a quick guide in how to spend 3 days in Amsterdam, ideal for second time visitors or first timers looking to go beyond the exact centre of the city.
Day 1 in Amsterdam
Afternoon
We're starting with De Pijp, a hip neighbourhood just south of the city centre. This multi cultural area with a plethora of colourful cafes and quirky stores is quite a popular area with expats and while walking distance from Central Amsterdam, it's far  enough away to distract the masses and maintain its unique Dutch charm.
Walk down quiet canals, shop for second hand vintage clothing then grab a bite to eat in Blonde Amsterdam or Coffee and Coconuts and get a taste of what it might be like to actually live in this diverse city.
Evening
While you can also find some lovely bars and restaurants in this area, I decided to head back to Central Station to get a glimpse of the chaos of the city centre and catch some of the main buildings and canals in that gorgeous golden light.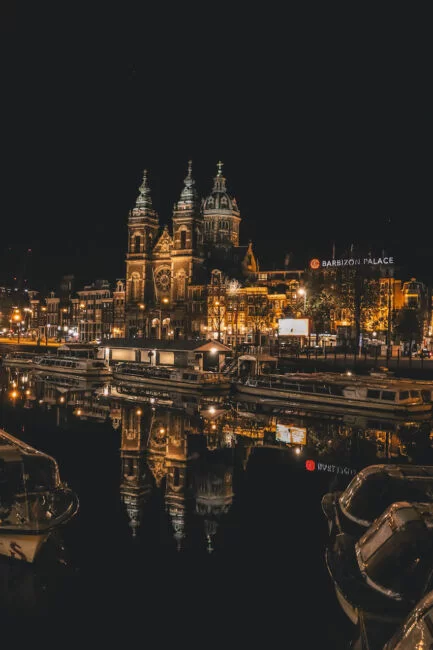 I then walked towards the Eastern Docklands to find some quirky night life options such as Hannekes Boom – a shack style mix and match cafe and bar on the waterfront made from up cycled materials and covered in colourful fairy lights. There's a delicious menu off, cheap and cheerful beers, and epic views of Neo Science Building.
From here we walked across one of the main canals and into the city centre, strolled past a coffee shop or two (pop into one of that's your thing) and wandered into whichever bars took our fancy, eventually ending up in The End – a small but extremely fun karaoke joint favoured by tourists and locals alike.
Day 2 in Amsterdam
On my second day, I explored the Eastern Docklands district of Amsterdam. Just 10 minutes by tram from Central Station, this area is working hard to preserve its past as a center for shipping and maritime activities.
You can eat in a restaurant from the 1950s, a stunning old passenger terminal built as the departure point for steamships departing for South America. The building is frozen in time, with all original decor and furnishings, weekly dance hall nights and simple but delicious Dutch cuisine.
From the restaurant you can look out it the I river and even see a crane hotel – a crane with a single hotel room inside. One of Amsterdam's more quirky places to stay.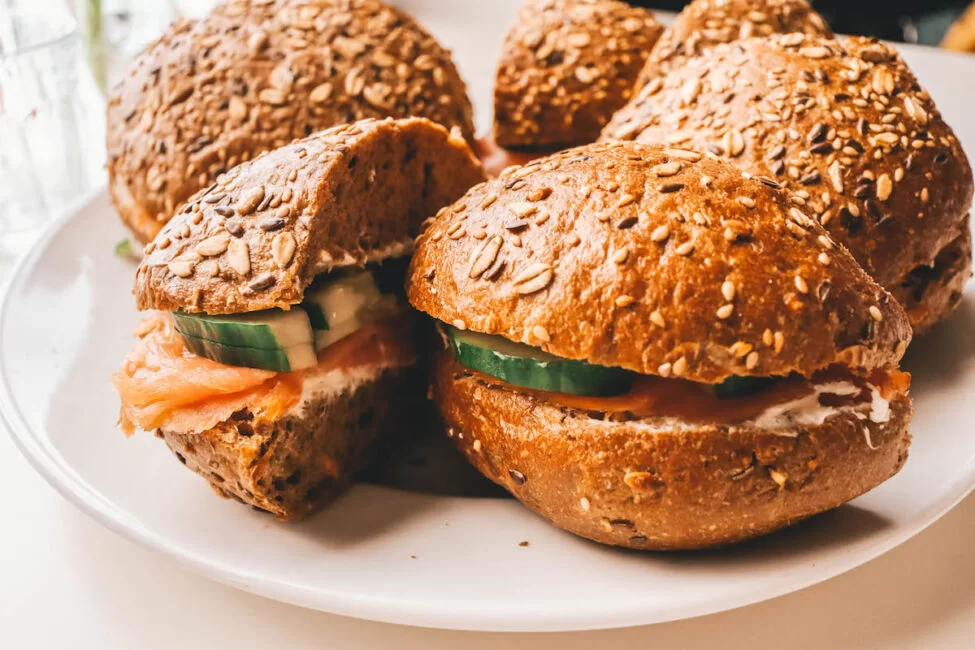 Afternoon
A short walk away is Brewery t' Ij – a craft brewery situated next to a windmill with an amazing selection of beers and a warm and cozy atmosphere.
We had a lot of fun checking out their extensive beer list and tasting room, learning how to beer is made and admiring the beautiful windmill next door to the brewery, right along a pretty canal – especially beautiful at night.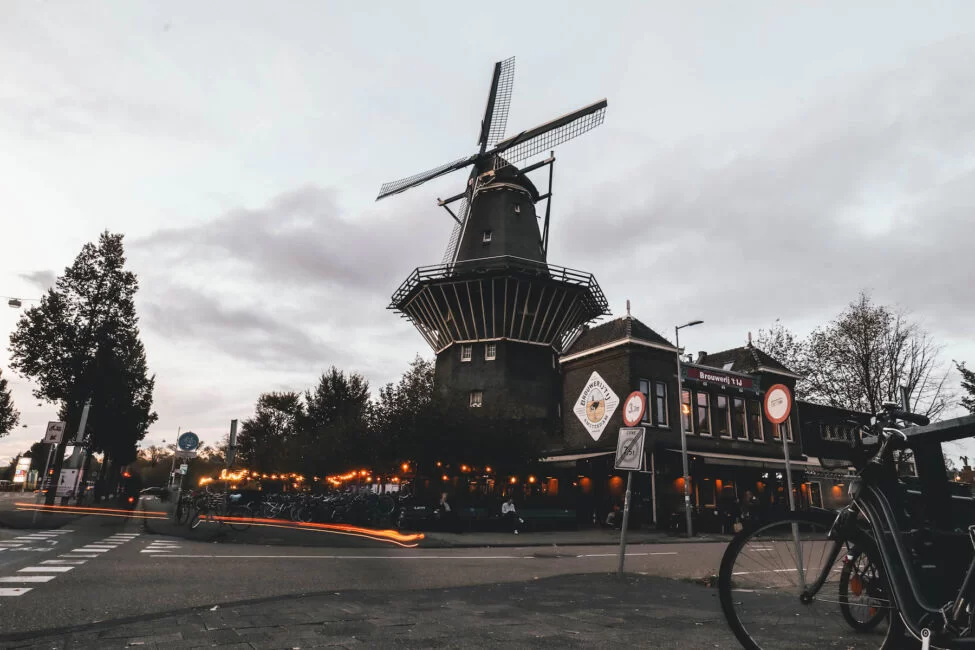 From here you can walk to the stunning Maritime Museum – a nod to Amsterdams past as a centre for shipping and Maritime activities.
Here you can explore many beautiful exhibitions and take a tour around a replica trading ship from the 17th century, as well as getting a closer look at maritime-themed artwork and ancient maps from around the world. I loved the exhibitions on maritime themed paintings and also the cartography and map room upstairs.
Evening
A short walk away is Tar Peter street, where you'll find the unique InStock restaurant- a small watery dedicated to reducing food waste by getting all their ingredients from supermarkets planning to throw it out.
You might end up eating cream or cauliflower soup – made from cauliflowers that we're too small, or a vegetable stir fry peppers that look half yellow and half green and supermarkets feel customers "wouldn't like".
There's no waste in the house either, with left over leaves out into large jars and fermented to make fresh kimchi and other delicious side dishes.
Day 3 in Amsterdam
Morning
If you're into street art, you'll live Amsterdam west, home to the Street Art Museum Amsterdam, a living changing collection of incredible street art that comes alive on the streets and is shown off by dedicated volunteers.
Curated by a lovely and eclectic Ukrainian woman who now calls Amsterdam her home, she has connected some of the worlds most infamous street artists with a canvas to paint their work and often the money to do so thanks to government grants and commissions.
She'll tell you if her love for Banksy and Stink Fish, or how she persuaded a street artist from  Jamaica to paint a piece about Bob Marley – the only street art of this type to be found outside of Jamaica.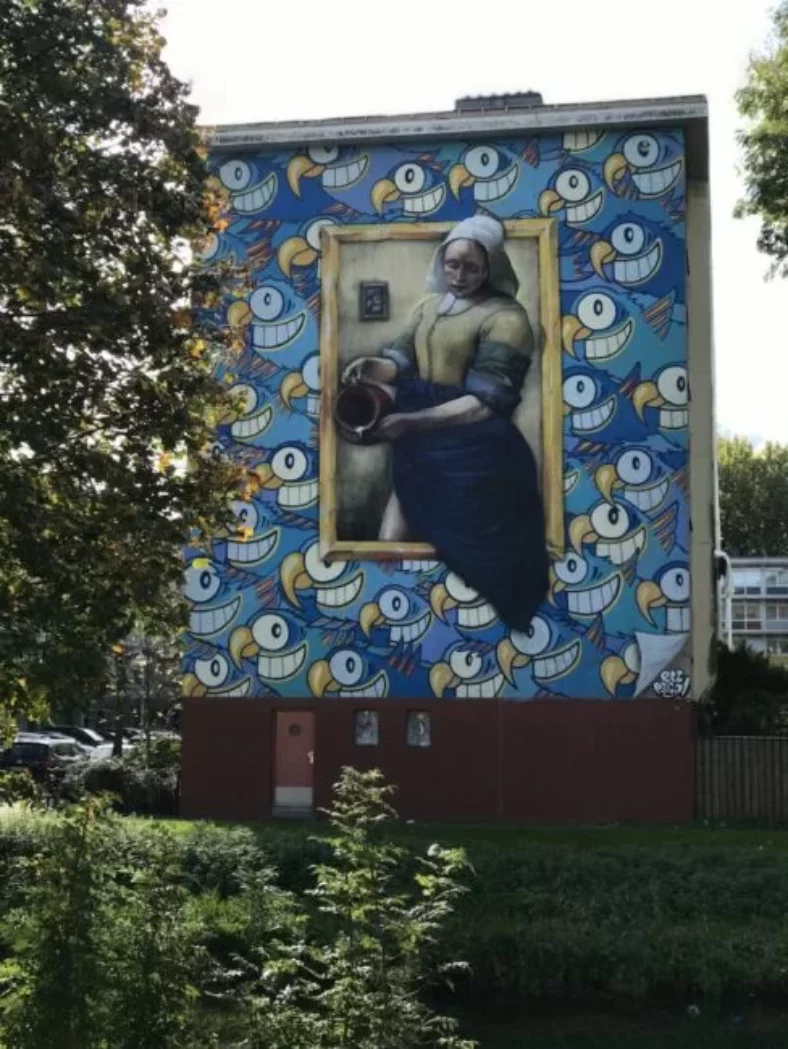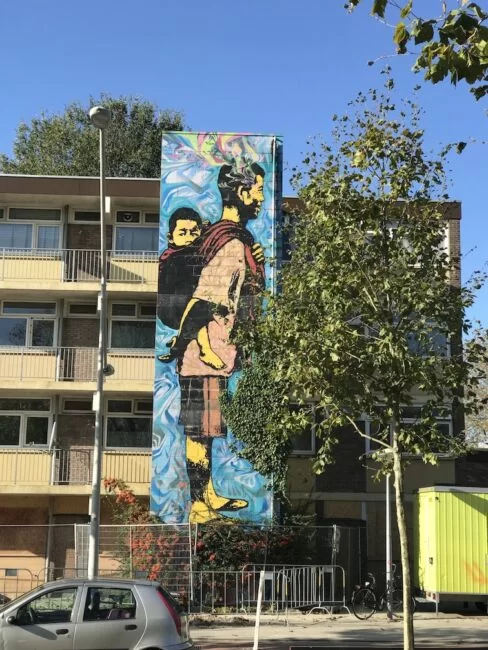 Afternoon
For another touch of Dutch history but in an area away from the chaos of central Amsterdam, head to the high ceiling'd and extremely popular Food Hallen for a lunch to remember. This tram terminus turned food market and film centre is home to 50 small eateries ranging from Mexican and Vietnamese cuisines to American hot dogs and onion rings, poke balls and traditional Dutch bitterballen.
Grab a beer and a bite then take a walk around the hall and nearby shops, home to Dutch designers, sustainable clothing big stores and shops then employ and train workers who may have otherwise struggled to find employment.
The surrounding area is residential but is home to some of the prettiest neighborhood markets, green parks, tree-lined streets and boutique stores you'll find anywhere in the 'Dam.
Evening
Finish your Alternative Amsterdam trip with a canal boat tour – because you can't really visit and appreciate this unique city without taking it all in from the comfort of a boat.
We decided to take a much smaller more intimate boat tour, complete with strawberries, cheese, chocolates, and champagne – that drive is right through the center of Amsterdam, down the I river and river back to our beautiful and very historic hotel, the Lloyd Hotel in the Eastern Docklands.
Where to stay in Amsterdam: Lloyd Hotel
Which brings me to where you should stay while in Amsterdam! I booked into the Lloyd Hotel for two nights and I can't remember the last time I stayed somewhere so novel.
They say it has 1-5* rooms inside the same hotel building, with some rooms with pianos or hidden bedrooms or large dining room tables. While smaller rooms come with shared bathrooms, hostel-style, the largest comes with a 7 person bed and soundproof walls!
The building was once a hotel for emigrants then a center for refugees was later a jail followed by a juvenile hike and finally a centre for artists and a quirky hotel and cultural hub, which is what it has been for almost 15 years!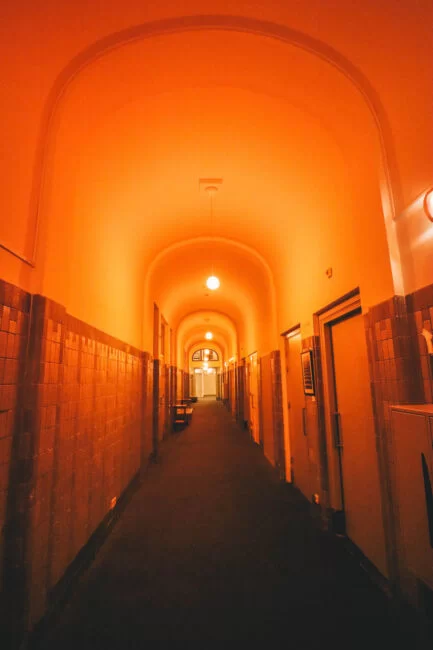 Conclusion
Sure, Amsterdam is about late nights at eclectic bars, cycling by canals and tulips and Heineken and coffee shops. 
But it's also about SO MUCH MORE, and I hope this video at least gave you a teeny tiny insight into some of the more alternative places in this beautiful European city.
NOTE: Thank you to iAmsterdam, KLM and Amsterdam and Partners for hosting me for this short but fun stay in Amsterdam.