When visiting Amsterdam it's easy to have a great time even if you are on a budget. In fact, I've discovered there are plenty of free things to do in Amsterdam, that can be just as fun as visiting the cities most popular, and therefore costly, attractions.
Amsterdam is the capital city of the Netherlands and is famous for many things. Known as the Venice of the North, over 1000 canals flow through the city, lined by old, narrow houses. The Anne Frank House remains one of the most popular tourist destinations, serving as a historical monument to the brave girl that diaried her traumatic experiences as a Jew during the Second World War.
Amsterdam's infamous Red Light District draws in large and rowdy crowds, curious to see the tabooed neon windows.
Alongside the amazing museums and galleries in the city,  there are so many incredible things to do in Amsterdam for free. This makes it a great place to experience the Netherlands, no matter your budget.
Free Things To Do In Amsterdam
Vondelpark
Vondelpark is Amsterdam's most loved park, with millions of people visiting each year to enjoy this haven of lush greenery. Take a walk around Vondelpark, and explore it's pretty rose garden, or make like the locals and enjoy cycling on one of the bike paths.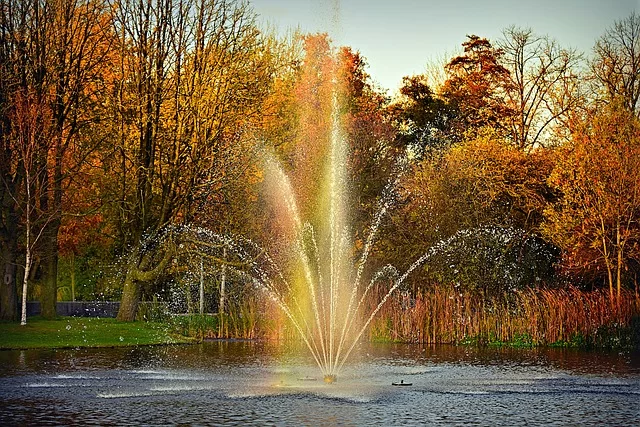 Free Boat Trip
There are many tour operators offering boat trips in Amsterdam, but if your budget is tight, there is a way to still take to the water. Behind Amsterdam Centraal Station you will find free ferries that take you across the water to different parts of the city. The best thing is the ferries are so frequent, you won't be stuck with a long wait – just turn up and enjoy.
Free Classical concert at Concertgebouw
Each week, expect from during July and August, The Royal Concertgebouw holds a free lunchtime concert. To get a free ticket, all you have to do is arrive at the entrance hall in time for 11:30 am when tickets are given out. The concerts are very popular so make sure you arrive in plenty of time. Concerts usually take place on Wednesdays, but it's a good idea to check the schedule online beforehand in case there are any changes.
The Red Light District
Take a walk around Amsterdam's Red Light District, probably the most famous Red Light District in the world. This is actually the oldest part of the city, and over the years it has transformed into an area full of peepshows, brothels, sex shops, and window prostitutes. Just remember that it is prohibited to take photos of the women who work here, a rule that is strictly enforced.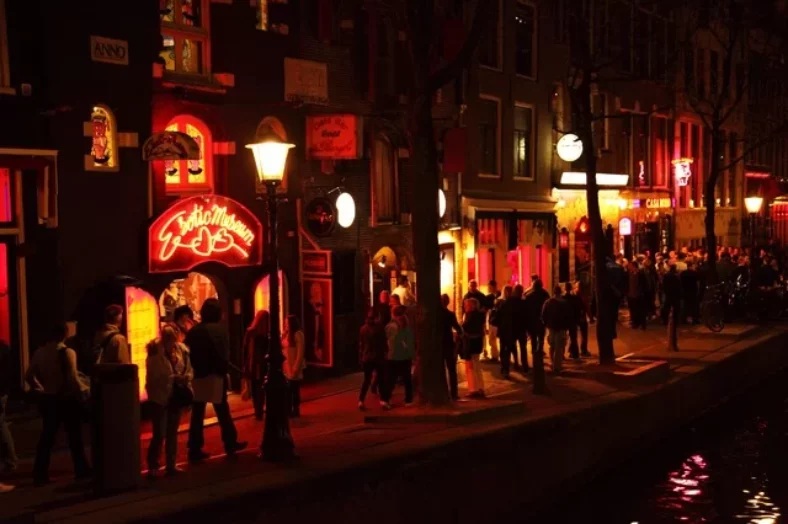 Westerkerk Church
Westerkerk Church is free to enter and is actually the biggest church in Amsterdam. The church is where famous Dutch painter Rembrandt is buried. Although at the time the painter was so poor, he was buried in an unmarked grave. There is however a memorial shield inside the church, standing as a symbol to remember the artist.
Browse at Albert Cuypmarkt
Wander around Albert Cuypmarkt, the largest outdoor market in the Netherlands. This market has over 260 stalls selling everything from tasty stroopwafels to clothing, souvenirs, and even raw herring. The market is open 6 days a week from 9 am to 5 pm, only closed on Sundays.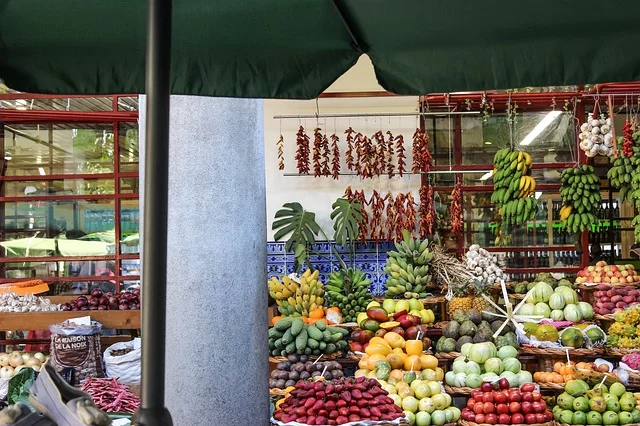 Centrale Openbare Bibliotheek Amsterdam (OBA)
Amsterdam's library is free to visit, and it's worth taking a trip to the central branch, which is the largest library in the whole of the Netherlands. There is a terrace on the 7th floor that offers amazing views across the city.
Amsterdam's Chinatown and Fo Guang Shan He Hua Temple
Amsterdam's Chinatown area is packed full of Asian markets, shops, and restaurants. As well as being a great place to explore, here you will find the Fo Guang Shan He Hua Buddhist Temple. The brightly coloured temple is actually the biggest Chinese style Buddhist temple throughout the whole of Europe. The temple is free for visitors every day, apart from on Monday's.
Free Jazz at Bimhuis  
If you love Jazz music, you can actually catch a free show whilst in Amsterdam. On Tuesday nights from 10 pm, legendary Jazz spot Bimhuis hosts a jam session with free entry for both musicians and visitors. This is a weekly event, except for during July and August.
Vrije University Botanical Garden
Belonging to Vrije Universiteit, this botanical garden was created for the university's biology department to use for research. In this small greenhouse complex, you will discover over 6,000 species of plant, from all different kinds of climate. A highlight has to be the cactus and succulent greenhouse, which is home to the largest collection of these plants in the whole of the Netherlands.
EYE Film Museum
This impressive modern museum is dedicated to the art of cinema. Alongside exhibitions, inside there are 4 screens showing various genres of film, and a restaurant. Entrance to the main building and outdoor terrace are free, but the cinema and exhibitions require a ticket.
Explore Nine Streets
De 9 Straatjes (The 9 Streets) is a bustling micro-neighbourhood near the cities grandest canals. Not only are the streets here supremely photogenic, but you're guaranteed to discover some epic vintage shops, cute boutiques and quaint cafes to relax in.
Zaanse Schans
On the outskirts of Amsterdam, you'll find the town of Zaandam and it's neighbourhood Zaanse Schans. Here you will see a whole host of beautiful windmills, set on the banks of the water. Alongside the windmills, this area is full of attractions that bring the 18th and 19th century back to life. You can easily take the Rnet-bus 391 to Zaanse Schans leaving from Amsterdam Central Station every 15 minutes. Visits to the village are free, but to enter the windmills or the museums you will have to pay a fee.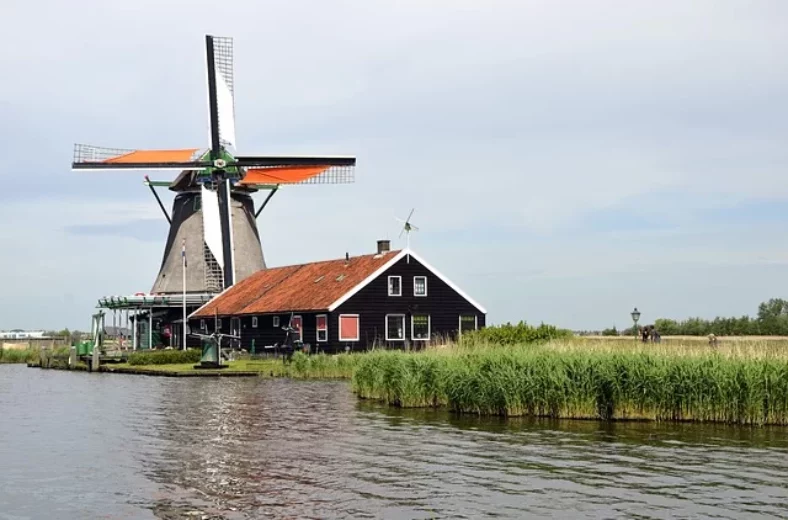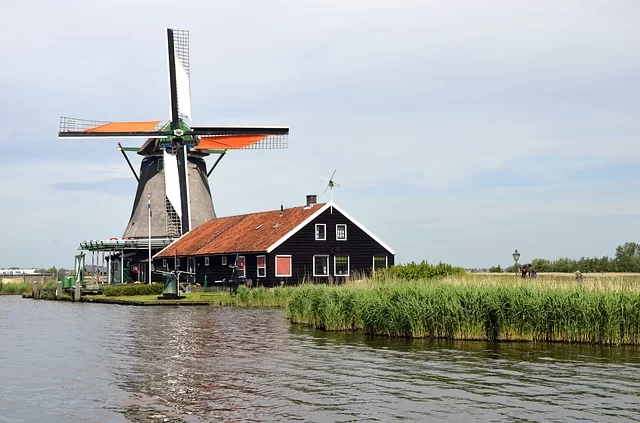 De Poezenboot (The Catboat) 
If you love cats, when in Amsterdam you need to pay a visit to The Catboat. Yes, it is as cool as it sounds. The catboat is literally a floating animal sanctuary. It's a safe haven for stray and abandoned cats in Amsterdam's canal belt. Visit De Poezenboot to learn about the sanctuary and hang out with some feline friends. Entrance is free, although it's always nice to leave a donation to help the cats.
See Dam Square
There's always usually something going on in this town square, that can be found right in the heart of Amsterdam. I discovered this to be true during Chinese New Year, were held in the square was a celebration featuring dancing dragons, martial arts, and fireworks. In Dam square, you'll also spot Koninklijk Palace. This grand building was once home to the Dutch Royal family.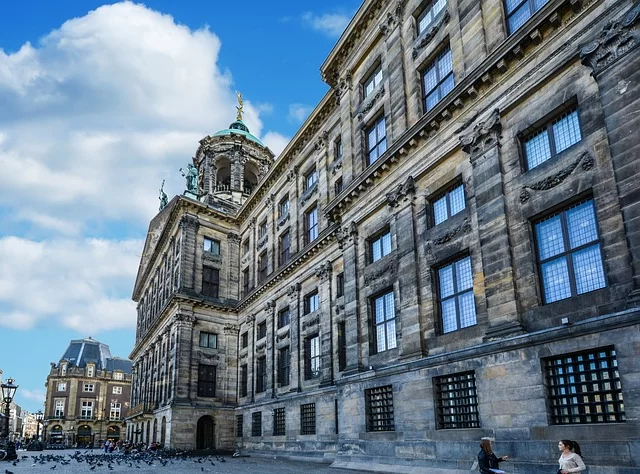 Rijksmuseum garden
Although entrance to Rijksmuseum is not free, walking around its garden is. Here you will be able to view fantastic artwork in an outdoor gallery. Enjoy the collection of sculptures and statues housed in the park, and try a game on the oversized chess board.
Goat Farm at the Amsterdamse Bos
Found just outside the city, Amsterdamse Bos, meaning Amsterdam forest, is a great place to visit if you love the outdoors. It's excellent for walking, biking or swimming. The highlight, however, is the little farm here full of goats, pigs, chicken, sheep, cows, and horses, which is free to enter.
The Narrowest House in Amsterdam
Located at Oude Hoogstraat 22, is the smallest house in Amsterdam. This tiny little house is also sometimes referred to as the smallest house in Europe. It is easy to see why, as the house is only 2.02 meters wide and 5 meters deep.
Take part in Friday Night Skate
Every Friday night in Amsterdam, people meet up to skate around the city. Everyone is welcome to participate, as long as you can actually skate. The skate starts at 8 pm, meeting at the round bench, next to the Vondel CS in Vondelpark.
The Cannabis College
Visitors to Amsterdam will know that cannabis and coffee shop cultural in Amsterdam certainly draws in the crowds. The Cannabis College in the cities Red Light District is a non-profit information centre, providing lots of information about cannabis, including its medicinal uses.
Passage of books at Oudemanhuispoort
At the University of Amsterdam's Law Faculty, you will find an ancient passageway with stalls selling a plethora of used books. Stalls have been set up here selling second-hand goods since 1886. Apparently, even the famous painter Vincent Van Gogh spent many gleeful hours browsing here.
Begijnhof
Begijnhof is one of Amsterdam's most well-known almshouses. Built around a courtyard and garden, these homes were for the Beguines, who were a group of unmarried women. These women were religious and took vows of chastity. House number 34 here is actually the oldest house in Amsterdam.
Visit the Skinny Bridge (Magere Brug)
One of the many bridges found in the city, this particular specimen acquired the nickname skinny bridge. There is a local legend that this name came from the skinny sisters, who were two well off sisters who lived on the opposite sides of the river from one another. The legend says that the sisters had the bridge built to make it easier to visit each other.
Nowadays, visitors come here to take photos on the bridge that is nicely illuminated at night.
Marvel at Fietsflat (Multi-Storey Bike Parking)
It is a well-known fact that the citizens of Amsterdam love to cycle. The city is fantastic for cycling, with plenty of bike routes and very flat terrain. But all those bikes have to be parked somewhere. Outside the Centraal Station, you'll be stunned to see multi-story bike parking, filled to the brim with thousands and thousands of bikes.  Not something you see everywhere really.
View the Anne Frank Statue 
It may cost you a pretty penny to visit the Anne Frank house, but you can view her statue for free. View the Anne Frank Statue on Westerkerk plaza, which is near the house. Anne is one of Amsterdam's most well-known residents, leaving her mark on many with her powerful diary.
Rembrandtplein Square
Named after the famous Dutch painter Rembrandt, in this square, you can spot a very large statue of the man himself. This is also a popular nightlife destination, with the square surrounded by clubs and bars.
Spot Amsterdam's gable stones
Before house numbers were a thing in Amsterdam, the residents devised another way of telling which address was which. Colourful and well-decorated stone plaques, known as gable stones, marked the building, showing what it was used for. For example, on the wall of a butcher shop, you would see people, well, butchering. A free and fun thing to do in Amsterdam is to find the cities gable stones, and try and figure out what each of the buildings was once used for.
Dappermarkt
Another market in Amsterdam means another great opportunity to browse stalls selling various different goodies. In 2007 Dappermarkt won the accolade of being the best market in the Netherlands. What's particularly cool about this market is the mix of ethnicities found here. You'll find people who have come from Asia, Africa, and eastern Europe, serving up a huge variety of delightful food.
Spui25 free lectures
If you love learning, you can sign up to attend a free lecture event run by the University of Amsterdam. Covering a range of topics, from mental health in the digital age to decreasing meat consumption, there's plenty happening that's sure to cater to different interests.
Amsterdam Pride Canal Parade
Every year Amsterdam Gay Pride takes place in the city. One of the highlights of the event is the extravagantly colourful canal parade. Decorated barges float down the river in this super fun celebration. Costumes, DJ's and incredible themes really make this event something to witness. Pride usually starts at the end of July and continues into August.
Watch the annual canal swim
Each September, Amsterdam's canal ways clear of boats, making way for a staggering 2,500 swimmers, ready to take part in the Amsterdam City Swim. The event is held to raise money for ALS, with swimmers raising sponsorship before taking part. If you are lucky enough to be visiting Amsterdam during this event, not only is it free to watch, but you are guaranteed to have a great time cheering on the swimmers.
Amsterdam Open Monuments Day
Each year on Open Monuments Day, the cities important buildings, private houses, and monuments open their doors to the public. Best of all, they do so for free. This also means visitors get to find out more about the buildings they explore from people who have been involved with, or perhaps even lived there, for huge chunks of their lives. Pretty cool if you ask me.
Celebrate King's Day
Kings Day festivities sweep the streets of Amsterdam on April 27 each year. This day is, in fact, one of the largest festivals celebrated in the Netherlands. The colour orange is worn by everybody to show pride in the royal family. There are also lots of celebratory events held throughout the city. On kings day, thousands of crazily decorated boats head out onto the canals during this city-wide party.
Be amused by the fast food vending machines
Not everyone may agree with me here, but I think these contraptions are pretty cool. In Amsterdam, you will find fast food vending machines. All you have to do is put a few coins into the slot on the side of these little heated boxes, open the door, and hey, you've got food. They sell all sorts of stuff from burgers to croquettes. While buying food here may not technically be free, I think it's entertaining enough just to see them. They are weirdly futuristic, the next step would be to somehow get robots involved.
Get cloggy 
Looking to snap some great pictures whilst in Amsterdam. Outside a souvenir shop in Dam Square, you will find a giant yellow clog. Get inside, let your imagination go wild and get the perfect Instagram snap – all for free.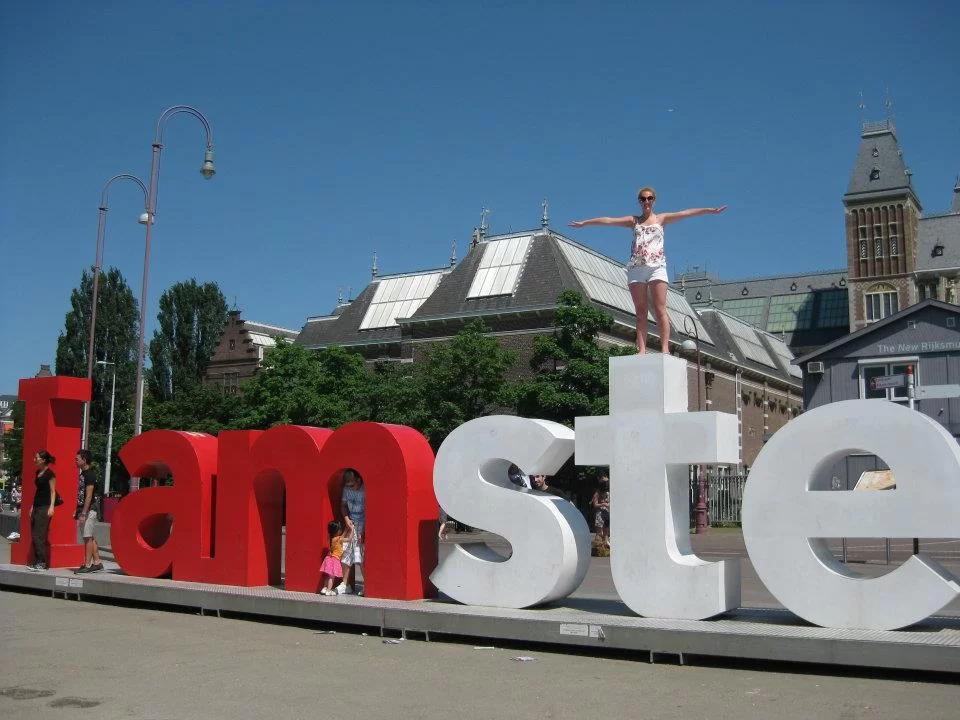 Take a tour of Gassan Diamonds
If you are interested in learning about the history of diamonds, and Amsterdam's past as a diamond city, you can take a free tour of Gassan Diamonds. The tour lasts for 40 minutes and is given in over 28 languages. However, the downside is, expect to have to endure some sales spiel. Tours are offered daily from 9 am to 5 pm at the companies headquarters in Nieuwe Uilenburgerstraat.
Explore the Canal Belt
One of the best free things to do in Amsterdam is simply to walk around the cities canal belt. The canal belt (Grachtengordel) refers to the area around the old city, which is listed as a UNESCO World Heritage site. The canal belt is an impressive 400 years old, and the area is so picturesque and beautiful, it's one factor that helps give Amsterdam its unique character.
Where to stay In Amsterdam
Now you have an impressive list of free things to do in the city, the next thing you may be wondering is where to stay in Amsterdam? You have options available to suit any budget. If you are looking to experience the finer things in life, some of the best hotels in Amsterdam include the luxurious Waldorf Astoria and Hotel TwentySeven.
If budget travel is more your thing, there as some fantastic hostel options in the city. Generator Hostel Amsterdam overlooks Oosterpark, on the eastern side of the city. If you stay here, you can hire a bike from the hostel which makes exploring the city super easy.
Transport in Amsterdam 
As mentioned above, when in Amsterdam exploring by bike is quick and fun. After all, there are reasons why locals love this option. If cycling really isn't your thing, Amsterdam is also very well connected by public transport.
You will find a metro system, bus network, ferries, and trams. If you plan on using public transport often, it may be worth investing in an I Amsterdam Card, which includes unlimited use of the public transport system.
How expensive is Amsterdam? 
As briefly mentioned above, I found the best way to see Amsterdam on a budget was to invest in an I Amsterdam Card. As well as free transportation, the card offered access to over 70 different museums and attractions, plus a free canal cruise.
Lots of Amsterdam's biggest attractions are included in the card, such as the Van Gogh Museum and Artis Zoo. So if you are planning on doing a lot of sightseeing, purchasing one of these cards could actually save you a lot of money, I know it did for me. There are five different I Amsterdam cards on sale, with prices ranging from 60 euros for 24 hours, to 115 euros for 120 hours.
Accommodation costs in Amsterdam start at around £30 per night for hostels, with the average hotel room costing roughly £100 per night.
There are plenty of food options available for any budget. For something both cheap and satisfying, visit Vlaams Friteshuis Vleminckx, which many consider as the best fries in Amsterdam. That is why you will always be greeted with a line outside this little stall. For a medium portion of fries, it is 2.90 euros. There are over 25 different varieties of sauces available, each costing 0.70 euro.
At a restaurant, the average cost for a meal in Amsterdam is roughly from 12 to 20 euros.
We truly hope you enjoy your time in the ever-engaging city of Amsterdam. If you have any more suggestions on the best things to do for free in Amsterdam, please let us know!