New Orleans Night Activities
Showing all 2 results
Learn the real history of New Orleans voodoo on a fun and informative walking tour. Follow your local guide through the streets of New Orleans and visit iconic places associated with New Orleans voodoo culture. Learn about the history and development of the voodoo religion in New Orleans, and gain a better understanding for the people who practice it. Voodoo tours in New Orleans take you into the mysterious world of spells and rituals!
More details +
You won't find this type of tour anywhere else. A New Orleans voodoo tour will teach you the history of this fascinating religion and clear up any misconceptions you may have.
PROS:
A fun and informational tour
Tour is given by a local guide
CONS:
Operated in all weather conditions, rain or shine
Not suitable for younger children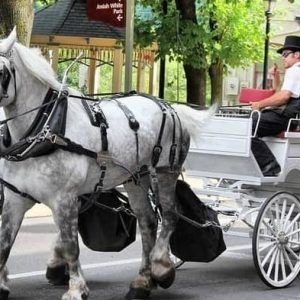 Tour New Orleans' French Quarter and surrounding areas on a horse-drawn carriage. This is the city's historic heart, and famous for many sights and attractions. French Quarter carriage tours are perfect for all interests and age groups. All tours are narrated by a local guide who will keep you entertained from start to finish. Witness the city through a different perspective on a leisurely one-hour stroll!
More details +
New Orleans' carriage tours are a fun and entertaining way to explore the city. They provide guests with historical insight and information and are appropriate for all ages!
PROS:
A fun and informational tour
A unique New Orleans experience
A great area of the city
CONS:
Tours take place in most weather conditions