This historical Gold Rush town is known for fine restaurants, vibrant nightlife, and trendy bars. Skip the museums, and hiking trips, and look forward to nights out on the town.
Here are the top bars in Nevada City to visit for delicious food, drinks, and lively music.
Nevada City Bars
Generally speaking, Nevada bars are upbeat and friendly yet relaxed.
Love bars and considering where to listen to live music in Nevada City? Head to bars like The Brick or Crazy Horse Saloon & Grill on Commercial Street.
Want endless tapas? Visit the legendary Friar Tuck's Restaurant & Bar in the Historic District of Downtown Nevada City.
Looking for a variety of craft cocktails? Indulge yourself at the Golden Era Cocktail Bar and Lounge.
If you've never been to bars in Nevada City, CA you're in for a treat.
Friar Tuck's Restaurant & Bar
Considered the heartbeat of Nevada City by Nevadans, Friar Tuck's is a historic restaurant and bar that serves hearty meals on their menu. From tapas on tap, to delicious steaks with creamy peppercorn sauce, Friar Tuck's has you covered.
This family-owned restaurant is also a member of the Nevada County Restoration Coalition and has been a staple in the community for over 40 years. It was originally opened as a place where people could drink wine and listen to live music, but expanded into creating and cultivating an impressive menu of country elegant cuisine.
Location: 111 North Pine Street, Nevada City, CA 95949
Contact Number: 530 265 9093
Website: www.friartucks.com
Operating Hours: Their bar and dinner service is available on Monday – Friday from 5:00 PM to 9:00 PM. On Saturdays they're open from 4:00 PM to 9.30 PM, and on Sundays they are open from 4:00 PM to 8:30 PM.
Pricing: Affordable to Mid-range.
Lefty's Grill
This casual dining restaurant serves up classic American cuisine in a relaxed and laid back environment. From individual thin crust pizza to scrumptious chicken saltimbocca, you won't be left wanting.
Lefty's Grill was started by two left-handed chefs (hence the name) in 2008. The establishment used to be situated at 221 Broad Street but has since moved down the street to a larger location at 101 Broad Street.
This new location has beautiful patios that overlook the scenic Deer Creek. The atmosphere is fun and inviting, and it's a great spot for friends and family to indulge in delicious food while enjoying each other's company.
Location: 101 Broad Street, Nevada City, CA 95959
Crazy Horse Phone Number: 530 265 5838
Website: www.leftysgrill.com
Operating Hours: The restaurant is open on Thursdays and Fridays from 4:00 PM to 8:30 PM and on Saturdays and Sundays from 12:00 PM to 8:00 PM. It is closed from Mondays to Wednesdays.
Pricing: Mid-range.
Crazy Horse Saloon Nevada City
You can't talk about top restaurants in Nevada City without mentioning Crazy Horse Saloon & Grill — also referred to by residents as Crazy Horse Saloon or Crazy Horse Bar and Grill.
Located in the heart of the Sierra Foothills, the bar is a historic landmark. The Crazy Horse was started in 1862 during the peak of the Gold Rush, yet its vibrant and colorful history is lived out in its present.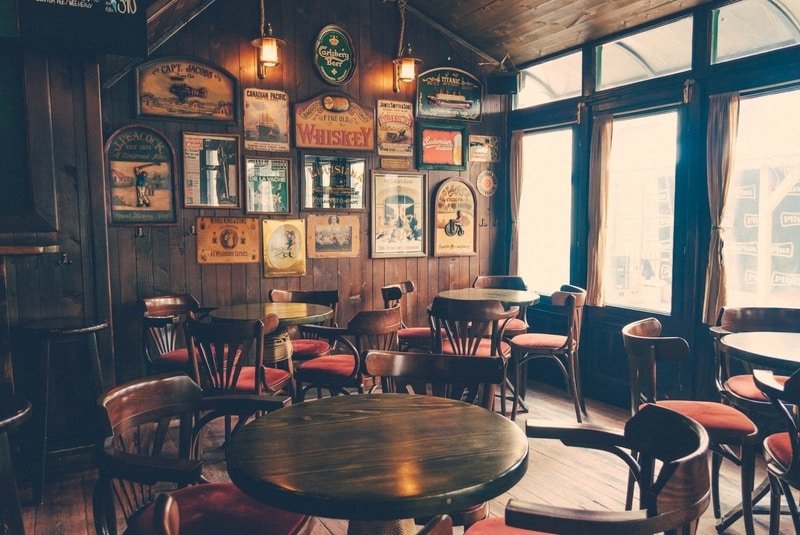 Crazy Horse Nevada City serves what it calls "elevated bar food" — snack-like meals that go beyond keeping you satiated and have a high-end spin to them.
The Crazy Horse bar serves freshly prepared meals made mostly from scratch and uses local and organic ingredients whenever possible. A prime example of this is their housemade jalapeño poppers. These are bacon wrapped and char grilled whole jalapeños packed with fresh cilantro herb cream cheese (yum!).
Patrons are cautioned that this can be a particularly hot meal. If you are sensitive to hot and spicy foods you probably should steer clear of this appetizer.
A more suitable appetizer for you would be their buffalo cauliflower. It has fresh cauliflower florets which are flash-fried and then mixed in Crazy Horse's classic buffalo sauce. The appetizer is served with celery, carrots, and blue cheese for use as a dipping sauce.
Besides serving elevated bar food, Crazy Horse offers a selection of wines, cocktails and drafts.
If you would love to soak up a lively music performance while having an appetizer, Crazy Horse Saloon has what they call, "Euphoric Live Music" where you'll find guests pounding the dance floor. If you have two left feet, don't worry; just enjoy the lively atmosphere while sipping on your beverage of choice. You can enjoy a wide variety of cocktails from freshly mixed margaritas to refreshingly cool Moscow Mules.
Location: 230 Commercial Street, Nevada City, CA 95959
Contact Number: 530 265 4000
Website: www.crazyhorsenc.com
Operating Hours: The bar is open from Sundays to Thrusdays from 12:00 PM until midnight. On Fridays and Saturdays the bar is open from 12:00 PM until 1:30 AM the next day. NFL fans will be pleased to know Crazy Horse is open at 10 AM on Sundays for the NFL Sunday Ticket. Crazy Horse is closed on Mondays.
Pricing: Mid-range to Upper-range.
Live Music Events: Due to the COVID-19 pandemic, the bar requires proof of your COVID-19 vaccination, a negative test result within the past 48 hours or proof of a positive COVID test within the past three months (and for which you have recovered from for two weeks) to enter live music events. Note that this is only for live music events and not to visit the bar in general. You'll be required to be wearing a mask to enter but mask-wearing is not enforced otherwise.
Golden Era Cocktail Bar and Lounge
Another historic bar, Golden Era has been a staple in the Nevada City bar scene since 1956. The bar serves craft-cocktails made with in-house syrups and bitters, as well as regional wines, premium spirits and award winning local craft beers.
In addition to the alcoholic drinks, Golden Era has a handcrafted soda fountain menu from which they serve non-alcoholic beverages to their patrons.
The bar is host to a vibrant music scene where Jazz, Blues, R & B, Funk, World, and Soul are part of their music offerings over the weekend. During weekdays, single musicians spanning multiple genres have performances at the bar.
Location: 309 Broad Street, Nevada City, CA 95959
Contact Number: 530 264 7048
Website: www.goldeneralounge.com
Operating Hours: Golden Era is open from 4:00 PM until 10: PM on Tuesdays, Wednesdays and Sundays. On Thursdays the bar is open from 4:00 PM until 11:00 PM, whereas it is open from 4:00 until midnight from Fridays to Saturdays. The bar is closed on Mondays.
Pricing: Mid-range.
National Exchange Hotel
If you're looking for a bar and establishment that's more upmarket, look no further than the National Exchange Hotel. It features Victorian opulence coupled with modern styles. This hotel is suited to those who appreciate the finer things in life.
The National Exchange Hotel has been a frequent gathering spot since the Gold Rush. It houses the historic National Bar and Lola Restaurant where gourmet meals and contemporary cuisine are served.
The National Bar has an ample and varied selection of beers, premium spirits, delicious cocktails, and fine wines. You'll get to sip on these drinks with servings of snacks, small bites, and sweet treats that you can share with a partner.
The lively and modern Lola Restaurant serves delicious meals made from locally sourced and sustainable ingredients. Their menu includes meals such as small plates of oysters and French onion soup, as well as larger plates of wagyu steak frites and halibut.
If you'd like to enjoy a warm conversation or spirited debate with a friend, retreat to the privacy of their comfortable lounge.
Location: 211 Broad Street, Nevada City, CA 95959
Contact Number: 530 362 7605
Website: www.thenationalexchangehotel.com
Restaurant Serving Hours: Breakfast is served Mondays to Fridays from 08:00 AM to 11:30 AM. Lunch is served Mondays to Fridays from 11:30 AM to 2:30 PM. Weekday dinners are from 5:00 PM to 9:00 PM, whereas weekend dinners are from 5:00 PM to 10:00 PM. Brunch is served on Saturdays and Sundays from 9:00 AM to 2:30 PM.
Pricing: Mid-range to Upper-range.
Bars In Nevada City – Where To Go
The rich history of Nevada City permeates its establishments too — particularly their bars and restaurants. If you're looking for a bar and restaurant that celebrates the times of yesteryear and has a family-establishment vibe, visit Friar Tuck's Restaurant & Bar.
For something a bit more upscale and trendy, head to the National Exchange Hotel where you can frequent their slick bar and their Lola Restaurant for contemporary dishes. If you'd prefer something in-between, Crazy Horse Saloon is your best bet.
Still in Nevada City and would like to explore a bit? Check out these scenic hiking trails. You'll get to enjoy tranquil walks on the trails and breathtaking views of nature. As an added bonus: you'll also burn those calories you've gained imbibing on a variety of drinks and scoffing down delicious meals!
Last updated on August 15th, 2023 at 08:24 pm