Best Things to Do in Puerto Rico | 5 Amazing Activities
Calling all beach-lovers, thrill-seekers, and rum fanatics – if you've been wondering what to do in Puerto Rico, look no further. From a Puerto Rico El Yunque rain forest tour to dancing in sizzling salsa clubs, this intriguing island nation seemingly has it all. 
Although the best thing to do in Puerto Rico remains subjective, there are a few activities that come straight to mind. 
Apart from the territory's stunning features and popular attractions, the passion and hospitality you will feel from the locals here are unmatched. So, get ready for some fun in the sun paired with delicious food and reggaetón beats that will make for a cultural experience you won't forget anytime soon. 
Top Things to Do in Puerto Rico
Shopping enthusiasts will probably prefer to amble through Old San Juan's cobblestoned streets, browsing the array of beautiful boutiques. Outdoorsy types will likely find themselves roaming the forest floor of El Yunque Rainforest, spotting wildlife and swimming in waterfalls. 
Puerto Rico's tourism industry and the vast array of activities and attractions will leave you mesmerized and yearning for more. So, without further ado, here are five clear standouts when it comes to the top things to do in Puerto Rico. 
PS: If you're looking to tour North America, we have plenty of inspirational guides calling your name.
Discover Puerto Rico's Biodiversity
One of the best activities in Puerto Rico has to be a journey through the El Yunque Rainforest and Bio Bay. Joining a tour combines two of the island's most popular natural attractions into one full day of adventures. 
From the fringed Sierra Palm Forest to the high cloud-covered Dwarf Forest, El Yunque is home to an impressive array of biodiversity and delicate ecosystems. Expect to see elusive coqui frogs, giant tree snails, and, if you're lucky, the critically endangered Puerto Rican Parrot. 
Spend the day hiking and cooling off under waterfalls as you learn about the importance of El Yunque's exotic flora and fauna. 
Globally, there are only a few places that have year-round bioluminescent bays. Laguna Grande – one of Puerto Rico's three bio bays – is one such place. The tour will continue into the nighttime with a kayaking excursion that will take you through the dazzling neon blue waters of the bay's Las Cabezas de San Juan Nature Reserve. 
Be prepared for a truly unforgettable experience that will forever be embellished in your memories. 
Walk Through Old San Juan
Located in the western corner of the beautiful San Juan islet, the town of Old San Juan is arguably one of the most culturally rich destinations in the Caribbean. Once here, it's clear to see why. 
As you stroll among pastel-colored colonial buildings, you'll be enveloped in the town's romantic ambiance and festive atmosphere. Although a popular spot for tourists, the retention of authenticity in Old San Juan is truly spectacular. 
In all honesty, simply walking through Old San Juan is a remarkable activity in itself. Take in the wrought iron balconies and sweet floral scents as you grab a refreshing piragua (shaved ice). Follow the town's quaint cobblestoned streets, and you'll soon discover an impressive range of museums, galleries, boutiques, and bars. 
One sight in Old San Juan you simply must visit is the 500-year-old El Morro. Its seafront location and magnificent ocean views make this massive historic fort even more spectacular. Oh, and don't forget to fly a kite (chiringa) on El Morro's sloped grassy field – it's tradition! 
Enjoy the Nightlife
Puerto Rico's nightlife is abuzz with activity, from low-key beach bars to secret speakeasies to pulsating nightclubs. After-hours fun on the island is a huge part of local culture. So, don't be afraid to get a little dressed up (in true Puerto Rican fashion – no pun intended) and head out to explore some local bars. 
The best nightlife in Puerto Rico is in the San Juan and Old San Juan areas. Here are some of the most fantastic spots you should definitely stop by:
La Factoria – Justly crowned one of the Best Bars in the Caribbean 2023, the bartenders here are bound to blow you away with their mixology skills. The bar's unassuming exterior and unmarked location lead to further surprise when guests discover its interior labyrinth of secret passageways leading to… we'll leave that up to you to discover for yourself.

 
Plaza del Mercado de Santurce – 'La Plazita', as locals know it, is a traditional marketplace that turns into a vibey evening spot on the weekends. If you're after a true taste of Puerto Rican nightlife, the square has numerous restaurants, bars, and happy hours that make it authentically wonderful.

 
La Respuesta – For a more typical nightclub experience, be sure to check out La Respuesta. It's a creative establishment offering guests a particular element of artistic expression coupled with groovy music.

 
Zipline Through the Rainforest Canopy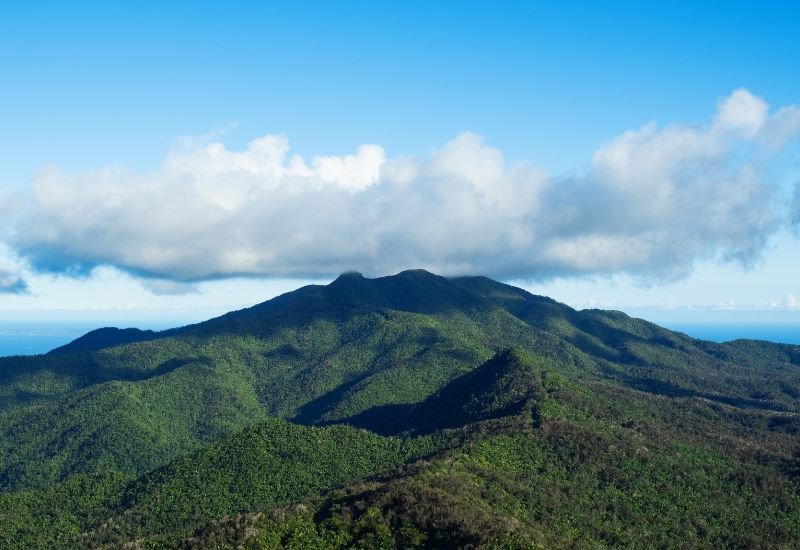 If you're searching for an adrenaline-filled experience to complete your trip to Puerto Rico, look no further than ziplining through the canopies of the island's rainforests. It's an absolutely thrilling and epic way to experience the territory's natural beauty from a bird's eye view. Plus, it's one of the most fun things to do in Puerto Rico. 
Be sure to check out Toro Verde Adventure Park – it's by far the best ziplining experience and aerial adventure park on the island. They have various tours available, including a treetop zipline under the full moon. 
Better yet, the park is home to the Monster — one of the longest ziplines in America at a whopping two and a half kilometers (1.6 miles) long. 
Note: Remember that closed-toe shoes are required to go ziplining. 
If you imagine your time in Puerto Rico being spent mostly on the sea as opposed to in the air, be sure to check out these San Juan boat tours. 
Lounge on the Beaches
In true island culture (and to balance out all of the lush jungle excursions), spending at least one-third of your vacation lounging and swimming at exquisite beaches is mandatory. After all, lazy beach days are one of the top Puerto Rico activities. 
From secluded coves to bustling playas, the beaches in Puerto Rico are — in short — otherworldly. No matter your mood, the island's wide range of inviting coastal hangouts are certainly not few and far between. 
Three of Puerto Rico's best beaches are:
Isla Verde Beach in San Juan: Centrally located and a fantastic urban beach experience, Isla Verde is dotted with beach bars, restaurants, and other fantastic amenities that make for a vibey experience.

 
Playa Sucia in Cabo Rojo: For a more secluded spot with numerous hiking trails nearby, head to Playa Sucia. As a short 25-minute walk from the parking lot, plus no vendors or bathrooms, Playa Sucia appears appealingly undisturbed.

 
Playa Mar Chiquita in Manati: This horseshoe-shaped cove is protected from the sometimes relentless Atlantic Ocean by large limestone walls. Spend the day exploring and lounging in the natural pool –- just watch out for spiky sea urchins!

 
Next Read: If you're looking for more coastal inspiration, check out our best beaches in South America post.
Wrapping Up: What to Do in Puerto Rico
Apart from being one of the best warm places to visit in the USA in December, Puerto Rico's balmy weather makes it a fantastic destination to travel year-round. Whether you seek a rainforest adventure or a quiet coastal town escape, you'll find it all in Puerto Rico.
With its surplus of world-class activities at hand, you're up for a real adventure and cultural treat during your visit to the friendly island.