It's very rare that we ever get to be a true tourist in out own city so when the opportunity to participate in one of the most unique things to do in Cork was given to me, I jumped at it! This morning I joined a group of tourists and locals for a food tour of cork city with Fab Food Trails, a long-running company that runs brilliant food tours in both Cork and Dublin.
Did you know that Cork used to be the biggest exporter of butter in the world? And that before that potato, many people lived off of wild animals and birds such deer and even swans? Oh and Myrtle Allen, of Ballymaloe House fame, was an absolute pioneer when it comes to the food revolution in Cork, encouraging restaurants to 'buy local'. I didn't know any of this either, until this morning! It's amazing how much you can learn about your own city when exploring your home country!
Our tour started outside one of Cork's most famous landmarks, The English Market. Dating back in 1788, this covered market is one of the beautiful in Ireland and has been attracting locals and tourists for many years. I have always loved the English Market, not just because it's a beautiful building, but because it is literally overflowing with the most fascinating characters and exploring it is by far one of the most unique things to do in Cork.
Our first stop was a small cafe called Filter (19 Georges Quay) for some coffee to wake everyone up. I'm not a coffee drinker myself, but so as not to feel left out I didn't mention anything and went ahead with the tasting. No word of a lie, one taste of that Ethiopian coffee and I think I'm a convert. We tried both Brazilian coffee beans and Ethiopian ones, but the Brazil beans were way too string for me, especially as a non-coffee drinker.
The good news is I am off to Ethiopia in a few months so can try some more coffee there – direct from the source! The guys in Filter really know their coffee beans and the various methods of making coffee (don't ask me for details..I'm clueless!) so it made it all the more interesting to listen to them and watch them making each cup of coffee with such precision and passion.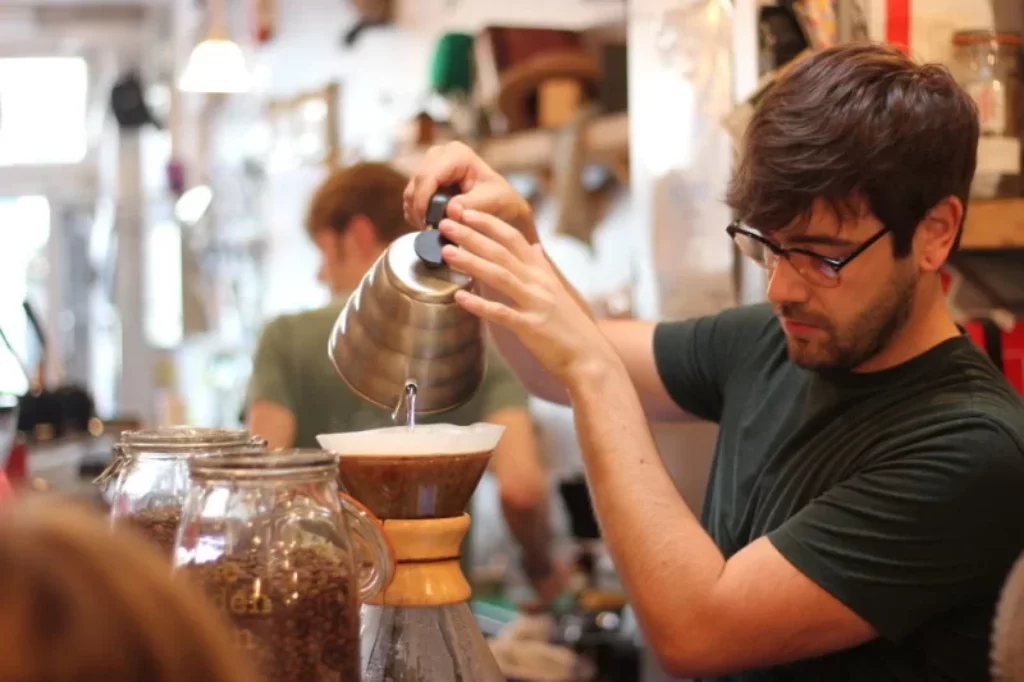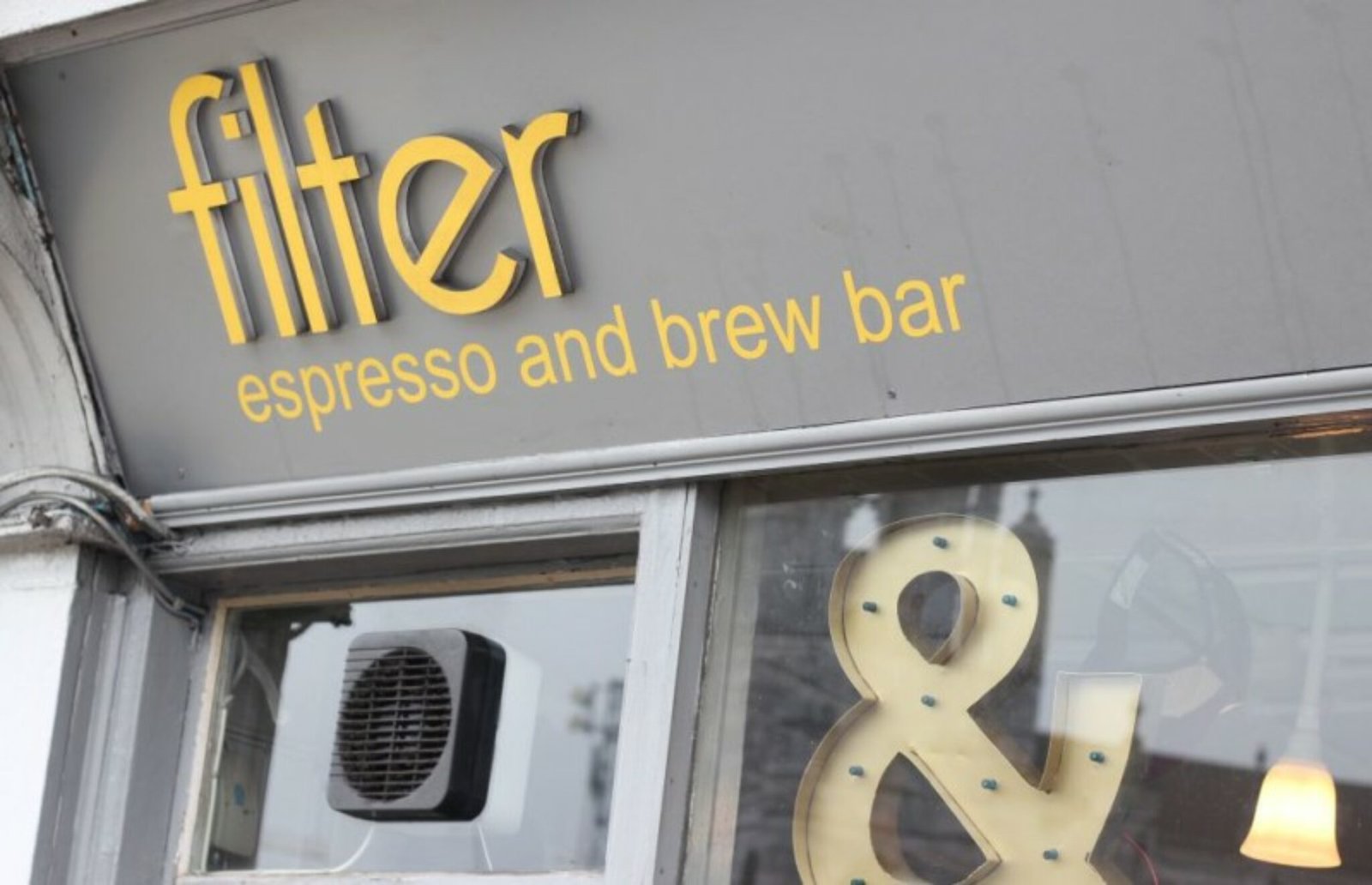 Our next stop was one of my favourite stops of the day, and a place I will definitely be returning to. Fenn's Quay Restaurant is some what of a Cork institution and it is famous for sourcing as much of the food served as possible from local farmers and producers. Evert item on the menu has been thoughtfully considered, from where to buy the eggs to which West Cork black pudding to purchase.
The owner and head chef spent a few minutes chatting to us and telling us her story and then served us some mouth-watering open-bread sandwiches, under the name 'The West Corker". Freshly baked bread (it's all made in house each morning), topped with locally-sourced Gubbeen cheese, caramelised onions and Rosscarrberry black and white pudding. Brunch perfection.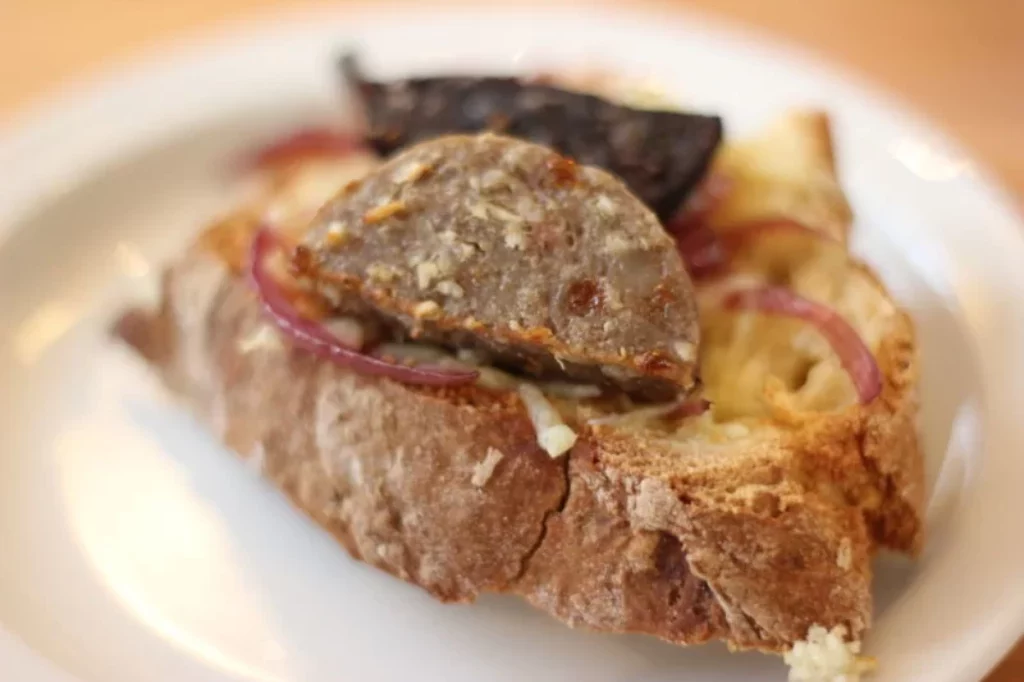 Our guide was fantastic, always filling us in on little bits of Cork history as we walked around the city and making sure all our questions were answered. you could tell she was very passionate about food herself, and a strong believer of buying local, something that people in Cork are very passionate about in general. Almost everyone in the food industry here knows each other, and they all seem to help each other out!
After brunch we walked to the old coal quay market on Cornmarket street, an outdoor market that has been running on the same street for over 100 year. While many of the old traditions continue today, and you will find some women whose families have been selling there for decades, there is also a new breed of sellers in the market.
Many young people who have come home from living overseas have returned to Cork in recent years to set up their own food businesses, bringing back ideas that have already taken off abroad. it's not until you spend time overseas that you fully realise the quality of Irish produce, from our meats to our excellent dairy products. One such lady is a Texan living in Ireland who sells her raw vegan delights at the market every Saturday at the My Goodness Food stall. After tasting some fermented rainwater (??!) to nibbling on some raw cakes that were brimming with flavour, I might be made a vegan convert yet!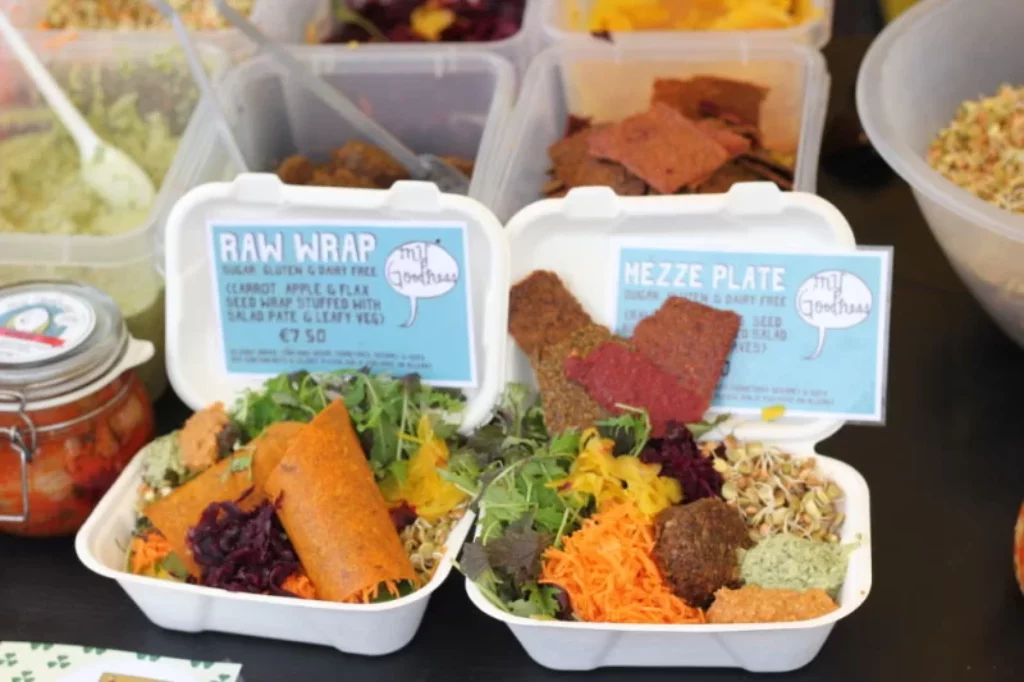 We returned to The English Market, where we had a whirlwind tour of all the delights on offer in Cork's best market. From tasting Tom Durgan's delicious spiced beef to meeting Pat O Connell, Cork's most famous fishmonger who had the pleasure of meeting the Queen of England a few years back, it really was a lot of fun.
I'm not a seafood fan myself, but the rest pop the group were treated to some freshly caught oysters while us scaredy cats settled for some delicious smoked salmon. With a splash of lemon, it really was magic for the taste buds. We also stopped off briefly at a Sushi stand, something I would never have expected to come across inside The English Market!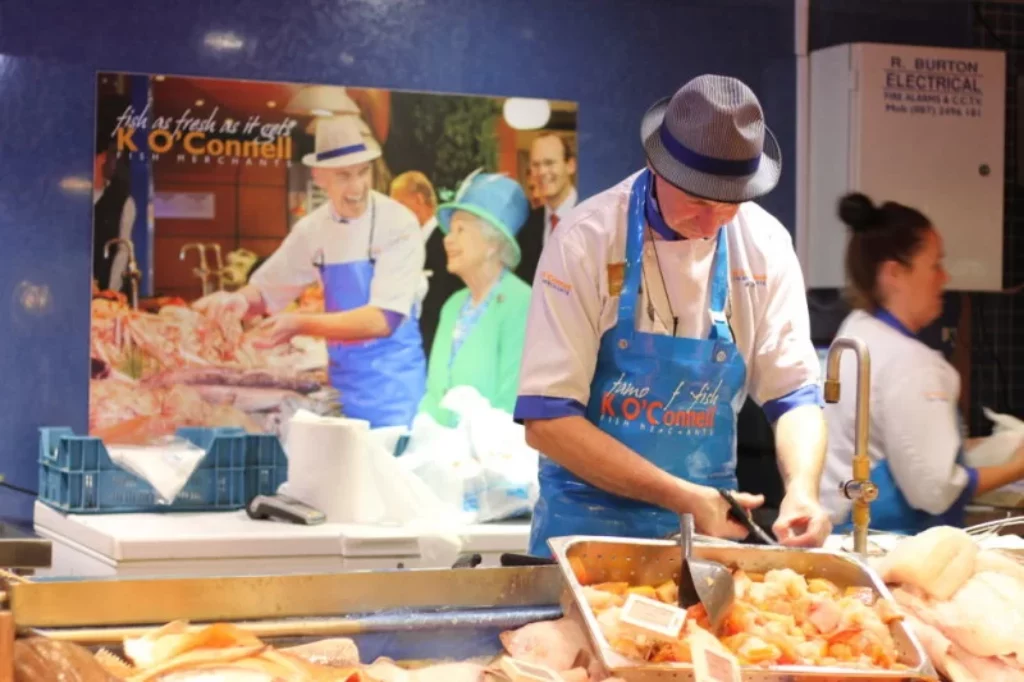 To get the taste, and worth of all the smell, of fish out of the way we headed to The Chocolate Shop where the owner taught me more about chocolate, percentages, cocoa beans and chocolate-making methods in 10 minutes than I had previously learned in my lifetime!
We tasted three different types of chocolate, all with varying percentages of cocoa beans and learned that chocolate has to have a certain percentage before one can legally call in chocolate here in Europe. America, on the other hand, has no such rule so their chocolate is rubbish! Here's looking at you Hershey's. 😉
Our second last stop was to another Cork success story, Rocket Man HQ (Princes Street, Cork). Founded by an inspiring mother and son duo after the son, James Crotty, returned from his travels in 2012 with the idea to set up a food business selling healthy fast food. Rocket Man, which started with a small stall in a market, has now expanded to include stalls at two markets and two restaurants in Cork city. Selling hearty salads that are so far from your normal idea of a lettuce and cucumber salas that i don't have a sliver of doubt that you'll be returning again and again after one taste. 100% vegetarian, from their breads to their dips, this place is a must-visit on every visit to Cork.
Sure, visiting a vegetarian restaurant seems like a random thing to list as one the top unique things to do in Cork city, but with a visit comes a story and that's what travel is all about.
Our last stop on out Fab Food Trails tour was to Nash 19, yet another Cork success story and a restaurant that has expanded so much that in now stretches an entire block and has entrances on two city centre streets. Combining a cafe, restaurant and art gallery / every space, Nash 19 is all about keeping it local. The menu changed regularly depending on what's available at the market and it's one of the only cafes in the city that has a dedicated pastry chef to bake delicious cakes and goodies fresh every morning.
We had a small taster of their chocolate brownies, served with creme and some fresh Cork strawberries and out entire group agreed they were probably the juiciest strawberries we had tasted in a long time.
All in all, it's hard to believe how much fun I had in discovering what's on off on my own city. I recommend everyone to take some time to discover and appreciate what's on your own doorstep, to take more interest in the food you are eating and where it is coming from. Oh, and if you're passing through Dublin or Cork, be sure to sign up for a Fab Food Trail!
Further reading: Irish Beers That Will Blow Your Mind
Last updated on October 13th, 2023 at 01:51 pm