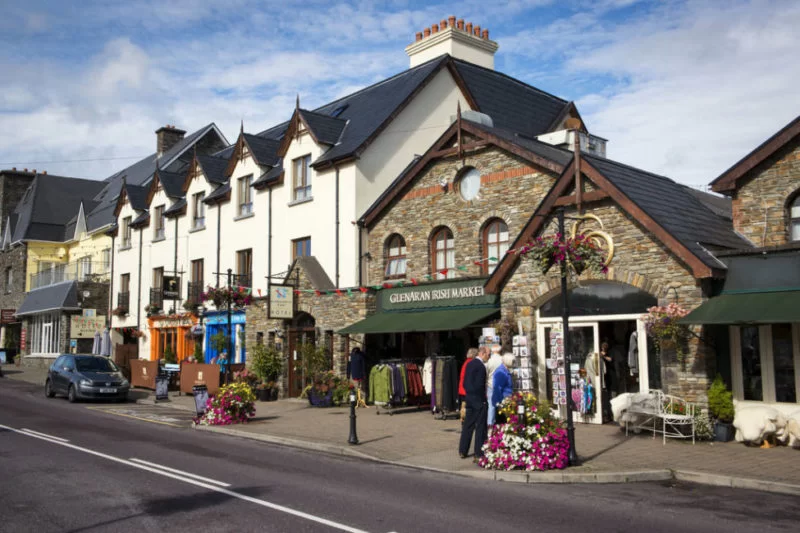 "If it's good enough for Pippa Middleton, it's good enough for me," my mum joked when I let her know I was whisking her away on a midweek break to beautiful Glengarriff, West Cork.
I was oblivious to the fact that the Duchess of Cambridge's sister had attended a wedding in the same hotel we were staying in just a few weeks before. I was more excited about exploring one of Ireland's most scenic drives and hopefully having time to return back to Gougane Barra, one of my favorite spots in Ireland.
West Cork has always been a special place for me, having spent most of my summer holidays when I was young down in Baltimore leaping off piers or sailing out to a small selection of Carbery's One Hundred Isles.
I thought I knew this part of Ireland pretty well until we arrived in Glengarriff, and I realized this is a part of my home county I had failed to explore. Whether you've been here before and are looking for some new things to do, or you're ready to discover this hidden gem – keep reading to find out everything you need to know.
VIDEO: Weekend Spa Break to Glengarriff
How to Get to Glengarriff
Glengarriff is located on the coast in southwestern Ireland in Cork County. Depending on where you're traveling from, there are different ways to get here.
From Cork
If you're coming from Cork, you can travel via the R585 to reach Glengarriff in just under 1h 30min. If you use public transport, there is a bus to Glengarriff; however, it takes a bit longer at 2h 30m.
From Dublin
If you're traveling from Dublin, other parts of northern Ireland, or other countries, a plane is the fastest mode of transport. You can choose to arrive at Kerry or Cork airports, with the former being closer.
Glengarriff Accommodation | Eccles Hotel Review
My Mum and I stayed at Glengarriff's Eccles Hotel, which has the most beautiful location overlooking the bay. I believe it has been recently renovated and there are lots of bright new rooms with great views. As mentioned, their main restaurant is well worth the visit alone, and they also have a small bar.
Looking for a better way to let off some stress? Try one of the spa treatments on offer from Voya Spa. you can even get a seaweed wrap from locally sourced seaweed! Prices start from €90 per room this Autumn.
The view from Eccles Hotel upon check-in was magical, the soft evening light reflecting on the bay.
Tip: If you're looking for unique accommodation options, check out these glamping options near Cork. 
Things to Do in Glengarriff | 8 Nearby Attractions
If you want to know what to do in Glengarriff, then look no further. Apart from the relaxation of the town itself, Glengarriff has some popular points of interest.
1. Garnish Island Day Trip
One of the top day trips from Glengarriff, if you can find it in your heart to leave this beautiful spot, is to take the ferry out to Garnish Island. This unique garden island is world-renowned for its beautiful gardens and walks, as well as the large seal colony that lives nearby.
A sheltered harbor and the nearby gulf stream have resulted in a unique microclimate where exotic plants grow that may not grow anywhere else in the British Isles. The ferry ride out there is always enjoyable, and the area is renowned for its bird watching – with locals often spotting very rare species.
How Long is the Ferry to Garnish Island?
It takes 15 minutes to get from Glengarriff to Garnish Island. All trips must be handled by a boat company, like this one.
On the island, you will usually have approximately 90 minutes to explore before hopping back on the ferry for your 15-minute return trip.
Tip: You can also combine a few of these Glengarriff attractions with a private tour. This one takes you to both Garnish Island and Gougane Barra – another must-see on your list.
2. The Blue Pool, Glengarriff
A must-visit part of Glengarriff is the famous Blue Pool, a secret harbor hidden behind small woods right in the center of town. Locals come here for late afternoon walks, picnics, and a Glengarriff swimming opportunity – regardless of the weather!
Surrounded by lush and colorful vegetation, The Glengarriff Blue Pool was formed where the river meets the sea, and complete with small rapids and a waterfall, it is a truly magical place.
3. Gougane Barra – Church & Lake
On our final morning, we drove to nearby Gougane Barra, a church and lake that my friends must think I'm obsessed with as I visit it each time I'm home, always taking the exact same photo of the church reflecting perfectly on the lake – and enjoying every moment.
What many of my friends might not know is that Gougane Barra holds a special place in my heart. My Dad actually brought my Mum here the day they got married, a pre-honeymoon escape. Years before that, it was a favorite retreat for my grandpa and even his father. My family has been traveling to this lush, lakeside haven here for almost a hundred years.
Clapper Bridge
My mum and I ventured around to a side of the lake we don't normally visit and discovered the prettiest Clapper Bridge. It is a type of bridge made out of large flat stones that pilgrims used to cross rivers on their pilgrimage from Cork city to St Finbarr's Oratory in Gougane Barra. To walk in their footsteps, even just for a few kilometers, and to try to imagine the hardship they encountered on these long and solitary journeys was an eye-opening experience.
Tip: If you want to spend a bit more time at Gougane Barra, you can always book at the local hotel. It's a great spot to spend an extra day or two while you unwind.
4. Cromwell's Bridge
My Mum was on a mission to discover some secret treasures in the village and was delighted when a local directed her to Cromwell's Bridge. It is a single derelict arch covered with foliage that dates back to the 17th century and stands over a river just outside the village.
5. Dining at Eccles Hotel, Glengarriff
Even if you don't decide to stay at the hotel, the very least you can do is make a trip here for dinner.
Once we had tired ourselves from a full day of adventures, we headed back to our room with a view at the Eccles Hotel and enjoyed what my Mum says was "one of the best meals she's ever eaten."
I had to agree with her and couldn't believe that a hotel I had never heard of before had some sort of wizard chef working behind the scenes to cook meat to the almost impossible level of perfection where it melts in your mouth and transports you to a dream foodie world.
All food is sourced locally and complete with lots of fresh vegetables and a dreamy dessert – I would actually return to Eccles just for their dinner!
6. Whiddy Island
Another popular island getaway while staying in Glengarriff is Whiddy Island. While it used to have a permanent population of over 400, this has slowly diminished down to just 20. It might be quiet during the colder months, but come summer, plenty of people visit here to take in the beautiful natural surroundings.
7. Gleninchaquin Park
This is a truly unique experience that left me enchanted. While this is still a functioning private farm, for a small fee of 6 EUR for adults, you can enter and enjoy the beauty of the land. There are a few trails that you can use to explore the grounds. If you reach the top of the hill, you will be rewarded with some rock pools. Be brave, the temperatures can be chilly.
8. Drive the Ring of Beara
The Ring of Beara is a famous route that runs around the Beara peninsula in southwest Ireland. Travel south from Glengarriff along the coast all the way to Cahermore. You will pass Bere Island on the way, which is another popular attraction if you have time to spare.
After Cahermore, you will continue up along the northern coast of the peninsula, passing through the towns of Allihies, Eyeries, and all the way up to Kenmare before returning to Glengarriff.
This wonderful trip can take you as quickly as 3-4 hours, but that would defeat the purpose. Take a day or two and explore all the attractions, stunning coastlines, and islands that this part of Ireland has to offer.
Why Visit Glengariff in Ireland
The village itself, with just 800 inhabitants, has an unprecedented level of charm which has to be experienced to be believed. The town takes great pride in keeping all the shops, cafes, and restaurants freshly painted in bright, cheerful colors while hanging flower baskets and perfectly planted flower beds line the main street.
What makes Glengarriff stand out, in my eyes, is how the small village is a meeting point for rivers, forests, mountains, and the Irish sea. Surrounded by hills of green, the water in the bay changes color throughout the day. While a thick mist can be seen creeping in early each morning before the sun (if it makes an appearance) burns it off. The sea mist, combined with the peaceful and sleepy atmosphere of the village, creates the most relaxed setting for an Irish escape.
It's small enough that everyone knows everyone else – and the woman who served you in the local pharmacy may well be the same woman who comes to the hotel to give you your full body massage.
If a relaxing small-town getaway isn't enough to convince you, then the various things to do in the village and the surrounding areas should do the trick. If you're looking for the perfect Ireland getaway, then travel down to the southwestern county of Cork to discover Glengarriff.
Final Thoughts on My Glengarriff Getaway
It's incredible the fun you can have and the amount of history you can learn about your own backyard if only you take the time to really open your eyes, ask questions and take it all in.
I thoroughly enjoyed my mini staycation in Glengarriff, be it sitting by the open fire each evening reading a book at Eccles Hotel, misty morning walks around the bay, or learning about the history of the area.
While West Cork has always been one of my secret hideaways, and there are many beautiful towns and villages to discover, there's just something special about Glengarriff.
Keep Reading: If you want to have more magical moments in Ireland, read about some of these unique destinations.
———————————————————————————————————————————————————————-
View this post on Instagram
View this post on Instagram
View this post on Instagram
Last updated on October 13th, 2023 at 12:56 pm