The city of Cape offers some of the best hiking trails, some of them with waterfalls and some of them with stunning views, so it's hard to find the perfect one.
We have done some research to find the best hiking trails so here are the top five that will make you feel nature like never before.
Table Mountain Hike
Location: Table Mountain (Nature Reserve), Cape Town
Hiking distance: 6 km
Elevation: 1085 m
Average time (one way):5 to 2 hours
Fact: Table mountain covers an area of 58 square kilometres
If you want a good aerial view of Cape Town and its beautiful nature, then hiking up Table Mountain, which is one of the most famous landmarks will be a wonderful experience to enjoy. The hiking trails have everything you would expect, from well-defined paths to rocky slopes. Due to the enormous size of Table Mountain, there are a lot of trails that cater to all different levels. From those who are just starting to those who call hiking a lifestyle.
6 Best Hiking Trails on Table Mountain
The Pipe Track -This route is beginner-friendly as it does not go to the top of Table Mountain, but rather around it. Which gives you the opportunity to focus more on nature's beauty, rather than a strenuous hike.
Platteklip Gorge – This Zig-Zag route is the most direct and popular Table Mountain hiking trail, so expect to see a lot of hikers. It's a good route if you're looking to make some hiking buddies.
Skeleton Gorge – This route begins in Kirstenbosch Gardens, and is perfect for nature lovers. There are lots of plants and vegetation along the trail that will brighten up your day.
India Venster Trail – This route is considered to be tricky and very dangerous to hike and requires you to be physically and mentally fit. It's a long hike up the mountain but it's the route that provides the best view of the city. It is not recommended to hike down this route because the rocks are very slippery and even a slight mistake can cause injuries.
Apostles Trail – If you want a chance to take some cool photos for your social media fans, then this route will be your favourite. Many people pose on the "diving board" – the iconic rock leaping out of the mountain and looking over the Atlantic Ocean.  It's a longer route than the others, but it's worth it. In the middle of the hike, you'll encounter the spine, also known as the twelve apostles which are just multiple peaks.
Maclear's Beacon- If you hike the Maclear's Beacon and  Platteklip trails in one go, then you hike the Table Mountain from Top to Bottom. The Maclear's Beacon Hiking trail starts at Upper Cableway Station, and from there the trail is marked with yellow footprints that show you the way to go.  It may take around 1 hour to hike this route.
 Lion's Head Hike
Location: Western Cape, Cape Town
Hiking distance:5 km
Elevation: 669 m
Average time (one way): 1 to 1.5 hours
Fact: More than 200 000 people climb Lion's Head every year in Cape Town.
This magnificent hiking trail with stunning views of the Atlantic Ocean and Sea point is worth exploring. You will need to climb to the top of the mountain with the help of chains and ladders. If you think this is too much for you there is an alternative route, which is a bit longer but perfect for people who are afraid of climbing.
Jonkershoek Panorama Hike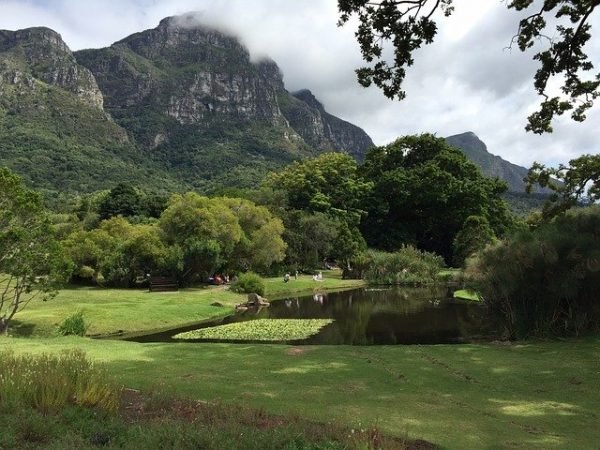 Location: Jonkershoek Nature Reserve, Stellenbosch, Cape Town
Hiking distance: 17 km
Average time: 6 to 8 hours
Fact: Jonkershoek Nature Reserve covers an area of approximately 11,000 hectares.
Jonkershoek Nature Reserve, which is located in the wine-growing region, home to more than 1,100 species of plants, it's truly a beautiful hiking spot. The hike will take you 6 to 8 hours to complete, but in the process, you will encounter panoramic views of the Valley and waterfalls making a long journey worth a visit.
 Chapman's Peak Hike
Location: Between Hout Bay and Noordhoek, Cape Town
Hiking distance: 6 km
Elevation: 450 m
Average time (one way):1 to 1.5 hours
Named after John Chapman, a British sailor, Chapman's Peak will give you an impressive view of Hout Bay. The 6 km hiking trail is perfect for a nice long hike. During the hike you will encounter a lot of proteas which are the national flowers of South Africa but sadly you are not allowed to take any as it is a criminal offense to take without a permit. The mountain has some very good places to have a picnic after a nice hike.
Devils peak Hike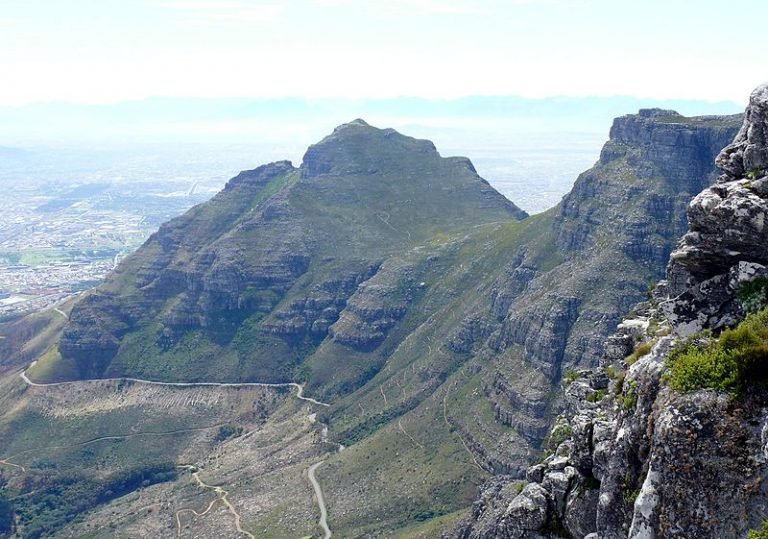 Location: Western Cape, Cape Town.
Hiking distance: 5 km
Elevation: 1000 m
Fact: Devil's Peak was originally known as Windberg or Charles Mountain.
You've probably heard of it, don't be afraid it's a really cool hiking spot. The Devil's peak has an incredible view of the peninsula and you could see low clouds pass through the gap if you're lucky. If you're a beginner then taking the Tafelberg Road is best because it's easier than the other routes.
What to Bring on a Hike:
Guide map to help you navigate your hiking trails efficiently.
It is advisable to carry more than 500 ml of water to keep you hydrated.
Sunscreen, sunglasses, and a hat for sun protection
Comfortable shoes, the trails are rocky, so wearing comfortable shoes prevents blisters.
Useful Safety Precautions And Tips For Hiking In Cape Town :
"By failing to prepare, you are preparing to fail ."— Benjamin Franklin, so here are some tips to make sure you have a successful hike.
Go hiking with a buddy. Hiking alone is not recommended, and it can be very dangerous, as thieves will see you as an easy target.
Don't split up when you're hiking in a group.
Tell someone the route you're planning to take and the time you're likely to be back.
Be aware and prepared for harsh and sudden changes in weather. Cape Town can seem to experience all four seasons in one day, so it's best to carry a raincoat just in case it starts to rain.
Choose a hiking trail that corresponds to your fitness level this minimises the risk of you straining your muscles
Don't flash any luxury items. And don't hesitate to give your belongings in the event of a robbery, as they might hurt you badly if you don't correspond
Make sure you have these emergency numbers in your hiking contacts (Wilderness Search and Rescue: 021 937 0300, Emergency Services: 021 480 7700)
There you have it, whether you're looking for some challenging hikes or family-friendly hikes, Cape Town is the place you want to be. It's time to go hiking and explore the best trails that the mother city has to offer.