Nothing screams 'summer is here' quite like a day at the lake. America is known for doing everything in magnitude, so it's no surprise that it provides some of the best lakes to vacation to in the world.
The classic lake tour, such as the remarkable Lake Michigan in Chicago, is a sure way to inhale the natural beauty of these immense bodies of water. But, what if you could extend that experience? Staying at the best lake communities in America is bound to tug at your heartstrings and bewitch you with its local charm.
Unsure where to start looking for ideas to plan the best lake vacation in the third-largest continent in the world? Take a look at this easy guide to help break down the unique characteristics of these scenic towns and pick your next favorite (or pick a few!).
Top Lake Towns in the US – From East to West
Nothing beats relaxing at some of the best lake towns to live in the world. The fun and friendly atmosphere encapsulated in these communities is an awesome way to get that authentic red, white, and blue experience.
Northeast Lake Towns
The Northeastern region of the US is teeming with backdrops for your next family photo op. Lake vacations on the East Coast offer a variety of picturesque natural sceneries. Beautiful mountain ranges, green forests, and fascinating historical landmarks are on the menu.
Wolfeboro, New Hampshire
Ready for a 4th of July feeling all year round? This classic lake town is known for being the oldest summer resort spot in America. This town is around the great Lake Winnipesaukee, one of the best lakes in the Northeast. You will find yourself spoiled with choice by all the aquatic activities they provide.
The quaint town mostly consists of houses that embody the traditional New England style of architecture that typical lake houses are known for. So, if you're looking for that quintessential family lake vacation, this East Coast lake town is definitely the place for you.
Watkins Glen, New York
The great state of New York is home to some of the finest attractions of America. From the Statue of Liberty to Madison Square Garden, touring this state can sometimes feel like a merry-go-round that never stops. Have the best lake vacation the East Coast has to offer by recharging at Watkins Glen.
This town is located on Seneca Lake which is easily one of the best lakes on the East Coast. Freshly picked out of your lake vacation fantasies, this place is bespeckled with a wide array of waterfalls and forest trails to fall in love with.
Enjoy the lovely harbor and feel the warm and homey embrace of a close-knit community.
Midwest Great Lakes
Lovingly known as the heart of the USA, this region is the place to be. With a space called the Great Lakes States within its borders, it's easy to see why the Midwest offers some of the best lakes in America.
Put-in-Bay, Ohio
Why choose between an island vacation or a lake getaway when you can have both? This town has happy laughter coming from the carousel, a stoic serenity of its fishing spots, and the faint smell of popcorn in the air. Breathe in the scent of summer at one of the best lakes in the Midwest.
This little town is surrounded by Lake Erie and the most common method of transportation here is golf carts. Yes, it's that small. But don't be fooled by the small-town feel, this sweet little haven can turn into a party town come summertime.
Lake Geneva, Wisconsin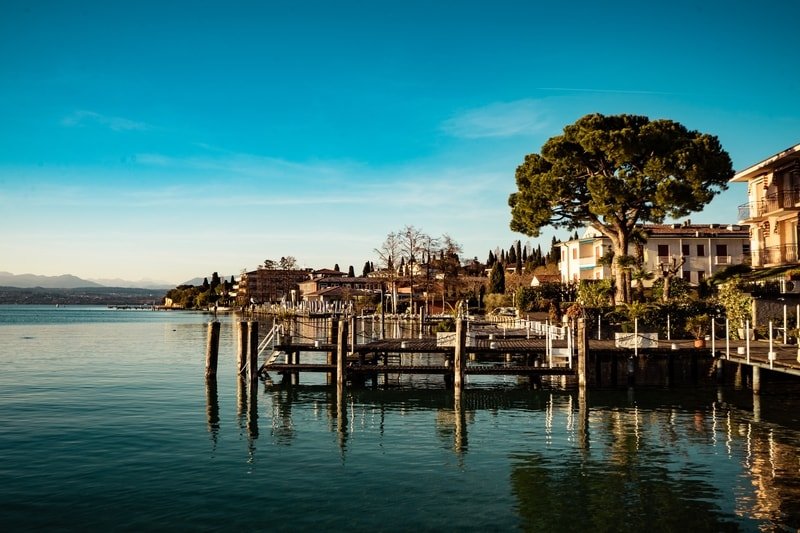 The top pick for a family fun-filled lake vacation is the magnificent Lake Geneva. From summer to fall, this town is always jam-packed with an energetic and vibrancy that is unparalleled. This is a clear winner for the best lake to live on in the USA.
Strewn with mansions on the Geneva Lake edge, this resort town is a fresh yet familiar take on the traditional little lake holiday setup. Why can't a trip to the spa be included in lake vacations? We sure won't tell.
South Lake Vacation Towns
This region is much more than your average cowboy territory. It has big blue skies and an ample supply of natural beauty in its surroundings. Take in the Southern charm at the best lake towns in the US.
Lake Lure, North Carolina
As the name implies, don't be surprised if you get seduced by this town's natural appeal. With the Blue Ridge Mountains reflecting in the waters of Lake Lure, this town is truly a beautiful spot to experience.
An adventure awaits as this town is known for providing thrilling activities to get the heart rate going. Providing all kinds of aquatic adventures, such as waterskiing and wakeboarding, be ready for a tumble or two in this great lake.
West Vacation Lakes
Welcome to the wild, wild west. This region is known for providing a much-needed escape from the hustle and bustle of city life. Prepare for the best family lake vacation with stunning nature settings, a prime spot for enjoying the little things in life.
South Lake Tahoe, California
This lake town is the perfect location to experience the typical lake holiday in style. Lake Tahoe is a favorite vacation destination in California thanks to the scenic views and lively atmosphere all year round.
Providing hiking trails, ski resorts, and lakeside adventures, this place is for anyone who enjoys the outdoors. From summer sun to snow, this place ensures you'll always have something to do in any given weather.
Lake Chelan, Washington
If you're after a 'cozy cabin on the lake' holiday this restful hollow might be the perfect fit. Its sun-filled and leisurely surroundings is the ultimate place to put on your hiking boots and embark on an adventure. With fishing spots and boat trips available all year round, everyone can experience the majestic wildlife this region has to offer.
The perfect authentic small town delight – this town is fitted with local wineries, boutiques, and family-owned restaurants to explore. Lake Chelan is definitely one of the best lake communities in the US.
America's Best Lakes to Live On – Take a Glimpse into the Good Life
Whether you choose to spend your days on the pristine lakes in the Northeast or catch some sun in the West, you're bound to have an unforgettable holiday experience.
But, what makes a place great? The people. The towns in America nestled around these aquatic gems are catered towards cultivating a sense of tranquility and energetic spirit rolled into one.
With lively communities hidden in its folds, lake towns will have you experience America like a true local. Luxurious or quaint, peaceful or activity-packed – there is something for every kind of vacation.
Don't forget to pack your picnic baskets, bathing suits, and a sense of adventure – be prepared for the ultimate holiday with the best lakes in the US. A home away from home.
Last updated on October 13th, 2023 at 03:04 pm