You're about to embark on a great Georgian adventure, not to be confused with the US state. This magnificent country is tucked away between Russia, Turkey, and The Black Sea. Its location is unique since it serves as one of the divisions between Europe and Asia, sitting in the Easternmost part of the continent.
Firstly, well done for choosing this beautiful and often sadly overlooked country. Georgia is known for its diverse landscapes (12 different climate zones), rich cultural history, and warm, welcoming hospitality.
If you're planning a European escapade, don't forget to visit the stunning city of Kyiv since you're in the neighborhood.
With so much to offer and so many things to see, here are some of Georgia's best places to visit.
7 Magnificent Cities to Explore in Georgia
Are you ready to soak up the rich history, stand in awe of beautiful landscapes and immerse yourself in authentic Georgian traditions? Whatever you decide on doing, you are guaranteed an unforgettable travel experience.
Tbilisi
No trip to Georgia would be complete without visiting its capital. Tbilisi is known to be the arts, food, and culture hub of the country. Wander through the Old Town's cobblestone streets and admire the heritage buildings' unique architecture.
View the city from above, surrounded by Mount Mtatsminda,Trialeti and Shavnabada, these beautiful mountains off cable car excursions up many of them. Hop on one for a breathtaking view of Georgia's capital.
Don't miss the chance to indulge in the city's renowned sulfur baths, a true Tbilisi tradition. The Earth's hot springs serve as a perfect source of heat for the bathhouses. Soak and scrub away as you have one of the most memorable experiences.
Visit the Dezerter Bazaar, said to be the most vibrant food market in the city. Try the famous khinkali dumplings, purchase fresh fruit and vegetables, and sip a delicious glass of wine.
Fun fact: Did you know that wine originated in Georgia? Yeah, we were shocked too. Surely one would think it was Italy or France, but nope, it's the beautiful country of Georgia.
Tbilisi is also home to many museums and art galleries, such as the Museum of Georgia and The National Gallery, so history lovers, rest assured there's something for you.
Batumi
Batumi is located along the Black Sea coast and stands as Georgia's premier seaside destination. This is a popular vacation spot for locals and travelers alike, and it's hard not to see why. Batumi is known for its creative spaces (like the Niko Street Art Movement and Man on a Horse), charming cafes, and street art.
Visit the Alphabet Tower to view its stunning architecture, and when you're done, stroll along Batumi Boulevard, which stretches along the city's beautiful seafront. The path goes all the way to the Turkish border, so if you're looking for fun things to do in Istanbul, rest assured many of them are only a few steps away.
Another must-see is the Batumi Botanical Garden. You can expect beautiful views of the Black Sea, gorgeous hiking trails, and tranquil natural surroundings.
Be sure to try the cuisine. Batumi is the birthplace of Adjaruli Khachapuri (Georgian cheese bread), so not having it here would be an absolute crime.
Kutaisi
One of Georgia's oldest cities, Kutaisi, has been inhabited since the sixth century. This is the second largest city in Georgia, steeped in history and culture, making it an essential stop on your itinerary.
Begin your exploration by visiting the UNESCO-listed Bagrati Cathedral, a magnificent 11th-century architectural masterpiece that showcases the country's rich Christian heritage. Marvel at its stunning domes and intricate stone carvings while enjoying city views.
Continue your journey to the Gelati Monastery, founded in the 12th century where you can admire the frescoes adorning the monastery's walls, depicting biblical scenes and saints. The complex also houses the tomb of King David, adding an air of reverence to this historic site.
For a taste of traditional Georgian life, visit the bustling Kutaisi Market. Immerse yourself in the vibrant atmosphere as locals trade fresh produce, spices, and handmade crafts. As you stroll through the market's lively lanes, sample local delicacies like churchkhela (a traditional sweet made of nuts and grape must).
For outdoor lovers, visit the Imereti region. Here you'll find beautiful canyons, magnificent waterfalls, and must-see caves, such as the Prometheus Cave Natural Monument and Tetra Cave. The Imereti region is also home to many beautiful wineries, which seems like a must since Georgia is the birthplace of wine.
Mtskheta
Recognized as one of Georgia's oldest cities, Mtskheta is a must-visit destination for history buffs. Visit the Historical Monuments of Mtskheta, listed as a UNESCO World Heritage Site, where you'll find the Samtavro Monastery, Jvari Monastery, and the Svetitstkhoveli Cathedral.
Explore these iconic landmarks that hold significant religious and architectural importance. Dive into the rich spiritual legacy of the region and gain a deeper understanding of Georgia's cultural roots.
Other spots in Mtskheta to include on your tour:
The Tree of Life Mosaic
Svetitskhoveli Square
Bebristsikhe Fortress
Enjoying the sunset from Jvari Monastery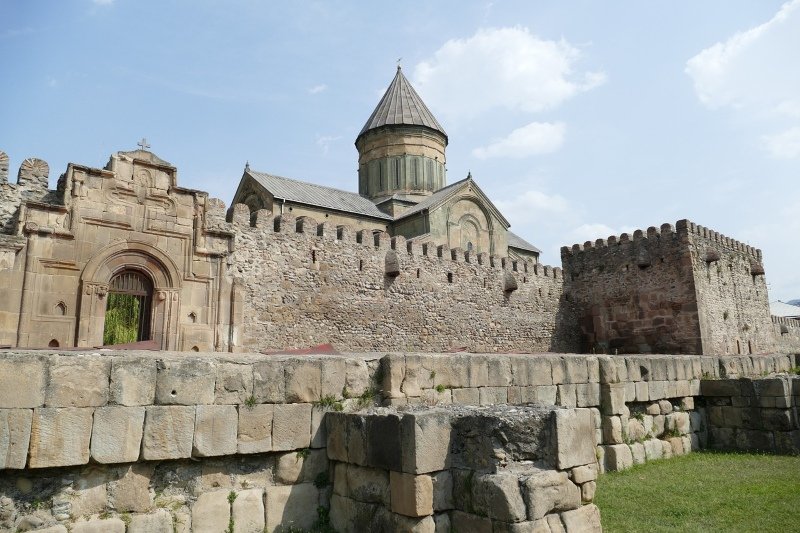 Telavi
This city is home to monuments from four historical periods (6th-18th century), so it's gained the title of the most 'medieval town in Georgia.' If you're a history lover, be sure to stop by Telavi.
Discover the secrets of Georgian winemaking with a visit to the famous Telavi Wine Cellar. Embark on a tour to learn about the traditional winemaking process, from grape harvesting to fermentation in qvevri (large clay vessels).
Immerse yourself in the lively atmosphere of Telavi's bazaar, where locals gather to sell an array of fresh fruits, spices, and handmade crafts. Engage with friendly vendors, taste local treats (like pelamushi, a grape dessert and medoki, a honey cake), and soak in this bustling market's vibrant colors and aromas.
For nature enthusiasts, a visit to the picturesque landscapes of the Chavchavadze Estate is a must. Explore the beautifully manicured gardens and vineyards once owned by the prominent poet and public figure Alexander Chavchavadze. Learn about his influential role in Georgia's cultural history and enjoy a peaceful stroll through the estate's tranquil surroundings.
Quick tip: Look out for the Giant Plane Tree. It's over 900 years old and is the pride and joy of the town.
Sighnaghi
Known as the city of love, Sighnaghi is located in the Kakheti region and is famous for its wine. Step into this medieval city and explore all it has to offer.
Take in Sighnaghi's gorgeous landscapes. Since the town is located on a hilltop, it provides the perfect panoramic view of the Caucasus Mountains, Alazani Valley, and of course, all the vineyards.
Thinking of tying the knot? Home to the Sighnaghi Wedding House that offers ceremonies to couples at any time of the day. It has become a popular spot for weddings which is why it's been named the city of love.
Stroll down the cobbled streets of the old center. Sighnaghi served as a viewpoint for foreign intruders (a good thing it's located on a hill) and was surrounded by defensive walls. These walls are still up today, along with the towers, making for a great historical expedition.
Support the local businesses as you wander the town, you'll see women selling hand-knitted goodies. They make for truly wholesome souvenirs, and you'll be supporting these women. You can also purchase items from the local market, where you'll find fresh produce and bottles of wine, don't be fooled by the appearance, the recycled soda bottles are deceiving of the fantastic quality of the wine.
Stepantsminda
Nestled in the breathtaking landscapes of the Caucasus Mountains, Stepantsminda, also known as Kazbegi, is a small town that offers a majestic alpine escape.
The iconic Gergeti Trinity Church stands as the crown jewel of Stepantsminda. Perched on a hilltop overlooking the town, this 14th-century architectural marvel provides a postcard-worthy backdrop. Embark on a scenic hike to reach the church and be rewarded with panoramic views of the towering Mount Kazbek and the surrounding mountain ranges.
Nature enthusiasts should take advantage of the opportunity to visit the Gveleti Waterfalls, just a short drive from Stepantsminda. Embark on a scenic hike through lush forests, crossing wooden bridges and rocky paths to reach the cascading waterfalls.
Enjoy local culture and hospitality by staying in a traditional guesthouse. Experience the warmth of Georgian hospitality as you indulge in hearty homemade meals made with local ingredients, and engage in meaningful conversations with the friendly hosts.
Best Places to Visit in Georgia | Final Thoughts
Georgia easily captivates the hearts of travelers with its blend of natural beauty, vibrant cities, and cultural treasures. With its diverse landscapes, rich history, and warm hospitality, it offers travelers a treasure trove of unforgettable experiences.
From the lively streets of Tbilisi to the coastal oasis of Batumi, from the ancient heritage of Mtskheta to the wine-filled valleys of Kakheti. From the cultural hub of Kutaisi to the alpine wonderland of Stepantsminda, each destination unravels a unique facet of Georgia's allure.
Whether you're exploring historical landmarks, embarking on thrilling outdoor adventures, or simply soaking in the breathtaking natural beauty, this magnificent country promises an experience of a lifetime. So start your next Georgian adventure by booking your flights and prepping for an unforgettable trip.