Welcome to the land of fire and ice! Iceland is known for its stunning landscapes, volcanoes, and relaxing lagoons. This is definitely the place to be if you love adventure and nature. Can anyone say dream destination?
Get ready for your ultimate Icelandic vacation, from the bustling capital of Reykjavik to discovering hidden gems in charming towns. Indulge in activities like hiking across chilly glaciers or relaxing in a natural spa. Watch the Northern Lights and learn about Icelandic Sagas and Viking heritage.
Before you start planning, don't forget to find when is the best time to visit Iceland.
Now that you're confident about what time of year to go, here are some of Iceland's best places to visit.
7 Must-See Cities
Iceland is a bucket list destination, filled with many unique experiences. Choose from exploring the capital to visiting more remote locations, like Vik.
Whether you're a nature enthusiast, ready to take on the outdoors, or plan on relaxing in a geothermal spa the entire time (we wouldn't blame you), you will not be disappointed.
Reykjavik
The capital of Iceland has to be on your list, and with good reason. Reykjavik has many restaurants, museums, and landmarks and is home to one of the country's best winter resorts. Explore the town and learn all about Icelandic heritage.
Visit the Hallgrímskirkja, the largest church in Iceland, standing at 244 ft (74.5 meters). This magnificent church gets its unique design from the surrounding volcanoes. Remember to make your way to the observation deck for some of the best city views.
Pro Tip: Make sure to visit the Einar Jónsson Museum, just opposite the church. It's free and features sculptures inspired by Norse mythology and Icelandic Sagas.
Learn about Icelandic history at the National Museum of Iceland. Here you'll find artifacts, exhibitions, and interactive displays, teaching visitors about Iceland's past and heritage, making it a great spot to find out about Viking culture.
Take a trip to the waterfront and view the Sun Voyager. This iconic sculpture sits next to the harbor and represents the spirit of adventure. It's shaped after a Viking longship, and depending on what time of day you go, it changes color!
Discover the natural wonders of Iceland at the Perlan Museum. Set in a futuristic glass dome, the Perlan Museum offers immersive exhibitions and gorgeous city views. Here, you can also venture into an actual ice tunnel and learn all about Iceland's volcanoes and glaciers.
Keflavik
Keflavik is often referred to as the gateway to Iceland. This is because it's home to the only international airport in the country. Located on the Reykjanes Peninsula, Keflavik offers many great things to see and do.
Take a scenic drive to the Reykjanesviti Lighthouse. Enjoy breathtaking views of the North Atlantic Ocean and the surrounding volcanic landscapes. If it's a clear and sunny day, look out for the puffins (the parrots of the sea) on Eldey Island.
Take a trip to the Bridge Between Continents, a structure spanning a fissure between the Eurasian and North American tectonic plates. Being able to walk between two continents is an experience you can't miss.
While technically located closer to Grindavik than Keflavik, the world-famous Blue Lagoon is not too far from Keflavik. Take a dip in the geothermal waters, known for their therapeutic properties. Relax, rejuvenate, and take in the surreal surroundings of lava fields and steamy blue waters.
Explore the UNESCO Reykjanes Geopark. It has 55 geosites which include volcanic fissures, lakes, and mountains. While here, you simply have to visit the Gunnuhver geothermal area, known for its mud pots and steam vents.
Akureyri
You'll find the charming Capital of the North in the picturesque Eyjafjörður fjord. Akureyri is filled with plenty of fun attractions.
Stroll through Akureyri's city center and enjoy the atmosphere as you discover its colorful wooden houses, boutiques, and cozy cafes. Don't miss the iconic Akureyrarkirkja, a beautiful church overlooking the town.
Wander through the Akureyri Botanical Garden, where you'll find a wide variety of plants from around the world. Enjoy a peaceful walk among the vibrant flowers, tranquil ponds, and serene landscapes.
Venture outside Akureyri to witness the majestic Goðafoss Waterfall (Waterfall of the Gods). Marvel at the rushing waters as they fall into a horseshoe-shaped canyon, surrounded by beautiful scenery.
Embark on a thrilling whale-watching tour from Akureyri's harbor. Enjoy the waters and look out for humpback whales, minke whales, and dolphins because watching these magnificent creatures is truly an unforgettable experience.
Step into a winter wonderland at the Christmas House, a Christmas-themed store open year-round, so you'll be able to get your festive fix at any time! Discover their wide collection of holiday decorations, ornaments, and gifts.
Selfoss
Selfoss may be on the smaller side but don't let that fool you. There are plenty of things to do and see in this charming little town.
Start your adventure by visiting the landmark of the town, the Selfoss Waterfall. This iconic landmark is a sight to be seen and a truly mesmerizing sight as you watch the water plunging over the rocks and enjoy the peaceful surroundings.
Visit the Þingvellir (Thingvellir) National Park. This UNESCO World Heritage Site is an essential stop on your Iceland itinerary. Explore the outdoors while taking in the breathtaking landscapes, and remember to take a stroll between the Eurasian and North American tectonic plates.
Take a drive to the Kerid Crater. Here you'll find a vibrant blue lake in a volcanic crater where you can stroll around the rim or make your way to the water's edge for a closer look.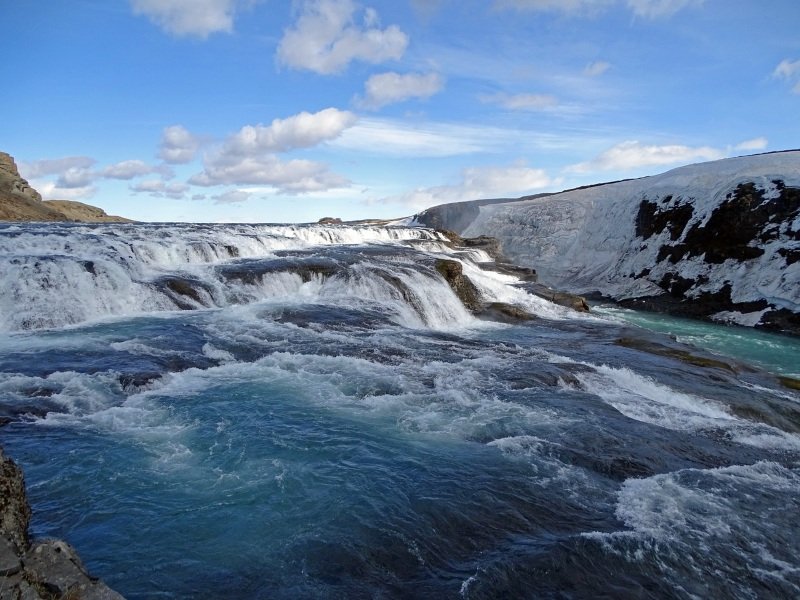 Húsavík
Next on our list is the whale-watching capital of Húsavík. This small fishing town offers visitors the unique experience of seeing these magnificent sea creatures in their natural habitat.
For stunning views of the city, you have to visit the iconic Húsavíkurkirkja, a charming wooden church built in 1907 which dominates Húsavík's skyline. Step inside to admire the simple yet elegant interior.
Take some time to relax in a geothermal sea bath at GeoSea. As you sit back and enjoy the warm waters, you'll be entertained by terrific ocean views. Take a break from reality and allow yourself to enjoy this unique pamper session.
If you're visiting Iceland, you have to try some traditional Icelandic cuisine. Pop in at one of Húsavík's many cozy restaurants and try some local delicacies. Some of the favorites include fresh seafood, Icelandic lamb, and classics like hákarl (fermented shark) and plokkfiskur (fish stew).
Finally, you can't visit the whale-watching capital without looking at a few whales. Take a trip from Húsavík's harbor to Skjálfandi Bay, home to a rich diversity of marine species, including humpback whales, minke whales, and even the majestic blue whale. See how many you can spot.
Seyðisfjörður
You'll find the beautiful, tranquil town of Seyðisfjörður in the Eastern region of Iceland. This town is known for its abundance of natural beauty, cultural attractions, and activities.
Visit the Tvisongur Sound Sculpture. This is really a cool attraction that is made up of five interconnected concrete domes that create a musical instrument. Each dome makes a different tone, so all together, this results in a harmonious and immersive experience. Explore the structure, experiment with sounds, and enjoy the views from the hilltop.
Go on the ultimate outdoor adventure in the Skálanes Nature Reserve. This area is home to diverse wildlife, including seabirds, seals, and reindeer. If you'd like to learn more about this amazing area, how about taking a guided tour to find out all about the region's ecology and embark on some epic hiking trails?
Step into a world of art at Skaftfell, a contemporary art center hosting exhibitions, workshops, and artist residencies. Skaftfell includes masterpieces by local and international artists. Explore the gallery space, attend an event, or participate in a creative workshop.
Take a scenic drive across the Fjarðarheiði Pass. As you make your way along the road, you can enjoy breathtaking views of snow-capped peaks, deep valleys, and waterfalls. Admire the rugged landscapes, and be sure to stop for a pic or two.
Vik
Vik is a small village along Iceland's southern coast. Known for its exquisite landscapes and beautiful surroundings, Vik serves as a perfect base for exploring the region.
Venture into a waterfall — the enchanting Seljalandsfoss Waterfall is known for its unique feature that allows visitors to walk behind the cascading water. Take a stroll behind the falls and enjoy the atmosphere created by the mist and the surrounding greenery.
Visit the black sand beach. Reynisfjara is famous for (you guessed it) its striking black sand and towering basalt columns. Walk along this unique coastline formed by volcanic activity. Don't forget to check out the nearby sea stacks known as Reynisdrangar.
Warning: As beautiful as Reynisfjara is, swimming is out of the question. The waves can be extremely unpredictable, so it's very dangerous. Stay clear of the water!
Best Places to Visit in Iceland | Final Thoughts
Iceland is a beautiful country with an amazing landscape. It offers visitors a unique experience, one that you'll never forget. Your Icelandic adventure is bound to tick a few things off your bucket list.
Whether it's walking along a black sand beach, whale watching, witnessing the Northern Lights, or maybe just chilling in a geothermal spa, Iceland is a place for everyone.
Next Read: Looking for more Icelandic inspiration? Take a look at top Game of Thrones filming locations you can't miss.