Italy, and in particular Northern Italy, is one of the most popular destinations for any traveler. Some explorers go looking for the best cooking the world has to offer, while others want to see the birthplace of modern Western civilization. With that in mind, what are the best places to visit in Northern Italy?
With some of the most essential cultural cities in the world being located within Northern Italy, it can feel almost impossible to choose just a handful to fit into a single trip. How do you go about experiencing the ideal Italian getaway without feeling as if you have missed something?
You could painstakingly research every town, city, and historical pebble that resides within the Northern part of Italy. Your other option is to continue reading and find out what the best places to visit in Italy are because all that hard work has already been done for you.
5 Can't-Miss Cities Located in the North of Italy
Whether you are looking for the most delicious food, magnificent historical landmarks, or the best hikes in Europe, there is a city in Northern Italy that will exceed your expectations. There are even some of the world's most famous sporting venues nestled within these landscapes.
If you are a football fan, then you will love to explore stadiums such as the San Siro in Milan or the Allianz Stadium in Turin. Perhaps you would prefer the goosebump-inducing thrills of the iconic Imola racetrack? All of these and so much more are waiting for you in the North of Italy.
For the more romantically inclined, Northern Italy has countless locations for you to explore. Ranging from cities that inspired William Shakespeare to unforgettable dining experiences that you and your partner can reminisce about for years to come.
Milan
Milan is one of those cities in the world that everyone should visit at least once. Whether you live there for a few years or just hop off for a few hours via a Milan bus tour, it is not something anyone should miss experiencing.
The city effortlessly weaves the glitz and glamor of its fashion industry with the passionate support of its sports teams through the history-drenched streets. Some of the most stunning cathedrals in the world are in Milan, as well as some of the clothing industry's leading fashion houses.
Top Thing to Do in Milan | Explore Duomo Milan
You will be in complete awe of this breathtakingly Gothic cathedral. It is the very centerpiece of Milan's beauty and elegance. No visit to this city could be done without taking a tour of Milan's Cathedral and its iconic rooftops.
Verona
Many outstanding attractions, all alike in their splendor. In fair Verona, where we lay our tour. From ancient arenas to breaking new bread where fresh ingredients make civil hands unclean. Verona truly is jam-packed with things to do.
You can visit the Colosseum-esque Verona Arena, learn how to make authentic Italian food, or even visit the home of our fair maiden, Juliet. So, prepare your best Shakespearean poses to snap the perfect photo of her legendary balcony.
Top Things to Do in Verona
"Here's a quick look at the top attractions and places to visit in Verona:"
Reenact your favorite lines from Rome and Juliet from Juliet's iconic balcony.
Visit the iconic Verona Arena.
Enjoy panoramic city views from the top of the Torre dei Lamberti.
Explore the Casa di Giulietta museum, amongst many others.
Top Tip: Grab the Verona Card for priority access to many of these amazing attractions and to travel for free on the ATV bus network.
Venice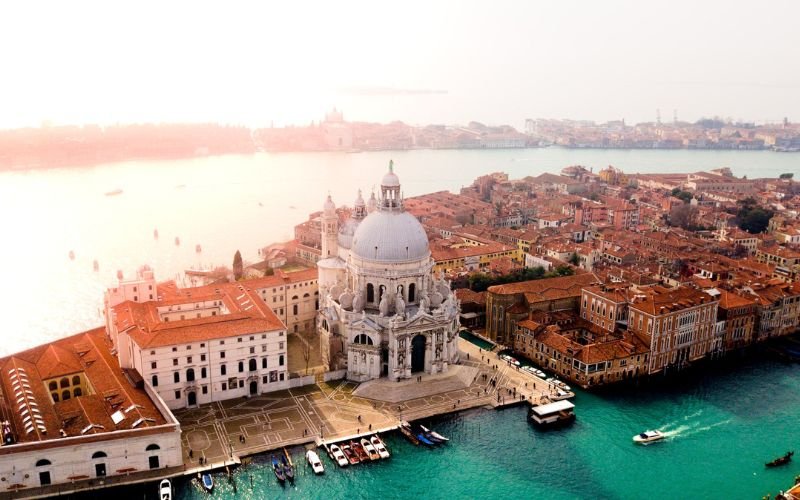 Is there any city in the world more romantic than Venice? It's highly doubtful. The waterway streets are adorned with stunning medieval architecture that will fill anyone with astonishment as the sun slowly rises over the city.
Of course, there are gondola rides that are more of a public transport system than an activity to do in the city. Even though some do include guided tours of the city, it has been recommended to use them to get from one tour to another. This is to maximize your adventures while visiting Venice.
Top Attractions in Venice | St. Mark's Basilica and Doge's Palace
St. Mark's Basilica is the focal point of Venice's jaw-dropping skyline. Any opportunity to explore St. Mark's Basilica and its terraces is one that can not be missed. Explore behind the scenes of the majestic St. Mark's Basilica and the Doge's Palace, including the prisons, on this 3-hour tour.
Florence
Florence is another example of an Italian city that absolutely has to be seen at least once in your lifetime. Florence has something that will provide you with fond memories for the rest of your life. Whether that is the incredibly perfect sculpture of David to the exquisite Santa Maria del Fiore Cathedral, it's full of attractions to explore.
The city has appeared in everything from blockbuster films to triple-A video games such as Assassins Creed II. It is easy to see why it has served as a muse to so many creators, from the legendary Michelangelo to modern filmmakers and game developers such as Ubisoft.
Florence's Most Adored Landmark
It has been said that when you see Michelangelo's David,  having a spiritual experience is not uncommon. So, why wait in a long queue when you could book Michelangelo's David entry ticket and experience this amazing statue in all its glory? This tour also provides you with the opportunity to explore the rest of the museum, so you can also explore some of Italy's other masterpieces.
Bologna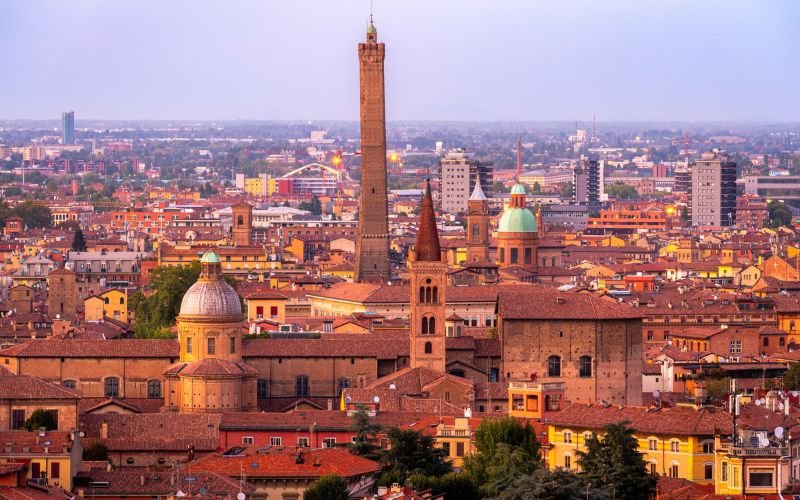 Home to astonishing sites such as the Sanctuary of San Luca and the Rocchetta Mattei, Bologna is an often underrated stop during an Italian expedition. However, it is actually one of the more unique and authentic experiences you can have in Italy.
The region is also home to the world's oldest operating university. The city's stunning medieval architecture took some hard hits during the Second World War but has been mostly restored, which gives Bologna a very unique feel while visiting the city.
Bologna's Ultimate Activity | Wine Tasting in Northern Italy
No trip to Italy could be called a success without a truly Italian wine-tasting tour. What could be more authentic than eating some cheese and drinking wine in one of the oldest inns in Italy? That is exactly what this wine-tasting tour has to offer.
FAQs About the Best Places to Visit in Northern Italy
Below you will find some common concerns and queries about visiting the North of Italy.
Is Northern Italy Worth Visiting?
Yes, the North of Italy is well worth visiting. The North of Italy is almost universally adored by all that have visited the region. All of the most popular cities fall within the Northern part of Italy.
Some experienced adventurers would even insist that you visit this particular region of Italy if it is your first time coming to the country.
Where Can I Base Myself in Northern Italy?
If you are looking to work and play or just want your excursions to have some form of home base, Milan is the best city to settle yourself in. It offers a wide variety of day trips to other popular attractions.
Thanks to Milan being a modern metropolis, it will also grant you quick and easy access to any required daily activities.
Which Side of Italy Is Better?
The answer to this question is largely going to depend on two things. The first is whether or not this is your first time coming to Italy. The second is what kind of Italian getaway you are looking to achieve.
If it is your first time in Italy, it is highly recommended to visit the Northern region. However, if you are looking for a sunny, fun, and adventure-filled kind of stay, then the South of Italy is more likely to provide you with the type of attractions you are looking for.
When Should I Visit Northern Italy?
It really depends on what kind of trip you are planning. If you want to have lots of fun in the sun with snorkeling excursions and boat rides, then spring and summer are the best times to visit Italy.
However, Italy is known to have some of the best Christmas markets in Europe, making winter your other option. Then there is the question of if you want to miss the height of the tourism season, which would make summertime a no-go for an Italian vacation.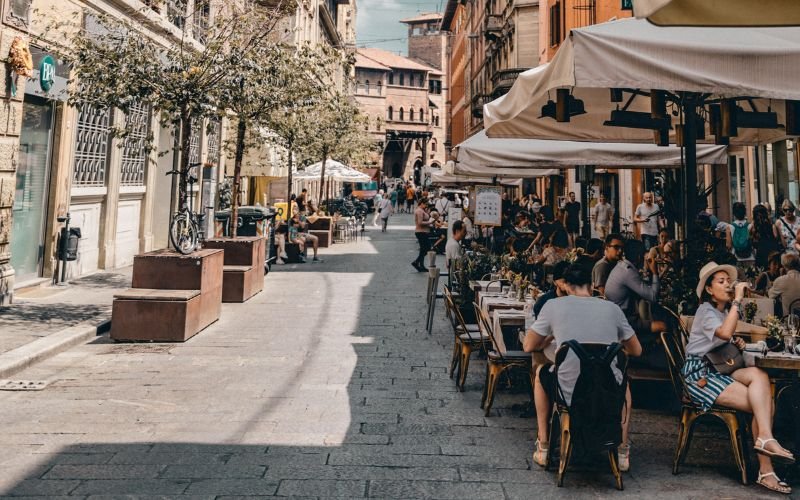 Final Thoughts on Visiting the Best Places in Northern Italy
Northern Italy is a truly magical region that has tons to offer. The real challenge of visiting such an enchanting area is choosing the places to visit without feeling like you have missed something. Hopefully, this guide has helped you to make some of those choices.
Sports fans, fashion lovers, foodies, history buffs, and even couples looking to go on a romantic trip can all have their expectations transcended by the Northern Cities of Italy. A visit to the North of Italy will undoubtedly be the highlight of any European tour.