So you've decided to visit Norway, and now you're wondering what spots to add to your epic itinerary. Knowing the best time to visit Norway and what to see in this magical country are two completely different things.
But don't worry. We've got you covered! Norway is filled with rich cultural history, breathtaking views, and stunning landscapes. The great thing is that most of the best places to visit in Norway won't cost a cent (well, besides the traveling expenses).
Mountains and ocean, hiking and fishing, bicycle rides and boat trips, there really is something for everyone. If you're more of an indoors person, fear not, Norway is known for its endless museums, cafes, and shops.
Whether you're looking for populated cities or a remote wilderness, here are the best places to visit in Norway.
8 Stunning Places to Visit in Norway
From city sightseeing to breathtaking hikes, this Scandinavian country has so much to see. Maybe you'd like to take a dip in an icy fjord or go on the ultimate scenic drive? Get ready to make a list of the best places to visit in Norway.
The Vibrant Capital, Oslo
Let your Norwegian adventure begin! Located on the southern coast of Norway, the capital is home to many museums, picturesque views, and so much more.
Fit in amongst the locals and make your way to Aker Brygge. Take a stroll along the pier before grabbing coffee at a charming cafe. This vibrant neighborhood also comes alive at night, so grab dinner along the pier, and enjoy the tasty food with gorgeous views.
Next up, explore the roof of the Oslo Opera House (come on, that's pretty cool). It's known for its spectacular architecture and is open to the public. While you're there, stop at the Deichman library for Instagram-worthy pictures.
Why not visit the floating saunas at KOK for a steamy relaxing session? And when you're done, hop in the icy fjord.
You can't leave Oslo without visiting a museum or two. Check out the National Gallery to view paintings and drawings, and keep your eye out for Edvard Munch's The Scream. Wander through Vigeland Sculpture Park, home to over 200 sculptures created by Gustav Vigeland.
Whether you go by boat or kayak, just make sure you don't miss this breathtaking opportunity to go! Cruising down the Oslofjord is not to be missed and offers a unique perspective of the city.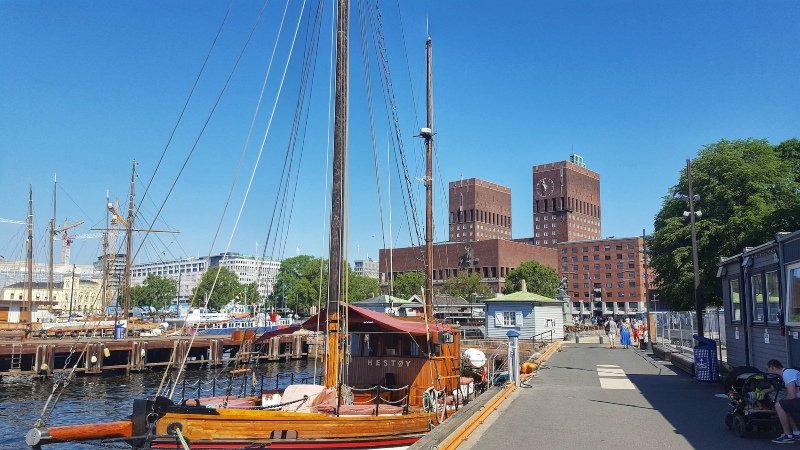 Fantastic Fjords
Norway is known for its fjords, so this has to be on your list. Since most of Norway's coastline is made up of these majestic narrow and deep waterways, it would be hard to miss.
Gerrangerfjord is probably the most well-known of all, and as a UNESCO World Heritage Site, it's not hard to see why. Located in the Stranda municipality, this fjord is over 853 ft (260m) deep, up against mountains 5249 ft high (1600-1700 meters). Be sure to look out for the Seven Sisters Waterfall and the Suitor.
Norway's longest fjord, Sognefjord, also known as the King's Fjord, stretches over a mighty  124 miles (200 km) in length. It branches into the Nærøyfjord and the Aurlandsfjord and is the perfect excuse for a boat trip as you cruise down the fjords and take in the natural beauty.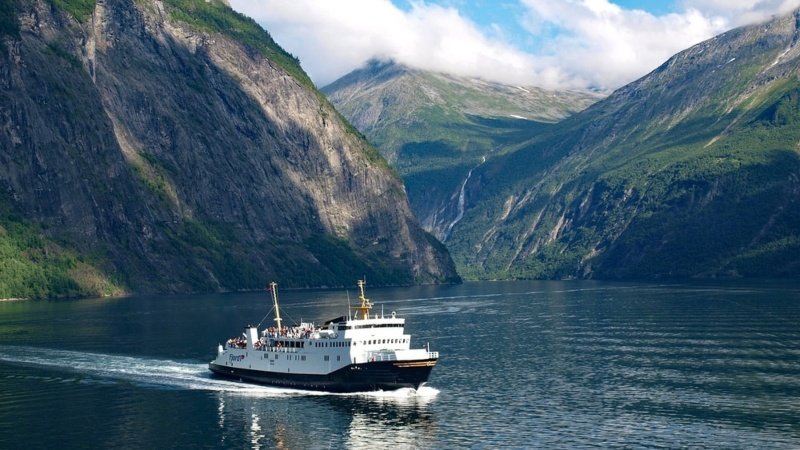 Lofoten Islands
Located above the Arctic Circle, this cluster of islands is known for its distinctive terrain. Some simple pleasures to enjoy out here include dramatic mountain ranges, expansive open seas, serene sheltered bays, picturesque beaches, and untouched stretches of land. This is truly one of the most beautiful places to visit in Norway.
Surfing? In Norway? Who would've thought? Well, believe it or not, the Lofoten Islands are home to some amazing beaches that people come to surf (make sure you wear a wetsuit). If riding the wave isn't your thing, walking along the sandy white beaches is great.
A lot of the towns in Norway are fishing villages, and Lofoten is no exception. Some of the fisherman's cabins (known as rorbuer) have actually been converted into little lodges where you can spend the night. It's also an excellent part of Norway for an amazing hike! Expect breathtaking views, no really, you might be a little out of breath.
Atlanterhavsveien (The Atlantic Road)
Are you ready to go on the most scenic drive of your life? The Atlantic Road stretches across the ocean. With stunning dips and turns at every corner, this scenic route allows you to witness the best part of Norway in all its glory. The road has a bunch of rest stops and viewpoints, so don't worry. You won't miss a thing.
Cleverly constructed, the road spans over 5 miles (8.3km), with seven bridges between each islet. There is plenty to see along the way. Stop at one of the piers to take in all the beauty, or rent a bicycle to ride along the road.
Stop at Myrbærholm Bridge, and cast a line. Known as a great fishing spot, you're almost always guaranteed a catch.
Here are some great spots to stop, take a walk, and enjoy the views:
Eldhusøya
Askevågen
Storseisund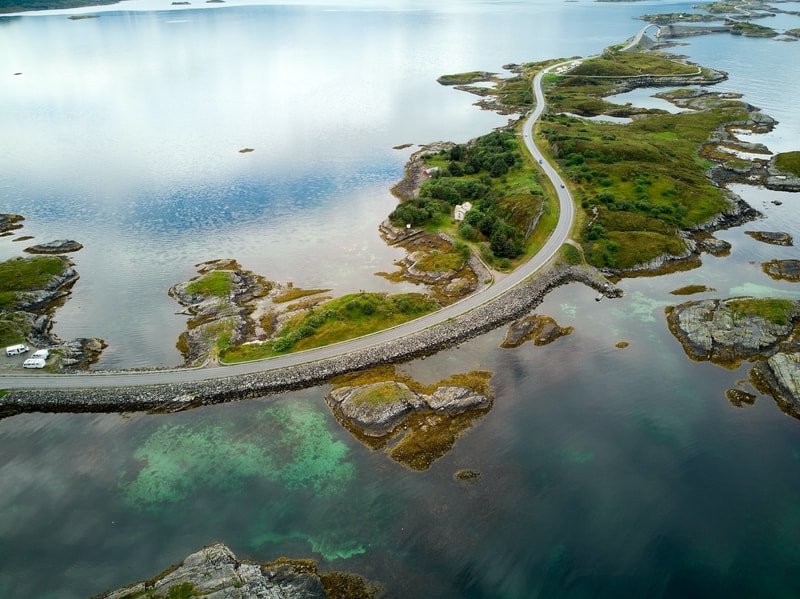 The Northern Lights
Mother Nature's light show, people travel from far and wide to witness the magnificent lights. So if you're planning on visiting Norway, you have to add seeing the Aurora Borealis to your list! The best time to visit Norway for Northern Lights is usually around late September to March.
Since the sun is limited during this time, the lights will be easier to see. It's important to note that you'll only be able to see the 'show' if the sky is clear and dark. So fingers crossed for no snow storms. With Norway already being so beautiful, thanks to all its natural wonder, the Northern Lights shining against this backdrop is not to be missed.
During Winter, the sun is scarce due to Norway's location close to the Arctic Circle. So your best spotting months would be between November-January.
Your best bet is to head up North. Here are some great towns that are known to show off the Aurora:
Tromsø
Kirkenes
The Lofoten Islands
North Cape (Nordkapp)
Svalbard
Explore Bergen
This charming city is located on the southwestern coast of Norway. It's an artsy city known for its musical composers, such as Edvard Grieg and Ole Bull. Along with its strong traditions, such as the Buekorps, which is a traditional marching youth organization, this is a city brimming with history.
Visit Bryggen, and take a walk along the historic wharf. This UNESCO World Heritage Site is a tapestry of colors thanks to its vibrant houses. The town is also home to many wonderful shops, cafes, galleries, and crafters.
The Hanseatic Museum is a great opportunity to learn all about the city and lifestyle when this town was booming with trade. The museum also provides information about the great fire (1702) and gives you some insight into the lifestyle of the people back then.
Another must-do is taking the Fløibanen (railway) up Mount Fløyen. Once at the top, you'll be about 1049 ft (320 meters) above sea level, which provides a perfect view of the seven mountains, the fjords located nearby, and the city.
Visit the Arctic Cathedral
Situated in Tromsø, this parish was built in 1965 and is a beaming landmark of the town. Designed by Norwegian architect Jan Inge Hovig, it is one of the younger cathedrals, which is shown off by its more modern design.
The Arctic Cathedral draws inspiration from its chilly surroundings and is meant to look like blocks of ice. The building is decorated with mosaics inside and features a mighty cross along with a glass facade.
The church is not to be missed in Winter, as it lights up from within, making it truly beautiful to visit.
Explore the city of Alesund
Noted as one of the most beautiful cities in Norway (and maybe even the world). Alesund is home to many well-known fjords, such as Trollstigen and Hjørundfjord.
Get ready for the ultimate road trip. Gamle Strynefjellsvegen is located between Grotli and Videsæter and is just over 16 miles (27km). The route itself is an attraction, as it was built by manual laborers in the late 19th century. Think hand-built walls sectioned off with carefully cut stones. Take a trip through time driving down this scenic road.
Take a trip downtown to the art district. When you're done wandering the artistic streets, make your way up to Fjellstua. Here you'll find a magnificent view of the city and arguably the best.
Best Places to Visit in Norway | Final Thoughts
These are only a few of the many best places to visit in Norway. A country that displays so much natural beauty deserves to be showcased. Wherever you decide to go, you will, for sure, be in awe of all that Norway has to offer, whether hanging out in the hip city of Oslo or taking that great wilderness escapade.
Now go on, pack your bags, and get ready for an adventure you won't forget!