The North of Italy may have all of the super popular hotspots, such as Venice and Milan; however, Southern Italy is home to equally breathtaking cities and towns. You might be wondering what are the best places to visit in Southern Italy to prove this point.
Some of the best places to visit in Italy lay South of Rome and will offer you mouthwatering food and unforgettable skylines with colorful homes scattered throughout. There are even some deeply historic islands that you can explore.
Who knows, you may even have some once-in-a-lifetime experiences that will create countless stories for you to entertain your friends and family for years to come. Book your flights, pack your bags, and start exploring these Italian treasures.
5 Best Cities to Visit in Southern Italy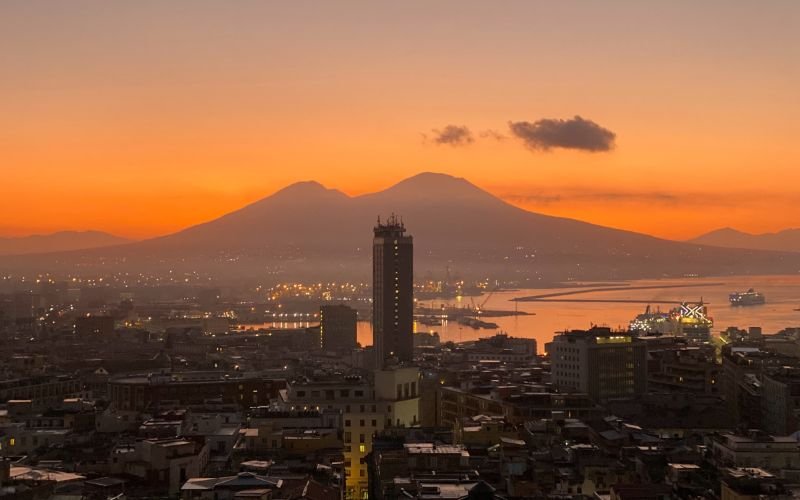 The South of Italy is strewn with charming medieval towns that are home to jaw-dropping viewpoints. All of which are surrounded by glistening Mediterranean sea vistas that stretch out into the horizon. Some towns seem frozen in the middle ages, while others showcase vibrantly colorful modern Italian getaways.
Each and every one of them is enchanting and unique to explore, offering a wide variety of experiences. Whether you are looking to indulge in the best Italian food in the world, learn some fascinating history go on some of the best hikes in Europe, the South of Italy has something extraordinary for you.
Naples
Naples is a stunning coastal city that offers a wide variety of adventures, from delicious street food tours to exhilarating segway tours. The city itself consists of tightly packed Medaterainian buildings with narrow alleyways and streets that spread throughout the city leading right up to the sea.
This coastal dreamland is home to the exquisite Galleria Borbonica, which houses over 500 years of Naples history. However, the real highlight is the street food that is available in Naples.
Must-Do Activity in Naples: Taking a Street Food Tour
This street food tour with a local guide takes you through the streets of Naples and introduces you to a wide variety of original Neapolitan dishes. The local guide creates a vibrant atmosphere as you try various foods and beverages. It is worth noting that the tour does not offer any meat-free alternatives, though.
Pompeii
It would be impossible to talk about unmissable places to visit in the South of Italy without bringing up a tour of Pompeii and Vesuvius. The tragic story of this city is well-known all around the world.
There is something indescribable that happens while visiting this haunting destination. Regardless of what the cause of the experience is, the result remains the same. You can not miss taking a tour through the ruins of Pompeii.
Best Way to Experience Pompeii: A Guided Archeological Tour
During this archeological tour, you will be guided by an archeologist who will lead you through all of the highlights. You will see the ruins of the basilica, thermal baths, temples, bakery, and the iconic Theater of Pompeii. The tour has options of either a small intimate public group or a private tour just for you and your company.
Tropea
If you have ever dreamed of exploring untouched beaches, quaint traditional Italian villages, and a live volcano, then Tropea is the Southern Italian town for you. While visiting Tropea, you will have a glimpse of what life was like in the Mediterranean centuries ago.
The city is home to many pristine beaches, charming traditional houses that seem as if they have been there since the very beginning of time. Of course, the homes are far newer than that. However, the simplistic nature of the homes and coastal town vibes transport you back to simpler times.
Things to See in Tropea: Explore Lipari, Panarea, and Stromboli
It is not every day you get to witness the almighty strength of mother nature in person. Yet, on this full-day Lipari, Panarea, & Stromboli boat trip from Tropea, that is exactly what you get to do. Starting in the morning, you will travel from island to island via boat, finally culminating in an extraordinary visit to Mount Stromboli. Here you will see the active volcano in person.
Bari
If you travel to Italy and don't do at least one wine tour, are you even in Italy? Luckily, Bari is home to some of Italy's best vineyards. There is something incredibly special about tasting wine while being surrounded by millennium-old buildings.
The city of Bari is the capital of the Puglia (Apulia) region and has been inhabited by humans since 1,500 BC. That is over 3500 years ago. The panoramic sea views from the viewpoints in the city are a magical site to behold and are worth a trip to Italy on their own.
Must-Do Activity in Bari: Go Wine Tasting
Savor the flavors of five different Apulian wines during this visit to a vineyard with wine tasting and a light lunch. The excursion starts with an in-depth tour of the winery, which is followed by a tasting session and fantastic lunch where the table is adorned with focaccia, olives, taralli, bruschetta, cold cuts, and mozzarella.
Amalfi Coast
From soaking in the sea to soaking up the sun, the Amalfi Coast in Italy is the place to do it. Stretching from the titular town of Almalfi all the way up to Vietri sul Mare, this Mederterainian region covers almost 34 miles (55 km) of the Southern Italian coastline.
This is the place to have water-based adventures, whether you are looking for boat rides or snorkeling excursions. You will almost forget that you are in Europe and sometimes feel as if you have somehow been teleported to the Caribbean.
Top Things to Do on the Amalfi Coast: Go Snorkeling and Hop From Town to Town.
This boat and snorkeling tour includes everything you will need to have a splash-tastic time. You will be provided with life jackets, snorkeling gear, and even some water toys, such as pool noodles. The tour also includes drinks such as beer, Italian prosecco, soft drinks, and water, as well as some fruit to snack on.
You will visit phenomenal spots such as Duoglio and Santa Croce beaches. You will also stop by the captivating Arc of Lovers rock formation.
Frequently Asked Questions About Visiting the South of Italy
It is only natural to have a few questions before embarking on a journey. Hopefully, the answers below will quell some of your concerns.
Is Southern Italy Worth Visiting?
Of course, from the lovely weather to the shimmering sea views and historic cities, Southern Italy is a magical region that has to be explored. Whether it is your first time in Italy or you are looking to try something different on your umpteenth visit to the country. Southern Italy will not disappoint you.
What Is the Best Month to Visit Southern Italy?
Typically The best time to visit the South of Italy is during the summer months (June – August). However, this is the height of the tourist season. So, if you are looking to miss the large crowds visiting during the spring or fall seasons will suit you better as the weather is still warm and dry.
How Many Days Do You Need for Southern Italy?
This is a very relative question. Depending on your budget and the amount of time available, this answer can vary a lot. In a perfect world, you should spend months in the South of Italy to experience absolutely everything it has to offer.
However, we do not live in a perfect world. Realistically speaking, spending around a full day in each city you would like to visit should leave you satisfied.
Is Southern Italy Cheaper Than Northern Italy?
Generally speaking, yes, it is. The North of Italy is where all of the most popular tourist spots are, such as Rome, Milan, and Venice. Thanks to places such as Naples, Bari, and Tropea being less popular than the Vatican and Florence, they tend to be cheaper for both shopping and accommodation.
What Is the Best Way to Get Around Southern Italy?
Italy has a fantastic public transport system. You should be perfectly fine using the train to get around. However, due to the remote nature of some of the towns renting a vehicle may be required.
Final Thoughts on Staying in Southern Italy
As you can see, Italy has a lot more to offer than just the obvious stops of Rome, Milan, Florence, and Venice. Southern Italy, in particular, can offer you anything from a tour drenched in history and iconic landmarks to an exciting day in the sun.
Even if you are looking to just encounter a new side of Italy after exploring the usual tourist stops, these places can be a very refreshing experience. In fact, you could even say that no tour of Europe would be complete without visiting Southern Italy.