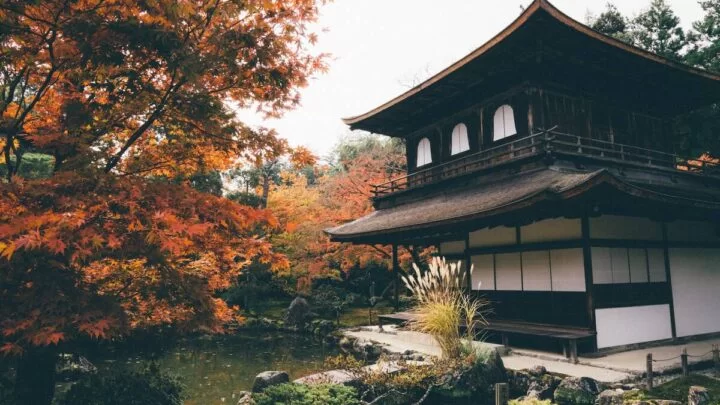 The city of Kyoto sits on the Japanese island of Honshu. Once the capital city of Japan, Kyoto is famous for its many Buddhist temples, palaces, and shrines. Have a look at this round-up of the best temples in Kyoto—they're magical, fairytale-like, and picturesque.
If you're spending just one or two days in Kyoto, it will be possible for you to see most of these temples and shrines. And if you'd like to take your time absorbing the incredibly spiritual surroundings and tranquil gardens these Kyoto temples and shrines offer, get a hop-on hop-off sightseeing bus ticket.
Make the most of your stay in Kyoto by visiting some of Japan's most spectacular temples and shrines. Get a glimpse into the Shinto and Buddhist religious traditions while marveling at the majestic architecture and taking loads of pictures.
Kyoto Temples and Shrines
Kyoto is home to some of the best temples to visit in Japan. These Buddhist temples and Shinto shrines are sacred grounds where pilgrims and admirers come to pay their respects and learn more about these religions.
And there's no denying the beauty each of these shrines and temples in Kyoto, Japan, possess. So take your cameras out and get ready to snap an array of incredible scenery.
Kyoto Buddhist Temples
The Buddhist temples in Kyoto are deeply spiritual destinations, attracting pilgrims from across the country. Many of these temples, also known as pavilions, have incredible architecture and beautiful gardens that make the visit a photo-worthy experience.
Tip: If you want to try something traditional, you can explore some of Kyoto's templates from the back of a rickshaw.
Kinkaku-ji Temple (The Golden Pavilion)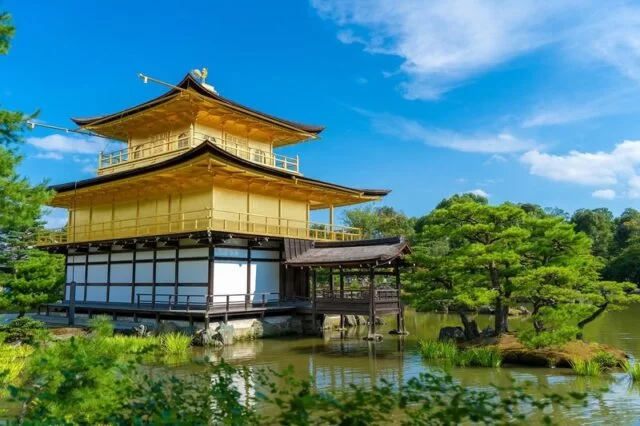 Located in northern Kyoto, the Kinkaku-ji Temple rises out of the lake around it in golden splendor while reflecting its magnificent color on the lake below. This zen temple's top floors are completely covered in gold leaf, showing the extravagance of Kitayama culture.
If you're lucky enough to visit Kyoto during the 4 to 5 days a year when it snows, the Golden Pavilion becomes a real sight to behold. With the magical touch of snow falling gently around the pavilion, you may never want to leave.
The Kinkaku-ji Temple is one of the more popular temples for very obvious reasons, so make sure you go during quiet times. The best time to go would be early on a Monday morning, just after it opens.
Be sure to avoid public holidays as the pavilion tends to get busy during these times, and enjoying the beautiful scenery and taking great pictures will become a bit challenging.
Nearby Accommodation:
Ryokan Nenrinbo is a popular spot only 1.1 miles away from this temple.
Nanzen-ji Temple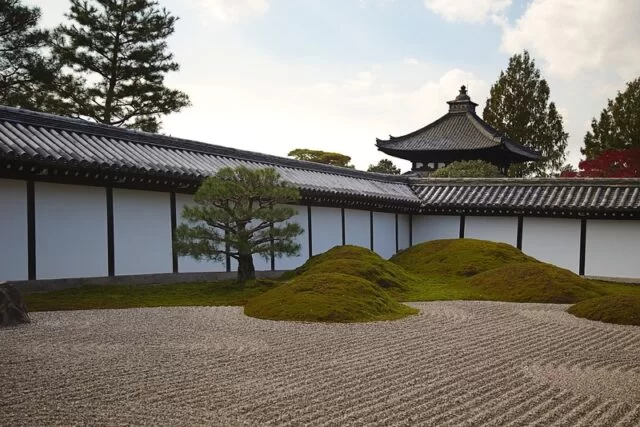 The Nanzen-ji Temple is located in the northern Higashiyama region of Kyoto. This aptly named temple is about as 'zen' as you get. An impressive archway leads you into the temple and gives way to an expansive hall.
Wide pathways lead you through the zen garden, encouraging quiet and contemplative meditation. Scattered around the garden, you'll find the iconic Sanmon gate, a strip of cherry blossom trees, and historical buildings that are all worth exploring.
About 164 yards up in the hills behind the Nanzen-ji Temple, you'll find a gorgeous waterfall that most certainly lends itself to the spirituality of the area.
Nearby Accommodation:
Ryokan KANADE is a popular spot only 0.3 miles away from this temple.
Kiyomizu-dera Temple
Located in eastern Kyoto, the temple of Kiyomizu-dera is a bustling hub of activity. While it can't be considered one of the more 'zen' temples, it most certainly is worth the visit.
This temple in Kyoto is absolutely stunning. An impressive entryway leads you to a stand where you can buy your entrance ticket. Although this temple is a lot more commercial than most, as a tourist, it's always a great idea to try some gimmicky attractions too, like one of these weird things to do in Japan.
Be sure to visit the "stone that grants all wishes" on your way through the temple. These kinds of sentiments attract the masses to this specific temple. Another example of this is an attraction that is said to grant you a great love life if you can complete a task correctly.
Nearby Accommodation:
Kyoto Granbell Hotel is a popular spot only 0.9 miles away from this temple.
Sanjusangendo Temple
Just a 10-minute bus ride from Kyoto station, this temple is one of the most fascinating and definitely one you won't want to miss.
So what makes this particular temple so fascinating? 1001 armed statues of Kannon to be precise. These human-sized golden statues all have slightly different features. It is said that when visiting, you need to find the one that looks the most like you.
Standing at almost 400 feet, the temple hall is Japan's longest wooden structure. Each of the armed Kannon statues is flanked by about 500 human statues. It is said that each statue possesses 11 heads to witness human suffering and a thousand arms to help them fight their suffering.
Nearby Accommodation:
Laon Inn Gion Nawate is a popular spot only 1.6 miles away from this temple.
Tenryū-ji Temple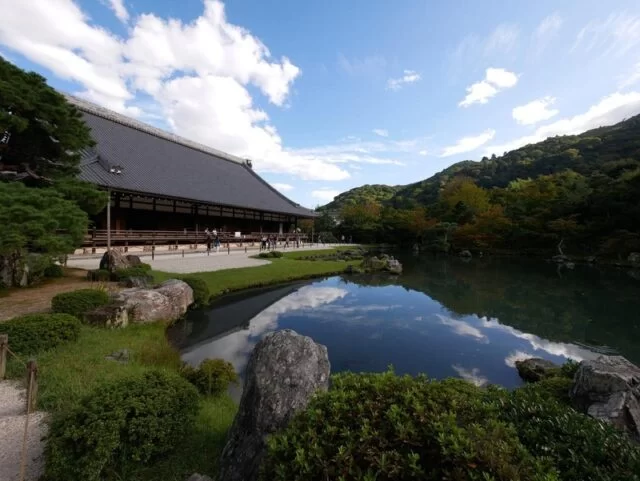 Tenryū-ji is the most significant temple in Kyoto's Arashiyama district. It's the head temple of the Rinzai Zen sect of Japanese Buddhism and ranks first in five of the city's great Zen temples.
Built in 1339 by the shogun Ashikaga Takauji — Tenryū-ji Temple is one of the registered UNESCO World Heritage Sites named the historic monuments of ancient Kyoto. Take a full-day tour of Kyoto and spend the day admiring this temple's beautiful landscape garden, dotted with a pond, boulders, pine trees, and a verdant forest.
Just outside the temple's north gate is the enchanting Arashiyama Bamboo Grove. Besides being one of the most Instagrammable spots in Japan, seeing this magical forest is one of the best things to do in Kyoto.
Nearby Accommodation:
Nagi Kyoto Arashiyama (Momiji) is a popular spot only 0.6 miles away from this temple.
Kosho-ji Temple
Kosho-ji Temple is located near Kyoto Station, on the southern edge of Nishi-Honganji Temple. The two temples are so close that visitors typically think they are one and the same; they're not! But they do share a moat that runs around their walls.
When visiting Kosho-ji Temple, you'll be treated to a healing Zazen meditation experience, followed by a tour and a Buddhism talk with an expert Buddhist teacher. The temple grounds host a study room and a "shukubo" or temple lodging for its followers.
You'll enter through the majestic Sanmon Gate and face the large Goei-do Hall and the smaller Amida-do Hall to the right.
Nearby Accommodation:
The OneFive Kyoto Shijo is a popular spot only 1.2 miles away from this temple.
Tō-ji Temple
Located in the Minami-ku ward of Kyoto, Tō-ji (also known as Kyō-ō-gokoku-ji) is home to one of Japan's most impressive architectural marvels.
Tō-ji's five-story pagoda, standing at 180.5 feet, is the tallest wooden pagoda in Japan. The temple complex is also scattered with appealing halls and lush gardens.
Visitors get to enjoy these stunning grounds on the 21st of each month at the large flea market that's hosted here. The Kobo-san market draws vendors from across Japan; you'll find plenty of handicrafts, antiques, food and plants.
Nearby Accommodation:
Sakura Terrace The Gallery is a popular spot only 0.8 miles away from this temple.
Kyoto Shrines
A shrine is a holy or sacred place dedicated to one specific deity. It's a sign of respect for that deity and often becomes a place of worship for many who wish to show their gratitude.
Fushimi Inari Taisha Shrine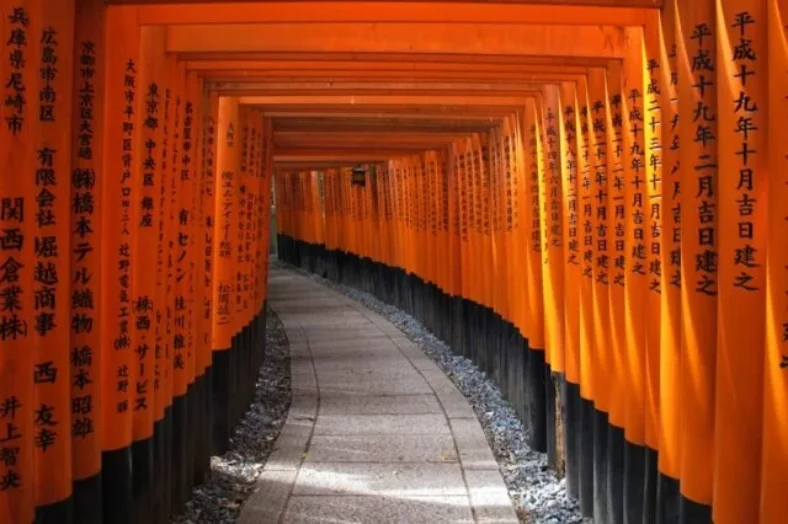 This shrine is just the gateway to many more further up the mountain. It is known for its many red torii gates that are placed together to form a tunnel.
Fushimi Inari Taisha shrine gained popularity after being featured in the movie "Memoirs of a Geisha". And soon became the go-to spot to visit in Japan for photographers and Instagram models alike.
Nearby Accommodation:
Hotel In The Green (Adult Only) is a popular spot only 1.7 miles away from this shrine.
Kifune Shrine
The Kifune shrine is located in the Sakyō-ku area in Kyoto city. This shrine seems to be less visited by tourists, so if you're trying to avoid large crowds during your trip to Kyoto, then this is a great escape.
The iconic stone steps that lead up to the main shrine are lined on either side by picturesque red lanterns and make for a great photo opportunity. You can visit the Kifune shrine all year round, but winter makes for a particularly spectacular view.
Nearby Accommodation:
M's Hotel Sanjo Wakoku is a popular spot only 9.3 miles away from this shrine.
Heian Shrine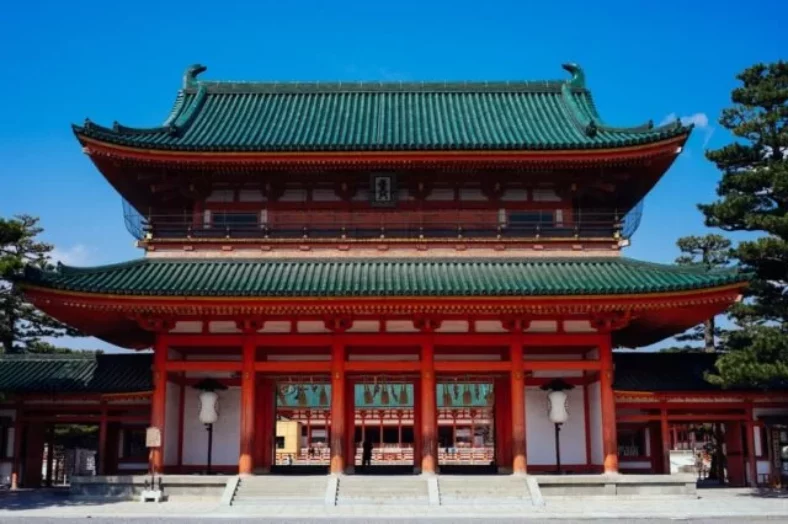 Nestled in between picturesque cherry-blossom trees, this shrine is for nature lovers. The Heian-jingu Shrine is also located in the Sakyō-ku region of Kyoto. This shrine is home to one of the biggest torii gates in Japan and is known for being a great wedding venue.
The best time of year to visit this shrine is between April 1st and 20th. This is when the cherry blossoms will be in full bloom, which is undeniably a magnificent sight.
Nearby Accommodation:
Kyoto Sanjo Ohashi is a popular spot only 0.6 miles away from this shrine.
Yasaka Shrine
Yasaka Shrine (or Gion Shrine) is one of the most popular shrines in Kyoto. Founded about 1350 years ago, Yasaka is neatly tucked between the Gion and Higashiyama districts.
The shrine gets its significance from being the go-to place for earning the grace of the gods. Pilgrims often come here to ask for the gods' favor in warding off disease, business success, matchmaking, and protection against evil.
Yasaka comes to life in July during the annual Gion Matsuri summer festival. Dating back more than a thousand years, Gion Matsuri is often cited as the most famous festival in Japan. The festival involves a procession and massive floats, and hundreds of participants.
Another great time to visit Yasaka Shrine is during cherry blossom season in April when the nearby Maruyama Park explodes in vibrant pink hues and tons of tourists.
Nearby Accommodation:
Rinn Gion Kenninji is a popular spot only 0.5 miles away from this shrine.
The Kamo Shrines
The Kamo Shrines (Shimogamo Shrine and Kamigamo Shrine) predate Kyoto's establishment as the national capital in 794. Thanks to this, the shrines are two of the most important and oldest shrines in Kyoto.
Shimogamo Shrine sits at the junction of the Takano and Kamo rivers, surrounded by a centuries-old forest with trees aged more than 600 years.
Kamigamo Shrine is about 2.2 miles upriver from Shimogamo. The shrine features two sand cones on its grounds made ritually since ancient times as a purification function.
Together the two shrines host one in three of Kypyo's biggest festivals, the Aoi Matsuri.
Nearby Accommodation:
Kyo no Minshuku Ohara no Sato is a popular spot only 6 miles away from these shrines.
Kyoto Shrines and Temples | Wrapped Up
These are just a few of the best temples and shrines to visit in Kyoto. A one-day temple tour of Kyoto is possible, but these spiritually loaded areas sometimes require a little more time and attention.
We encourage you to take it slow and explore every crevice of these awe-inspiring structures. If allowed, visiting these Kyoto shrines and temples could be a life-changing experience. So be sure to make every minute count!
If you're looking for other activities during your visit, consider going on some fantastic day trips from Kyoto to see more this gorgeous country has to offer.