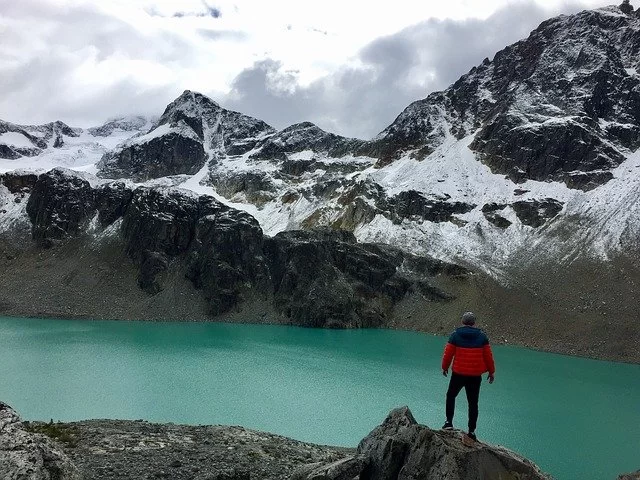 Sado Island is the largest island off the coast of Japan, not including the 4 major islands that make up this diverse travel destination. Easily accessible by a fast train ride and boat from Tokyo and Niigata, Sado is a unique island to visit – with gorgeous beaches, spectacular coastal and mountainous landscapes, a fascinating Geo Park, ancient Buddhist Temples and an admirable dedication to preserving local traditions, culture and history.
A popular summer destination for people living on mainland Japan, I decided to visit in winter to see what island life is like when surrounded by snow-capped peaks and the beaches are for wrapped up walks walking rather than sunbathing. Below is my short video guide to Sado and my pick of the best places to visit and things to do on Sado Island.
For other winter in Japan travel inspiration, check out my guide to Higashikawa in Hokkaido.
Video: Travel Guide To Sado Island Japan
How To Get To Sado Island
Sado Island, while appearing quite remote, is actually very accessible. There is a regular ferry (more than 6 times a day) from the port in Niigata to Sado Island and Niigata is easily connected with Tokyo via bullet train and by bus or other cities in Japan through cheap domestic flights. I flew to Niigata from Nara then took the 6am ferry to Sado so I could make the most of my short time there. There are different classes n the ferry, depending on how much comfort you are looking for.
We had first class tickets which including seats similar to a first class airplane seat, blankets, free WiFi and a very warm, cosy room to chill out in. Second class tickets cost 2,800 Yen one way, while a return ticket costs just over 5,000 Yen. You can find the most recent ferry timetable here.
Unique Things To Do On Sado
Visit the Rabbit Temple
Visiting this little known temple on the island of Sado quickly became one of the highlights o my trip to Japan. The monk who lives here, Mr Tomita, has the kindest eyes, the kindest face and the kindest heart – having adopted 300 rabbits who now all live in or around this ancient temple on the island.
He even built a giant Buddhist prayer statue in the shape of a rabbit (with light up red eyes at night!) so people who visit the temple can say some prayers for their furry friends. So famous is this slightly scary looking statue – it actually made news headlines in Japan!
The temple itself, named Chokokuji Temple, is like a giant maze, and the monk offers a huge selection of unique activities for visitors to enjoy – some aimed at children and some fit for people of all ages. Besides playing with the furry rabbits, you can do a prayer or meditation session, lie in a coffin box to "taste the afterlife", do colouring and origami activities, explore the temple grounds or just sit in the warm reception area sipping hot tea!
The temple buildings are gorgeous – one o the prettiest temples I've visited and they feel even more beautiful hidden deep in the forest away from any main roads, traffic or inquisitive eyes. A must visit while on Sado Island!
Hike up Turtle Rock
On Sado, turtles are considered sacred animals. It could be because they are known to live so long, but they are a symbol of "longevity, endurance, persistence, and the continuation of life". For this reason, the two turtle shaped rocks on Sado Island are very important places to the locals and are considered quite sacred. You can (with care) hike to the top of Big Turtle Rock, pictured below, where there's a small shrine on top. It's an beautiful part of the island, and pretty in both winter and summer.
Small turtle rock is pictured further down in this article, where there are also some spectacular black sand beaches and it's a popular beach and swimming pot during the summer. There's a hotel perched up on the hill here with spectacular views of small turtle and the coastline.
Locally, the rock is know as "Ohnogame turtle rock" in case you can't find turtle rock on your map!
Visit some ancient temples
Just a short drive from the ferry port on Sado, you can visit many of the island's best known temples. What I loved about exploring the temples on Sado is how quiet they were and how they all seemed to be hidden behind ancient Cedar trees inside magical forested areas. We were always the only tourists there and felt like we had the entire place to ourselves.
With some temples dating back over 1,000 years, and others still used today during the summer for live theater performances, it makes for a unique afternoon activity to visit 4 or 4 of them.
My must-see temples on the island would be: Seisui-ji Temple, Chokoku-ji Templ and Daizen Shrine – all a short drive from each other. Oh, and ALL of the above are FREE to enter!
Stroll on black sand beaches
Sado is pretty famous for its stunning black sand beaches and dramatic landscapes, which make it a great destination to visit in both winter and summer. While I visited in winter, and it was freezing cold with a chance of snow, I still found the beaches gorgeous. I was assured that these beaches are hot spots on the island during the summer, when the weather gets a little warmer.
The dramatic mountainous background, black sand an, turquoise water also make a great background for beautiful landscape photography. The beach below is by small turtle rock – a must stop on your Sado itinerary.
Looking for more spectacular beaches in Japan? Be sure to travel to beautiful Wakkanai in Hokkaido!
Explore Sado Geo Park
Sado Geo Park consists on a Mars-like landscape with rock pools, jagged rocks of varying heights of off shaped rock pillars. The Geo Park helps visitors understand how the entire island of Sado was formed, when two large tectonic plates collided millions of years ago.
The reality of Sado, is that the whole island is in fact one large Geo Park consisting of 10 smaller got parks that can be visited around the island with alien Geomorphic landscapes as well as a unique history and culture.
Tub boat experience
This is one of the most iconic experiences you can have on Sado Island – sitting in a traditional tub boat (it honestly looks like a floating wooden bath tub!) while it's rowed by a female fisherwoman in traditional dress rowing the tub boat with a single oar.
These boats used to be used for fishing in the nearby harbour, and to an extent the woman do use them for this at times, but mainly these days it's more of a tourist attraction and photo spot – as well as preserving local culture and tradition. The trips only last about 15 minutes but they are great fun and very cheap!
Japanese pancake cooking class
I'm not 100% sure whether this will be happening all the time, but while I was on Sado Island a local cafe opposite the ferry port offered a unique cooking class experience run by two local ladies. It was such a cute cafe and all the ingredients for the pancakes were from locally sourced organic ingredients – such as local flowers and jams.
Like I said, it's not 100% whether this will be offered in the future but as I know more details I will update this post!
Stay in a Ryokan Hotel
Staying in a traditional Ryokan Hotel is a real bucket list item when in Japan. On Sado Island, there really aren't too many options in terms of Airbnb or hostels so staying in a traditional Ryokan is your best option.
The best thing about Ryokans is there heated tables, super warm rooms and the onsen's you can find either on the roof or in the basement of the hotel – perfect place to warm up after a very long day. They are also very reasonably priced, friendly staff and give you an authentic Japanese experience.
Join the local theatre group
This is probably one of the most unique things to do on Sado Island. The local theatre group actually welcomes visitors to watch their performances, learn more about this unique festival tradition (it's huge in Sado during the summer) and you can even join in the practice session and learn the basic steps of their dances.
It's pretty cool to be able to get so involved with the traditional Japanese arts while just on holiday in Japan!
Drive around the island
While there are lots of main attractions on Sado Island and the obvious places to visit that I've already listed, another fun thing to do is essentially just to drive around the island, stopping off whenever you like to take photos, go for hikes, go for a swim or to check out a super cute cafe!
Shukenegi Fisherman's Village
This is actually part of one of the geo park complex on the island and it's a beautiful place to visit with traditional wooden buildings, that are sort of stuck in time, dating back to the 17th century.
There's also a very cute Japanese-Italian restaurant that serves pasta, and locally baked cakes on a table that's an upside tub boat painted red! It's super cute in there – and the village looks unlike anywhere else I've been in Japan.
Do a Sake Brewery tour
The Niigata Prefecture, which includes Sado Island, is the most famous Sake producing region in Japan. There are in fact more Sake distilleries here than any other area of the country, mainly thanks to rich soil for agriculture and excellent quality rice to make the sake with.
We visited Hokusetsu Sake Brewery on Sado, which dates back to 1872, and had great fu getting a tour, taking note of some famous Hollywood stars whom had visited in the past and of course tasting lots of delicious sake! They actually play loud music (that has been made for this one use) in the storerooms as apparently the soft vibrations help the sake to age better!
The sake from this brewery is quite famous and is served at Nobu restaurants (operated by a celebrity Japanese chef) around the world including New York, Dubai and London. It's open until 5pm every day and is a fun place to stop off in the afternoon to either taste or stock up on Japan's favourite alcohol!
NOTE: This trip was made possible thanks to the Sado Tourism Board who hosted me on this incredible 2 day trip. If there are any mistakes are any facts, tips are out of date, please let me know!
Last updated on October 13th, 2023 at 12:53 pm